Welcome to a deep dive into the world of supermarket sales analytics. We bet you've wondered, "What's in a sales report?" or "Why are buying patterns so crucial?" Let's embark on this journey together, where the aisles of data unfold insightful stories of customer behavior. We'll explore how robust reporting paints a vivid picture of sales trends and volumes. As we stroll down the aisle of retail analytics, we'll discover how predictive analytics can forecast future sales like a crystal ball. So, grab your shopping cart and prepare to fill it with valuable insights, ready to enhance your sales strategy and drive customer satisfaction. This expedition into sales analytics is more than just numbers; it's about understanding the heart of your customer's shopping experience.
What Is Sales Analytics?
Imagine a detective who dives into a sea of numbers instead of solving crimes. That's sales analytics for you. It's a powerful tool, akin to a compass, guiding your sales team towards success. The secret? It's all in the numbers. Data, specifically sales data, becomes your best friend, whispering tales of customer behavior, sales opportunities, and more.
Put, sales analytics decodes the language of your customers. It brushes aside the dust of obscurity, revealing valuable insights. What are your customers buying? When? Why? The answers to these questions lie within sales analytics. Think of it as a bridge between customer satisfaction and sales performance.
Armed with this knowledge, your sales process becomes a well-oiled machine. Robust reporting is your flashlight, illuminating the path of sales growth. It's like having X-ray vision, seeing through the walls of uncertainty, and predicting future sales. Say goodbye to guesswork and hello to data-driven decisions.
Sure, these numbers might seem daunting at first. But, with sales analytics, they transform into a captivating narrative. They paint a picture of your sales trends and volumes, providing a snapshot of your market position. It's like having a continuous pulse on your sales health, alerting you to necessary adjustments in your sales strategy.
So, step into the world of sales analytics. Uncover the hidden stories within your numbers. After all, they hold the key to your sales success. Let the power of data transform your sales team into data detectives, ready to convert insights into action.
Importance of Sales Analytics
Imagine navigating a ship without a compass. That's business without sales analytics. It's not just about having data but interpreting it for tangible insights. Each sale is an opportunity for learning, a puzzle piece fitting into the bigger picture of customer behavior.
Analyzing sales data gives you a front-row seat to the customer's journey. Every purchase, every repeat purchase, and even trends in sales volume all become part of your story. This narrative isn't just engaging; it's essential for your sales success.
The grocery store is a theater, and sales analytics is the spotlight. It reveals crucial scenes otherwise hidden in the shadows: trends, customer segments, and potential sales opportunities. Suddenly, your sales strategy isn't just informed; it's invigorated.
The beauty of these insights? They're not static. Like the tide, they ebb and flow, reflecting real-time changes in the market. It's a dynamic dance of numbers and narratives, shaping your understanding of customer satisfaction.
More than just a tool, sales analytics is the lifeblood of your operations. It's a silent partner in your sales process, guiding your sales team towards achieving their goals. It's the detective uncovering the secrets of your customer's buying patterns, providing valuable insight into their minds.
Sales analytics isn't magic, but it's close. With it, you're not predicting the future but preparing for it. Sales analytics is your roadmap in retail, where customer behavior is as varied as the products on the shelves. It's more than just a compass. It's your guiding light.
How to Track Sales Analytics
Venture into the world of sales analytics, where logic meets creativity and data paints a story as vivid as any masterpiece. Imagine standing at the edge of a vast ocean of numbers, ready to embark on a journey of discovery. You're an explorer, charting the uncharted, diving into the deep waters of data to unearth the hidden gems of insight. It's a dance between you and the data, a rhythmic ballet of analytics, where each step reveals new layers of understanding about your customer's buying patterns.
Here are your essential navigational tools guiding your journey through the sea of data:
Choosing the right tools: Much like a painter selects their brush, you need to choose the right analytics tools. The right instrument can turn raw data into valuable insight, highlighting trends and unveiling customer segments.
Collecting data: You're a gatherer of facts, containing droplets of data to form the ocean of understanding. Every sale, every click, every customer interaction is a valuable piece of the puzzle, contributing to your sales analysis.
Data analysis and interpretation: Now, you're a translator, decoding the cryptic language of numbers into understandable insights. You're identifying patterns, predicting trends, and interpreting data to pave the path for strategic decision-making.
Sales reports: Finally, you're an author, penning the tale of your sales journey. Sales reports are your chapters, each an intriguing narrative of your sales performance, customer satisfaction, and market position.
This adventure through sales analytics isn't for the faint-hearted. It's a thrilling, challenging, and rewarding journey requiring curiosity, creativity, and attention to detail. But with the right tools, data, and mindset, you can turn a sea of numbers into a treasure trove of insights, driving sales success and customer satisfaction. So, buckle up and get ready to dive deep into the world of sales analytics!
11 Key Sales Analytics Metrics to Track
Sales analytics is dotted with various metrics, like stars scattered across the night sky, each twinkling with unique insights. Each of these metrics tells a story, providing invaluable insights into your business's performance, growth, and future trajectory. Let's journey into this constellation of key sales analytics metrics, where numbers morph into narratives and data into decisions.
Revenue: The sun around which all other metrics orbit, providing a snapshot of total sales.
Average deal size: A telescope zooming in on the average value of each sale, shedding light on profitability.
Conversion rate: The thermometer measures the warmth of customer interest, indicating the percentage of prospects turned customers.
Sales cycle length: The calendar marking the duration from initial contact to sale, impacting your cash flow and inventory management.
Customer lifetime value: The crystal ball provides a peek into the future profits a customer can bring in their lifespan.
Sales growth: The growing tree reflects the increase or decrease in sales over a specific period.
Retention rate: The sturdy anchor indicates the percentage of customers who continue to buy.
Sales by product: The microscope focuses on the performance of individual products vital for inventory planning.
Sales by channel: The roadmap directs you to the most profitable sales channels, online, physical stores, or both.
Customer acquisition cost: The calculator tallying up the total expense of acquiring a new customer is essential for budgeting and pricing strategies.
Salesperson performance: The scorecard rating of each sales representative is an invaluable tool for performance evaluation and training needs.
How to Use Sales Analytics to Improve Sales Performance
Elevating sales performance is no longer a guessing game with sales analytics. Here, we'll uncover how these deep insights can fine-tune your sales strategies, boost team performance, and drive revenue growth. Let's delve into the power of data in shaping sales success.
Identify trends and patterns: Like constellations in the night sky, trends and patterns in sales data guide the way. They offer crucial insights into customer behavior and buying patterns, enabling proactive decision-making.
Set sales goals and targets: Setting goals is like charting a course. With the aid of sales analytics, these targets are not just informed guesses but data-driven benchmarks that drive performance.
Monitor key metrics: Much like a sailor keeps an eye on the horizon, monitoring key metrics helps foresee any changes in the sales environment. This allows timely adjustments to strategies and tactics.
Improve sales strategies: Sales analytics acts as a lighthouse, illuminating areas of improvement. The result is a refined approach that enhances customer satisfaction and boosts sales.
Optimize sales processes: Sales analytics streamlines the sales process, identifying bottlenecks and suggesting improvements. Think of it as a wind in the sails, propelling the sales team towards efficiency and effectiveness.
Provide targeted sales training: Sales analytics identifies skill gaps in the sales team, enabling targeted training. It's like a seasoned sailor imparting wisdom to the new crew, ensuring their preparedness for the journey ahead.
Adjust marketing strategy: Sales analytics provides insights that help tweak marketing strategies for better alignment with customer behaviors and preferences. It's the sailor adjusting the sails to catch the wind, ensuring a smooth and successful journey.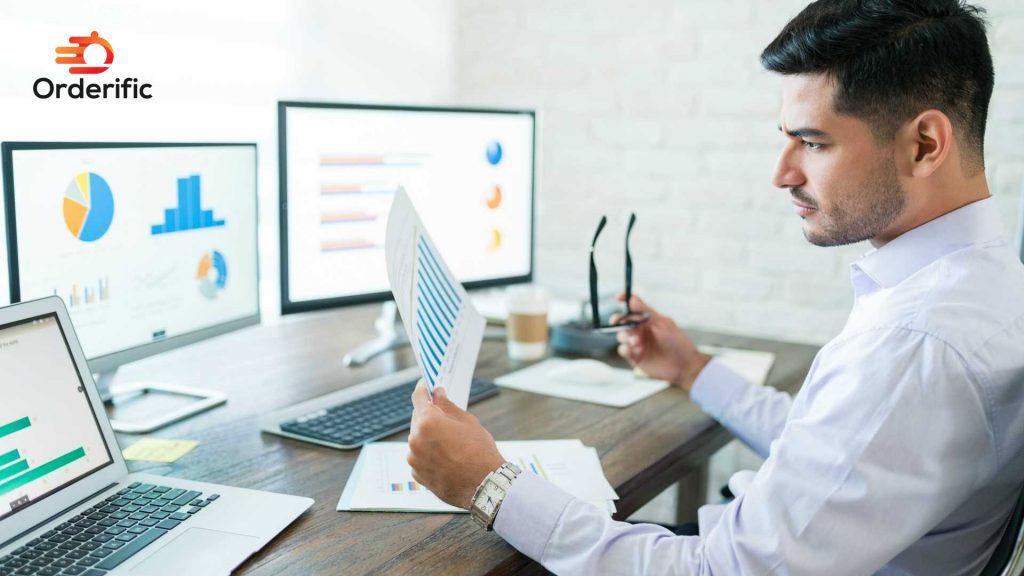 How to Choose a Sales Analytics Tool
Choosing a sales analytics tool is like embarking on a treasure hunt. It starts with a map and your list of business needs, guiding you toward the right tool. As your journey unfolds, the terrain varies, echoing the diversity of tools available. Each software is a hidden treasure, brimming with features and functionalities. Keenly observe each tool on your journey, much like a wild bird-watcher. Look for ease of use, data integration capabilities, and robust reporting features.
As the search intensifies, getting lost in the forest of options is easy. The right tool aligns with your budget, fitting snugly like a glove. It should also offer scalability, growing with you as your sales landscape evolves.
The quest for the perfect tool is increasingly exciting, like a climber nearing the peak. The final choice should be a tool that promises security, keeping your precious data safe. Ultimately, the ideal tool should feel like coming home, resonating with your business culture and values.
By the end of this thrilling hunt, you've found more than a tool; you've found a partner. A partner ready to navigate the world of sales analytics, turning numbers into narratives and data into decisions.
Data requirements
Navigating the intricate labyrinth of data requirements is akin to embarking on an epic adventure. As the sun sets, casting long shadows across the landscape, the scene resembles a tableau of myriad hues, each representing a critical element of data requirements. This thrilling yet challenging journey can transform sales analytics into a rich tapestry of insights.
Integration: Like the careful pairing of exquisite ingredients in a gourmet dish, integration ensures your diverse data sources come together harmoniously, forming a seamless tableau of sales analytics.
User-friendliness: Imagine a warm, inviting space that feels familiar yet intriguing. User-friendliness in a sales analytics tool is just that, making data exploration an uncomplicated, engaging experience.
Reporting and visualization: Just as a picture speaks a thousand words, robust reporting and visualization tools narrate your data's tale in a compelling, easily digestible format.
Cost: As the conductor ensures the symphony doesn't miss a beat, cost consideration ensures your sales analytics doesn't strain your budget yet delivers maximum value.
Customer support: Picture a friendly, knowledgeable guide throughout your data journey. That's customer support, always ready to assist, ensuring a smooth, satisfying journey.
Scalability: Much like a tree growing stronger with each passing season, scalability ensures your sales analytics tool grows with you, adapting to the changing landscape of your business needs.
With these crucial elements in place, your sales analytics tool transforms into a powerful orchestra, each component playing its part in harmony, resonating in the symphony of data-driven business success. Armed with this understanding, you're ready to embark on the exciting journey of choosing the perfect sales analytics tool and turning data requirements into a treasure trove of insights.
Conclusion
In the bustling supermarket of sales, understanding customer buying patterns through sales analytics and reporting is akin to finding a secret recipe for success. Orderific, an innovative partner for restaurant owners, turns these complex ingredients into a delectable dish of increased revenue, decreased operational costs, and enhanced customer experience. Its seamless integration with leading POS systems and payment partners automates manual tasks, freeing time to focus on the customer. Through the lens of sales analytics, every transaction becomes an opportunity to customize the customer journey, making marketing efforts resonate more effectively. For more information on Orderific, schedule a FREE DEMO today.
FAQs
How can business analytics help boost sales?
Business analytics provides valuable insights into customer behavior, enabling effective marketing strategies and driving sales growth.
What business problem comes under sales analytics?
Sales analytics addresses challenges in forecasting, performance tracking, and understanding customer buying patterns.
What are the advantages of eCommerce Analytics?
eCommerce analytics provides insights into customer behavior, optimizes marketing strategies, and enhances overall sales performance.
What is sales analytics?
Sales analytics collects, processes, and analyzes sales data to improve sales performance and predict trends.