The Himalayan salt room spa therapy is a healing technique that has become popular recently due to its impressive benefits. It can help you relax, reduce stress and anxiety levels, improve sleep quality, and more – all while naturally detoxifying your body. 
Himalayan salt room therapy is based on the premise that the inhalation of nutrition-enhanced air helps cleanse and heal from within. During a single session at the Salt Room Spa, many people feel better mentally as well as physiologically. Read on to discover just how this time-tested relaxing therapy can provide tremendous health benefits for those who partake in it!
What is Himalayan Salt Room Spa Therapy, and How Does it Work
Himalayan Salt Room Spa Therapy, also called Halotherapy or Salt Cave Therapy, encompasses a wellness approach wherein individuals spend time in a chamber saturated with Himalayan salt crystals or air infused with salt particles. The fundamental premise underlying this practice is that inhaling and enveloping these minuscule salt particles could yield potential advantages for respiratory and skin ailments. 
Salt Room Environment: In a typical Himalayan salt room spa, the walls, floors, and sometimes even the ceiling are covered with Himalayan salt bricks or chunks. The room is designed to mimic the environment of a natural salt cave. The air is also infused with tiny particles of salt through various methods, such as aerosol generators or diffusers.
Inhalation of Salt Particles: Upon entering the salt room, individuals breathe in air infused with salt particles. The underlying idea of this therapy is that these salt particles, once inhaled, might have a purifying and calming impact on the respiratory system. This could lead to the reduction of mucus viscosity, alleviation of inflammation, and potential enhancement of breathing, particularly benefiting those dealing with respiratory conditions such as asthma, allergies, bronchitis, and similar issues.
Skin Absorption: Some proponents of Himalayan Salt Room Therapy suggest that the salt particles can also be absorbed through the skin. This is why some people choose to wear bathing suits or clothing that exposes more skin to the salt-infused air. The salt is believed to have detoxifying and exfoliating properties that could benefit the skin.
Relaxation and Stress Reduction: Apart from potential physical benefits, the calming environment of the salt room can contribute to relaxation and stress reduction. The soft lighting and serene atmosphere can create a tranquil meditation and deep breathing space, enhancing the overall experience.
Benefits of Himalayan Salt Room Spa Therapy for overall health
Himalayan Salt Room Spa Therapy is believed to offer a range of potential benefits for overall health and well-being, although scientific research is ongoing, and the effectiveness of these benefits can vary from person to person. Some reported benefits include:
Respiratory Health: Breathing in air infused with salt particles could assist in widening air passages, mitigating inflammation, and promoting the thinning of mucus. This may offer potential relief for individuals dealing with respiratory issues such as asthma, allergies, bronchitis, and sinusitis.
Nurtured Skin: The inherent antimicrobial and exfoliating qualities of salt hold the potential to nurture the skin, fostering positive outcomes. This encompasses potential contributions to detoxification, heightened moisture retention, and offering a supportive touch to conditions such as eczema and psoriasis.
Soothing Stress: Within the tranquil haven of the salt room, coupled with practices like deep breathing and meditation, lies the opportunity for stress alleviation. This has the potential to positively impact mental well-being by cultivating a sense of relaxation.
Enhanced Sleep: The therapy's induction of relaxation could extend its benefits to sleep enhancement. Promoting a state of tranquility might aid individuals in addressing issues like insomnia and sleep-related concerns.
Natural Detox: Salt, thought to possess inherent detoxifying properties, could aid the body's natural detoxification processes. This could contribute to the elimination of toxins from the system.
Elevated Immunity: The presence of salt particles in the air holds the possibility of invigorating the immune system. This stimulation has the potential to augment its function and responsiveness, potentially fostering improved immune health.
Enhanced Respiratory Performance: Athletes and individuals seeking enhanced respiratory endurance might find benefits from the potential respiratory improvements provided by the therapy.
Holistic Wellness: The therapy promotes a holistic approach to well-being by encouraging relaxation, mindfulness, and self-care practices.
Types of therapies used in a Himalayan Salt Room
In a Himalayan Salt Room, various therapies and practices are often employed to enhance the overall wellness experience. Some of the common types of therapies used in such environments include: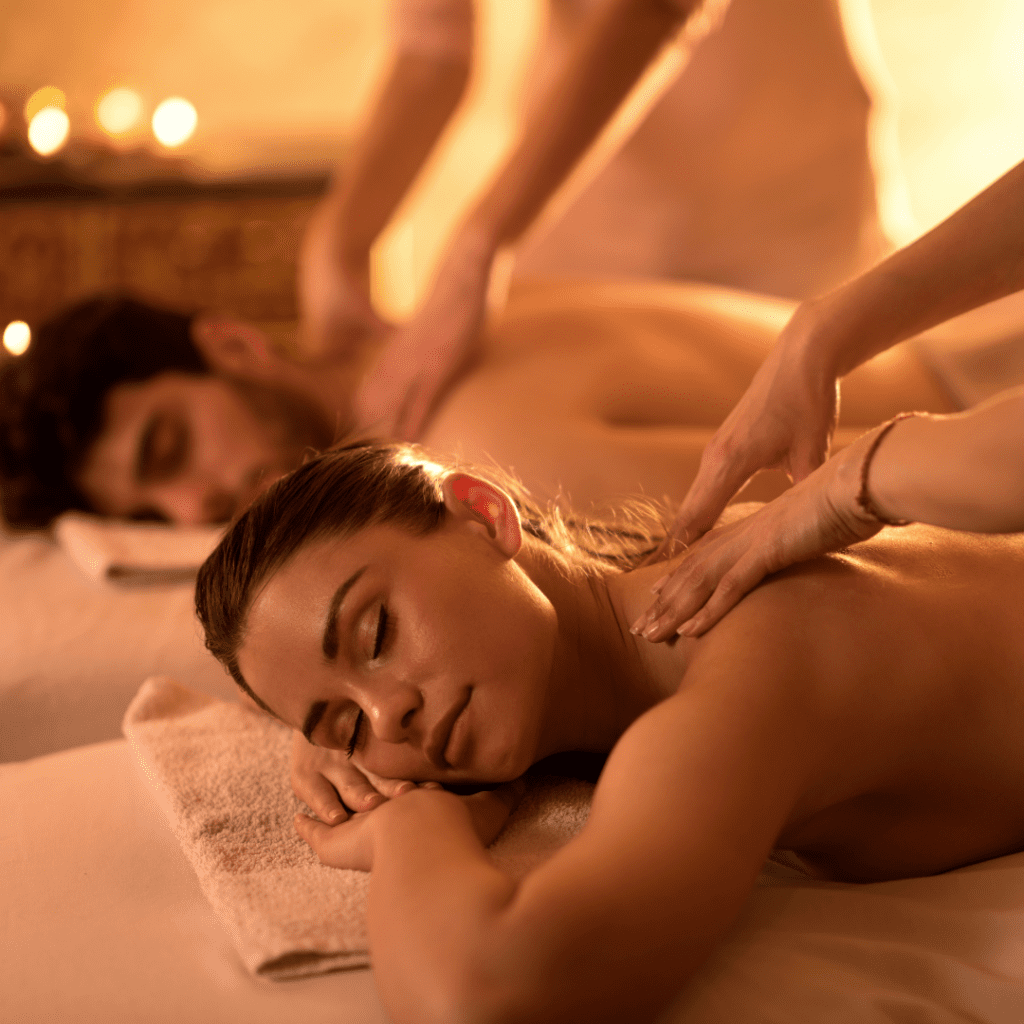 Halotherapy (Salt Therapy): The primary therapy offered in a Himalayan Salt Room is halotherapy, where individuals breathe in salt-infused air. This is believed to have potential benefits for respiratory and skin conditions.
Meditation and Relaxation: Many salt rooms are designed to create a serene and tranquil atmosphere, making them ideal spaces for meditation, deep breathing exercises, and relaxation techniques.
Yoga: Some salt room spas offer yoga classes in a salt-infused environment, combining the benefits of yoga with the potential therapeutic effects of salt.
Massage Therapy: Some spas provide massage sessions within the salt room. This allows individuals to enjoy the calming effects of the environment while receiving the benefits of massage.
Aromatherapy: Combining salt therapy with aromatherapy involves diffusing essential oils into the salt-infused air, potentially enhancing the therapeutic experience.
Sound Therapy: Some salt rooms incorporate sound therapy, playing calming music, nature sounds, or singing bowls to further enhance relaxation.
Skin Treatments: Certain spas offer skincare treatments such as salt scrubs and masks. Thus taking advantage of salt's exfoliating and potentially detoxifying properties.
Breathing Exercises: In addition to meditation, guided breathing exercises can be practiced in the salt room to maximize the respiratory benefits of the therapy.
Fitness Classes: Some salt rooms offer fitness classes like gentle stretching or breathing-focused exercises to combine physical activity with the potential respiratory advantages of the salt environment.
Mindfulness Workshops: Salt rooms may host workshops focusing on mindfulness, stress reduction techniques, and overall well-being.
Duration of the Salt Room Treatment
Central to the salt room treatment experience is the emphasis on relaxation and holistic well-being. You might be curious about the optimal duration of time spent inside the salt room to harness its potential benefits. Depending on the specific spa or center, sessions typically span from approximately 20 minutes to a full hour.
The selection of the session's duration is often based on individual preferences and requirements. Various options are tailored to accommodate diverse schedules and budgets. Whether you're seeking a brief revitalization amidst a busy day or a more extensive session to completely unwind, each visit to the salt room assures a departure with a sense of tranquility and renewal.
Wrapping Up!
In conclusion, Himalayan Salt Room Spa Therapy offers a unique blend of relaxation and potential wellness benefits. From halotherapy to yoga, massage, and mindfulness workshops, these spaces provide diverse therapies designed to augment your overall well-being. As with all wellness practices, it's essential to consider your personal health circumstances and consult with professionals as necessary.
Interested in learning more about such intriguing wellness trends? We invite you to explore more of our Orderific blogs. There, we delve into a variety of health and wellness topics to keep you enlightened and empowered.
FAQs
Q. What is salt room spa therapy, and what are the purported health benefits associated with this treatment?
Ans. Salt room spa therapy, or halotherapy, involves breathing in a salt-infused environment. It's said to improve respiratory function skin health, and promote relaxation.
Q. Can you explain the salt room spa therapy session process and what one can expect?
Ans. Individuals recline or sit in a chamber with Himalayan salt in a standard session. They can inhale the salt-imbued air and engage in yoga, meditation, or massage.
Q. Are there any specific conditions or ailments that salt room spa therapy is believed to help with?
Ans. Himalayan salt room spa therapy may help with respiratory issues such as asthma and allergies. It is also believed to provide benefits for skin conditions like eczema and psoriasis.
Q. How does salt room spa therapy differ from other types of spa treatments or therapies?
Ans. Salt room therapy uniquely combines the therapeutic effects of salt with a relaxing holistic wellness experience. It often includes auxiliary therapies like yoga, meditation, and sound therapy.