Welcome to the delightful universe of sandwich shops, where each bite is a symphony of flavor and texture. Imagine sinking your teeth into a perfectly crafted sandwich, the crispy bread yielding to reveal fresh ingredients, the tangy Swiss cheese melting into roast chicken, all held together by a generous slather of homemade sauce. These artisanal creations are not just a lunchtime staple but a labor of love, epitomizing the dedication of sandwich artisans across the United States. From your neighborhood sandwich spot to renowned chains like Jimmy John's and Jersey Mike, these shops offer more than just food – they serve up slices of life, one delicious sandwich at a time. Let's explore the fascinating economics of these establishments, answering a compelling question – how much do sandwich shops make?
How Much Does a Sandwich Shop Make?
Unwrapping the fiscal dynamics of sandwich shops can be as intriguing as unveiling a meticulously prepared sandwich itself. In the sandwich industry's bustling heart, a small, thriving business can generate appetizing monthly revenue, around $10,000-$30,000, totaling $120,000 – $350,000 annually. To put this in perspective, the average annual revenue for a Greenhorn restaurant stands at $111,860.70, underscoring the competitive edge sandwich shops hold in the culinary domain.
Yet, much like the diverse palette of ingredients that constitute a sandwich, several elements feed into the revenue of these establishments. Sandwich shop franchises like Subway and Arby's, like the tried-and-true roast beef or corned beef sandwich recipes, yield high annual profits. Still, the high upfront costs could trim your profit margins, much like an overly generous slice of Swiss cheese could overshadow the other flavors in your sandwich.
On the other hand, an independent sandwich shop operates more like a banh mi or a chicken salad sandwich – every element is curated and customized. Profits here hinge on factors like the cost of fresh ingredients and labor, your business model, akin to the detailed artistry behind a Mendocino farms' sandwich, and your marketing strategy that keeps customers returning for another bite. Whether it's breakfast sandwiches that drive your morning sales or jelly sandwiches that have a cult following, having a keen understanding of your sandwich shop's unique recipe for success is crucial.
First-Year Sales And Financing
Your first year running a sandwich shop is like that initial bite of a homemade sandwich – thrilling, unpredictable, and flavorful. Starting this independent journey, like crafting a special sandwich, demands meticulous prep, a solid base, or business financing.
Like a basic sandwich, the average deli costs around $10,000 – $50,000 to open. However, if you're aiming for a more grandiose, sit-down restaurant experience akin to an extravagant, stacked sandwich, you're looking at costs between $95,000 and $2 million.
In the bustling sandwich market, your first-year sales might not hit the dizzying heights of a new restaurant, which, on average, rakes in a little over $100,000. Like a simple cheese sandwich on a platter among more exotic offerings, a sandwich shop operates on slimmer profit margins. It may need more initial buzz of a fancy new restaurant.
This means opening a sandwich shop requires capital, perseverance, and inventiveness, like perfecting the cheese sandwich. The recipe for success lies in your sandwich shop business plan, which outlines how your shop will satiate the community's appetite for delicious sandwiches, manage startup and operating costs, and turn a profit.
Much like the secret sauce that transforms a sandwich from good to great, your first year of operation is the key to etching your mark in the local sandwich scene.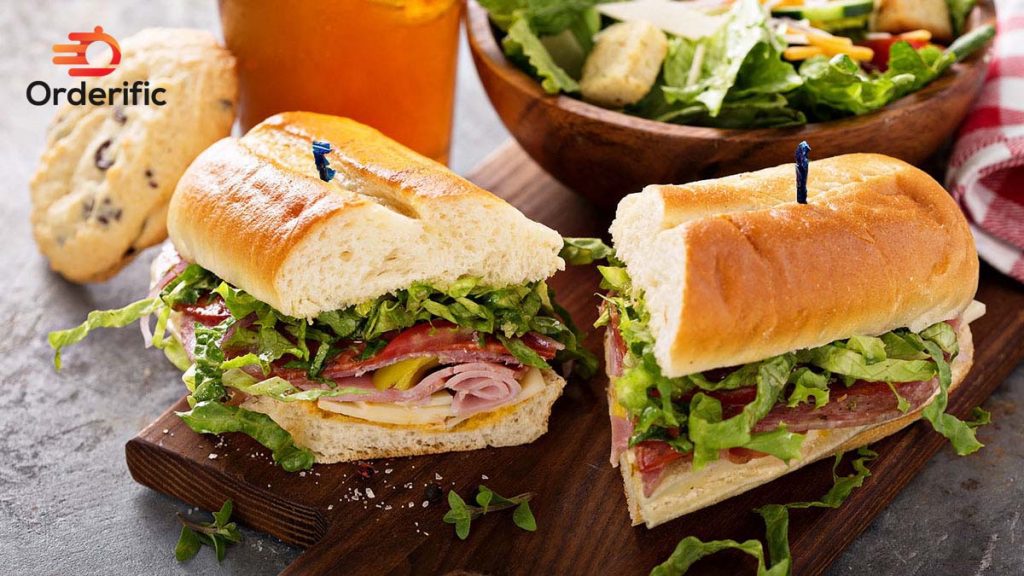 Are Sandwich Shops Profitable?
Imagine stepping into a bustling sandwich shop on a crisp afternoon. The inviting aroma of freshly baked bread greets you, mingling with the irresistible scent of roast beef sizzling on the grill. The chatter of patrons adds to the symphony of the sandwich shop, their laughter punctuated by the crisp crunch of a perfectly toasted banh mi or the satisfying bite into a generously filled chicken salad sandwich.
This is the sandwich experience, a sensory journey that begins with the sight of a mouthwatering sandwich and culminates in a satisfied palate and a heart warmed by the shop's welcoming ambiance. At its core, a sandwich shop is the sum of these experiences it serves up in every bite, a testament to the dedication and passion poured into each delectable creation.
Beyond food and ambiance, the question lingers: Are sandwich shops profitable? To find out, let's uncover their inner workings, like sandwich layers.
Restaurant Metrics Calculator
Just as a well-crafted sandwich is a melody of harmonious ingredients, the Restaurant Metrics Calculator is a symphony of vital statistics. This innovative tool is your culinary compass, guiding you through the labyrinth of numbers that shape your sandwich shop's financial performance. With every click, you unravel insights, revealing the nuanced layers of your business akin to peeling back the bread of a sandwich.
Imagine the satisfying data crunch as it transforms into actionable insights, like a bite into a crispy baguette. Bask in the gratifying sigh of relief as you navigate through sales data, labor costs, and overhead expenses effortlessly, much like savoring the harmonizing flavors of a well-executed banh mi.
The Restaurant Metrics Calculator empowers you to shape your business narrative. It's akin to artfully layering meat, cheese, and sauce in your sandwich, each ingredient contributing to the overall flavor profile. The tool unravels the hidden story in your metrics, feeding your entrepreneurial spirit and fueling your shop's growth trajectory.
The Restaurant Metrics Calculator is the secret sauce to your business acumen, infusing a dash of clarity, a pinch of strategy, and a generous sprinkle of success into your sandwich shop's future.
When Can a Sandwich Shop Expect to Break Even?
Just like anticipating the right moment to savor the first tantalizing bite of a sandwich, calculating when a sandwich shop can break even is an art. Imagine this journey as a meticulous sandwich preparation. Initially, you're investing in premium ingredients, akin to the seed capital for your startup. It's like buying fresh bread, succulent meats, crisp veggies, and flavorful sauces.
Gradually, as your sandwich takes shape, sales start trickling in. This stage epitomizes the sandwich's assembly, where each sale adds a new layer to your revenue. However, the sandwich has yet to be ready to eat. Similarly, your shop has yet to reach the break-even point.
Suddenly, the aroma of your appetizing sandwich starts attracting customers, mirroring escalating sales and reduced losses. Finally, the moment of truth arrives. It's time to taste the sandwich, an instant that parallels breaking even.
From this point, every bite is pure profit, and every customer adds to your income. Reaching the break-even point in a sandwich shop's journey is as satisfying as biting into a well-crafted sandwich. It's the moment investment and returns meet, creating a balanced blend of financial sustainability and gastronomical success.
How Can You Improve a Sandwich Shop's Total Sales and Revenue?
Akin to adding that irresistible, tangy sauce to a sandwich, boosting sales and revenue requires strategic planning and creativity. First, consider diversifying your menu. Offering a wide range of sandwiches teases and pleases all palates, attracting a more extensive customer base.
Next, let's add a fresh slice of customer engagement. As a well-layered sandwich delights with every bite, interacting with your customers can spice up their experience. Host events, offer specials, and always serve with a smile.
Additionally, pay attention to the power of visual appeal. Delectable food photos are to your marketing strategy what crunchy lettuce is to a sandwich – they add an enticing crunch. Leverage social media platforms, your website, and in-store displays to showcase your mouthwatering creations.
Lastly, invest in quality ingredients. Just as an artisanal cheese elevates a simple sandwich, high-quality ingredients enhance your offerings' taste, improving customer satisfaction and sales.
Conclusion
In the delightful world of sandwiches, each bite is a testament to the passion poured into crafting mouthwatering masterpieces. From breakfast sandwiches to Jimmy John's roast beef, enjoy a sensory journey that keeps you craving more. But the journey continues beyond just savoring these delights. Orderific tech revolutionizes restaurant logistics, improving both owner operations and customer experience behind the scenes. Orderific, integrated with top POS and payment partners, allows you to focus on customer satisfaction, not operational hassles. Want to join the revolution and make your sandwich shop more profitable? Schedule a FREE DEMO with Orderific today.
FAQs
What makes sandwich shops a popular choice for quick and satisfying meals?
Sandwich shops offer diverse options, quick service, and a balance of taste and nutrition, making them popular for meals.
How do sandwich shops innovate to offer a variety of flavors and ingredients?
They experiment with global cuisines, seasonal produce, artisan breads, and unique spreads to constantly innovate and entice customers.
What are some classic and creative sandwich combinations that customers enjoy?
Customers enjoy classic ham and cheese, inventive combinations like chicken and waffles, or culturally inspired sandwiches like banh mi.
How have sandwich shops adapted to changing food trends and customer preferences?
Sandwich shops adapt by introducing vegan options, gluten-free bread, and health-conscious fillings, aligning with emerging dietary trends.