Introduction
Welcome to a world where convenience is king and technology is the loyal servant, making it all possible. A key player in this dynamic is the self-service kiosk. These interactive kiosks are more than just digital signage; they're revolutionizing the customer experience in industries from quick-service restaurants to retail stores. Imagine a customer stepping into your restaurant, greeted by an intuitive self-ordering kiosk that showcases your entire menu, offers payment options, and creates a memorable guest experience. This isn't a distant future scenario but a reality for many businesses today, like Samsung, with their robust kiosk software and professional services.
Whether you're a restaurant owner considering a switch to kiosk technology or a curious customer, learning more about how these self-service solutions operate can be eye-opening. They function as self-serve kiosks, allowing guests to place orders, make payments with a credit card through a secure card reader, and receive their orders quicker than traditional methods. This increases operational efficiency and customer satisfaction. Furthermore, using necessary cookies ensures a personalized experience by learning and adapting to customer behavior.
What Is A Self-Service Kiosk?
A self-service kiosk, like a Samsung kiosk, is a device that empowers customers to process their transactions without requiring assistance from a staff member. This modern technological solution, leveraging interactive kiosk software, is often found in quick service restaurants, retail stores, and other businesses seeking to enhance customer experience and operational efficiency.
These kiosks play a vital role in the restaurant industry. Restaurant owners can significantly improve their service speed and overall guest experience with the help of restaurant kiosks. These self-ordering kiosks streamline the ordering process and provide customers various payment options, including credit card transactions through a secure card reader.
How Do Self-Service Kiosks Work?
Self-service kiosks operate on a user-friendly interface supported by robust and secure software. When customers approach a kiosk, they're met with a digital screen displaying various options tailored to the business' offerings. In a restaurant setting, the screen would show the menu. The customer can then navigate these options, choose what they want, customize their order if needed, and proceed to checkout. At this stage, they can pay for their order directly at the kiosk using various payment methods, such as credit cards, mobile payment apps, or even cash in some cases.
The kiosk software integrates with the business' point-of-sale system, which ensures the order is sent directly to the kitchen or relevant department for preparation or assembly. The kiosk serves as a communication channel between the customer and the staff, ensuring orders are processed efficiently and accurately. This reduces the risk of human error and enhances order accuracy. The kiosk also records the transaction data, allowing businesses to monitor sales, identify popular items, and adjust their offerings based on consumer behavior. Using cookies enables the kiosk to remember repeat customers and tailor the experience to their previous orders, further enhancing customer satisfaction.
A self-service kiosk is a digital manifestation of a business' services, allowing customers to engage and transact with minimal staff interaction, increased efficiency, and a highly personalized experience.
Where Can You Use A Self-Service Kiosk?
Restaurants
In the restaurant industry, self-service kiosks have become a game-changer. They not only speed up the order placement process but also offer various payment options, increasing customer satisfaction levels. Customers can customize their orders as per their preferences, and the chances of miscommunication or errors are significantly reduced. By remembering repeat customers, these kiosks can provide a personalized service, making the dining experience more enjoyable and efficient.
Grocery Stores
In grocery stores, self-service kiosks are transforming the shopping experience. They allow customers to effortlessly scan and bag items as they shop, leading to quicker checkout times and less queueing. Moreover, with the capability to remember repeat customers through cookies, the kiosks can offer personalized deals and recommendations, creating a more engaging and efficient shopping experience.
Movie Theaters
Self-service kiosks have also brought about a revolution in movie theaters, significantly enhancing the movie-going experience. Patrons can purchase and print their tickets, select seats, and even order concessions directly from the kiosk, bypassing long lines at the box office. The kiosk remembers repeat customers using cookies, offering a personalized experience with movie recommendations based on past viewings, making every movie night a smooth and enjoyable affair.
Airports
Airports are yet another domain where self-service kiosks are making waves. They streamline the check-in process, allowing passengers to check in, print boarding passes, and even check luggage without staff assistance. These kiosks, equipped with cookies, remember frequent flyers, offering personalized travel information and swiftly easing them through the airport process. This majorly reduces queuing time and enhances the overall travel experience.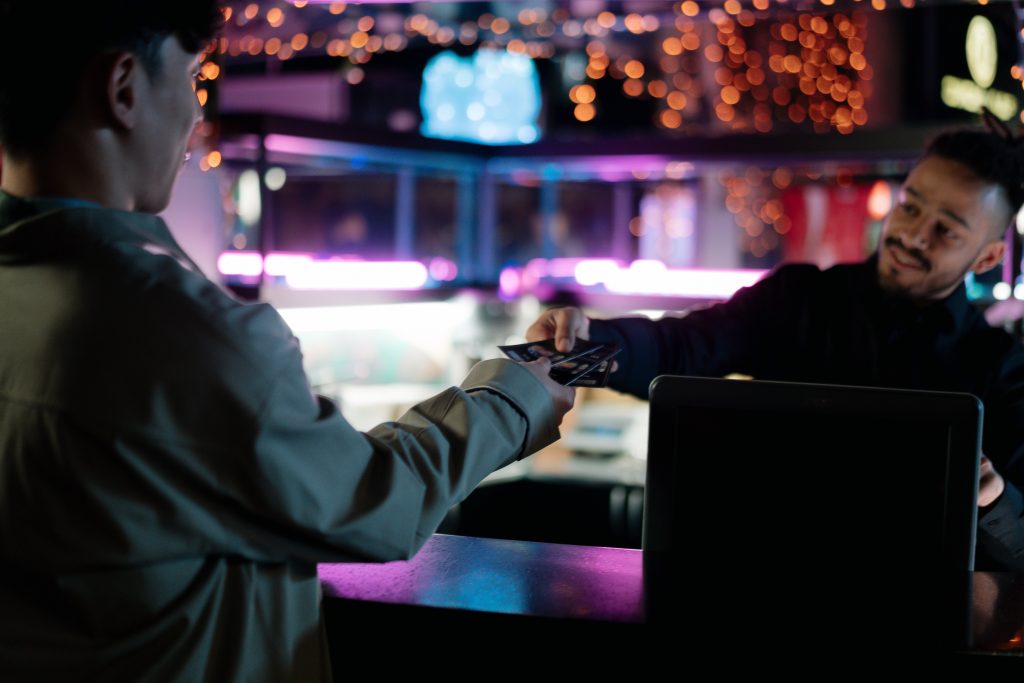 The Benefits Of Self-Service Kiosks
Reduced Staff Costs For Businesses
Self-service kiosks, by taking over routine customer transactions, considerably cut down on staffing costs for businesses. Employees otherwise tied up in mundane tasks can now be strategically deployed in areas requiring a human touch, enhancing service quality. This shift not only optimizes resource allocation but also brings substantial financial savings in the long run. Furthermore, a self-service kiosk operates round the clock, eliminating the need for additional staffing during extended hours.
Shorter Lines
Self-service kiosks are a boon when it comes to reducing queue lengths. By speeding up service delivery and transaction processes, these kiosks allow customers to be served more quickly and efficiently. As a result, long and daunting lines are significantly shortened, leading to enhanced customer satisfaction and an overall smoother experience.
Safer Service
In an era demanding contactless service due to health and safety concerns, self-service kiosks represent a safer alternative to traditional service methods. They eliminate the need for human contact during transactions, minimizing the risk of contagion. By incorporating regular sanitation protocols, businesses can ensure these kiosks offer a safer, cleaner experience for customers.
Opportunities To Upsell
Self-service kiosks not only streamline operations and improve customer experience, but they also present an opportunity to boost sales through upselling. The digital interface can be programmed to suggest additional items or upgrades relevant to the customer's current selection, encouraging larger purchases. This increases the average transaction value, contributing significantly to a business's revenue. This smart upselling strategy is automated, yet personalized thanks to the use of cookies, making it a win-win situation for both customers and businesses.
Customizable Software
The software of self-service kiosks can be customized according to the specific needs and offerings of a business. This adaptability makes the kiosk an incredibly versatile tool, capable of serving a wide array of industries, from restaurants to retail stores, and from movie theaters to airports. Leveraging analytics and cookies, the software can provide personalized services to repeat customers, thus ensuring a unique and satisfying user experience every time.
Fewer Wrong Orders
By minimizing human error, self-service kiosks ensure greater accuracy in order processing, leading to fewer incorrect orders. This increase in accuracy results in improved customer satisfaction, as customers receive exactly what they ordered. Furthermore, it contributes to operational efficiency by reducing the time and resources spent correcting or compensating for errors.
Improved Customer Satisfaction
Self-service kiosks significantly enhance customer satisfaction by offering a streamlined, efficient, and personalized service. These kiosks reduce waiting times, ensure order accuracy, and offer personalized experiences through the use of cookies. They embody a safer, contactless method of service, catering to current health and safety requirements. Furthermore, the capacity for upselling and providing targeted recommendations contribute to a unique and satisfactory customer experience.
Conclusion
In the rapidly evolving world of commerce, staying competitive often hinges on embracing innovative technology that enhances customer experience and drives operational efficiency. Self-service kiosks, with their multitude of features and benefits, are a sterling example of such technology. They are reshaping industries by offering businesses a tool that reduces staffing costs, shortens lines, improves service safety, and boosts sales through targeted upselling. At the same time, they enhance customer satisfaction by providing a streamlined, efficient, and personalized service. Whether you operate a restaurant, a retail store, a movie theater, or an airport, the versatility of self-service kiosks makes them an invaluable asset for your business.
Ready to transform your business with self-service kiosks? Book a demo with Orderific today and step into the future of efficient customer service.
FAQs
What are the pros and cons of a self-ordering kiosk?
The pros include increased efficiency, reduced staffing costs, and improved customer satisfaction, while the cons can be the upfront cost and technical issues.
How do self-ordering kiosks benefit restaurants and retailers?
Self-ordering kiosks boost efficiency, reduce errors, and enhance the customer experience.
What are the benefits of kiosks in restaurants?
Kiosks in restaurants streamline operations, improve order accuracy, and enhance customer satisfaction.
How much does a self-service kiosk cost?
The cost of a self-service kiosk can range from $1,500 to $5,000 depending on the features and customization.
Can you use a POS system for a self-ordering kiosk?
Yes, a POS system can be integrated with a self-ordering kiosk.
What is a Self-Service Kiosk market?
The Self-Service Kiosk market refers to the industry involved in the production, distribution, and sale of self-service kiosks.