Fusion cuisine has become a captivating way to experiment with and enjoy various global flavors in the bustling culinary scene, especially in the United States. And when it comes to innovative and flavorful fusion, Seoul Taco, a Korean-Mexican joint, is to be noticed.
This vibrant eatery has successfully merged the rich and savory notes of South Korea with the robust and spicy elements of Mexican cuisine.
How Seoul Taco Became the Ultimate Korean-Mexican Fusion Destination
Seoul Taco's journey to becoming a beloved fusion spot is an inspiring tale of culinary passion and innovation. It all started with a desire to create unique, flavorful dishes that draw on the rich culinary traditions of Korea and Mexico.
Through meticulous recipe development and careful sourcing of ingredients, Seoul Taco has perfected the art of fusion, offering a menu that pays tribute to both cuisines while creating something entirely new.
From Tacos to Kimchi Fries: Must-Try Menu Items at Seoul Taco
Embark on a culinary adventure with Seoul Taco's fusion tacos. These crowd-pleasers are carefully crafted with Korean-style marinated meats, fresh vegetables, sesame seeds, and zesty sauces, all served on a warm corn tortilla. Meeting Korean flavors with classic Mexican dishes results in a taco experience that is a cut above the rest.
Kimchi Fries Done Right: Take on a Classic Korean Dish
Kimchi, a traditional Korean side dish, takes center stage in Seoul Taco's Kimchi Fries. These crispy, golden fries contain tangy kimchi, melted cheese, green onions, and protein. The result? A delicious explosion of flavor in every bite that's hard to resist.
Bold and Flavorful: Try The Spicy Pork Belly Bowl
Indulge your taste buds with the Spicy Pork Belly Bowl, a dish perfect for spice enthusiasts. This delectable creation showcases a succulent pork belly marinated in a tantalizing gochujang sauce.
Experience the irresistible delight of tender morsels atop a fluffy rice bed, complemented by a medley of vibrant and refreshing vegetables that provide a satisfying crunch.
Indulge in the opportunity to savor this remarkable amalgamation of diverse textures and flavors that effortlessly merge, creating a symphony of culinary delight for your discerning palate.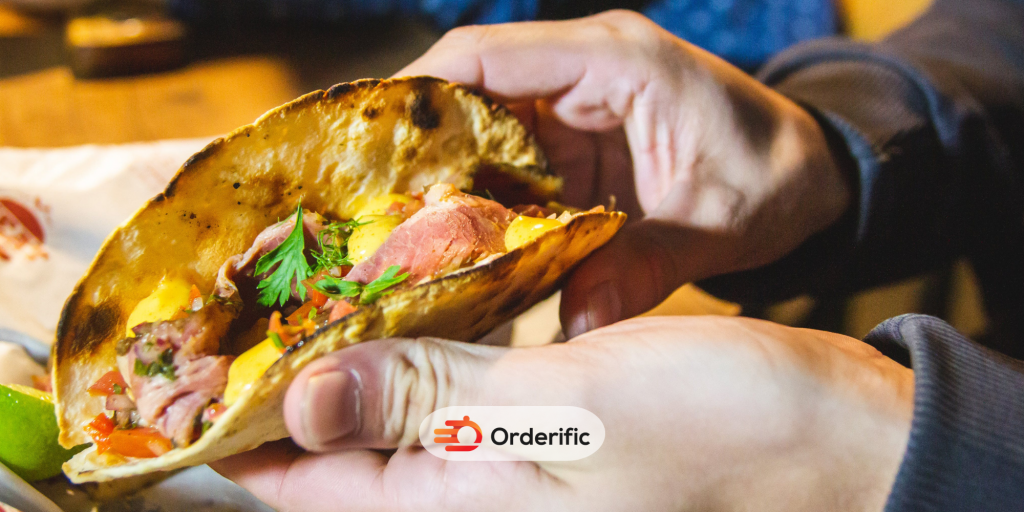 Vegetarian Options: Delicious Meat-Free Korean-Mexican Dishes
The menu at Seoul Taco is crafted to ensure everyone, including vegetarians, can savor the fusion experience. Savor the mouthwatering vegetarian delights, like tofu tacos bursting with protein and nourishing veggie-loaded bowls. These delicious creations may even entice devoted meat lovers to try them.
Sweet Treats: Indulge in Churros and Other Desserts
Round off your Seoul Taco meal with a sweet treat. Undoubtedly stealing the spotlight are the churros – a delectable treat worth its weight in gold. Feast these mouthwatering treats with a perfectly crispy exterior and irresistibly tender interior.
Coated in a divine combination of sugar and cinnamon, these tantalizing morsels will take you on a culinary journey. Take advantage of this heavenly indulgence – it's an experience you will want to experience.
Sides That Steal the Show: Don't Miss The Loaded Nachos and Quesadillas
While the main dishes are undeniably tasty, the sides at Seoul Taco are equally show-stopping. The loaded nachos, topped with cheese, kimchi, and your choice of protein, are a delight, as are the cheesy, perfectly grilled quesadillas.
Drinks to Complement Your Meal: Selection of Craft Beers and Specialty Cocktails
A meal at Seoul Taco would only be complete with a refreshing beverage to wash down all the delicious food. From a selection of craft beers that beer lovers will appreciate to specialty cocktails that add a festive touch, there's a drink to quench everyone's thirst.
So there you have it, a full menu tour of Seoul Taco, where Korean and Mexican cuisines coexist in beautiful, tasty harmony. Now, who's hungry?
Behind the Scenes: A Look at Innovative Fusion Cooking Techniques
Creating fusion cuisine involves more than just combining ingredients from different cuisines. It requires understanding other cooking techniques, flavor profiles, and ingredient compatibilities.
At Seoul Taco, the culinary team continually experiments with and refines their methods to achieve the perfect balance of Korean and Mexican flavors.
Customer Reviews: What People Are Saying About Seoul Taco Korean-Mexican Fusion Cuisine
Feedback from customers consistently highlights the unique, delicious flavors and high-quality ingredients found at Seoul Taco. With its warm and inviting service, lively ambiance, and creative menu, this place has earned a well-deserved reputation as a go-to spot for food enthusiasts.
Conclusion
At Seoul Taco, Korean and Mexican cuisine fusion goes beyond novelty. It represents an ongoing exploration of flavors and techniques that brings customers a unique, memorable dining experience. Whether you're a longtime fan of fusion cuisine or looking to try something new, Seoul Taco offers a fresh, flavorful take on two beloved culinary traditions.
In case you want more content like this, visit Orderific right now!
FAQs
What is Korean-Mexican fusion cuisine?
Korean-Mexican fusion cuisine combines the best of both worlds – the bold flavors and techniques of Korean and Mexican food.
How did the idea for Seoul Taco come about?
Inspired by the passion for blending the robust, umami-filled essence of Korean fare with the zestful, colorful palette of Mexican cuisine, the birth of Seoul Taco emerged.
What are some of the most popular menu items at Seoul Taco?
In their compelling fusion tacos, savor their mouthwatering kimchi fries, and treat yourself to their delectable spicy pork belly bowl.
Are there vegetarian or vegan options available at Seoul Taco?
Yes, Seoul Taco offers a range of vegetarian options of Korean flavor, and some dishes can be modified to be vegan-friendly.
Does Seoul Taco offer catering services for events?
Yes, Seoul Taco offers catering services. They can provide a customized menu for various events, ensuring that guests enjoy their unique, delicious fusion cuisine.