Mastering the art of proper footwear, especially slip-resistant shoes for women, goes beyond mere style. Safety becomes the primary concern when evaluating a work setting that is susceptible to slippery and hazardous conditions. Long hours on your feet call for slip-resistant shoes. It is a necessity rather than an option for those employed in healthcare, hospitality, and similar industries.
But here's a fun twist: safety can translate into something other than boring. A massive array of options in slip-resistant shoes for women offers a balance between style and security. Let's delve deeper into slip-resistant shoes, breaking down the techniques, technology, benefits, and perfect fits for various professions.
The Different Types of Slip-Resistant Shoes: Choosing the Right Style for Your Needs
Choosing the perfect pair of slip-resistant shoes can seem like navigating a maze. With a wide range of choices, navigating through various available styles can sometimes feel overwhelming. From casual shoes that offer a laid-back, stylish vibe while packing in the safety features to the more formal work boots, each style is designed to provide superior traction while complementing personal style.
Sneakers
For a classic, athletic look, sneaker-style work shoes. Brands like New Balance bring sporty style and renowned comfort to the table.
Clogs
For those who prefer a versatile, easy-to-wear design, clogs might be the ideal choice, with brands like Spring Step offering stylish, comfortable options.
Heels
If elegance is a must, even in a work shoe, don't fret; there are options like stylish yet practical slip-resistant heels.
Remember, finding the perfect slip-resistant shoe goes beyond style. Think about the working environment, comfort needs, foot support, and, most importantly, the level of slip resistance required.
When these factors are considered, finding a shoe that offers the perfect blend of style, comfort, and safety becomes a breeze.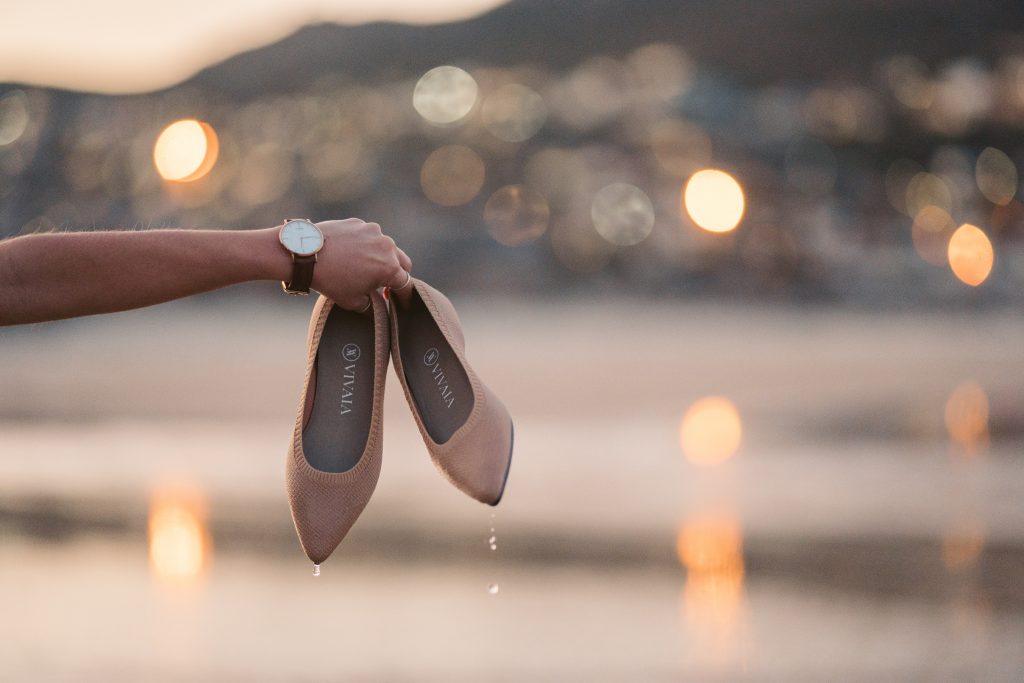 How Slip-Resistant Shoes Work: Understanding the Technology Behind the Traction
What makes slip resistant shoes for women unique? It's all about the outsole. While ordinary shoes may sport a flat, smooth sole, slip-resistant shoes feature a specially designed sole that provides a solid grip even on slick surfaces.
Typically, these soles are made from soft, flexible materials like rubber that provide better contact with the floor, reducing the risk of slipping.
But the secret to effective slip resistance isn't just about the material but also the tread design. These shoes feature tread patterns with deep grooves and channels that siphon away liquids like water or oil from the point of contact.
This effectively prevents hydroplaning, a primary cause of slips. Coupled with features like shock absorption and static dissipative properties, these shoes are perfect for maintaining balance and stability, even in challenging work environments.
The Benefits of Slip-Resistant Shoes: Comfort, Support, and Durability
While safety and slip resistance are the primary features of these shoes, the benefits they offer extend far beyond just that. First up, comfort. Most slip-resistant shoes are designed keeping in mind the long working hours of their users.
They often incorporate excellent arch support, cushioning, and shock absorption to reduce foot fatigue and keep you comfortable throughout the day.
Next up is durability. Slip-resistant shoes are made to last. They can stand up to the wear and tear of daily use, making them a cost-effective investment in the long run.
Furthermore, who said safety can't be stylish?
With the myriad styles and designs available today, it's easy to find a pair of slip-resistant shoes that cater to individual style preferences, proving that style and safety can go hand in hand.
Slip-Resistant Shoes for Different Professions: From Healthcare to Hospitality
Slip-resistant shoes are a critical part of the uniform for several professions. In healthcare, where spills are commonplace and long hours are spent on the feet, these shoes are essential for maintaining safety and comfort.
Similarly, in the hospitality industry, where kitchens can be bustling, and dining floors often encounter spills, slip-resistant shoes offer protection against slips and falls.
These shoes are highly beneficial even in retail environments, where polished, smooth floors can pose slip hazards. 
The fantastic part is there's a slip-resistant shoe for every uniform, from sleek boots and elegant heels to comfortable clogs and casual sneakers. It's all about finding the right fit for your needs and working conditions.
Conclusion
Slip-resistant shoes are an essential investment for anyone working in environments prone to slippery and hazardous conditions. Offering more than just safety, these shoes have evolved to provide a balance of style, comfort, and durability without compromising on the safety front. The art of choosing the right pair involves understanding your unique work environment, comfort needs, and style preferences.
Whether you're in healthcare, hospitality, or retail, there's a pair of slip-resistant shoes designed to meet your needs, proving that style and safety can indeed go hand-in-hand. Embrace the blend of technology and fashion in footwear that keeps you secure, comfortable, and stylish as you navigate your workday.
In case you want more content like this, visit Orderific right now!
FAQs
What are slip-resistant shoes?
Slip-resistant shoes for women are a unique type of footwear designed to provide better traction and minimize the risk of slipping or falling, especially on slippery surfaces.
How do slip-resistant shoes work?
Slip-resistant shoes work primarily due to their unique sole design. The soft rubber outsoles and specific tread patterns increase the shoe's grip on the ground.
What are the benefits of slip-resistant shoes?
These shoes offer exceptional comfort and support, optimizing foot health even during extended work shifts.
Who needs slip-resistant shoes?
Slip-resistant shoes can benefit individuals in various industries, such as healthcare, hospitality, retail, and more.
What professions require slip-resistant shoes?
This includes healthcare professionals such as nurses and doctors, hospitality workers including chefs, waitstaff, bartenders, and retail employees.