A small restaurant often emanates its unique allure in the bustling dining realm. Inviting, cozy, and warm, these charming establishments cater to the discerning palates of food enthusiasts. The design, a harmonious blend of aesthetics and ergonomics, is pivotal in creating an unforgettable dining experience. Every square foot is meticulously crafted, marrying form and function seamlessly. Here, the aroma of the finest cuisine mingles with the hum of convivial conversation, enchanting your senses. Whether it's an intimate fine dining setting or a vibrant burger joint, success lies in the fine details. As a small restaurant owner or a passionate entrepreneur, mastering the art of designing your small space is a rewarding journey. This guide takes you through it, one delightful bite at a time. Welcome, let's embark on this flavorful voyage together.
Design with Efficiency in Mind
Regarding the layout of a small restaurant, every square foot counts. Efficiency is the secret ingredient to success. Imagine a space where the kitchen equipment sits harmoniously, with each tool in its rightful place. The clatter of pots and pans rings out, a symphony of culinary creation.
Ease of movement is vital in such a small space. The dining room, peppered with well-spaced restaurant tables, offers comfort and convenience. Diners can enjoy their meals, indulging in intimate conversation without feeling cramped. Despite its small size, the restaurant's floor plan ensures a flow as smooth as fine wine.
Incorporating an intelligent seating plan is essential. The arrangement allows the business owner to accommodate the maximum number of guests without sacrificing comfort. Feel the hum of conversation grow as patrons relish their dining experience, their laughter echoing around the room.
Every small restaurant owner knows the importance of maximizing floor space. Efficient design doesn't mean compromising on style. Envision a restaurant concept where modern aesthetics meet functional design, where every piece of furniture and detail contributes to a unique dining ambiance.
Social media also plays a key role in promoting your small business. With a well-designed space, you can create picture-perfect moments that your guests want to share on their channels, amplifying your visibility.
In small restaurants, design with efficiency in mind and savor the sweet taste of success.
Table for Two
A table for two at a small restaurant often promises an intimate dining affair. Picture your surroundings. The warm glow of ambient lighting creates a soft, romantic backdrop. With each bite, you explore the hand-crafted menu of a passionate small restaurant owner, each dish revealing a flavor story. A whisper of spices, the crunch of fresh vegetables, or the tender surrender of perfectly cooked meat; it's a sensory journey.
The seating, well-curated for comfort, allows for easy conversation and shared laughter. The tables, though compact, are strategically placed. This thoughtful arrangement maximizes the small space without sacrificing privacy or comfort. The constant hum of the restaurant's life swirls around you as you dine. Yet, within your little corner, a world of flavors unfolds, and time seems to pause.
Quality over quantity is the mantra of these small dining havens. Despite the limited square footage, every detail is refined, from the carefully chosen kitchen equipment to the texture of the tablecloth beneath your fingertips. Your interactions with the staff feel genuine, almost familial.
Experiencing a table for two in a small restaurant is more than just a meal; it's an intimate dance of flavors, ambiance, and connection. It's a memory etched in the fabric of a place where fine dining meets heartfelt hospitality.
Spots for TVs
Imagine walking into a small restaurant on a game night. The atmosphere is electric. Strategically placed TVs, twinkling like stars in a city skyline, heighten the excitement. Each screen, a window into the thrilling world of sports, brings together patrons in shared anticipation. The aroma of freshly cooked food wafts through the air, adding to the sensory delight.
Around you, spontaneous cheers break out. You feel the camaraderie of fellow diners as they rally behind their teams. The TVs, despite their minimal footprint in the cozy restaurant space, become the heartbeat of the dining room. They serve as an enticing lure for customers, amplifying the commercial appeal of the small restaurant.
As a business owner, you know their value. They transform your restaurant into a sports lover's paradise without infringing on the intimate dining experience. The TV spots, carefully chosen, keep the smooth flow of service and the comfortable seating arrangement intact. Instead, they elevate the dining experience, marrying fine food with thrilling sporting action.
In a small restaurant, even TV spots are a testament to efficient, thoughtful design. They are a perfect blend of entertainment and relaxation, adding another layer to the rich tapestry of your small dining haven.
Welcoming Entryway
Venturing into a small restaurant, the first greeting is the welcoming entryway. Immediately, you're embraced by an infectious warmth. The ambiance, rich with the aroma of food, stirs your senses. The soft, inviting glow of the lighting guides you in. Every element, from the tastefully chosen decor to the detailed floor space layout, promises an intimate dining experience.
Your interaction with the staff begins here. Their genuine smiles and polite greetings are the human touch that sets small restaurants apart. As a small restaurant owner, much thought is given to this first impression. Your guests' initial experience is crucial in setting the tone for their entire visit.
The entryway, though small, is dynamic. It serves multiple roles: a waiting area, a transition space, and an introduction to the dining room. The layout is designed for efficiency without compromising on comfort. It encapsulates the concept of a small restaurant – an intimate yet functional space.
Posters, menus, or social media handles displayed here are a smart way to engage your guests and promote your small business. So, step inside, let the welcoming entryway of a small restaurant enchant you, and prepare you for a memorable dining affair.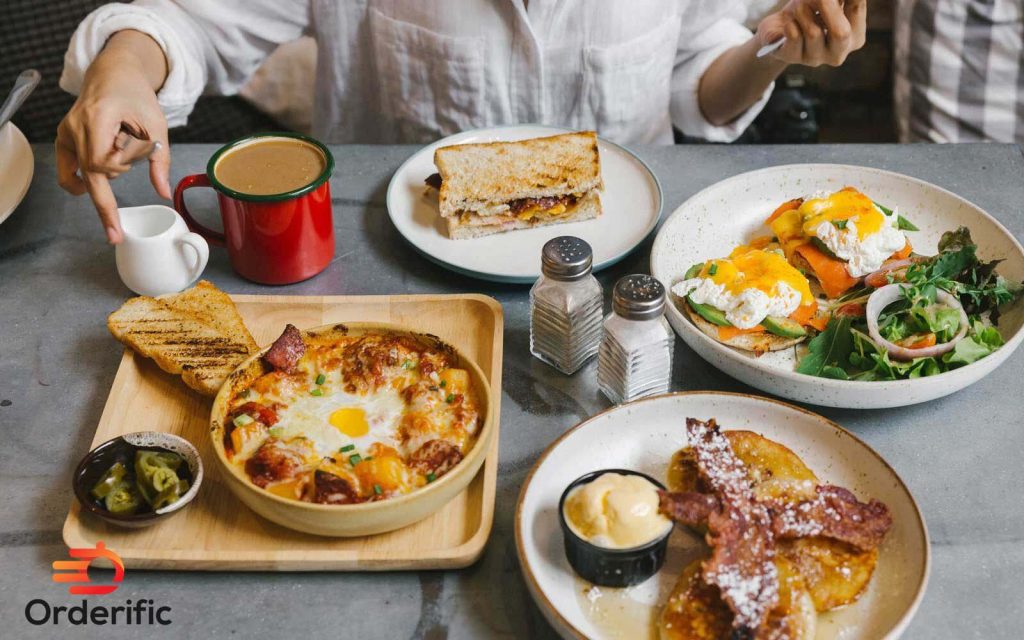 Inviting but Safe
In small restaurants, an inviting atmosphere couples with paramount safety. As you step in, you're wrapped in a cocoon of warmth and comfort from every corner. The soft lighting flickers, dancing across the meticulously arranged seating. Yet, amidst the cozy ambiance, you sense a steadfast commitment to safety.
The restaurant's design prioritizes your well-being, evident in every detail. There's ample space between tables, allowing easy, unhindered movement. You find privacy in your dining experience, but not at the cost of safety. It's a delicate balance achieved with thoughtful planning.
The kitchen, visible from your seat, bustles with activity. Each chef, a maestro in their culinary symphony, adheres to strict hygiene protocols. Their dedication to safety is as palpable as their passion for food.
In times of social distancing, the small restaurant evolves. Contactless menus, sanitizer stations, and staff sporting protective gear become a part of the dining narrative. Yet, these changes don't eclipse the charm of the small restaurant experience.
You feel secure, appreciated, and cared for. It's an inviting refuge where safety and pleasure dine at the same table. So, immerse yourself in the allure of small restaurants, where the ambiance is inviting, but security is never compromised.
Consider Your Bar's Location
In the cozy realm of a small restaurant, location is everything, especially regarding the bar. Imagine walking in, lured by the soft, mesmerizing glow of the bar. Its strategic location, a beacon within the small space, beckons you. Effortlessly, it becomes the heart of the restaurant, pulsating with a vibrant, inviting energy.
Experience the subtle magic of the bar's placement. Each stool tells a story, each glass a shared secret. As you sip your drink, you're part of this narrative. The bar's location allows for the perfect balance of social interaction and intimate dining. You see lively conversation, laughter, and shared moments unfold while maintaining your personal space.
Drawing on its surroundings, the bar harnesses the energy of the dining room. Its prime location near the entryway ensures visibility, yet it never encroaches on the dining experience. On the contrary, it enhances it. The bar's subtle presence becomes integral to the restaurant's concept, blending seamlessly into the floor space.
As a small restaurant owner, consider your bar's location as carefully as your kitchen equipment. Its placement can transform your establishment, creating a unique dining ambiance. Take a moment, sit at the bar, and savor the beauty of a small restaurant, one sip at a time.
Conclusion
In designing a small restaurant, every detail matters, and every square foot pulsates with potential. The intimate ambiance, the well-thought-out floor plan, and the strategically placed bar contribute to a unique dining experience. You've been on a journey, exploring the meticulous design elements that create a thriving small restaurant. Now, imagine leveraging technology to amplify your success further. With Orderific, you can automate operational tasks, focusing on delivering an unrivaled customer experience. Orderific is integrated with leading POS systems and payment partners, ensuring smoother operations and increased revenue. Tailor your marketing strategies using invaluable data, making your small restaurant more than just a dining place but a haven of unforgettable experiences. Schedule a FREE DEMO today for more information on how Orderific can transform your small restaurant.
FAQs
What are the advantages of owning and operating a small restaurant compared to larger establishments?
Small restaurants offer intimate settings, personalized service, lower operating costs, and easier management than larger establishments.
How can small restaurants create a unique dining experience to attract customers?
By focusing on personalized service, creating a cozy atmosphere, offering unique menus, and implementing efficient design strategies.
What challenges do small restaurants commonly face, and how can they overcome them?
Small restaurants often need more space constraints, staff, and fierce competition. Overcome these with efficient design, exceptional service, and unique offerings.
How can small restaurants effectively manage their resources and maintain profitability?
Effective resource management includes prudent cost control, workforce optimization, and leveraging technology for operational efficiency.