In today's world, the power of social media can't be overstated, especially for food truck marketers. Picture this: You're strolling down a bustling city street when the aroma of sizzling beef tacos wafts through the air, leading you to a trendy food truck. A quick scan of the vibrant artwork on its side shows you to their Instagram page, brimming with mouth-watering photos and glowing customer reviews. This is no random encounter. It results from effective social media marketing, intelligently integrated into the food truck's strategy. This approach enhances brand visibility, connects with a wider audience, and turns casual passersby into loyal customers. Ready to transform your food truck business? Dive into our guide on harnessing the power of social media integration for your marketing efforts.
Why You Should Use Socia Media to Build Brand Awareness?
A food truck's journey to success unfolds one social media post at a time. Picture the vibrant colors of an Instagram feed brimming with compelling images of your food truck's best dishes. This visual feast not only tempts taste buds but also builds a solid social media presence.
Let's delve into the compelling reasons why every food truck should leverage the power of social media for brand awareness:
Engagement: Social media platforms like Facebook and Instagram offer a space for real-time interaction. Imagine customers savoring your signature dish, snapping a photo, and sharing it on their profiles. Their followers watch, their interests are piqued, and your brand recognition multiplies.
Brand Visibility: Regular social media posts keep your brand at the forefront of potential customers' minds. Think about the food truck POS system, serving up orders as quickly as tweets and Instagram stories fly, each one boosting your visibility on the digital marketing landscape.
Target Audience: With strategic social media content, your food truck can reach its target audience effectively. Whether you're catering to the lunchtime office crowd or late-night foodies, tailored posts attract the right set of taste buds.
Influencer Marketing: Collaborating with influencers can skyrocket your social media branding. A single post from a loved food blogger can steer a flood of followers to your food truck's location, broadening your customer base.
Customer Loyalty: A solid social media presence cultivates brand loyalty. Faithful followers will be eager for your latest menu updates and location changes, turning them from occasional customers to loyal fans.
In the bustling world of food trucks, social media marketing is your loudspeaker, announcing your mouth-watering offerings. It's time to increase the volume and let social media amplify your food truck's brand awareness.
Tips to Use Social Media For Marketing
Imagine standing on a bustling street corner, megaphone in hand, ready to shout about your mouth-watering food truck offerings. But instead of a physical megaphone, you have Twitter, Instagram, and Facebook. This is the power of using social media for marketing, a dynamic and interactive stage where you perform daily, engaging your audience and amplifying your brand's voice. Now, let's explore some practical tips for using this digital loudspeaker effectively.
Choose the Right Platform for Your Audience: Engage where your customers are. Instagram might be perfect for displaying delicious dishes, while Twitter could help announce location changes swiftly.
Deliver Content and Engage With Audiences: Always remember, content is king. Regularly post engaging content, respond to comments, and create a vibrant online community around your food truck.
Encourage Your Audience to Share Your Content: Sharing is caring in social media. Encourage your followers to spread the love by sharing your posts and tagging their friends.
Connect With and Learn From Influencers: They've already won the social media game. Partner with influencers, learn from their strategies, and let them introduce your brand to their loyal followers.
Mention Influencers, Partners, Customers, and More: A social media shout-out for your customers, partners, or influencers can amplify your visibility and strengthen relationships.
Maintain Relationships With Customers: Always respond to comments and messages. Regular interaction builds relationships and fosters customer loyalty.
Leverage Trends and Breaking News: Stay relevant by jumping on trending hashtags and news, but remember to keep it tasteful and align with your brand identity.
In the bustling digital social media marketplace, these marketing strategies can turn your food truck into a trending hotspot, buzzing with satisfied customers and a growing fanbase.
Benefits of Using Social Media to Build Brand Awareness
Social media's power in building brand awareness for your food truck business is a game-changer. Consider the zesty aroma of a taco, tantalizingly captured in crisp pixels and shared on your Facebook page. Your followers delight in the virtual feast, engaging with your post and spreading the word. This active participation on social media platforms boosts your brand visibility, and with it, customer loyalty deepens.
Imagine receiving a nod of approval from a popular food influencer on Instagram. In a single post, your brand recognition multiplies, drawing a more comprehensive range of potential customers. It's like a digital version of word-of-mouth, spreading faster and reaching farther.
Every tweet, every post, and every shared photo on your social media account becomes a valuable tool in your marketing strategy. Effectively utilizing these tools, your brand's voice echoes through the digital landscape, reaching targeted audiences effortlessly.
A strong social media presence also cultivates customer loyalty. A regular follower eagerly anticipates your newest menu addition or location change. With each fresh update, their bond with your brand grows stronger.
In the bustling world of food trucks, social media marketing is more than just a trend – it's your ticket to increased customer engagement, brand visibility, and, ultimately, business success. It's time to harness the power of social media and let its magic work wonders for your food truck business.
It's Cost-Effective
One of the most convincing arguments for incorporating social media into your food truck's marketing strategy is its cost-effectiveness. Imagine launching a brand awareness campaign, spreading the word about your mouth-watering menu, and connecting with a wider audience, all without breaking the bank. In the virtual marketplace of social media platforms, each post is a cost-effective advertisement, spotlighting your culinary creations and enticing customers.
In the past, traditional advertising methods could drain resources with uncertain results. But with social media advertising, you reach a targeted audience at a fraction of the cost. It's like having a billboard that only the right eyes can see.
Moreover, you control the reins of your social media campaign. With tools for social listening, you can monitor the buzz about your brand, allowing you to adjust your marketing strategy in real-time. It's like receiving instant customer feedback, helping you stay on top of the game.
With cost-effective social media marketing, you're not just a food truck owner. You become an engaging storyteller, a savvy marketer, and a digital maestro, harmonizing your brand's narrative across various platforms. You connect, engage, and grow your business, all without stretching your budget.
The cost-effectiveness of social media marketing makes it an essential tool for food truck operators. So why wait? Embark on your social media journey, and let your food truck's story unfold, one post at a time.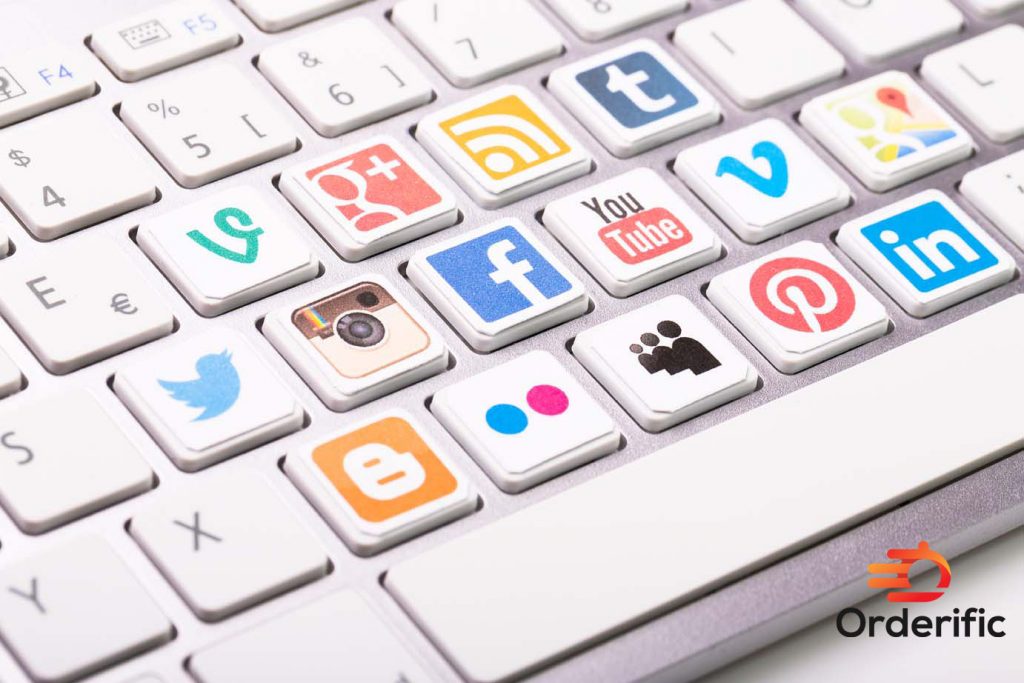 Get Ideas for Your Content Strategy
In the vibrant world of social media, content strategy is king. Imagine navigating this digital landscape, your path illuminated by the innovative ideas you generate, each a beacon attracting your target audience. Here, your food truck's story is told not through mouth-watering flavors but through a feast of engaging content seasoned with creativity and sprinkled with the right keywords.
Picture this: a compelling photo of your signature dish, so vivid that it emits an irresistible aroma. Next, a video tour of your food truck, inviting customers into your world. Then, an infographic showcasing the journey of your food, farm-to-truck. Each post is a chapter in your brand's narrative, shared across various platforms, engaging your followers and attracting new ones.
But your content strategy does more than narrate; it engages. Imagine a fun poll asking your followers their favorite menu item or a behind-the-scenes story, revealing your team's preparation for a busy day. This interactive content not only sparks conversations but also strengthens your bond with your audience, turning them from mere followers into loyal brand ambassadors.
In this digital narrative, your food truck's brand is the hero, its journey unfolding through engaging content across social media. As your brand's story unfolds, your followers eagerly anticipate each update, captivated by your innovative content strategy. So, embark on this content creation journey, and watch as your food truck's story is told, one engaging post at a time.
Lead Generation
Imagine social media as a bustling digital marketplace. It's here where you'll discover an untapped gold mine: potential customers. Let's consider the process of lead generation, a crucial component of any marketing strategy. It involves attracting and converting strangers and prospects into someone who has indicated an interest in your food truck's product.
First, you provide tempting content, a sensory feast that lures potential customers. Think of an irresistible Instagram post highlighting the sizzling drama of your best-selling burger. The enticing visual, coupled with a well-crafted caption, captures wandering digital eyes and piques their interest.
Next, an engaging call-to-action, subtly included within the post, guides these newfound prospects. Perhaps it's a simple "Swipe left for locations" or a more specific "Click the link in bio for today's special." This interactive step transforms passive observers into active participants, drawing them further into your brand's narrative.
Now, with interest piqued and interaction initiated, these prospects are ready for conversion. Consider a simple information exchange, like signing up for your email newsletter. They provide their contact information; you provide regular updates on your food truck's enticing offerings. It's a win-win situation, benefitting both parties.
This cycle of attract, engage, and convert continues, each phase driven by your engaging social media content. It's a dynamic process, reflecting the vibrant rhythms of the digital marketplace. Through effective lead generation, your food truck's follower count doesn't just grow – it thrives. Welcome to the power of social media lead generation, where your potential customers are just a post away.
Creating a Unique Brand Voice on Social Media
In the bustling online social media marketplace, finding your food truck's unique voice is paramount. This voice, like the distinctive aroma wafting from your truck, is your signature, setting you apart in a crowded field. Imagine your brand's personality coming alive through each post, each tweet, and each shared image.
Think about a witty tweet that makes followers chuckle or an Instagram story filled with the warmth of your team's camaraderie. Each post is like a serving from your menu, enticing customers for more. They savor your unique flavor, relishing the authenticity that saturates your brand's voice.
As the rhythm of likes and shares increases, your food truck's voice echoes louder in the digital world. It's a symphony of engaging dialogue, catchy hashtags, and captivating visuals, all playing harmoniously to create your unique brand narrative.
Like your secret sauce adds a punch to your dishes, your distinctive voice spices up your social media presence. It's not just about announcing your menu or location but also about expressing your brand's story, values, and character.
Your voice is the magnet that attracts followers, the thread that weaves your online community, and the echo that amplifies your brand's visibility. And amidst the clamor of the digital crowd, your food truck's unique voice resonates, striking a chord with an audience eagerly anticipating your next post. It's your brand's unique symphony in the bustling concert of social media, playing a tune that is unmistakably yours.
Measuring Social Media Success
Like a well-cooked meal, social media success leaves a satisfying taste, a testament to your effective marketing strategies. But how do you measure this success? You can't just rely on your gut feeling. Here's where social media analytics comes into play.
Think of them as your culinary thermometer, monitoring the heat of your digital presence. You check the numbers, similar to how you'd check the temperature of a sizzling steak. If the numbers are high, your efforts are paying off. But if they're low, it's time to turn up the heat.
Your engagement metrics are the appetizers, whetting your appetite for more insights. They tell you how your content is being received, like a customer's first bite of your dish. Likes, shares, comments – these are your first taste of customer response.
Next comes the main course: reach and impressions. This metric tells you how far your content has traveled. If it's spread wide, like the aroma of a delicious meal, you're on the right track. But if it's limited, it's time to spice things up.
Your conversion rate, on the other hand, is the dessert, the sweet finish to your measurement meal. It tells you how many have been tempted enough to take action. Like a dessert order signals customer satisfaction, a high conversion rate signifies marketing success.
Lastly, remember to consider follower growth. It's the ultimate sign of a satisfying meal, symbolizing customers who return for more. A steady increase means your menu of content keeps them hooked.
Remember, measuring social media success isn't a one-time event – it's an ongoing process, much like perfecting a recipe. You measure, you analyze, you adjust, and you continue to serve engaging content, savoring each taste of success.
Conclusion
In the food truck business, mastering social media marketing is a game-changer. Harnessing its power not only amplifies your brand visibility but also transforms your truck into a buzzing hotspot. From posting mouth-watering images to crafting engaging content, each social media activity is an opportunity to connect with your audience and tell your unique story. But remember, like the perfect recipe, success comes from measuring, analyzing, and adjusting your strategy. Platforms like Orderific, customization, and automation are as simple as ever, giving you more control and a better user experience. So, why wait? Embark on your social media journey and let the magic of digital marketing work wonders for your food truck business. For more information on Orderific, schedule a FREE DEMO today!
FAQs
How do you use social media effectively?
Use social media to engage with your audience, share compelling content, amplify your brand voice, and monitor your performance.
How do you choose the right platforms?
Choose platforms where your target audience spends their time. Popular choices include Facebook, Instagram, Twitter, and Pinterest.
How do you create engaging content?
Creating engaging content involves understanding your audience, using high-quality visuals, crafting compelling captions, and encouraging interaction.
How do we measure and improve social media results?
Measure results by tracking engagement, reach impressions, and follower growth. Improve by adjusting strategies based on these insights.