In the shimmering nightlife world, a nightclub's success often thrives on its social media standing. As digital avenues grow, clubs are harnessing the power of social media to draw in the crowds and stay relevant. The dance of engagement begins with compelling content, swooping in to capture the attention of potential guests. From the pulse-raising bass lines to the hypnotic lighting, the virtual portrayal of your club can be as sensory and captivating as the real experience. This guide delves into the art of promoting nightclubs on social media platforms, offering tips and strategies to amplify your brand, enhance customer loyalty, and increase your social media engagement rate. Prepare to elevate your nightclub to new heights of digital prominence.
How to Set up Social Media Marketing Campaigns for Your Business?
Setting up social media marketing campaigns for your nightclub is like choreographing a dance. Every step, every beat, is carefully calibrated to enthrall your audience. Picture your brand as the star performer, engaging a crowd of potential guests through your virtual stage – the social media platforms.
Each campaign begins with a tune – your social media strategy. This strategy must resonate with your target audience, the rhythm matching their pulse. It's about understanding their preferences and tendencies on social platforms.
Here are a few steps to set the stage:
Identify Your Target Audience: Know who your guests are. Are they the energetic young crowd or the serene, mature audience? Their preferences will guide your marketing direction.
Choose the Right Social Media Platform: Different platforms cater to different audiences. Instagram stories might be a hit among the youth, while Facebook groups could engage an older audience.
Plan Your Content: Quality content is the key. From engaging posts to video content, ensure it reflects the essence of your nightclub.
Engage with Followers: Building social engagement means interacting with your followers. Respond to their comments, like their posts, and make them feel part of your club's community.
Measure Your Success: Keep track of your social media engagement rate. Use these metrics to pivot your strategy as needed, aiming to enhance customer satisfaction and brand loyalty.
Like a well-executed dance, a well-planned social media campaign can captivate your audience, drawing them to your nightclub. With each post, each engagement, you're not just promoting your nightclub; you're creating an experience, a rhythm that your audience gets drawn into, night after night.
Which Social Media Marketing Platforms Are a Must for Your Bars and Clubs?
In the vibrant symphony of social media, every platform plays a distinct note, harmonizing to create a captivating melody that draws your audience in. These platforms are the rhythmic pulse of your nightclub's digital heartbeat, each beat resonating with a different sector of your target audience. Unleash the power of social media for your bar or club and experience the crescendo of engagement, brand awareness, and customer loyalty.
Facebook: With a community of billions, Facebook's broad reach and diverse user base make it an essential tool for broad-spectrum marketing. Harness its engaging features like Facebook groups and live events to create a virtual club experience that resonates with your audience.
Instagram: Turn up the visual volume with Instagram. The vibrant imagery, catchy captions, and interactive Instagram stories offer a stage to showcase the pulsating energy and chic aesthetics of your nightclub.
Twitter: Engage in real-time conversations with your guests using Twitter. Its fast-paced nature makes it ideal for quick updates, event promotions, and trending hashtags.
Snapchat: Snapchat is your VIP pass to the youthful crowd. Capture moments of your nightlife, offer sneak peeks, and create exclusive geo-filters to stir excitement among your younger audience.
LinkedIn: Take the chance to connect with professionals on LinkedIn. Show them your club is the perfect place to unwind after a long day or host corporate events.
Remember, the key to mastering the social media suite lies in understanding your audience's preferences and crafting engaging content that hits the right note on each platform.
7 Key Things to Keep In Mind for Every Bar and Club Owner
Imagine standing at the helm of your nightclub, the pulsating energy of the crowd rippling through the floor under your feet. The vibrant lights cast a kaleidoscope of colors on the faces of your delighted guests as they savor the euphoria of the nightlife. Here, we explore seven key elements that every bar and club owner should consider.
Choose the Best Social Media Platform: The digital dance floor awaits your patrons. Handpick the platforms that resonate with your club's vibe and your audience's preferences. Instagram stories might enthrall the youth, while Facebook groups might captivate older, more mature guests.
Set Strategic Goals: Craft your night's narrative. Your social media goals should echo the beat of your club's brand and mission statement, driving engagement and amplifying your brand's voice across the platform of your choice.
Posting Schedule: Timing is key. Choreograph your posts to coincide with your audience's active hours. A well-timed post can spark engagement, highlighting your club at just the right moments.
Keep Track of Your Competition: Stay in tune with the industry's rhythm. Monitor your competitors, learn from their successes and missteps, and let them guide your social media steps. Your competition can be an unexpected source of inspiration.
Balance Post Types: Variety is the spice of club life. Mix your posts with striking visuals, engaging text, and interactive content. An inviting mix can keep your audience coming back for more.
Engaging Visuals: Paint a picture of your club's exhilarating nights. High-definition images, dynamic videos, and creative graphics can captivate your audience, transporting them into the heart of your club's atmosphere.
High-Quality Customer Support: Engage in the art of conversation. Quick, empathetic responses to comments, messages, and reviews can enhance your reputation, fostering a sense of community and loyalty among your guests.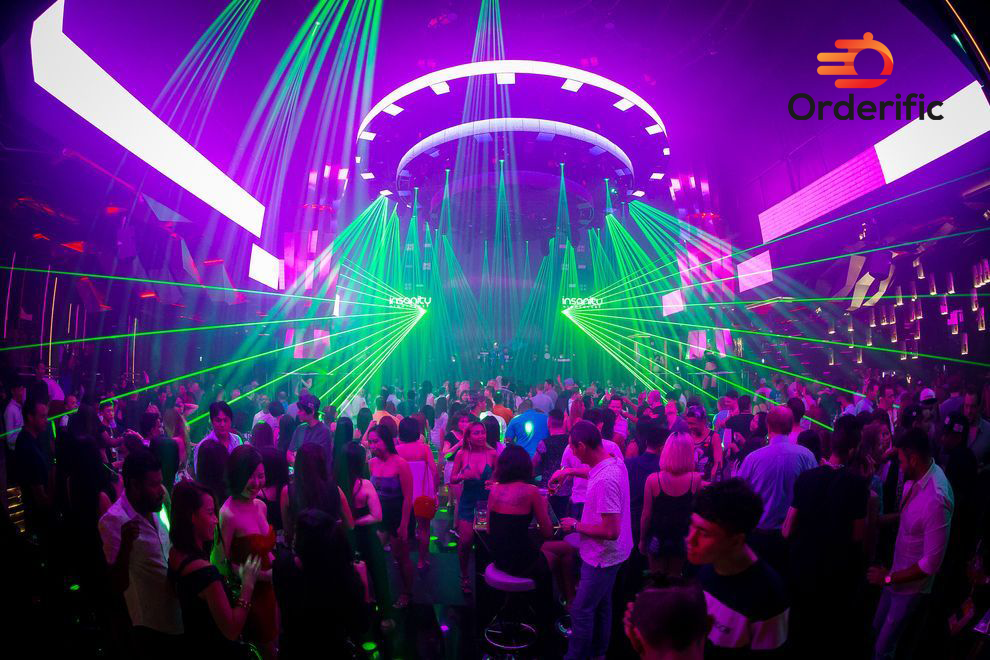 How to Leverage Influencer Marketing for Your Nightclub
In the exhilarating buzz of nightlife, influencers are the new power players. Their magnetic appeal, combined with a robust digital presence, makes them invaluable for nightclub promotion. Picture this: a well-known influencer, bathed in the pulsating neon lights of your club, captures a moment for their Instagram story. Instantly, thousands of followers are immersed in the hypnotic rhythm and vibrant energy of your nightclub. It's a glimpse, a tantalizing taste of the unique experience your club offers.
But influencer marketing is not just about the glitter. It's about authenticity, about partnering with influencers who resonate with your brand's values. It's about forging genuine connections and turning influencers into ambassadors who share their love for your club with their followers. More than just a promotional tool, they become a bridge, connecting your nightclub with a broader, diverse audience. Their endorsement, in turn, enhances the brand loyalty of your nightclub, increasing your social media users and overall social media engagement.
In the digital dance of promotion, influencers move with grace and power, their every post echoing with the beat of your nightclub's unique rhythm. Their followers, entranced, become potential guests eager to experience the vibrant nightlife that you offer. Harness the power of influencer marketing, and let your nightclub shine in the spotlight.
Evaluating Your Social Media Strategy for Continuous Improvement
In the dynamic realm of social media marketing, self-evaluation is vital. It's akin to a mirror, reflecting the strengths and areas of improvement in your digital strategy. Visualize it as a rhythm check, ensuring your club's online pulse is steady and strong.
Observation is the first step – monitor your posts' performance, noting which ones set hearts racing. Are video clips of DJ sets gaining more traction? Perhaps posts showcasing your club's unique cocktails are stirring interest. Delve into these patterns and use them to refine and enhance your content strategy.
Next, tune into your audience's feedback. Their comments and reactions are invaluable insights, helping shape your club's virtual identity. Also, remember to measure your engagement rate frequently. This metric paints a clear picture of your social media performance and helps assess your brand's digital heartbeat.
Ultimately, continuous evaluation and improvement transform your social media strategy into a living, breathing entity. It evolves, adapts, and thrives with each beat, setting the stage for your club's digital success. Every pulse, every rhythm, and every moment resonates with your audience, drawing them into the magic of your nightclub's unique experience.
Conclusion
Elevating your nightclub's prominence in the dazzling world of nightlife ultimately relies on social media, promotion, and engagement. Picture the journey like an exhilarating dance, where each beat is a strategic post, each rhythm an engaging interaction, and the crescendo a surge in brand loyalty and customer satisfaction. As each post sparks intrigue, each interaction builds a community; you're not just promoting your nightclub but orchestrating an immersive, sensory experience. Amid this digital dance, Orderific can be your choreographer, automating tasks while allowing you to focus on crafting a tailored customer experience. To bring this vision to life and witness how Orderific can enhance your nightclub's digital journey, schedule a FREE DEMO today.
FAQs
What social media platforms are most effective for promoting nightclubs?
Instagram and Facebook are highly effective for promoting nightclubs due to their visual appeal and broad user base.
How can social media help increase attendance and engagement in nightclubs?
Social media can boost attendance by creating awareness, advertising special events, and fostering an engaging online community.
What are some creative content ideas for nightclub promotion on social media?
Behind-the-scenes sneak peeks, DJ features, customer spotlights, and cocktail highlights are compelling content ideas for promoting nightclubs.
Are there specific advertising strategies tailored to nightclub promotion?
Yes, strategies like targeted ads, influencer partnerships, time-limited promotions, and event-specific campaigns are effective for nightclub promotion.
How do you measure the success of nightclub promotion efforts on social media?
Success can be measured by increased attendance, enhanced online engagement, and a positive return on investment (ROI) in the promotion efforts.