You dip your knife into a velvety treasure of soft cheese and spread it across a warm, toasted slice of bread. The texture is like silk under your fingertips, and the aroma is utterly intoxicating. This is the allure of soft cheese, a delicacy that bridges the world of the casual eater and the discerning connoisseur. 
Each variety boasts a unique profile, telling tales of its origin, production process, and the artisans behind it. From the light, creamy whispers of Brie to the rich, decadent notes of Camembert, soft cheeses possess the ability to transport us to different corners of the world with just one bite.
Whether you're beginning your cheese discovery journey or have long been captivated by its charms, soft cheese stands as a testament to how simple ingredients, when combined with passion and craftsmanship, can offer unparalleled gastronomic delights.
Making Soft Cheese at Home
Making soft cheese at home is an age-old tradition that has resurgent recently as culinary enthusiasts seek to connect with their food more intimately. Soft cheeses like ricotta, feta, and even specific versions of brie can be whipped up in your kitchen with just a few ingredients and a bit of patience. 
The beauty of this artisanal process is that you can control every aspect, from the milk source to the flavor infusions.
The Essence of Soft Cheese Making
At the heart of soft cheese is milk. The type of milk – whether from a cow, goat, or sheep – determines the cheese's flavor, texture, and richness. Goat milk, for instance, yields cheese with a tangy taste, while cow's milk typically produces a milder flavor.
The Essential Ingredients
Milk: Always opt for the freshest milk you can find. While pasteurized milk is readily available and safer, some purists prefer raw or unpasteurized dairy for its robust flavor. Just remember, unpasteurized milk can have bacteria, so ensure you're sourcing it from reliable places.
Starter Culture: This introduces the necessary bacteria to the milk, ensuring it ferments correctly.
Rennet: This enzyme aids in coagulating the milk, turning it from liquid to solid curds.
Salt: Acts both as a flavor enhancer and preservative.
Procedure
Preparation: Ensure all your tools, from the pot to the thermometer, are clean. Sanitation is paramount in cheese-making.
Warming the Milk: Pour the milk into a large pot and slowly heat it to a temperature specified by your recipe. Typically, this ranges from 85°F to 105°F.
Adding the Starter: Once the milk reaches the desired temperature, add the starter culture, stirring gently.
Coagulating with Rennet: After the culture has been mixed thoroughly, it's time to add the rennet. This will help the milk set. Leave the mixture undisturbed for the period mentioned in your recipe, usually between 30 minutes to several hours.
Cutting and Cooking the Curd: Cut the curd into small pieces once set. This releases the whey. After cutting, you may need to heat the curds slightly, stirring gently.
Draining: Transfer the curds to a colander lined with cheesecloth. Let the whey drain. The longer it drains, the firmer your cheese will be.
Salting and Flavoring: Place the curd into a bowl and add salt after draining. Here, you can also add herbs or spices for flavor.
Maturing (for some cheeses): While many soft cheeses can be eaten fresh, some benefit from a short maturing period to develop flavors.
The Result
At the end of this process, you will have a soft, creamy cheese ready to be savored, spread over crusty bread, or incorporated into many dishes. Making soft cheese at home, while requiring precision, offers the joy of creating something wholesome from scratch, and the end product is nothing short of delightful.
Conditions For Making Soft Cheese
Creating soft cheese is both an art and a science. Like how the ambiance affects the diner's experience in a restaurant, the conditions during the cheese-making process directly impact the final product's taste, texture, and quality. Let's delve into the optimal conditions needed to master the art of making soft cheese.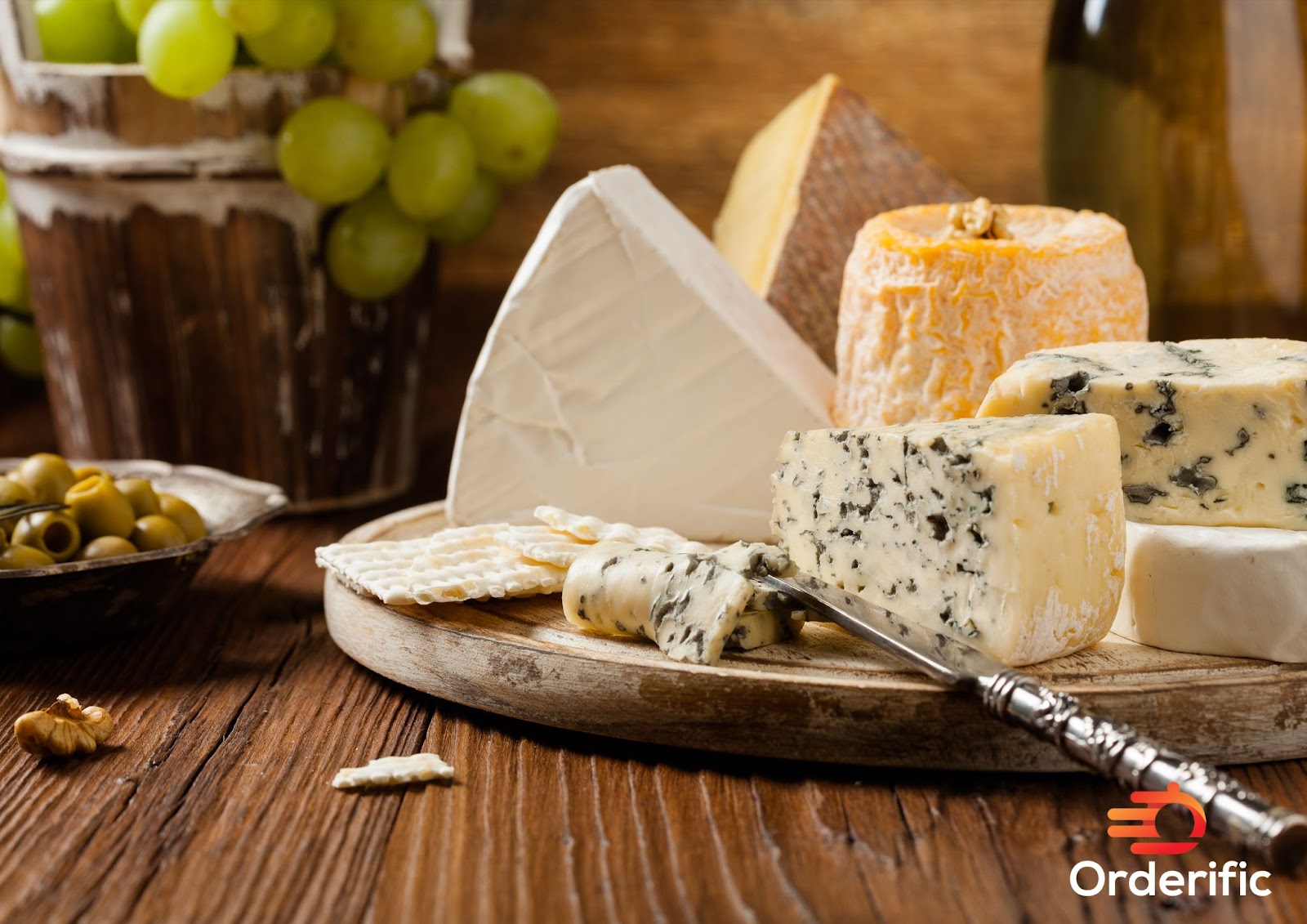 Ambient Temperature
The room temperature is crucial in how the milk sets and ferments. Ideally, the room should be at a moderate temperature, between 68°F to 72°F. Extremely cold or hot environments can interfere with the fermentation process.
Cleanliness
Hygiene is paramount when making cheese. Any microbial contaminants can affect the fermentation process and could also lead to the development of harmful bacteria.
Always ensure that every utensil, from spoons to bowls and pots, is thoroughly cleaned and sterilized.
Quality of Ingredients
Milk: The fresher the milk, the better the cheese. Whether cow's, goat's, or sheep's milk should be free from additives and, ideally, sourced straight from the farm.
Water: If a recipe calls for water, ensure it's pure, preferably distilled or filtered, to avoid introducing unwanted minerals or chemicals.
Humidity
Cheeses, especially when aging, require specific humidity levels. Soft cheeses often desire higher humidity to maintain moisture and smooth texture.
Consider using a cheese cave or a dedicated fridge section with a controlled humidity environment if you're aging cheese.
pH Levels
The acidity or alkalinity level, denoted as pH, affects the cheese's texture and flavor. Maintaining the correct pH ensures that the cheese sets appropriately. Regularly checking and adjusting the pH, especially when making cheeses like mozzarella, is vital.
Time
Patience is a virtue in cheese-making. The waiting time, be it for setting, fermenting, or aging, must be respected. Rushing the process can compromise the cheese's flavor and texture.
Storage
Once made, soft cheese needs to be stored under specific conditions. Most soft cheeses prefer cold storage but not too hard. A temperature just above freezing, around 35°F to 40°F, is ideal.
Equipment
Using the right equipment can make a significant difference. Non-reactive pots (like stainless steel) are essential as reactive banks can interfere with the cheese-making process. Additionally, accurate thermometers and pH meters can ensure precision.
Four Basic Steps to Making Soft Cheese
Crafting soft cheese is a symphony of specific steps, ensuring you create a delightful product with texture and flavor. Let's explore these steps in detail:
1: Heat the Milk
Importance: Properly heating the milk prepares it for fermentation. It influences the milk's proteins, ensuring they coagulate correctly, a foundational step in cheese-making.
Process: In a non-reactive pot, gently heat the milk. While the exact temperature can vary depending on the cheese type, a general guideline is to bring the milk to about 85°F to 90°F. Stir the milk gently throughout the heating to ensure even heat distribution and prevent it from sticking to the pot's bottom.
2: Add Starter Culture and Rennet
Importance: The starter culture initiates fermentation by converting lactose (milk sugar) into lactic acid. This acidification plays a crucial role in flavor, texture, and cheese safety. Rennet, on the other hand, aids in curdling the milk.
Process: Once the milk reaches the desired temperature, sprinkle the starter culture over its surface. Let it hydrate for 1-2 minutes, then stir. After incorporating the starter culture, it's time to add the rennet. Dilute the rennet in a small amount of cool, unchlorinated water. Then, mix it into the milk, stirring gently for about 30 seconds to one minute.
3: Drain the Curd
Importance: After the milk has set and achieved a custard-like consistency, it's time to separate the solid curds from the liquid whey. This process determines the cheese's moisture content, influencing texture and flavor.
Process: Cut the curd into small pieces, making it easier to release the whey. Allow the curds to rest briefly. Then, using a slotted spoon or cheesecloth, gently scoop out the curds and let them drain. Depending on the desired texture and type of cheese, this draining could last from a few minutes to several hours.
4: Salt and Store
Importance: Salt doesn't just flavor the cheese; it acts as a preservative, helping to prevent undesirable microbial growth. Storing allows the cheese to develop its unique flavor and texture characteristics.
Process: Once drained to satisfaction, sprinkle the curd with cheese salt (or another non-iodized salt). Mix it gently, ensuring even distribution. From here, you can mold the cheese if desired. Transfer your cheese to a storage container or wrap it in cheese paper. Soft cheese should be stored in a cool environment, typically in a refrigerator. Depending on the type, some soft cheeses might benefit from a brief aging period, while others are best enjoyed fresh.
Soft Cheese Yield
When diving into the captivating world of cheese-making, one often wonders about the amount of cheese that will be yielded from a certain quantity of milk. The yield, or the amount of cheese produced from milk, can be influenced by various factors. Let's dissect the intricacies of soft cheese yield:
Type of Milk
The type of milk used plays a significant role in determining yield. For instance, cow's milk typically produces a larger yield than goat's milk due to its higher fat and protein content. Yet, goat's milk can sometimes create a creamier texture, which might appeal to some cheese enthusiasts.
Milk Quality
Freshness is paramount. Fresh milk contains more proteins and fats, directly influencing cheese yield. Additionally, pasteurized milk might produce a slightly lesser yield than raw milk, given that pasteurization can alter some of the milk's proteins.
Acidity Levels
The milk's acidity level, or pH, affects how proteins bond during the curdling process. The right balance can maximize the cheese yield. Over-acidified milk might lead to crumbly cheese. In contrast, under-acidified dairy may need to be set correctly, reducing the yield.
Rennet and Starter Cultures
The amount and quality of rennet and starter cultures can influence the milk's coagulation. Proper measurement is vital. Too little might not set the milk, while too much can make it set too quickly, impacting the yield and texture.
Draining Process
Over-draining can reduce the yield, as more solids might be lost with the whey. On the flip side, under-draining can result in overly moist cheese, which might spoil faster, even though you end up with larger quantities.
Additives
Inclusions like herbs, spices, or fruit can reduce the cheese's overall yield, as they take up space within the cheese mass. However, they enhance flavor, making the yield trade-off worthwhile for many.
General Estimation
As a rule of thumb, one gallon of cow's milk typically yields about 1 to 1.5 pounds of soft cheese like cottage cheese or cream cheese. However, this is a general estimation, and actual results can vary based on the factors mentioned.
Using Soft Cheese in Recipes
With their creamy textures and diverse flavors, soft cheeses have a versatility that's hard to match. They can elevate a dish from ordinary to extraordinary, offering a melange of taste sensations. Here's a guide on how to incorporate these delightful cheeses into a variety of recipes:
Baked Goods
Cheesecake: Cream cheese, with a rich and velvety texture, is a star ingredient in cheesecakes.
Pastries: Cheese like ricotta or mascarpone can be incorporated into fillings for pastries, pies, and turnovers.
Bread: A swirl of cream cheese or a sprinkling of feta can add depth to bread loaves or rolls.
Salads
Toss crumbled feta or goat cheese into your greens for added creaminess and flavor.
Make a dressing by blending blue cheese with olive oil, vinegar, and seasoning, and there you have – a perfect salad!
Pasta and Risotto
Melt soft cheeses like brie or camembert into your sauces for added creaminess.
Ricotta can be mixed with herbs and used as a filling for ravioli or lasagna.
A sprinkle of parmesan can elevate any pasta dish with its sharp flavor.
Soups
Stir cream cheese or goat cheese into your soups for a creamy consistency.
Top off with crumbled blue cheese for an extra punch. Who knew cheese could be mixed in with soups?
Appetizers and Dips
Soft cheese, like brie, warmed with a drizzle of honey and some nuts, can be a delectable spread on crackers. Blend cream cheese with herbs, garlic, and some yogurt for a refreshing dip.
Desserts
Mascarpone is a classic in Italian desserts like Tiramisu. Whipped cream cheese, with powdered sugar and vanilla, can make a delightful frosting for cakes and cupcakes. Doesn't it sound delicious?
Breakfast
Cottage cheese can be a delightful accompaniment to fruit bowls or pancakes.
Spread some cream cheese on bagels or toast and top with smoked salmon for a savory treat.
Grilled Dishes
Stuff your chicken breasts or fish fillets with a mixture of soft cheese and herbs before grilling. Melt brie or camembert on burgers for a gourmet touch. It will open a new gateway to amazing-tasting foods!
Beverages
Believe it or not, cream cheese can be an ingredient in specialty smoothies or shakes, offering extra richness. Don't think about the savory qualities of the cheese; it will simply enhance the flavor.
Vegetarian Delights
Spread ricotta cheese on grilled eggplants and roll them up for a delicious appetizer.
Stuff bell peppers with a mix of quinoa, veggies, and feta cheese before baking. Let us know how you like these suggestions!
Get Started Making Soft Cheese
Now that you've learned the basics, it's time to dive into the delightful world of soft cheese making. Remember, cheese, like any craft, requires patience. But the end result is worth every second.
Soft cheeses are a treat to the taste buds, and the joy of creating them in your own kitchen can be immensely satisfying. Not only do you control the ingredients, ensuring a fresh and high-quality result, but you also enjoy the age-old art of cheese-making.
Conclusion
In its myriad forms, soft cheese, whether it's brie, mozzarella, or feta cheese, offers an indulgent escape into a realm of creamy, tangy goodness. Beyond being a palate pleaser, delving into the art of cheese-making can be an enriching experience, introducing you to a centuries-old tradition that's as rich in history as it is in flavor.
So, whether you're savoring a slice of zesty soft cheese on crackers or embarking on your cheese-making journey, you're partaking in a timeless culinary adventure.
In case you want more content like this, visit Orderific right now!
FAQs
Is cream cheese the same as soft cheese?
Cream cheese is a type of soft cheese. However, it's distinct due to its high-fat content and creamy texture, making it popular in cheesecake dishes.
What does cream cheese taste like?
Cream cheese boasts a mild, sweet taste with a hint of tanginess.
What's the proper way to eat soft cheese?
Soft cheese can be enjoyed in numerous ways – spread on bread, mixed into recipes, or even savored with a sprinkle of herbs.
Can I use cream cheese instead of mayo?
In many recipes, cream cheese can be a richer, thicker substitute for mayo.