In the bustling world of food businesses, your truck is more than just a mobile eatery. Picture this: it's a sunny day, the aroma of sizzling burgers wafts through the air, and customers line up, their faces bright with anticipation. You're at the helm of this vibrant scene, and you're not alone. A crucial co-pilot, often overlooked, is your food truck management software. A powerful blend of project management, customer service, and accounting tools, it steers your business to success. Choosing the right software requires a keen understanding of its essential features. In this guide, we'll explore these must-have tools, aiding your software selection process and ensuring your food truck is always ready to serve up success.
Harnessing the Power of Essential Software Features
One can liken the journey of mastering software features to steering a ship through uncharted waters. Every wave, a discovery; every gust, a lesson learned. In this endeavor, the right software is your faithful compass, guiding your food truck business to the shores of success.
Import/Export: A strong gust of data easily rides in and swiftly sails towards its destination. Seamless import/export functions ensure your data navigates smoothly, with no chance of getting lost at sea.
Search Function: Amidst the vast ocean of data, the search function is your lookout, swiftly spotting the information you need.
Document History: Like the ship's logbook, the document history remembers all — it keeps track of every change, every decision, and every milestone.
Single-Source Features: The single-source features function as the captain of your ship — a singular, reliable source of direction, ensuring consistency and accuracy across all tasks.
Integrations with Other Tools: Like a well-trained crew, additional tools integrate seamlessly into your operations, enhancing productivity and efficiency.
Access Control: Access control is your loyal quartermaster, protecting your valuable business data from unwanted visitors and ensuring only authorized personnel have access.
Collaboration Features: Last but not least, collaboration features create a sense of camaraderie among your team, encouraging communication, sharing, and mutual growth.
As the sun sets on the horizon, the silhouette of your food truck business stands tall and proud. With the power of these essential software features in hand, your ship is ready to face the open sea, conquer challenges, and hoist the flag of success high. Remember, these are not just tools; they are your loyal crewmates, each playing a crucial role in your voyage to success.
Exploring the Importance of Import/Export Functions
The import/export feature of your food truck management software is much like the bustling harbor of a seaport town. Imagine a constant flow of ships, each laden with precious goods, docking and setting sail with clockwork precision. Here, data steps into the role of these goods – crucial cargo that your business can't sail without.
Carefully wrapped in spreadsheets or CSV files, the data embarks on its journey from one software to another. This voyage is made possible by the software's import/export function – the harbormaster of your data seaport. Diligently, it oversees the loading and unloading of data, ensuring everything runs smoothly.
But why is this function so vital? Well, it's simple. It facilitates the smooth transfer of data, minimizing errors, saving time, and enhancing productivity. A recipe, an invoice, a customer email list – each piece of information sets sail smoothly, reaching its destination intact.
Moreover, this function allows easy integration with other tools, functioning as the ropes that tie your software ship to the dock. This integration ensures your food truck operations run seamlessly, much like the harmonious bustle of a busy seaport.
In the grand scheme of your food truck business, the import/export function stands as an unsung hero, quietly ensuring everything runs without a hitch. As you navigate the challenging seas of food service, remember that this feature is your steadfast harbormaster, always ready to guide your data to safe shores.
The Search Function: Your Data Detective
The search function in your food truck management software serves as your dedicated data detective. Imagine it as a seasoned investigator methodically sifting through an ocean of data. This virtual sleuth is tirelessly at work, 24/7, unearthing the exact nuggets of information you seek.
Navigating through dense forests of data, its sharp gaze never falters. Not a single piece of valuable information escapes its attention. It's the key to unlocking your data's true potential, a steadfast companion in your quest for information.
In the intricate labyrinth of data, the search function is your guiding light. It deftly uncovers hidden patterns, revealing insights that help propel your food truck business forward. Its keen eye for detail ensures no data is ever lost or forgotten.
But it doesn't stop there. This data detective seamlessly integrates with other tools, boosting the efficiency of your operations. Like a seasoned detective, it knows when to call on its allies, making the most of its unique abilities.
In a nutshell, the search function is an unsung hero in your software suite. It quietly works in the background, unearthing critical information and aiding data-driven decision-making. As you navigate the bustling world of the food truck business, remember that this virtual detective is always on your side, ready to solve your data mysteries.
Document History: Your Business's Time Machine
In the swirling dance of modern business, do you ever wish you could journey back in time? Document History, the tireless scribe of your food truck management software, offers just that. Picture it as your personal time machine, ever ready for a nostalgic journey through the annals of your business.
Feel the machine's hum as it whisks you back, peeling away layers of time. Each stop on this journey reveals a snapshot, a frozen moment of your business's evolution. The creation of a new recipe, the introduction of a novel service, and the satisfaction of a milestone are all etched into the fabric of time by the document history.
Breathe in the faded scent of ink, the soft rustle of virtual pages, the palpable essence of your business's past. Each entry holds a tale, a lesson learned, a success cherished, captured with unerring accuracy. The sheer reliability of this tool is its charm, never missing a beat, never forgetting a moment.
Feel the warmth of nostalgia as you journey through time, accompanied by the steady hum of your software's heart. The documented history is more than just a feature; it's an integral part of your operations, a silent witness to your journey. The past, they say, is a guide to the future. With document history, your past is just a click away, ready to guide you to new horizons.
As you step back into the present, remember this: in the grand theatre of your food truck business, the document history is your faithful chronicler, preserving the story of your success for generations to come.
Single-Source Features: The Captain Steering Your Success
On the sea of data sprawled before you, you find yourself at the helm. Guiding your food truck business, you need a faithful captain. Enter the single-source features of your management software. Like a seasoned mariner, it commands your data ship, charting a course toward success.
Picture the captain at work. It gathers every piece of data, every insightful nugget. It combines them into one reliable source. A single, consistent point of reference that ensures accuracy across all tasks. Much like the steady, reassuring hand of a captain on the ship's wheel.
The single-source feature is your software's backbone. It offers stability amidst the constant ebb and flow of data. As your business sails through uncharted waters, it provides a familiar anchorage. A beacon that lightens the way, even in the densest fog of information.
What's more, it allows seamless integration with other tools. Like a captain coordinating with his crew, it optimizes operations. It boosts productivity, ensures efficiency, and fosters mutual growth.
A captain's work is tireless, and so is your single-source feature. It stands watch, day and night. It safeguards your operations, steers your business, and ensures you're ever ready to brave the data storms that lie ahead. Remember, this feature is more than just a tool. It's the captain steering your success, a faithful companion on your voyage. As you navigate the enthralling seas of the food truck business, know this: with the single-source features at your helm, success is always on the horizon.
Collaboration Features: Fostering Teamwork in Your Food Truck Business
Imagine your food truck as a lively, well-tuned orchestra. The collaboration features of your management software serve as the skilled conductor, harmonizing every section. Each instrument, a team member, each note, a task. Together, they create a symphony of success.
The collaboration feature encourages open communication. Picture a lively conversation, ideas bouncing like vibrant melodies. Tasks are shared with a click, like passing the baton in a relay race. The software keeps time, ensuring deadlines are met with precision.
Integration with other tools is seamless. Visualize the smooth interplay of instruments in an orchestra, each enhancing the other. Your team's productivity is amplified, like a melody resonating in a concert hall.
Access control ensures that each team member has their part to play. Imagine each musician with their sheet music precisely outlined. This provides clarity and maintains harmony, like a well-rehearsed symphony.
Feedback flows freely, fostering a culture of mutual growth. Picture a rehearsal where every critique refines the performance. The collaboration feature facilitates this process, turning feedback into action.
Indeed, the collaboration features are more than just tools. They're the unseen conductor of your food truck's symphony, setting the rhythm for success. As you navigate the bustling world of the food truck business, remember that with collaboration features at your disposal, your team can create a symphony of success.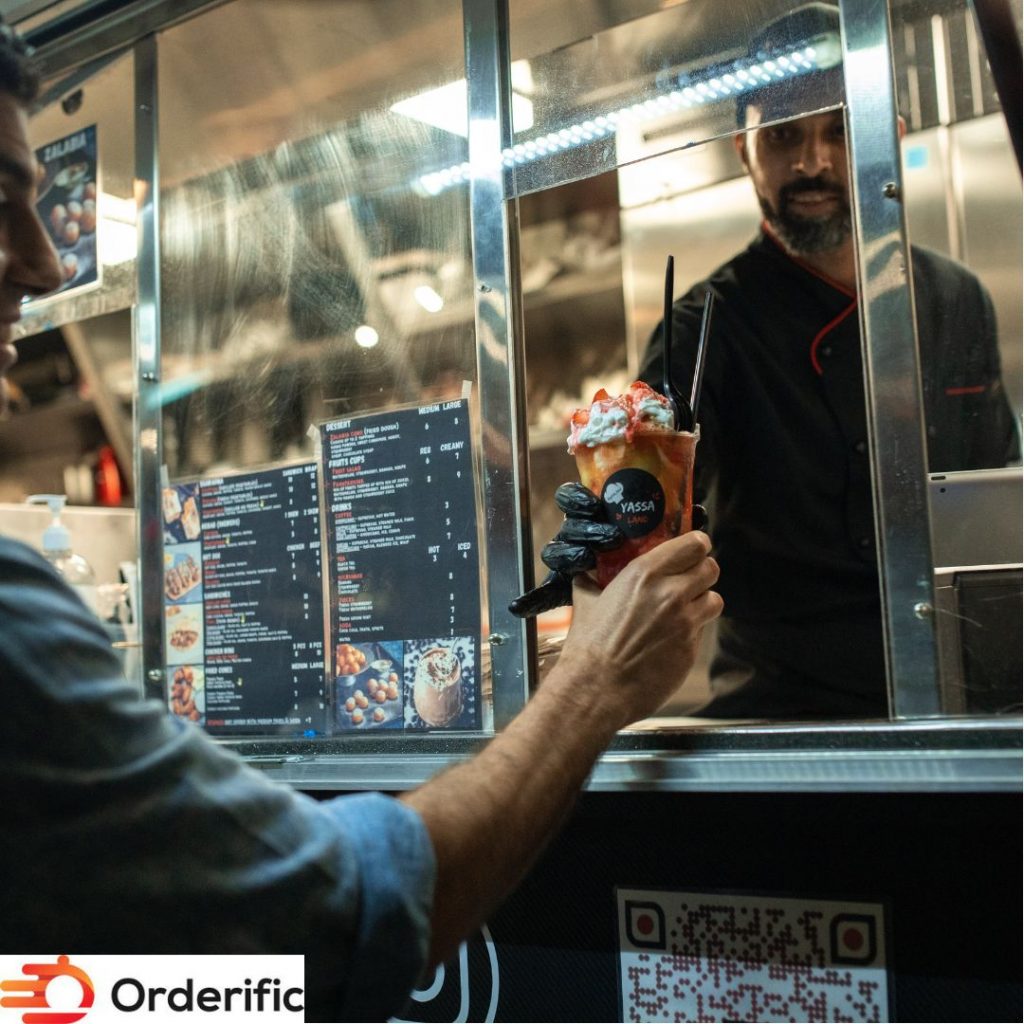 Integrating with Other Tools: The Crew of Your Food Truck Ship
Every food truck business sails to the sea of success, guided by its reliable crew. In this intricate dance, integrating other tools into your management software is akin to your hardworking crew. Seamlessly weaving through tasks, these tools amplify your efficiency, much like a well-oiled ship sailing smoothly.
Consider the calm, rhythmic rowing of oars, a metaphor for flawless integration. Tasks become simpler, and operations streamlined. Indeed, these integrations echo the harmonious chorus of a dedicated crew, each contributing to the food truck's successful voyage.
At dawn, the scent of freshly prepared meals wafts through the air. The crew, your integrated tools, has sprung into action. They skillfully manage inventory, track sales, and handle customer feedback, mirroring the unity of a synchronized team.
Integration with other tools breathes life into your food truck operations. Just as a ship cannot sail without its crew, your food truck cannot thrive without the deft integration of these invaluable tools. They weave a tapestry of success, each thread a testament to the seamless amalgamation of diverse functions.
In the grand performance of your food truck business, these integrated tools sing the unsung symphony of success. They form the backbone of your operations, setting the stage for a remarkable show. The mesmerizing dance of integration, a ballet of efficiency, is a sight.
Access Control: The Quartermaster of Your Food Truck Business
Step into the bustling world of a food truck business. Imagine the command center, a hub of activity intricately managed by a dedicated quartermaster. That's the role of Access Control in your management software. Picture it as your digital quartermaster, diligently overseeing operations with precision. It manages user permissions, much like assigning duties on a nautical vessel.
Each team member knows their role, contributing to a harmonious workflow. Every task is handled by the right person at the right time. Just like on a ship, order is paramount. Access control ensures this by maintaining a balanced hierarchy. Unauthorized access is curbed, protecting your valuable business data.
The steady hand at the helm, it safeguards your operations from potential threats, a silent sentinel in the realm of data. As your food truck business sails to the sea of success, know that Access Control stands steadfast, a vigilant quartermaster maintaining order amidst the waves of data.
Conclusion
In sum, every food truck business is a symphony; each note a task, each player a team member, and each software tool an indispensable instrument. From the tireless harbormaster managing import/export function to the vigilant quartermaster of access control, these features are your must-have tools. The single-source part, the captain, guides your success, while the collaboration features foster teamwork. Integrated tools form your hardworking crew, with the search function as your data detective. The documented history is a faithful chronicler, a time machine at your disposal. When making your software selection for your food truck management, consider Orderific. It not only makes life easier for restaurant owners and customers but also increases revenue, decreases operational costs, and offers more control and a better user experience. For a deeper dive into Orderific, schedule a FREE DEMO today.
FAQ
What are some must-have software features for businesses in various industries?
Must-have software features vary by industry but often include data management, collaboration tools, access controls, and integration capabilities.
How can businesses prioritize their software feature requirements during the selection process?
Businesses can prioritize software feature requirements by assessing their operational needs, budget constraints, and team capabilities.
Are there specific tools or features that are universally beneficial across different software categories?
Yes, features like data management, collaboration tools, and access controls are universally beneficial across different software categories.
What steps should businesses take to ensure they choose the right software?
Businesses should assess their needs, compare various software options, consider budgets, and opt for a trial before total commitment.