Supermarket software solutions are an exciting prospect with the potential to revolutionize the grocery industry. However, proper software implementation can be a tricky terrain to navigate. For starters, staff training is a significant hurdle. The learning curve is steep, and the path to proficient use of complex systems is often filled with bumps. The journey from novices to experts is only sometimes a cakewalk for employees. It involves not just learning new skills but also unlearning old habits. This article will delve into the challenges faced during software implementation, specifically in the supermarket sector. We'll also offer tips to optimize staff training and flatten the learning curve, making the transition smoother and more effective. Join us as we explore the intricacies of employee training software and how best practices can enhance employee engagement and development.
What Is the Learning Curve Theory?
The Learning Curve Theory encapsulates the journey of acquiring new skills, vividly depicting how expertise evolves. Picture this: an employee, fresh in supermarket software, embarks on a learning adventure. The initial confusion, like a dense fog, clouds their understanding. However, this mist gradually lifts with the help of dynamic staff training programs.
This transition can be challenging. Imagine the feeling of navigating a ship in a stormy sea, where software implementation is the tumultuous ocean, and our eager learner is at the helm. The storm symbolizes the steep learning curve that initially seems overwhelming.
But then, the storm subsides, and the seas become calmer. That's the magic of effective staff training. It chips away at the imposing mountain of the learning curve, turning it into manageable hills. The process is akin to sculpting a masterpiece from a block of marble: daunting at first, yet profoundly rewarding.
As the learner progresses, old habits dissolve, replaced by new, efficient ones. It's a metamorphosis, transforming a novice into a proficient user. Over time, what once was a daunting journey becomes a familiar path, traveled with confidence and ease. The supermarket software, once a challenge, is now a trusted tool, indispensable in day-to-day operations.
Ultimately, the Learning Curve Theory is a testament to human adaptability and perseverance. It illustrates the beauty of learning, the resilience of employees, and the transformative power of effective staff training in software implementation.
What Is a Learning Curve?
A learning curve, in its essence, charts the path of progress. It's a graphical depiction of the relationship between learning and growth over time. Picture an artist at their easel, initially struggling to capture the subtle play of light and shadow. New software is their blank canvas, daunting in its vast potential. But with each brush stroke – each hour of training – their understanding deepens.
Isn't it remarkable how, in the beginning, the software seems like a labyrinth with its myriad features and functions? Each click, each command, feels like stepping into the unknown. However, with dedicated training, the maze morphs into a familiar neighborhood. The once puzzling elements become guiding landmarks in the quest for proficiency.
Eventually, employees find themselves at a pivotal point on this curve. It's not a sudden leap but a steady climb fueled by patience and perseverance. Moments of confusion and frustration pave the way for breakthroughs. Suddenly, the software is no longer an intimidating adversary but a helpful ally.
Thus, the learning curve is a testament to the transformative learning journey. It's a vivid reminder that even the most complex tasks can be mastered with time, patience, and practical training. It eloquently encapsulates evolving from a novice to an expert, illuminating the beauty of learning and personal growth.
Types of Learning Curve
Imagine an artist working tirelessly on a canvas. Every brush stroke imbues their work with depth and intent. Every color chosen is a testament to their evolving proficiency. This journey of an artist perfectly mirrors the various types of learning curves that employees undergo during software implementation.
Diminishing Returns: This curve is our artist's hesitant first brush stroke. Each new skill learned is a novel concept, hard to grasp. Yet, with thorough training, the dots connect, and the fog of confusion lifts gradually. Every newfound understanding brings less and less shock but more familiarity as employees move towards mastery.
Increasing Returns: As the artist grows more confident, their strokes become bolder, their understanding deeper. Similarly, this curve represents the phase where learning accelerates. Each new aspect of the software unraveled compounds knowledge, the pace of learning surges, and confidence snowballs.
S-Curve: This curve is akin to the artist finding their unique style, their rhythm. It is a sweet spot in the learning process. Initially, the learning curve is steep, but as understanding deepens, the pace of learning levels out and then accelerates once again, forming an S shape. The supermarket software becomes more of an ally than an adversary.
Complex Curve: Our artist's masterpiece, bursting with colors and emotions, is the perfect analogy for this curve. It depicts the learning process when the software is sophisticated or multifaceted. Learning fluctuates between periods of rapid understanding and plateaus, making the journey complex yet rewarding.
In the end, these learning curves are a testament to the resilience of employees, the metamorphosis from a novice into a proficient user, and the transformative power of effective staff training in software implementation. They're also a testament to the beauty and personal growth of learning, constantly reminding us of human adaptability and perseverance.
Advantages of the Learning Curve Model
Imagine a sculptor carefully chiseling away at a block of marble. Each strike is calculated, and each detail is meticulously carved. This image illustrates the essence of the Learning Curve Model. Like the sculptor's masterpiece, the learning journey, while challenging, offers immense benefits. Here's how the Learning Curve Model stands out:
Enhanced Efficiency: The model mirrors the sculptor's increasing efficiency with each stroke. As employees gain familiarity with the supermarket software, their productivity amplifies. This evolution, similar to the sculptor's skill, symbolizes the transformative power of efficient training in software implementation.
Increased Confidence: Mustering the courage to make the first cut into the marble, the sculptor epitomizes growing confidence. Similarly, employees' trust in handling new software swells as the daunting learning curve eases. This newfound assurance underscores the significance of staff training.
Improved Speed: The sculptor's speed escalates with practice. Much like this, as employees traverse the learning curve, they execute tasks faster, showcasing the learning curve's impact on expediting software implementation.
Reduced Errors: Just as the sculptor makes fewer mistakes with experience, employees' propensity to err dwindles as they climb the learning curve. This reduction in errors is a testament to the learning curve's remarkable capacity to improve the quality of software usage.
Cost-Effective: With every chisel stroke, the sculptor brings life to the marble. Similarly, as the learning curve is navigated, the cost-effectiveness of the training material becomes apparent. Training time lessens, saving resources and underscoring the economic advantages of the learning curve.
In the grand canvas of software implementation, the Learning Curve Model paints a compelling picture of human adaptability. It is a beacon of hope, illuminating the path from novices to experts, much like the sculptor's journey from a raw block of marble to a masterpiece.
Disadvantages of the learning curve model
Despite its many advantages, the learning curve model has challenges. Picture a skilled potter carefully molding clay on a wheel. Retaining raw clay into a beautiful object is mesmerizing yet equally demanding. The potter's journey mirrors employees' challenges while navigating the learning curve during software implementation.
Time-Intensive: Like the potter's painstaking efforts to shape the clay, software implementation often takes longer than envisioned. The time required for employees to conquer the learning curve can be substantial, leading to potential delays in project timelines.
Inconsistent Pace: The clay, under the potter's hands, occasionally has a mind of its own, similar to the fluctuating pace of learning. Employees sometimes progress uniformly, presenting a challenge to training program schedules.
Overwhelming Complexity: The potter has to balance the clay, water, and the wheel's speed. Similarly, managing the complexity of the software can be overwhelming for employees, especially if the software is multifunctional or intricate.
Skills Obsolescence: Some techniques become obsolete as the potter's skills advance. Similarly, as employees ascend the learning curve and adapt to new software, they may find older skills need to be more relevant. This skill obsolescence can be a disadvantage in specific scenarios.
Dependency on Trainers: The potter relies on an experienced mentor for guidance. Analogous employees often depend heavily on trainers or experts during software implementation, potentially creating bottlenecks.
In sum, while bringing numerous benefits, the learning curve model also presents challenges. However, these are manageable. They underline the need for robust staff training, adaptive learning strategies, and a supportive workplace environment. After all, the potter's wheel doesn't stop spinning, nor should a learner's journey.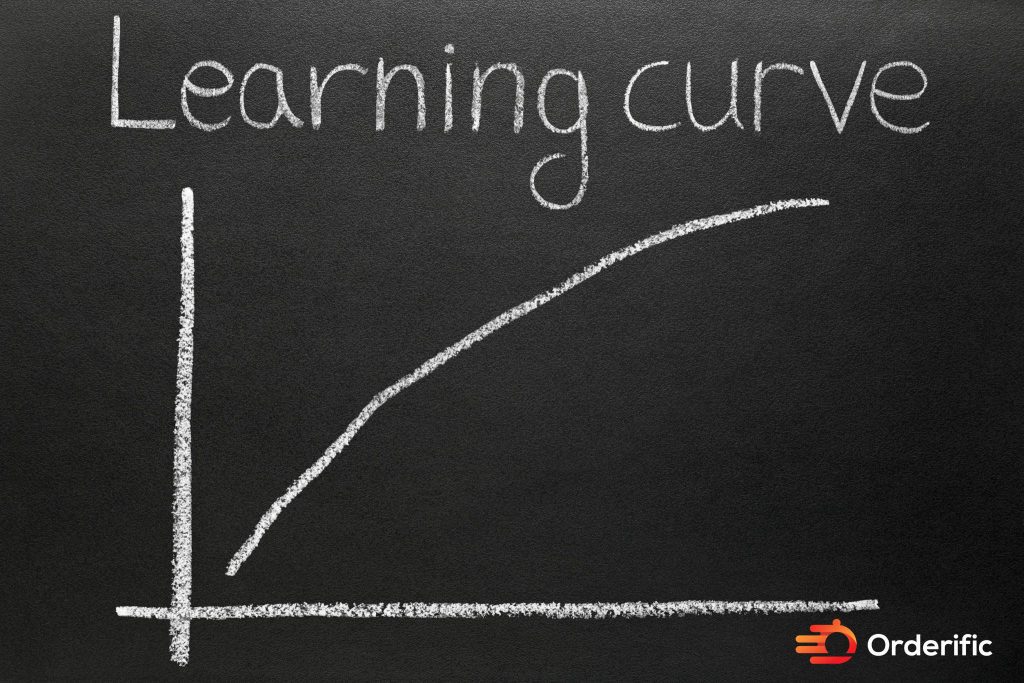 8 Tips To Flatten The Learning Curve For Effective Employee Training
One can liken the journey of mastering new supermarket software to embarking on an adventurous trek. At first, the path seems steep, tangled, and intimidating, but with the proper guidance, the terrain gradually flattens out, and the journey becomes more manageable. As an experienced guide would provide crucial tips to a novice trekker, we present "8 Tips to Flatten the Learning Curve for Effective Employee Training". These tips serve as your guiding star, illuminating your path towards practical employee training and making the arduous climb of software implementation a rewarding hike instead.
Define your Unit of Output
In software implementation, defining your unit of output is akin to a cartographer sketching the first outlines on a map. It provides a tangible starting point, a beacon to guide your journey. Though seemingly daunting, this process is integral to plotting your course toward proficiency.
Consider an unexplored city, its streets bustling with energy, its architecture telling a story. Just as a map simplifies the city's complexity into understandable segments, defining your output unravels the supermarket software's intricate web into digestible bits. Suddenly, your daunting journey seems a little less intimidating.
This first step, like a key turning in an ignition, kickstarts your expedition into the land of software implementation. It signals the beginning of a transformative journey, fuelled by curiosity and guided by a well-defined output unit. Thus, embark on this odyssey of learning with your road map at hand, ready to conquer the learning curve one unit at a time.
Efficient Onboarding
Imagine stepping into a bustling city for the first time. The buzz of activity is overwhelming yet enticing. Similarly, introducing new software to employees can evoke apprehension and excitement. This is where efficient onboarding comes into play, serving as a friendly guide in this foreign city of supermarket software.
Onboarding is the friendly face that greets you at the city gates, ready to introduce you to the city's charm. It's the warm, inviting cafe where you take your first sip of a local brew. The colorful city map guides you through winding streets and sprawling parks.
Like the first day in an unexplored city, effective onboarding is the first step in software implementation. It's a warm welcome that sets the tone for the journey ahead, ensuring the labyrinth of new software becomes a familiar neighborhood, one landmark at a time.
Personalized Training
Venturing into a foreign city, we relish the sight of landmarks tailored to our interests. Similarly, personalized training in software implementation is like an uncanny tour guide. The guide, intuitively understanding your preferences, takes you on an adventure. You traipse through the software's alleyways, each corner revealing features matching your unique needs.
The process is akin to savoring an exquisite dish with flavors catering to your palate. The software's features resonate with your learning style as you delve deeper. It's as comforting as finding your favorite book in a vast library.
Each interaction with your software becomes a personalized journey, like finding a hidden gem in a bustling city. Therefore, customized training isn't just a strategy; it's a transformative experience, ensuring the city of software implementation feels like home.
Make Informed Decisions
Embarking on a journey in an unfamiliar city, a traveler must make decisive choices. Similarly, in the realm of software implementation, informed decision-making is essential. Imagine standing at a crossroads, the paths ahead echoing with possibilities. Armed with knowledge, you confidently choose a way that best aligns with your needs.
Each choice, like turning a corner in an enchanting city, unveils layers of software functionality, each more promising than the last. These informed decisions, like following a compass's guidance, steer your software implementation toward success. Like the satisfaction of a well-planned journey, your choices lead to a beneficial and optimized software adoption process.
This process, like picking the ripest fruit from a tree, ensures maximum return on your investment. So, stand tall at the decision-making crossroads, embrace the knowledge, and stride confidently toward an optimized supermarket software solution.
Mentor Coaching
Imagine having a seasoned local as your guide when venturing into an unknown city. In software implementation, that's what mentor coaching provides. It's like gaining access to insider knowledge of the city's best-kept secrets. You're no longer a stranger but an explorer with a trusty companion.
Mentor coaching is your GPS navigating through the labyrinth of software functionality. It's the comforting voice guiding you, the quiet assurance that you're not alone. As your ally, it helps you unlock the software's full potential, just as a local might show you a city's hidden gems.
Every interaction with the software becomes less daunting, like a shared adventure. It's akin to discovering an untouched corner of the city, the thrill of the unknown replaced by the joy of learning. Thus, mentor coaching isn't just a tool; it's also a bond that transforms the software implementation journey into an enriching experience.
Coaching by mentors, given their expert knowledge, makes the supermarket software's foreign terrain feel familiar. It's like weaving through the city's bustling streets confidently, soaking in its vibrancy and relishing its charm. Ultimately, mentor coaching enhances the ease of staff training, making the winding path of software implementation a rewarding voyage.
Invest in Training Technology
In software implementation, investing in training technology is as thrilling as setting foot in a high-tech city of the future. Imagine the buzz of innovation, the streets humming with advanced machinery, and the air charged with progress. Just as the city's technological prowess leaves you in awe, training technology can transform the landscape of software implementation.
The process is akin to walking through a mesmerizing cityscape, with every corner revealing cutting-edge marvels. Witnessing a dazzling light show or the excitement of riding in a futuristic vehicle is exhilarating. Training technology is the city's heartbeat, its rhythm resonating with the pulse of progress.
Every interaction with this technology feels like a step into the future, a journey marked by continuous growth. It's the city's skyline, constantly evolving, always reaching higher. This investment, much like a city embracing its technological potential, is an affirmation of forward-thinking. It paves the path for a more streamlined, efficient, and effective software implementation process.
Establish Time Frame
Venturing into the landscape of software implementation is akin to embarking on a journey in a foreign city. Establishing a time frame aligns with the process of planning your itinerary. You wouldn't set out aimlessly, would you? Similarly, installing a time frame for software implementation directs your expedition.
It's like setting a timeline for sightseeing, ensuring you experience all the city's marvels without feeling rushed or overwhelmed. At the same time, it provides a sense of structure and security, akin to marking your travel calendar.
Much like a well-orchestrated journey, mindful planning ensures a smooth and productive software implementation. So, map out your time frame, lace up your proverbial boots, and set out confidently on your software implementation adventure.
Continuous Monitoring
In the vibrant tapestry of your supermarket software implementation adventure, continuous monitoring is the watchful eye, the ever-present guide ensuring your journey stays on course. Much like a seasoned traveler attuned to his surroundings, monitoring helps you perceive subtle changes, like a shift in the city's mood or detecting a new aroma wafting from a street corner cafe.
The process feels like walking through the city's labyrinthine streets with a trusty compass, keeping you centered amidst the hustle and bustle. It's akin to having a personal guide, providing reassurance that you're progressing in the right direction.
Continuous monitoring, therefore, isn't merely a process; it is a commitment to the ongoing refinement of your software implementation journey. It reassures you that your expedition is on track, adjustments are made timely, and progress is consistent. Embrace it, and watch your software implementation story unfold smoothly, like the mesmerizing unveiling of a city's secrets.
Conclusion
Mastering the art of software implementation is akin to an adventure in an unexplored city filled with possibilities. Much like Orderific's mission to simplify the lives of restaurant owners and customers, effective staff training can make the supermarket software solution's terrain feel familiar and manageable. The learning curve, initially daunting, transforms into a rewarding journey, thanks to robust training strategies and continuous monitoring. Each step and decision echoes the joy of discovery and growth satisfaction. As you navigate this city of possibilities, remember that the journey is as enriching as the destination, filled with lessons, insights, and development. Schedule a FREE DEMO today for more information on software implementation strategies or to explore how Orderific can enhance your customer experience. Conquer the learning curve, one step at a time.
FAQs
What are the key challenges associated with software implementation in a corporate environment?
The key challenges include employee resistance, inadequate training, lack of resources, time constraints, and poor communication.
How can staff training programs help mitigate the learning curve when adopting new software?
Staff training programs provide hands-on experience and personalized guidance, significantly reducing the learning curve for new software adoption.
Discuss the factors that influence the speed at which employees adapt to a software's learning curve.
Factors include individual adaptability, quality of training, support provided, software complexity, and the relevance of software to job tasks.
What are the benefits of a gradual approach to software implementation to reduce disruption and facilitate training?
A gradual approach allows smoother transition, user acclimatization, and efficient troubleshooting, thus minimizing disruption and facilitating training.