Picture this: You live in New York with your boy gang cheering on your favorite team, devouring mouthwatering grub, and creating unforgettable memories with your crew. No kidding! This is what every bit and scene at sports bars looks like. And if you're someone who is yet to explore this one watching a sport at such an eatery, then this article is for you.
Orderific dives deeper into the ultimate night out at sports bars, where the best drinks, games, food, and life collide. So grab your buddies, put on your game faces, and dive headfirst into the thrilling adventure that awaits us at these electrifying havens for sports fans that oozes sportsmanship and comraderies!
What is a Sports Bar?
A sports bar is an establishment that combines the elements of a beer, bar and a restaurant, creating a unique space where patrons can enjoy live sports broadcasts while indulging in food, drinks, and socialising.
These venues typically feature:
Multiple large-screen televisions.
Projecting various sporting events simultaneously.
Creating an immersive and lively atmosphere for sports enthusiasts and more.
Sports bars often offer a diverse menu, including classic pub food, appetisers, and beverages. They are popular destinations for individuals looking to enjoy a game or gather with friends in a vibrant and sports-centric setting.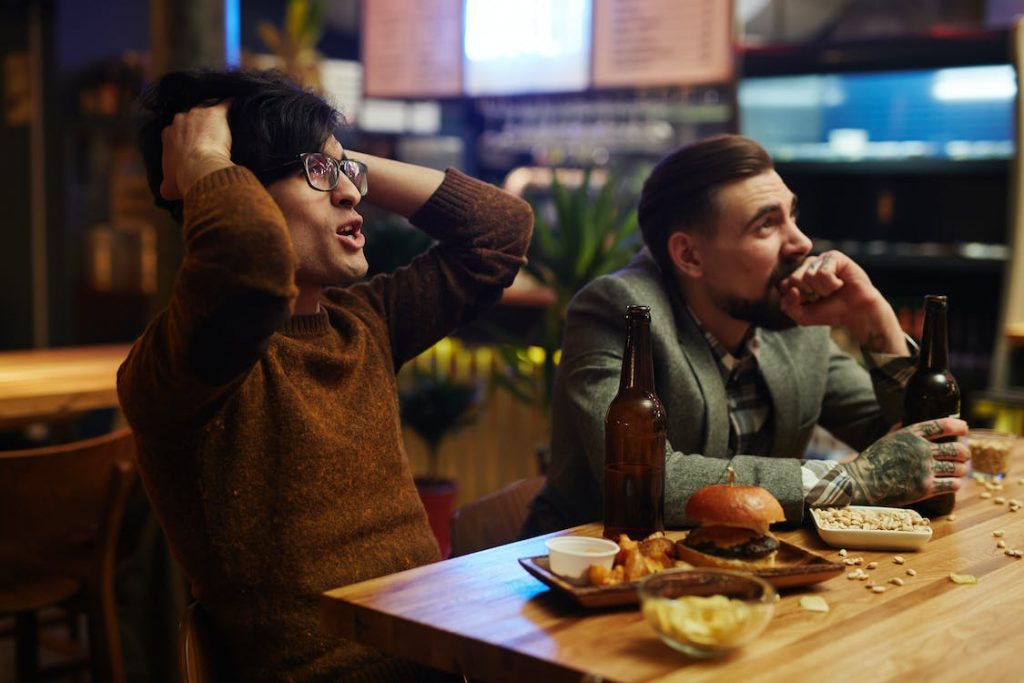 How is a Sports Bar Different from a Pub, a Club, and a Bar?
| | | | |
| --- | --- | --- | --- |
| Sports Bar | Pub | Club | Bar |
| A sports bar is an establishment that combines the elements of a bar and a sports viewing venue. | A pub, short for "public house," is an establishment that originated in the United Kingdom and Ireland. | A club typically offers entertainment, music, and a social environment for its patrons | A bar serves alcoholic beverages and offers a social space to gather and enjoy drinks. |
| It is where sports enthusiasts gather to watch live sporting events on multiple television screens while enjoying food, drinks, and company. | Pubs have a cozy atmosphere, featuring a bar counter where patrons can order drinks, tables, or booths for seating. | Unlike bars or pubs, clubs often focus on providing a vibrant nightlife experience. | Bars typically have a counter where bartenders prepare and serve beverages. |
| Sports bars feature sports-themed decor, team memorabilia, and a menu that includes popular game-time foods such as wings, nachos, and burgers. | Pubs are known for their warm ambiance, often adorned with traditional decor offerings games like darts or pool. | They are known for their energetic atmosphere, dance floors, and DJ performances. | Bars can range from cosy neighbourhood bars to upscale cocktail lounges |
| They create an energetic ambiance, fostering a sense of camaraderie among sports enthusiasts who cheer for their teams and engage in sports discussions. | Pubs serve as community hubs where locals can socialize and experience the charm of pub culture. | Clubs are for those seeking to dance, socialise, and enjoy an immersive entertainment experience. | The primary purpose of a bar is to provide a setting for enjoying drinks and unwinding in a convivial atmosphere. |
A tABLE ON HOW Sports Bar Different from a Pub, a Club, and a Bar
Pub Grub & Games: Enjoy a Delicious Meal and an Exciting Game Together
Sports bars have carved a special place in sports enthusiasts' and food lovers' hearts. Combining the thrill of live games, delectable food, and a vibrant atmosphere, these establishments offer a unique experience that cannot be replicated elsewhere.
One of the main draws of these unique bars is the opportunity to indulge in mouthwatering food while catching all the action of your favorite sports. Sports bars offer diverse menu options from classic pub grub to gourmet delights to satisfy every palate.
Imagine sinking your teeth into a juicy burger, savoring crispy chicken wings, or digging into a loaded nacho platter, all while cheering for your team on the big screen. It's an immersive experience that combines culinary delights with the excitement of live sports.
Benefits of Eating at a Sports Bar
Beyond the enjoyment of great food and thrilling games, there are significant benefits to dining at a sports bar.
Sports bars provide a laid-back and casual atmosphere where you can relax, unwind, and enjoy the company of friends or fellow sports enthusiasts.
Whether celebrating a super bowl victory or commiserating a loss, the communal spirit in sports bars creates a sense of camaraderie that is hard to replicate elsewhere.
Additionally, sports bars often offer a wide selection of beverages, including an impressive array of craft beer, draft beer on tap, cocktails, and break bar dishes like sandwiches, nachos, fries, pool table engagement, appetizers and more. This makes them the perfect destination for unwinding after a long day, socializing with friends, or hosting a sports-themed gathering.
Sports Bars Bring People Together, Here's How
Be it a world cup of football, cricket, and any sport of the world… sports bars are a hub for like-minded individuals with a passion for sports. The lively ambiance, combined with the shared excitement and energy of the crowd, creates a social setting that fosters connections and new friendships. Whether you initiate a conversation with a fellow fan at the bar or engage in friendly banter over a game, sports bars uniquely bring people together, transcend boundaries, and foster a sense of community.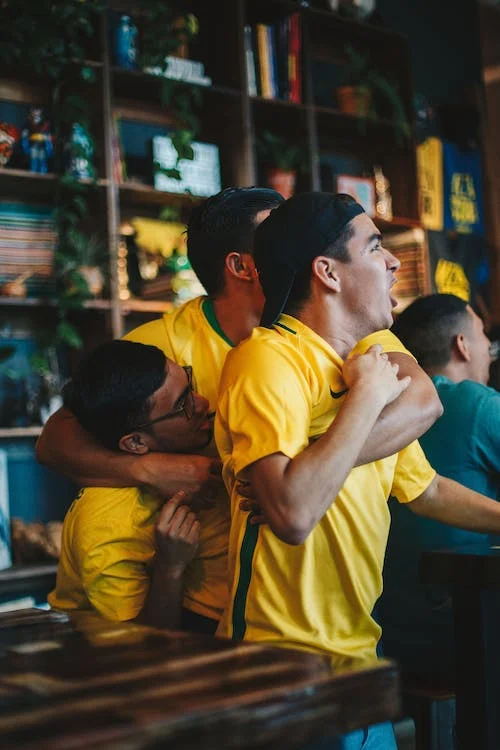 Winding up
In conclusion, sports bars offer a winning combination of drinks, games, food, and life. They provide an immersive experience that caters to sports enthusiasts, food lovers, and those seeking a vibrant social atmosphere. So, the next time you want to enjoy a delicious meal while catching a game, consider heading to a sports bar and immerse yourself in the electrifying world they offer.
If you're own sports bars then Schedule a FREE demo with Orderific and revolutionize the way restaurants, bars, bistro and all things food and drinks can be managed at a go. Contact us now or Visit our website today. Say No to manual staffing and chores. Nod Yes to all things automated, AI and streamlines with Orderific.