Nothing entirely embodies the spirit of culinary adventure in street food like a bustling food truck. Imagine owning your mobile eatery, serving your signature dishes to eager foodies. This setup guide will navigate the exciting journey of starting a food truck business. It's a comprehensive business plan crafted with keen market analysis, offering a foundation for your food truck empire. We will delve into topics ranging from conceptualizing your food truck concept to understanding your target market, crafting a stellar marketing plan, and even navigating the finer details of food safety. Whether you're a seasoned chef or an aspiring food truck owner, this step-by-step guide will equip you with the knowledge to launch a successful food truck business. So, let's set the wheels in motion and embark on this delectable journey together.
How Much Does It Cost to Start a Food Truck?
Dipping your toes into the food truck industry, the first question that probably arises is: "What's the price tag?" Starting this culinary adventure comes with its financial considerations. From the get-go, a shiny new food truck will set you back anywhere between $50,000 to $175,000. If that seems steep, used trucks offer a more affordable alternative, ranging from $30,000 to $70,000, ready-to-roll post-maintenance.
But the truck is just the tip of the iceberg. Like any small business, your food truck operation will incur costs beyond the initial purchase. When starting a food business, labor, goods, insurance, marketing, and advertising are all part of the package.
Still, the food truck industry has its unique expenses. High-quality equipment and eye-catching decor to create that perfect ambiance for your potential customers do not come cheap. On top of that, consider the cost of commercial kitchen space and parking, as well as permits and licenses.
While these figures may seem daunting, remember, knowledge is power. A comprehensive understanding of these costs in your business plan can lead you to a successful food truck empire. So set your fears aside, rev up your engines, and let's get cooking!
Step-By-Step Guide to Food Truck Ownership
In our detailed step-by-step guide, we'll be your culinary co-pilot, guiding you through the twists and turns of food truck ownership. We'll begin our journey with the fundamental first step – creating a unique food truck concept to make your business stand out. This guide will help you conduct an in-depth market analysis to understand your target market's likes and dislikes.
We'll then move on to the nitty-gritty of the financial plan, helping you calculate your initial costs and forecast possible profit margins. We'll delve into the importance of an impactful marketing plan and the role of excellent customer service in retaining customers. Lastly, we'll navigate the complex world of permits and business licenses required for your mobile eatery.
So, gear up as we embark on this exciting path from drafting your business plan to serving your first customer.
Start With Competitor Research
Before diving headfirst into the bustling food truck industry, it's vital to understand your competition. Imagine yourself as an explorer embarking on a mission to unearth secrets from the thriving food truck scene. Begin with a simple stroll through your city, soaking in the aromas wafting from each food truck. Let the sizzling sounds of grilling and the sight of vibrant food presentations whet your appetite for market research.
Notice the unique offerings each food truck serves, their pricing, and how they engage with customers. Pick up on the small details – the quirky menu items, the food truck decor, and even the owners' banter with customers. All these contribute to the overall dining experience beyond just the food served.
Now, widen your scope to a digital landscape, utilizing online resources. From customer reviews to social media engagement, there's a goldmine of data at your fingertips. This competitive analysis is your first step in carving out a niche for your food truck business.
Armed with this knowledge, you're one step closer to concocting a food truck concept that stands out and leaves a lasting impression on your customers. It's all about creating a food truck experience that resonates with your target market.
Choose Your Cuisine
The choice of cuisine is the heart and soul of your food truck business, the very essence that will define your unique culinary journey. This isn't just about picking a type of food. It's about creating a compelling explosion of flavor that'll have your customers returning for seconds.
Firstly, consider your passion. Are you a maestro of Mexican cuisine? You may be a wizard with Italian fare. Or simply, a lover of all things sweet and decadent? Whatever your heart leans towards, let that be the guiding beacon on your food truck voyage.
However, it's not just about what tickles your taste buds. Remember, you're serving a diverse crowd with varying palates. This is where your market research kicks in. What's the local food scene like? What dishes are tantalizing the taste buds of your potential customers? Are there gaps in the market that your food truck could fill?
Finally, think about the practicality of your chosen cuisine. Some dishes might lend themselves poorly to the confines of a food truck kitchen or to being served on the go.
Choosing your cuisine is a delicate dance of passion, market understanding, and practicality. It's all about creating a memorable menu that'll form the heart of your successful food truck empire.
Decide on a Name
Naming your food truck is like christening a newborn. It requires careful thought, creativity, and a hint of market savvy. This name, after all, will echo through the bustling food industry, representing your unique culinary vision. First, consider your cuisine. Does your character reflect the spectacular taste experience your food truck offers?
Remember, first impressions count. Your name should entice potential customers, stirring their curiosity and drawing them to your truck. Next, ponder on the human touch. Your food truck's name should resonate with your target market, striking a chord of familiarity and warmth. A playful pun or a sweet memory could be the source of your food truck's identity.
This approach not only humanizes your business but also makes it memorable. Equally important is the ease of pronunciation and remembrance. Imagine a customer warmly recommending your food truck to a friend over a casual conversation. The name should glide effortlessly off their tongue, creating a ripple effect of word-of-mouth advertising.
Lastly, perform an online search. Ensure your chosen name isn't already steering another food truck business in the bustling food industry. This ensures you carve a unique space for your food truck empire in the hearts and minds of your customers. As you embark on this naming journey, remember the name of your food truck is the appetizer to the delicious feast you serve.
Create Your Brand
Creating your brand is the exciting next step in your food truck journey. Envision it as painting a vibrant picture, one that tells the captivating story of your food truck to your potential customers. Start by defining what your brand stands for. Is it fun and playful, tempting the taste buds with a carnival of flavors? Or is it a gourmet haven serving sophisticated dishes transporting diners to a world of culinary delight?
Now, translate your brand story into tangible elements. Begin with your logo – an intriguing visual that becomes the face of your food truck business. Make sure it's eye-catching and memorable, encapsulating the essence of your brand. Then, move on to your color scheme. Choose hues that reflect your brand's personality, drawing in customers like bees to a blooming flower.
Remember to infuse your brand into your menu. From the names of your dishes to the descriptions, ensure each element sings harmoniously with your brand's story. Lastly, provide the same brand consistency throughout your marketing strategy. From social media posts to flyers, let your brand radiate in all your communications. Creating your brand is about weaving an engaging narrative that leaves a lasting impression on your customers, securing your place in the food truck industry.
Design Your Menu
Designing your menu is akin to composing a symphony. Each dish plays a note in creating the melody of your food truck's offering. First and foremost, consider your cuisine. Are the words a harmonious blend, offering a cohesive dining experience?
Next, think about your audience. What are they craving? Incorporate dishes that satisfy these taste desires, elevating their street food experience. A well-curated menu is an open invitation, enticing customers to embark on a tasty journey with you.
Furthermore, visual appeal is crucial. Aesthetically pleasing menu designs stir the senses, building anticipation for the culinary adventure that awaits. Remember, the eyes feast before the mouth does.
Lastly, bear in mind the practical aspects. Your food truck kitchen has limited space – choose dishes that can be efficiently prepared within this constraint. Also, consider food costs and pricing. Strike a balance between quality ingredients and maintaining a healthy profit margin.
Your menu design is the story you want to tell. It sets the stage for the culinary spectacle that is your food truck. By crafting a well-rounded, visually appealing, and practical menu, you're laying the foundations for a successful food truck business.
Write a Business Plan
Crafting a business plan is akin to plotting a roadmap for your culinary adventure. It's a journey that requires foresight, precision, and a good dose of passion. Your business plan, after all, is the blueprint of your food truck empire. It encapsulates your vision and charts the course for your venture.
Start by outlining your business concept. Describe your food truck, cuisine, and unique selling points. Next, delve into market analysis. Detail your target demographic, competition, and industry trends. This paints a realistic picture of the market landscape.
Your business plan should also cover your marketing and sales strategy. Highlight how you'll attract and retain customers. Will you use social media, flyers, or food festivals? Describe your approach. Moreover, a sound business plan includes a detailed financial projection. Sketch your income, expenses, and profitability. This reflects your economic viability and potential returns to investors.
Finally, talk about your team. Who's steering the ship? Highlight their skills and how they contribute to your food truck's success. Your business plan is your beacon, guiding your food truck venture toward success. It's your recipe for a thriving food truck business.
Secure Licenses and Registrations
Securing the required licenses and registrations is like navigating a labyrinth of legalities. Yet, consider it your rite of passage into the vibrant world of the food truck industry. Each application filled, each permit granted, paints another stroke on the canvas of your dream.
Begin by understanding the local health department's regulations. Your food truck must adhere to strict health and safety standards as a mobile eatery. Ensuring this compliance is more than just about abiding by the law. It underscores your commitment to serving delectable dishes in a clean, safe environment. This commitment resonates with your customers, fostering a bond of trust.
Next, scout for essential licenses. These range from basic business licenses to food handler permits. Each document you secure is a testament to your dedication, a badge of honor in your burgeoning food truck venture.
Remember also to secure insurance for your food truck. This acts as a protective umbrella, shielding you from unforeseen circumstances. It's your safety net, allowing you to focus on what truly matters – delighting your customers with your culinary creations.
In conclusion, securing licenses and registrations, while tedious, is a foundational step in your food truck journey. The seal of approval propels your food truck dream into reality.
Promote Your Food Truck
Promoting your food truck is akin to setting the stage for a grand performance. Think of your food truck as the star, ready to enchant the audience with its culinary showmanship. Begin with a well-crafted social media strategy, like a maestro conducting an orchestra, guiding the rhythm of your online presence, and engaging your audience with compelling posts about your cuisine.
Next, embrace the power of word-of-mouth marketing. Every satisfied customer can become a passionate ambassador for your brand. They're the whispers that become a roar, singing praises of your delectable offerings.
Meanwhile, explore partnerships with local businesses and events. These alliances are like spotlight moments, amplifying your visibility in the community. Also, consider the charm of traditional marketing tools like flyers and special deals. These are your handwritten invitations, beckoning food lovers to your mobile eatery.
Lastly, remember to infuse your unique voice in every promotional activity. It's the human touch that connects your food truck with the hearts of your customers. Promoting your food truck is the fanfare that announces your arrival on the gastronomic stage. The drumroll sets the tempo for your success in the food truck industry.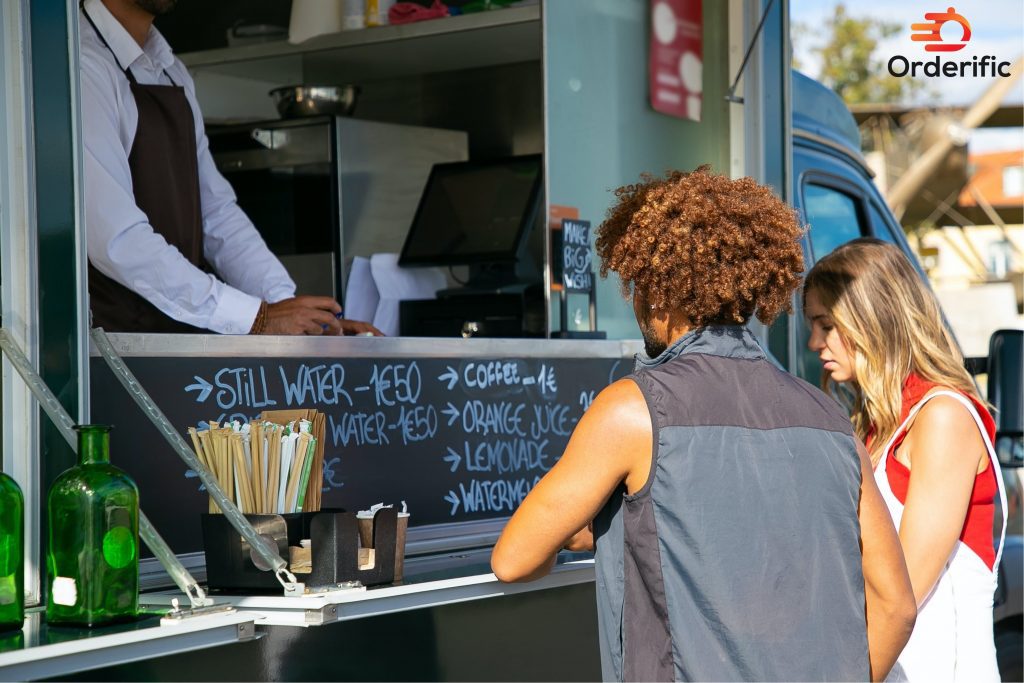 Food Truck Funding Options
Explore the diverse food truck funding options landscape, your stepping-stones to realizing your culinary dream. Imagine the thrill of unlocking the door to your very own food truck fueled by wise financial decisions. Like a seed, your initial investment is ready to grow into a flourishing food truck business.
Surveying the options, you might consider personal savings as your launchpad. It's akin to a homecooked meal, familiar and trustworthy. Yet, it might not provide the capital needed for your venture. Here, traditional loans emerge as a viable alternative. They're like a hearty stew, substantial and reliable, providing the robust support your business needs.
Crowdfunding takes the stage next, embodying the joy of a neighborhood potluck. It's where community spirit meets culinary ambition, a fusion that often yields fruitful results. Meanwhile, food truck competitions are the culinary world's lottery tickets, offering potential financial windfalls that could kickstart your venture.
Lastly, pay attention to food truck grants. These are your unexpected desserts, a sweet surprise that can significantly lighten your financial load. Ultimately, choosing the right funding option is like crafting your signature dish – it requires careful consideration, a dash of creativity, and a generous serving of passion. Together, these ingredients foster a thriving, successful food truck business.
The Pros and Cons of Owning a Food Truck
Embarking on a food truck venture is akin to setting sail on a culinary adventure. Each day unfurls like a new chapter, bursting with vibrant flavors, delightful encounters, and exhilarating challenges.
Pros:
Mobility: The food truck, like a nomadic gourmet, traverses the urban landscape, catering to diverse taste buds and exploring new markets.
Lower Startup Costs: Compared to brick-and-mortar restaurants, food trucks demand a smaller investment, making them a famous stepping stone for gastronomic entrepreneurs.
Flexibility: With the world as your oyster, experiment with various locales, schedules, and menus, tailoring offerings to suit the crowd.
Innovation: Being on wheels encourages creativity. It compels one to reinvent constantly, keeping the menu fresh and engaging.
Personal Interaction: A food truck offers an intimate setting, fostering a warm connection with patrons, one delicious serving at a time.
Cons:
Regulations: Navigating the sea of regulations can be daunting. It's a tapestry of red tape, from health codes to parking rules.
Limited Space: The compact kitchen confines can be challenging. Every inch must be utilized effectively, or chaos ensues.
Seasonality: The weather plays a crucial role. Inclement conditions can dampen sales, making sunny days a treasured boon.
Competition: The food truck industry is a bustling bazaar. Standing out requires more than scrumptious fare—it calls for business savvy.
Maintenance: A food truck is a delicate beast. Regular upkeep, from engine to oven, is crucial for the smooth running of operations.
In essence, owning a food truck is a flavorful symphony with high notes of joy and the occasional flat note of challenge. Each pro and con is a spice that adds depth to the culinary journey, making the food truck venture a gustatory adventure worth embracing.
Next: How to Grow Your Food Truck
Craving for more tremendous success in the food truck industry? This upcoming section serves as your guide. Be ready to journey through expansion strategies, bursting with potential for your business. First, we delve into diversifying your menu. Just as a chef experiments with new ingredients, you, too, will explore adding tantalizing, fresh options for your customers.
Next, we uncover the power of strategic locations. Much like a hungry patron follows the scent of sizzling street food, your truck should follow the demand. We'll also explore partnerships with local events and businesses. Like a communal buffet, this collaboration promises increased visibility and patronage.
Furthermore, we'll talk about leveraging social media for promotions. Think of your digital presence, like the aroma of your dishes, drawing customers from far and wide. We'll also unveil tips for customer retention. This is your secret recipe, ensuring that each customer keeps coming back, driven by the unforgettable taste of your service.
Lastly, we discussed considering additional trucks or even a brick-and-mortar restaurant. This step, daring as it may seem, is like adding a new dish to your menu – daring yet potentially rewarding. Stay tuned to transform your small food truck into a culinary empire.
Conclusion
In conclusion, this comprehensive setup guide is your trusted compass in starting a food truck venture. It illuminates the path, from crafting an irresistible menu and strategic business plan to navigating the labyrinth of licenses. Each step, infused with vivid descriptions and rich insights, brings you closer to realizing your dream. With this guide, your food truck venture becomes less daunting and more manageable. Coupled with Orderific's tailored solutions, operational costs decrease while revenue soars. Imagine automating manual tasks while gaining valuable data for a unique customer experience. Schedule a FREE DEMO with Orderific today to taste this transformation.
FAQs
What is the first step to a successful food truck business?
The first step is crafting a detailed business plan covering your concept, market analysis, team, marketing, and financial projection.
How much money does it take to start a profitable food truck?
Starting a profitable food truck business can range from $50,000 to $175,000, depending on location and cuisine.
What would a downfall be of owning a food truck?
A potential downfall could be unpredictable weather conditions, significantly impacting customer footfall and sales.
What permits do you need for a food truck?
You need a food handler's, business, and health department permits for a food truck.