In the buzzing realm of e-commerce, finding your footing can be daunting. You've taken the first step, created your online store, and stocked it with enticing wares. Now, the significant question is, how do you get people to click on that store link? How do you make those sales? Welcome, dear reader, to your one-stop guide for strategic store link sharing. Here, we'll navigate this digital labyrinth, unearthing the ideal spots to share your storelink. As we delve into the latest news and innovation in online presence, you'll arm yourself with the knowledge to change the status of your business. A world of customers awaits. Let's take that crucial next step together. Remember, every monumental journey begins with a single click!
On Your Facebook Page
Indulge in the social media extravaganza, Facebook, a platform teeming with potential customers. Picture it. Your online storelink, nestled amidst engaging posts, reaches a vast, worldwide audience.
This social media titan, ever-present in our lives, serves as the perfect springboard for your business. You can effortlessly share your store link on your Facebook page, weaving it into the fabric of your audience's daily digital interactions.
Imagine the thrill of seeing your products enveloped in a flurry of likes, shares, and comments. Each click is a beacon of interest, and each share is a ripple, spreading the allure of your store far and wide. Marvel at the power of a well-placed post; it holds the potential to transform idle browsing into a shopping spree.
Embed your link into posts that exude warmth and authenticity. Show your customers that you're a business and a community eager to serve. Remember, the content and tone of your posts paint a picture of your brand, so make each pixel count.
Let's remember the magic of Facebook's latest news feature. It lets you stay abreast of trends and adapt swiftly, keeping your store link fresh and relevant.
Facebook is more than just an online hangout. It's an opportunity, a stage set for your store to shine amidst the ceaseless tide of online presence. Harness this platform, and watch your business thrive.
So, why wait? Take the plunge, share that storelink, and let the magic of Facebook carry your business to unprecedented heights. The world of e-commerce is but a click away.
Call to Action Button
In the dynamic world of e-commerce, a call-to-action (CTA) button is the silent hero, quietly working its magic on your online store. It's a small yet powerful feature guiding your customers, leading them on a journey through your e-commerce platform. Picture this: a brightly colored button, its text pulsating with promise.
Clicking this button is more than a mechanical action; it invites discovery. With every click, your customer takes a step closer to your products, exploring the myriad offerings of your store. It's a thrilling journey, and every journey needs a guide. This is where your CTA button steps in.
Crafted with care, each CTA button is a beacon, offering both direction and options to your visitors. It's the bridge between curiosity and purchase, between browsing and becoming a customer. Its beauty lies in its simplicity, yet its value to your store is immeasurable.
So, indulge in the power of the CTA button. Use it to highlight your latest news, showcase your newest stock, or guide your customers through ordering. Remember, the more enticing the button, the more clicks it garners; the more clicks it garners, the more sales you secure.
Experience the thrill of technology working to your advantage. Watch in awe as a button transforms your online visitors into a family of loyal clients. The magic of the call-to-action button is just a click away.
The "About" Section
Unveiling the beauty of the 'About' section, let's embark on a fascinating exploration. Picture it – a tucked-away corner of your online store, pulsating with unique stories and enticing details. Every word you craft and every story you share adds to your brand's essence, propelling your business into the spotlight.
Your 'About' section is not merely a default text field in this digital era. Instead, it's a vibrant portal with life, authenticity, and purpose. It's your chance to connect on a deeper level with your customers to show them the human side of your business. Amidst the data and sales figures, it's here that your brand's heart beats loudest.
Choosing the right words is, without question, an art. It's a delicate dance of words, a symphony of information and passion. Use it to share how your online store came into existence. Let your customers feel the innovative spirit that sparked your journey.
This is where your brand's status transcends from an online store to a cherished entity with a purpose. It's a subtle yet powerful transformation that can change how your customers perceive your brand.
Every single detail, no matter how minor, is an issue. Every step you took in your journey, every innovation you brought to the table, and every little victory, all these elements add value to your brand's story.
The "About" section is undoubtedly one of the easiest ways to reinforce your online presence. So why not use it to your advantage? Step into the spotlight. Bask in the warmth of your customers' appreciation. Remember, your journey, your work, is the heart of your brand. Let it beat loud and clear in your "About" section.
In Every Post
Step into the "In Every Post" section of the mesmerizing world of constant engagement. Picture it – a dazzling array of updates, each humming with the energy of your storelink. Every post is an invitation to your online store, beckoning customers with the allure of new products and enticing offers.
Feel the thrill as each post unfurls, revealing a fresh layer of your business. Every line, every image, crafted with care, imbued with the essence of your brand. You're not just sharing a post but weaving a narrative, a tapestry of your journey thus far.
Immerse yourself in the magic of customer interaction. Each comment, each share, a digital conversation, strengthening the bond between your store and its customers. Isn't it fascinating? The power of a well-crafted post is the impact it carries.
Experience the giddy dance of words and images. Can you feel it? The pulsating rhythm, the vibrant energy, and the undeniable charm each post carries. They're not just updates but chapters in your brand's unfolding story.
Breathe life into your marketing strategy by integrating your store link seamlessly. Watch as it garners clicks, paving the way for your business to flourish. It's not just about making a sale; it's about creating a community, a family bound by your brand's shared story.
So, why wait? Dive into the enchanting world of post-sharing. Unleash the potential of your storelink. Remember, every post is an opportunity in the vast expanse of e-commerce. Make each one count.
On Your Instagram Page
Meet Instagram, the modern canvas for your e-commerce masterpiece. Picture your store link being embraced by the charismatic charm of Instagram's visual narrative. The platform's aesthetic appeal acts as a vibrant backdrop for your products.
Each post is an artwork, a fusion of striking visuals and compelling text. Use that to your advantage. Each image you share and every story you tell resonates with your followers, stirring their interest in your online store. As they engage with each post, they grow closer to your brand, their fingers hovering over your storelink.
With Instagram's 'Swipe Up' feature, sharing your storelink becomes an effortless, seamless experience. A single swipe transports your followers to your store's doorstep, transforming casual browsers into potential customers.
Remember to utilize Instagram's story feature. It's your opportunity to share the latest news, highlight new products, and promote special sales. Remember, the right balance of aesthetics and information can pique curiosity, drive more clicks, and boost sales.
So, allow Instagram to be the stage where your online store shines. Capture your audience's attention, inspire their imagination, and guide their journey towards your storelink. Let's embrace the Instagram revolution together, one post at a time.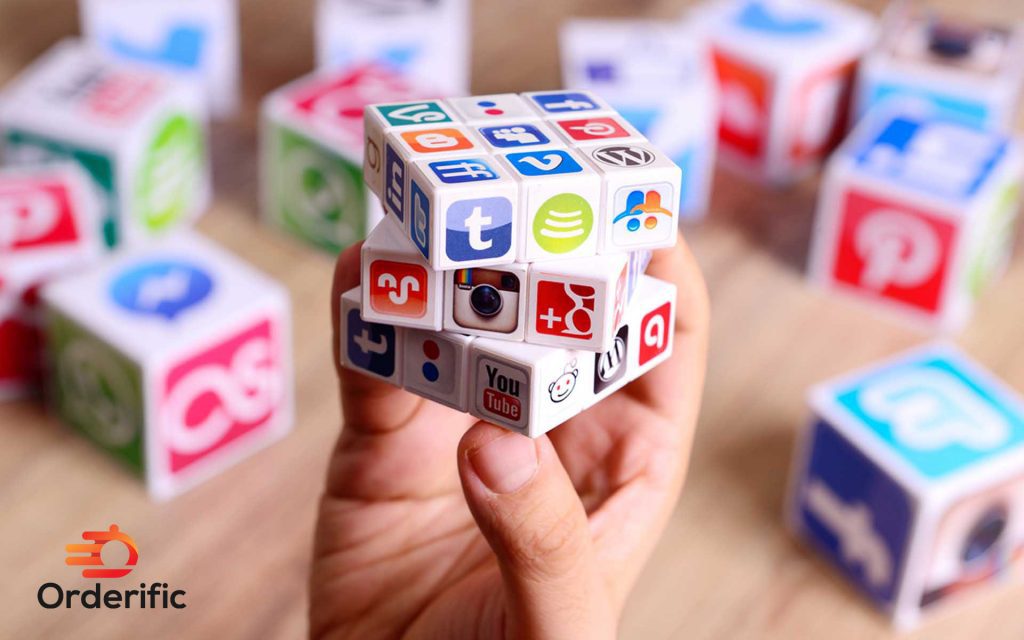 On Your Website
Unveiling your online store's true potential lies in the products it offers and the avenues it explores. A key player in this sphere? Your website. Envision a digital wonderland housing your store link. Effortlessly, it weaves into the fabric of your web pages, luring visitors on a compelling journey.
From the moment they land on your home page, the exploration begins. The enticing trail of your store link beckons, echoing across every nook and cranny. It may nestle amidst an engaging blog post or peeks from your latest news update. Each click holds a promise – the irresistible allure of new products, the thrill of a sale, or the comfort of familiarity with a beloved brand.
With every scroll and every click, they delve deeper, their curiosity piqued. The store link? A subtle guide, leading them down this fascinating path. Your digital platform's website transforms into a dynamic marketplace bustling with activity. So, why wait? Share your store link on your website and watch as curiosity converts into sales. Your business' success is but a click away.
On Twitter & TikTok
Step onto the dynamic stage of Twitter and TikTok, platforms brimming with viral potential. Imagine your store link seamlessly woven into a captivating tweet or a trending TikTok video. It's an exhilarating sight! 
On Twitter, every tweet is an opportunity. With each character you type, paint a vibrant picture of your online store. Let your followers feel the excitement of a new product release or the thrill of a flash sale.
Meanwhile, TikTok offers a canvas for your creativity. Here, your store link can dance in tune with trending music or be the punchline of a humorous clip. It's a world of endless possibilities, and your online store is just a click away.
So, take a bold step. Share your store link on Twitter and TikTok. Dive into the whirlwind of viral trends and watch your online store transform into a sensation. Don't wait; the world of e-commerce is at your fingertips!
On NextDoor
Step into the welcoming neighborhood of NextDoor, your e-commerce store's new local haunt. Picture this – your store link, nestled amidst friendly chatter and community updates. It's a comforting sight, indeed! 
On NextDoor, your online store link feels like a recommendation from a trusted neighbor. A casual mention in a chatty post, a commendation in a local guide, or a suggestion during lively discussions – each share exudes warmth and familiarity.
Remember, your business isn't just a faceless entity on this platform. It becomes part of the neighborhood, organically integrating into the community fabric. You're not just selling products; you're extending an invitation to your online store, welcoming your neighbors to browse at their leisure.
So, embrace the charm of NextDoor. Share your store link, engage with your local community, and watch your business flourish. After all, there's no place like a neighborhood for a company to grow and thrive.
In Every Email
Step into the captivating realm of email marketing, a potent tool for sharing your online store link. Each email is a personalized invitation, a gentle nudge towards your store. Imagine the soft ping of a notification, followed by the thrill of discovery. Embedded in the heart of each email, your store link awaits, shimmering with promise.
Experience the dance of anticipation as your recipients open their inboxes. Each word you craft and every image you select are brilliantly choreographed to create an engaging narrative around your online store. The more engaging the content, the higher the chances of landing a click.
Remember, each email is not merely a sales pitch. It's a conversation, a chance to connect with your customers on a deeper level. Every newsletter, every update, and every offer you share carries a personal touch, reinforcing your brand identity. So, why wait? Begin the enchanting journey of email marketing. Share your store link, connect, engage, and watch your e-commerce venture soar to new heights.
Conclusion
In conclusion, effectively mastering sharing your storelink is crucial for driving sales. As you've discovered in this blog, there are ample opportunities available. Be it on engaging social media posts, within the welcoming confines of your 'About' section, or nestled amidst captivating emails, your storelink plays a pivotal role. Let's celebrate this journey – the magic of discovery, the thrill of innovation, and the joy of community. Orderific, focusing on improving customer experience and operational efficiency, stands as a beacon in your e-commerce adventure. Remember, each share of your storelink is more than a mere transaction; it's an enriching experience, a story worth telling. To further explore Orderific's potential, schedule a FREE DEMO today.
FAQs
What are effective ways to share my online store link for sales?
Effective ways include sharing your store link on social media, your website, and emails and integrating it in your 'About' section.
Are there specific platforms or social media channels to prioritize for sharing the link?
Prioritize platforms with high user engagement like Instagram, Twitter, TikTok, and your website's blog section.
How can sharing the link impact my online store's sales performance?
Sharing the link can significantly boost your store's visibility, drive traffic, increase customer engagement, and, ultimately, enhance sales performance.
Can I share the link in various online communities and forums?
Sharing links in relevant online communities and forums can significantly enhance your store's visibility and traffic.
Are there any strategies to optimize link sharing for better results?
Strategies include SEO optimization, eye-catching visuals, and crafting compelling, relevant content around your link.