In the vibrant heartland of America, a quiet revolution is taking shape in our everyday grocery stores. Today's marketplaces are not just about food; they echo with a new mantra of sustainability. Amidst the hustle and bustle, aisles beaming with fresh produce and the familiar chime of checkout counters lies an underlying commitment to waste reduction and green initiatives. These stores foster a sustainable future, one recyclable bag at a time. A stroll through such a store offers not just a sensory delight of colors and aromas but also a heartening glimpse into sustainable waste management practices. It's a testament to the evolving ethos of zero waste, where every item, from food to packaging, is seen through the lens of its environmental impact. This evolution is not just a corporate strategy; it's an invitation for us all to play our part in reducing our carbon footprint.
Recycling
Amid the symphony of daily shopping, recycling is the unsung hero of the modern grocery store. Sights of recycling bins nestled among the aisles have become common, resembling sentinels of sustainability. The soft rustle of shoppers depositing plastic and paper into these bins is a familiar soundtrack, underscoring our collective fight against waste.
Sprightly workers, armed with a commendable commitment to green initiatives, are ever-present. They sort, cleanse, and neatly stack items, ready for their second life. Their hands move deftly, transforming the act of recycling into an elegant ballet of waste reduction.
The store's waste management system, a marvel in itself, hums quietly behind the scenes. It takes solid waste and effortlessly turns it into recycled material. A conveyor belt, the system's lifeblood, transports waste, signifying an endless reuse cycle.
Every item we toss away enters this system, reducing landfill waste and our carbon emissions. These small actions, when multiplied by the millions of shoppers, lead to a significant reduction in our overall environmental impact.
In this grocery store, the humble act of recycling is no longer just an option. It's a responsibility, a crucial part of our daily routine. It's an invitation to step into a more sustainable future, one recycled item at a time. In our quest for zero waste, we find that every piece of plastic, every scrap of paper, holds the potential for a new beginning.
What Are The Benefits of Recycling?
Recycling, a simple act woven into the fabric of our grocery visits, yields profound benefits. Embark on a journey to discover its manifold effects:
Conservation of Natural Resources: Recycling is a torchbearer of responsible consumption. It breathes new life into discarded items, reducing the demand for raw materials. Consequently, precious forests, minerals, and water bodies are preserved.
Reduction in Landfill Waste: Through recycling, what was once destined for landfills finds renewed purpose. As such, the burden on our landfills is alleviated, freeing our landscapes from the clutches of solid waste.
Lower Carbon Emissions: Recycling is a formidable ally in the battle against carbon emissions. The recycling process, compared to manufacturing from scratch, requires significantly less energy, leading to fewer greenhouse gas emissions.
Economic Benefits: Recycling transforms waste into wealth. It fosters the creation of jobs in the recycling and manufacturing industries, contributing to a more robust economy.
Promotion of Sustainable Waste Management: Recycling, the stalwart of sustainable waste management, is a daily reminder of our commitment to environmental sustainability. It's inspiring to see everyday items like plastic waste and food waste being meticulously processed to serve new purposes.
Each recycled item, each moment spent sorting recyclables, serves as a silent pledge towards a greener planet. This simple yet powerful act resonates with potential, fueling our collective stride toward a future of zero waste. A world where environmental impact is taken into account, and waste reduction is not an afterthought but a priority. A world where our choices at the grocery store reflect our commitment to the planet.
Waste Reduction & Reuse
Beyond the familiar clang of shopping carts and rustle of grocery bags, another story unfolds. This narrative, underscored by the ethos of waste reduction and reuse, unfolds in every corner of our modern grocery stores. From the impeccably arranged aisles to the bustling checkout counters, a conscious effort to minimize waste and enhance reuse is evident.
Each product on the shelf, wrapped in minimal packaging, reflects a commitment to reducing waste. Many items are offered in bulk, encouraging shoppers to bring their reusable containers. A glance at the produce section reveals fresh fruits and vegetables, void of unnecessary plastic wrapping. This approach not only reduces solid waste but also fosters the reuse of containers.
Step into the store's café, and you'll witness a lively exchange of reusable cups and containers. Here, disposable cups and plates are a thing of the past. Every coffee sip, every bite taken, is a testament to the store's dedication towards sustainable waste management. It's a model that transforms shopping into a partnership against waste.
The store's green initiative continues beyond there. Upcycled products made from recycled material line the shelves, each bearing a unique story of transformation. From chic tote bags to quirky stationery, every item symbolizes the store's commitment to waste reduction and reuse.
In this green revolution, every participant – from the store manager to the casual shopper – plays a vital role. Together, they breathe life into the vision of a zero-waste future. This journey, though challenging, carries the promise of a sustainable tomorrow – one grocery visit at a time.
Garbage Disposals
Beyond the well-trodden aisles and colorfully abundant produce stands, another eco-centric operation is in full swing in our modern grocery stores – the garbage disposal systems. Now, imagine walking into the store's backroom. The scent of responsibility fills the air, a crisp, clean aroma that reassures you of the store's commitment to environmental sustainability. You are drawn to the state-of-the-art garbage disposal system, a shining beacon of waste reduction.
Under the system's meticulous watch, no waste scrap slips through unnoticed. Each piece of solid waste, whether organic or inorganic, is given attention. The organic waste, such as food leftovers, is composted. This process, quietly humming in the background, transforms otherwise wasted food into nutrient-rich soil, a green initiative that supports local farming.
The inorganic waste, on the other hand, undergoes a different journey. Carefully sorted and separated, items like plastic waste are bound for recycling. This consistent commitment to waste management is the store's secret weapon in the fight against landfill waste and GHG emissions.
Hidden from the shoppers' view, this behind-the-scenes operation is as vital as the store's front-end activities. It encapsulates a holistic approach to sustainability, integrating waste prevention and waste reduction into every aspect of the store's operation. In this way, modern grocery stores set the stage for an era of sustainable retail, one garbage disposal at a time.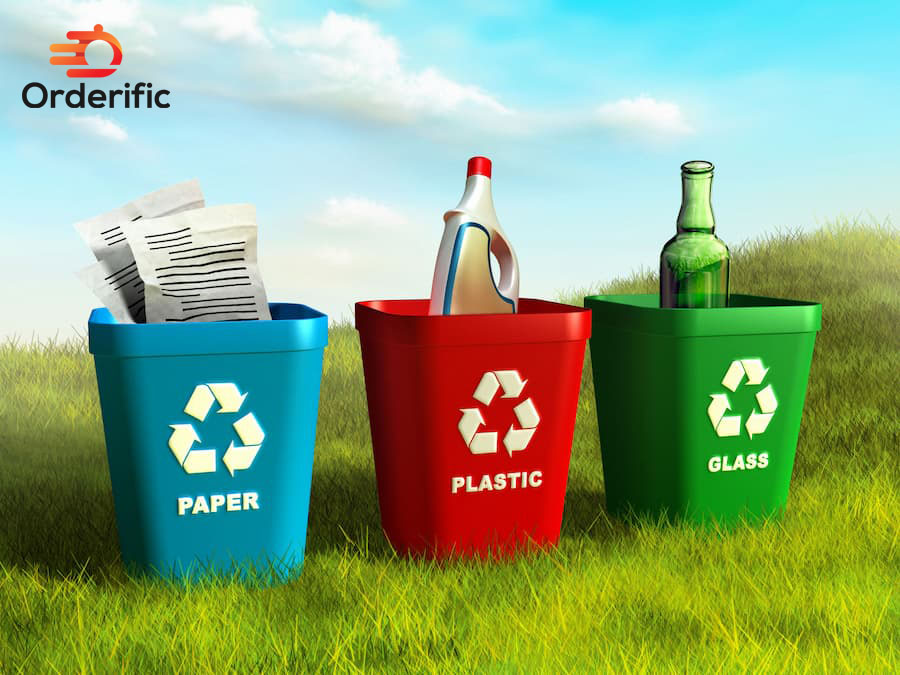 Composting
Nestled in the heart of our grocery stores is another unsung hero of sustainability – the composting system. Imagine, if you will, wandering into the store's composting area. Instantly, you're greeted by a rich, earthy aroma, a testament to the transformation process. Here, organic waste is not seen as garbage but as a precious resource.
Each day, food waste from the store finds its way here. The process begins, a simple yet profound act of alchemy. The destruction, once destined for landfills, begins to decompose. As you watch, you can almost feel the warmth generated by the breakdown of organic matter.
You're witnessing the birth of a new life. The food waste, through the natural composting process, is slowly turning into nutrient-rich soil. This compost, teeming with life, is a cornerstone of sustainable waste management.
But the story doesn't end there. This soil, born from waste, plays a crucial role in local farming. It's a testament to the cycle of life, a green initiative that supports sustainable agriculture.
Every moment spent in the composting area reminds us of our collective responsibility towards environmental sustainability. It's a lesson in the power of waste reduction, a salute to the potential of organic waste.
Ultimately, you leave not with a sense of decay but of renewal. For here, in our modern grocery stores, waste is not the end but a new beginning. Composting, a silent revolution, stands as an embodiment of the zero-waste ethos, gently guiding us towards a sustainable future.
Hazardous Waste Sites
Indeed, modern grocery stores are open to the challenging task of handling hazardous waste. As you venture further, tucked away from the typical humdrum lies a highly efficient, dangerous waste site.
Step inside, and you are immediately greeted by meticulous organization. Every inch of the space, though cloaked in caution, resonates with a robust commitment to sustainability. The sight of carefully labeled containers, each designated for a specific type of hazardous waste, is profoundly reassuring.
Gloved staff move with purpose, their every action a testament to the store's commitment to waste reduction. They handle the hazardous waste with exceptional care, ensuring its proper disposal. Their vigilant eyes and steady hands work harmoniously, providing a crucial defense against environmental pollution.
The air, albeit heavy with responsibility, carries an undeniable undercurrent of optimism. Here, in this corner of the store, the battle against waste gains a different intensity. Handling hazardous waste isn't merely a chore – it's an act of stewardship, a vital stride towards a more sustainable future.
Each container, filled and sealed, holds not just waste but a promise. A promise of less landfill waste, reduced greenhouse gas emissions, and a minimized carbon footprint. The hazardous waste site, though unseen by the everyday shopper, plays a pivotal role in the grocery store's green initiative.
With every harmful item safely disposed of, the store reasserts its commitment to environmental sustainability. It serves as a quiet reminder that, in our journey towards zero waste, no effort is too small, no challenge too great.
Meet Evreka Today for Boosting Your Business
Embrace the feeling of stepping into the future with Evreka, your companion, in the journey towards sustainability. As you approach, an air of innovation envelops you, whispering promises of a greener tomorrow. The atmosphere pulses with anticipation, the warm hum of Evreka's cutting-edge technology inviting you closer.
Each feature, carefully designed, reflects a deep-rooted commitment towards waste reduction. A brief interaction with Evreka's state-of-the-art solutions ignites a sense of awe. It's not just about the sleek, modern aesthetics – it's the underlying ethos of sustainability that genuinely inspires.
As you explore, engaging your senses, you're struck by the harmonious blend of technology and environmental responsibility. The soft whir of machinery, the crisp visuals on the digital interfaces, the gentle click of buttons – it's a symphony of progress and green initiatives.
You feel a surge of possibilities, a wave of transformation. Evreka isn't just a tool; it's a partner, a silent catalyst in your quest for zero waste. The advanced features lend a sense of weightlessness to complex tasks, transforming challenges into smooth operations.
The heartening sight of a user-friendly platform, the comforting sound of swift and efficient waste management, and the reassuring knowledge of 24/7 customer support – all merge to create an experience that is uniquely Evreka. It's an encounter that leaves you with not just a solution but a promise.
A promise for a future where sustainability isn't a distant dream but a vivid reality. A tomorrow where green initiatives are seamlessly woven into our daily routines. With Evreka, the future of waste management and sustainability isn't just around the corner – it's here.
Conclusion
In the era of sustainability, modern grocery stores have become influential vanguards of green initiatives. They've intertwined waste reduction strategies with daily operations, transforming grocery shopping into an act of environmental stewardship. Every recycled item, compost pile, or hazardous waste site whispers the promise of a sustainable tomorrow. Their approach mirrors that of Orderific. Just as grocery stores have made shopping a seamless, eco-friendly experience, Orderific has revolutionized the restaurant industry. It paves the way for increased revenue, decreased operational costs, and enhanced user experience, all while reducing waste and promoting sustainability. For a glimpse into this future, schedule a FREE DEMO with Orderific today.
FAQs
Why are sustainability and waste reduction becoming increasingly important in business practices?
Sustainability and waste reduction are vital due to increasing environmental concerns and consumer demand for eco-friendly business practices.
Describe some common green initiatives companies can adopt to reduce their environmental impact.
Companies can adopt recycling, composting, using renewable energy, reducing packaging, and promoting reusable products to reduce environmental impact.
How do businesses balance the cost of sustainability initiatives with the benefits of waste reduction and improved reputation?
Businesses can offset costs by utilizing waste as resources, attracting eco-conscious customers, and reducing long-term operational expenses.
Please share examples of companies successfully integrating sustainability into their business models.
Companies like Patagonia, IKEA, and Tesla have successfully integrated sustainability into their business models.