Welcome to the refreshing realm of eco-friendly juice bars, where sustainability is the key ingredient. Imagine sipping a cold-pressed juice, knowing it's just as good for Mother Earth as it is for your health. The straws? They're biodegradable. The packaging? Crafted from recycled materials. The ingredients? Locally sourced, reducing carbon emissions associated with food production. This isn't a dream; it's a fast-growing trend in the United States and beyond. This blog will dive deep into the green revolution stirring the juice bar industry. You'll discover innovative practices and strategies, from efficient energy use to sustainable supply chains, that are redefining the future of juicing. So, grab your reusable cup, and let's embark on this eco-journey together.
What Makes A Juice Bar Sustainable?
Stepping into a sustainable juice bar is more than just a foodie experience; it's a sensory delight. The air is aromatic with the fresh scent of organic fruits and vegetables, locally sourced and brimming with natural goodness. You hear the whir of energy-efficient blenders, crafting nourishing beverages with minimal environmental impact. And as you savor each sip, you understand that this is more than just a drink; it's a commitment to sustainability, a tribute to Mother Earth.
Use of Organic and Local Produce: Using organic, locally sourced ingredients, eco-friendly juice bars reduce their carbon footprint, contribute to local economies, and ensure a fresh, nutrient-rich product. This practice aligns with the sustainability goals of reducing food production-related emissions and supporting a sustainable future.
Zero-Waste Practices: Embracing a zero-waste philosophy, these juice bars utilize every part of the produce, compost any remaining waste, and serve their beverages in recycled, biodegradable packaging. This approach significantly decreases waste and greenhouse gas emissions, contributing to a sustainable lifestyle.
Energy Efficiency: Utilizing energy-efficient equipment and optimizing energy use are pivotal in a sustainable juice bar's operations. This strategy reduces carbon emissions and aligns with the broader climate action of transitioning to renewable energy sources.
Social Responsibility: Lastly, a sustainable juice bar is closely intertwined with its local community, promoting social sustainability. They may offer employment opportunities, support local farmers, and encourage sustainable practices among their customers, fostering a united effort towards environmental sustainability.
In this era of climate change, sipping on juice from an eco-friendly bar is not just a refreshing indulgence but a conscious choice for a sustainable future. It's an affirmation that every little effort counts. So, the next time you're craving fresh juice, choose a sustainable juice bar and become part of the green revolution.
Choosing Sustainable Ingredients For Your Juice Bar
Selecting sustainable ingredients for your juice bar is a journey that intertwines with nature's bounty. Imagine walking through a local farmers' market, feeling the crisp morning air, smelling the fresh produce. Each fruit and vegetable in sight is a testament to the surrounding region's lush agriculture. The Honeycrisp apples? Grown on a family-owned orchard just miles away. The vibrant beets? Cultivated in a nearby farm, practicing organic methods.
Every ingredient is a story of sustainability and environmental stewardship. The strawberries, bursting with flavor, are a sweet success of natural pest management. The kale, boasting vibrant greens, results from a closed-loop compost system. Carrots and celery, crisp and fresh, thrive in the absence of synthetic fertilizers.
Choosing these locally sourced, organically grown ingredients enhances your juices' flavor and minimizes your carbon footprint. It's a direct contribution to local economies, promoting sustainable development. Your choice helps support a sustainable future, championing the United Nations' environmental sustainability goal.
Navigating through this maze of fresh produce, you're building more than a menu. You're crafting a narrative of sustainability, one juice at a time. It's a commitment to business sustainability, a step towards climate action. With each sip your customers take, they experience this journey, becoming stakeholders in your sustainability strategy.
So, explore. Engage with local farmers. Understand their practices. Make informed choices because a sustainable juice bar isn't built in a day. It's grown, one sustainable choice at a time.
Look for Organic and Local Produce
When sourcing ingredients for your juice bar, think local and organic. Imagine strolling through your local farmer's market, the early morning air crisp and filled with the promise of a new day. The sun shines gently, casting long shadows on the vibrant fresh produce. Each vegetable and fruit is a colorful testament to the sustainable practices of local farming. You run your fingers over a bunch of dark green kale, feeling the rough texture, the embodiment of nature's resilience.
Nearby, a farmer hands you a ripe apple, its skin cool and smooth against your palm. You bite into it, the juices running down your chin, a sweet, tangy flavor explosion. It's nature's gift, harvested from a family-owned orchard just miles away. Like this, every ingredient you choose tells a story of sustainability and community support, turning your juice bar into an environmentally friendly hub contributing to a sustainable future.
Use Sustainable Proteins and Milk
Stroll down the aisle of eco-conscious choices as you explore the realm of sustainable proteins and milk. Imagine the creamy texture of nut-based milk, a sustainable alternative to dairy, delighting your palate. You'll taste the difference; it's not just the natural sweetness but a hint of environmental responsibility.
Soy, hemp, or pea proteins are fantastic, eco-friendly alternatives to traditional animal-based proteins. As you blend these into your beverages, you're not just enriching the nutrient profile. You're also reducing carbon emissions, contributing to climatic action, and promoting sustainable food production.
But it's not just about being eco-friendly. It's about building relationships with your customers and connecting over shared values. As they savor your juices, customers appreciate these sustainable choices. They taste the care, thoughtfulness, and commitment to creating a sustainable future.
Your juice bar becomes more than a business. It's a beacon of sustainable practices, an agent of climate change action. With every sip, you and your customers are crafting a greener world.
Aim for Zero Waste
In pursuing sustainability, aiming for zero waste is the new gold standard. Picture yourself entering an eco-friendly juice bar. As you order your favorite green juice, there's a noticeable absence of disposable containers. Instead, you are handed a glass bottle, a symbol of the zero-waste commitment. The sensory delight of the crisp, fresh juice is amplified by the knowledge that there's no waste involved in its creation.
From composting fruit scraps to using recycled materials for packaging, every element is in harmony with the environment. The smooth, cold touch of the glass bottle, the rhythmic hum of energy-efficient machines, and the fresh aroma of organic fruits—all contribute to an experience that's as fulfilling for your senses as it is for your conscience. As you step out, savoring the last sip, you leave behind an empty bottle for reuse and a significantly reduced carbon footprint. This is the essence of the zero-waste trend in sustainable juice bars.
Consider the Environmental Impact of Superfoods
The allure of superfoods in a juice bar is irresistible. Imagine a sprinkle of chia seeds, a dash of spirulina, or a spoonful of goji berries adorning your favorite juice blend. Yet, amidst this nutritional extravaganza, it's crucial to consider their environmental footprint. Indeed, while these exotic ingredients can boost the health quotient, their journey to your glass often involves extensive shipping routes, contributing to increased carbon emissions.
However, this doesn't mean eschewing superfoods altogether. The key lies in sourcing responsibly, opting for fair-trade and organically grown products. Additionally, incorporating local superfoods can add a unique twist to your offerings while supporting regional farmers. After all, sustainability and taste can blend harmoniously together, just like your favorite green juice. So, consider their origins next time you reach for that acai powder or quinoa. Here's to embracing superfoods that supercharge our health and our planet's wellbeing.
Sourcing Local Produce For Your Juice Bar
The morning sun kisses the dew-kissed greens as the first light illuminates a bustling farmer's market. Amidst the vibrant stalls, the juice bar owner moves with purpose, selecting plump fruits and crisp vegetables, each a testament to the local region's fertile soil and sustainable farming practices. This is the heartwarming, wholesome process of sourcing local produce for a sustainable juice bar, a journey as refreshing as the nutrient-rich juices they offer. It's not just about procuring ingredients; it's about fostering relationships, supporting local economies, and celebrating the season's bounty in every glass served.
Why Source Locally?: Locally sourced produce guarantees unmatched freshness and flavor. It strengthens the local economy, reduces carbon emissions from transportation, and aligns with sustainable practices.
Finding Local Produce: Farmers' markets, community-supported agriculture (CSA), and local farms are excellent sources of fresh, local produce. Networking and building relationships with local growers are key.
In-Season Produce: Seasonal fruits and vegetables ensure optimal taste and nutrient content. It also promotes variety in the menu, enticing customers with seasonal specialties.
Partnering with Local Suppliers: Establishing partnerships with local suppliers assures a consistent fresh produce supply. It also creates a sense of community, instilling a sense of pride in customers, knowing they're supporting local farmers.
The aroma of ripe fruits, the crunch of fresh vegetables, the lively banter of the local farmer's market – each is an integral thread in the vivid tapestry of running an eco-friendly juice bar. It's a business model that nourishes the body, supports the local community, and respects Mother Earth – a testament to sustainability, one glass at a time.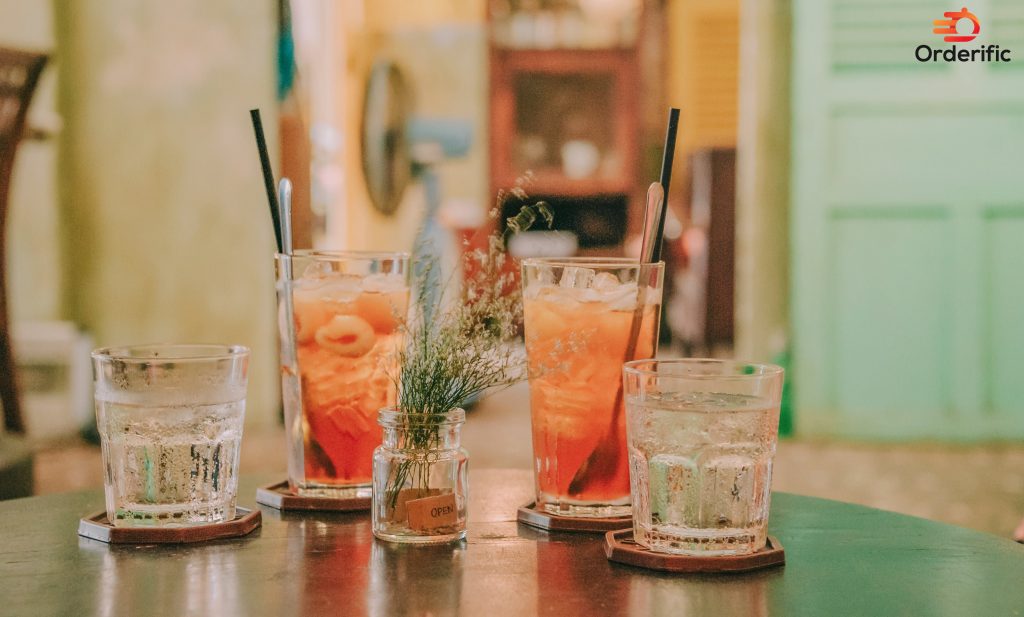 How To Reduce Waste At Your Juice Bar
As daylight breaks, you enter your buzzing juice bar, greeted by the vibrant colors of fresh produce and the rhythmic hum of an energy-efficient blender. Each interaction is a dance of sustainability, from the gleaming reusable containers to the scent of compost enriching the soil. Every detail weaves into the narrative of a visionary juice bar, where indulgence meets responsibility, and flavor intertwines with sustainability. Here's how to transform this imagery into reality:
Embrace Reusable Containers: Switch to sturdy, reusable containers to serve delicious juices. It's a step towards reducing single-use plastic and creating a circular economy.
Consider Composting: Engage in composting to transform fruit and vegetable waste into nutrient-rich soil. It's about giving back to Mother Earth, one compost bin at a time.
Choose Biodegradable Straws and Cups: Opt for biodegradable straws and cups, a nod to environmental stewardship. These are made from plant-based materials, breaking down naturally over time.
Reduce Food Waste: Incorporate smart purchasing and storage practices to minimize food waste. Every saved morsel counts, mirroring the philosophy of a sustainable juice bar.
Each choice carves your path towards sustainability, resonating with eco-conscious customers. It's not just about reducing waste; it's about creating an experience where conscious choices reign supreme, and every sip is a testament to your commitment to a greener planet. This is your sustainable juice bar, a beacon of waste reduction and a harbinger of positive change.
Eco-Friendly Packaging For Your Juice Bar
Picture yourself stepping into a bustling juice bar, where the air buzzes with energy, and the vibrant colors of fresh fruits and vegetables create a visual feast. As you place your order, you notice an absence of the traditional plastic containers. Instead, each juice is served in a recyclable glass bottle, symbolizing the establishment's commitment to eco-friendly practices. This is the essence of eco-friendly packaging at your juice bar. It's an experience that delights the senses and positively impacts the environment.
Why Eco-Friendly Packaging Matters: It's about more than just reducing waste. Eco-friendly packaging aligns with the sustainability ethos of your juice bar and resonates with eco-conscious customers.
Eco-Friendly Packaging Options: From recyclable glass bottles and aluminum cans to biodegradable cups and straws, there's an array of eco-friendly packaging options.
The Benefits of Eco-Friendly Packaging: Opting for eco-friendly packaging reduces your carbon footprint, supports waste reduction, and reinforces your brand's commitment to sustainability. Plus, it's a great way to impress environmentally savvy customers.
Each sip from a recyclable container is a testament to your commitment to a greener planet. This is your juice bar, where each serving of juice embodies a flavorful blend of sustainability, freshness, and a deep respect for Mother Earth.
Conclusion
Stepping into the world of eco-friendly and sustainable juice bars is an immersive journey where every sip tells a sustainability story. It's a place where the crunch of fresh, local produce, the smooth, creamy texture of sustainable proteins, and the gentle clink of recyclable glass bottles weave together a symphony of environmental stewardship. Here, the aroma of ripe fruits mingles with the familiar hum of energy-efficient machines, painting a vivid tableau of sustainability. As a steward of nature, your juice bar stands as a beacon, illuminating the path to a greener future and reminding us all that sustainability isn't simply a trend; it's a lifestyle, a commitment that echoes in every step of your journey. With innovative solutions like Orderific streamlining your operations, you can focus on what truly matters: crafting an unforgettable, eco-conscious experience for your clientele. For more information on Orderific, schedule a FREE DEMO today.
FAQs
What eco-friendly practices are trending in sustainable juice bars?
Eco-friendly trends include using local produce, sustainable proteins, zero-waste practices, and eco-friendly packaging.
How can a juice bar adopt eco-conscious packaging trends?
A juice bar can adopt eco-conscious packaging trends using biodegradable cups, straws, and recyclable glass or aluminum containers.
Are there certifications for sustainable practices in juice bars?
Certifications like Green Seal and LEED exist for sustainable practices in juice bars and restaurants.
What role do locally sourced ingredients play in sustainable juice bar trends?
Locally sourced ingredients reduce carbon emissions from transportation, support local economies, and ensure fresher, tastier juices.
How can I make my juice bar more environmentally friendly without significant changes?
Implement small changes like using biodegradable straws, composting waste, and encouraging customers to bring reusable containers.