Introduction
In this era of environmental consciousness, food truck operators are embracing Sustainability, eco-friendliness, and waste minimization, transforming the landscape of their operations in profound ways. By integrating sustainable waste management approaches and leveraging a food truck POS system, these mobile eateries reduce waste and enhance business efficiency. Waste reduction, recycling, and using sustainable materials in packaging are among the fundamental strategies. These initiatives aim to minimize the environmental impact of food trucks, align with growing consumer demand for sustainability, and ultimately lead to a significant decrease in their carbon footprint. They are equipped with advanced POS systems and food truck owners are finding innovative ways to manage inventory and process payments, minimizing waste and maximizing customer satisfaction. The shift towards such sustainable practices is an exciting evolution in the food truck industry, benefiting our planet's business and environmental health.
Sustainable Energy Sources
The food truck industry's adaptation of sustainable energy sources marks a significant step towards sustainability. Utilizing renewable energy sources minimizes environmental impact and aligns the industry with the sustainability goals of reducing waste and greenhouse gas emissions. Solar power and biodiesel are examples of these alternative energy sources. Solar panels installed on food trucks are a cost-effective way to power the onboard POS system, lights, and kitchen appliances.
Biodiesel, often made from recycled cooking oil, is also gaining popularity among food truck operators. As a result, this organic waste from the food truck becomes an energy source, effectively contributing to waste reduction. This innovative waste management strategy, where waste disposal becomes energy recovery, is in line with zero waste principles, promoting waste generation reduction and sustainable waste management.
Additionally, food trucks increasingly choose eco-friendly packaging materials, steering away from hazardous waste materials such as plastic. Recycled materials, compostable packaging, and reusable items are alternatives that further reduce waste production. This shift in packaging also encourages customer recycling, promoting an overall culture of sustainability in the food truck industry.
Reduced Food Packaging Waste
The effort to lessen packaging waste in the food truck industry is steadily progressing, with operators increasingly seeking eco-friendly solutions. By implementing a food truck POS system, operators can track and manage inventory more precisely, reducing food waste. Moreover, these systems can offer digital receipts, eliminating the need for paper and reducing waste.
As for food packaging, the shift towards sustainable materials is evident. Biodegradable and compostable containers, cups, and cutlery are becoming the norm, replacing traditional plastics that contribute to hazardous waste. This transition reduces the environmental impact of food trucks and resonates with the increasing number of consumers who value sustainability.
Locally Sourced Ingredients
Promoting sustainability also extends to sourcing ingredients locally. This practice has several advantages for food truck operations. Firstly, it reduces the carbon footprint associated with transporting goods long distances. Secondly, it supports local farmers and businesses, fostering a stronger community. Locally sourced produce is often fresher and of higher quality, resulting in more flavorful dishes that customers appreciate. By implementing a food truck POS system, operators can manage their inventory effectively, ensuring that fresh ingredients do not go to waste. Moreover, locally sourced food is a powerful marketing tool, allowing food trucks to tap into a growing market of consumers who prefer sustainable, local food. The shift towards local sourcing is another testament to how food trucks are becoming more eco-friendly and socially responsible.
Waste Reduction And Recycling Initiatives
Effective waste management is a top priority for food truck operators. Managing waste efficiently can significantly decrease the environmental impact of food trucks, reduce greenhouse gas emissions, and contribute towards sustainability. From the reduction of food waste to the recycling of packaging materials, food trucks are employing sustainable waste management strategies to achieve these goals.
The use of a Food Truck POS system can aid in inventory management, reducing waste production by ensuring that food and other materials are ordered and used optimally. This waste reduction is crucial in food trucks, where space is limited and efficient use of resources is paramount.
Hazardous waste, such as used cooking oil, is managed following Environmental Protection Agency guidelines. It's essential to prevent such waste from contaminating our natural resources and impacting air quality.
Eco-Friendly Appliances And Equipment
Given the shift towards sustainable practices, food trucks are also starting to incorporate eco-friendly appliances and equipment into their operations. The use of energy-efficient cooking appliances and refrigeration systems can significantly reduce power consumption, lowering the overall environmental impact of the food truck business. Even small changes, such as using LED lights, can contribute to energy-saving efforts. The incorporation of water-saving fixtures, such as low-flow faucets and pre-rinse spray valves, also plays a role in conserving resources. Additionally, using biodegradable cleaning products helps to avoid introducing harmful chemicals into the environment. The integration of these eco-friendly appliances, equipment, and practices, paired with a food truck POS system for efficient business management, exemplifies how the food truck industry is evolving to meet environmental demands while still providing great food and service to customers.
Promoting Green Practices To Customers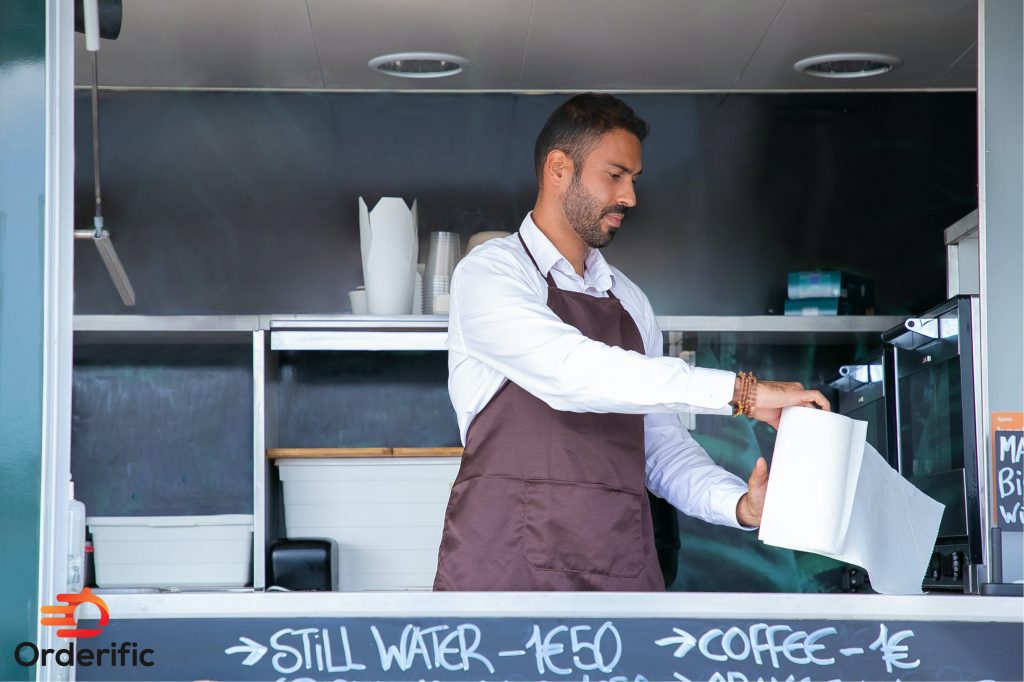 Food truck operators are not just adopting eco-friendly practices for their operations, they are also finding innovative ways to encourage their customers to join the green movement. The practice of promoting green initiatives to customers is becoming a norm in the food truck industry, aiming to cultivate a community of conscious consumers who actively participate in sustainable practices.
This can involve simple steps such as encouraging customers to bring their own reusable food containers, utensils, or cups. Some food trucks even offer incentives like discounts to customers who practice this. Additionally, food trucks are educating their customers about recycling by providing separate waste containers for recyclables and non-recyclables, and clearly indicating what items go where. The use of a food truck POS system can also contribute to this by offering digital receipts instead of paper ones, reducing paper waste, and educating customers about the benefits of going paperless.
Moreover, food trucks are showcasing their use of locally sourced ingredients, renewable energy, and sustainable waste management practices to their customers. This not only increases transparency but also raises awareness about sustainability among consumers. By becoming a platform for promoting eco-friendly practices, food trucks are playing a key role in driving societal change towards a more sustainable future.
Eco-Friendly Food Truck Tips
Choose The Right Tableware
Choosing eco-friendly tableware for your food truck can have a big impact on the environment. Opt for biodegradable or compostable options made from plant-based materials like cornstarch or bamboo. Track usage with a food truck POS system to reduce waste and show customers your commitment to sustainability.
Reduce Energy Use
With a focus on reducing energy use, consider employing energy-efficient kitchen appliances and LED lights. These not only lower your carbon footprint but also represent significant cost savings in the long run. Your food truck POS system can provide valuable data on energy consumption, helping to identify potential areas for improvement.
Consider Other Fuel Options
Explore alternative fuel options for your food truck, such as biodiesel or solar power. These eco-friendly energy sources not only reduce your environmental impact but can also prove cost-effective in the long run. Harnessing such renewable energy sources is a testament to the food truck industry's commitment to sustainability.
Serve Local Foods
Serving locally sourced foods is not only a boon for local farmers and the economy, but it also significantly reduces the carbon footprint associated with long-distance transportation of ingredients. A food truck POS system aids in effectively managing this locally sourced inventory, ensuring freshness and minimizing waste.
Use Seasonal Produce
Using seasonal produce in your food truck menu not only ensures the freshest taste but also supports local farmers and reduces the carbon footprint tied to importing out-of-season goods. A food truck POS system can greatly assist in managing seasonal inventory, ensuring nothing goes to waste.
Be Mindful Of Waste
In managing waste, food trucks should implement recycling initiatives and educate customers about their importance. Composting organic waste and proper disposal of hazardous waste like used cooking oil should be prioritized. A food truck POS system can facilitate efficient inventory management, further reducing waste.
Keep Up-To-Date With Your Vehicle's Service
Regular servicing and maintenance of your food truck can enhance fuel efficiency and prolong the lifespan of the vehicle, contributing to sustainability. An efficiently running vehicle will emit fewer pollutants, helping to reduce the food truck's environmental footprint.
Take Advantage Of Technology
Incorporating technology, such as a food truck POS system, into your operations can significantly enhance efficiency, reduce waste, and support sustainability. From managing inventory to processing digital receipts. Technology serves as a crucial tool in promoting eco-friendly practices in the food truck industry.
Conclusion
In conclusion, the food truck industry is undergoing a significant transformation, with eco-friendly practices becoming increasingly commonplace. By incorporating sustainable energy sources, waste reduction initiatives, locally sourced ingredients, and efficient technology like food truck POS systems, food truck operators are not only minimizing their environmental impact but also enhancing operational efficiency and customer satisfaction. This shift towards sustainability resonates with the growing consumer demand. For eco-friendly services and sets a precedent for other industries to follow in the pursuit of a greener future.
At Orderific, we understand the importance of these eco-friendly practices and the role technology plays in facilitating them. Our advanced food truck POS system is designed to help you manage your operations effectively, reduce waste, and promote sustainability. If you're interested in finding out more about how our POS system can benefit your food truck business, we invite you to book a demo with us. Together, let's drive towards a more sustainable and eco-friendly future.
FAQs
What are the benefits of using sustainable energy sources in food trucks?
Sustainable energy sources reduce environmental impact and can lower operating costs.
How do food trucks source their ingredients locally to support eco-friendly practices?
Food trucks source locally by partnering with local farmers and suppliers, reducing transportation distances, and supporting local communities.
How can food truck owners make their operations more eco-friendly?
Food truck owners can make their operations more eco-friendly by using sustainable energy sources, incorporating strategies, and utilizing technology like a food truck POS system.
What are the benefits of using sustainable energy sources in food trucks?
Sustainable energy sources reduce carbon emissions and can be cost-effective in the long run.