Immerse yourself in a world of wisdom and warmth, tea. Picture a tranquil morning, a steaming cup of green tea in your hand. Feel the heat seeping into your fingers, the herbal aroma tickling your senses. You, a tea lover, find solace in this quiet contemplation. As the black tea dances in the hot water, your mind dances with thoughts, ideas, and the wisdom of ages past. This isn't just ordinary everyday afternoon tea. It's a moment of fine sentiment, a moment of introspection. Samuel Johnson didn't exaggerate when he said, "Tea's proper use is to amuse the idle, relax the studious, and dilute the full meals of those who cannot exercise but love company." So, let's embark on this journey, savoring the tea quotes ideas and resonating with the wisdom brewed in this delightful beverage.
A Cup of Inspiration: Tea Quotes Ideas to Start Your Day
Awaken to the allure of a new day, gently stirred by the magic of morning tea. Allow the first rays of dawn to reflect off the swirling steam, creating a dance of shadows and light. Listen to the silent whisper of the tea leaves as they swirl, releasing their essence into the hot water. Each sip is a journey through the annals of wisdom inscribed in every tea quote.
Here are some refreshing tea quote ideas to stimulate your senses:
"Tea is the elixir of life." – A Chinese proverb reflecting the profound impact of this simple beverage.
"There is something like tea that leads us into the world of quiet contemplation of life." – Lin Yutang, reminding us of the peace in a cup of tea.
"A cup of tea would restore my normality." – Douglas Adams, affirming tea's soothing properties.
"You can never get a cup of tea large enough or a book long enough to suit me." – C.S. Lewis, capturing the ideal afternoon tea experience with a good book.
Much like a tea bag steeping in hot water, each quote imbues the mind with wisdom, transforming an ordinary morning into a moment of rich insight. So, let's raise a cup to the silent symphony of tea time and savor the sweet tea of wisdom that each new day brings.
Tea and Wisdom: Philosophical Quotes from Tea Connoisseurs
Settle into the realm of tea connoisseurs, where each sip carries a philosophical undercurrent. As the steam from a freshly brewed cup of white tea wafts upwards, invite your senses to wander. Picture the calm of a tea party, the sweet whispers of conversation gently swirling with the aroma of herbal tea. Each tea quote is a testament to the harmony of thought and taste, an invitation to indulge in quiet contemplation. Here are a few pearl-like words of wisdom from our tea connoisseurs:
"Tea is not a mere beverage; it's the poetry of life in motion." – An anonymous reflection on tea's transcendent qualities.
"A nice cup of tea, a good book, these are the small things that bring joy in life." – Henry James, encapsulating life's simple pleasures.
"Tea is the answer to most problems." – A tea saying steeped with optimism, anonymous.
"Each cup of tea represents an imaginary voyage." – Catherine Douzel, underlining the journey a cup of tea can represent.
As the last droplet of tea trickles down your throat, a sense of serenity washes over you. Every tea lover knows this sensation, this moment of peace, and the sentiment it inspires. So, sit back, pick a quote, and allow the wisdom of tea to permeate your being.
Poetry in a Teacup: Classic Poets and Their Odes to Tea
Take a moment to steep your senses in the enchanting realm of 'Poetry in a Teacup,' a world where classic poets pay homage to the humble tea. Picture the age-old tea time ritual, made extraordinary by the romantic verses penned by these wordsmiths.
Feel the soft rustle of pages, the whispers of ink, and the warmth of a good book nestled in your hands. Now, imagine the delicate scent of tea intertwining with the fragrance of well-worn paper. The experience is as comforting as a cup of sweet tea on a cold afternoon.
Let's gently pour over some stirring verses from our beloved poets:
"Tea! thou soft, thou sober, sage, and venerable liquid." – A toast to tea by Samuel Johnson, capturing its calming essence.
"A cup of tea, a loaf of bread, and thou." – Omar Khayyam offers an idyllic contentment vision.
"There is no trouble so great or grave that a nice cup of tea cannot much diminish." – Bernard-Paul Heroux, extolling the healing power of tea.
"While there's tea, there's hope." – Sir Arthur Pinero, reflecting optimism in a cup of tea.
In the grand tapestry of life, tea has woven its way into our collective consciousness, leaving a lingering aftertaste of wisdom and introspection. So, as you sip on your favorite brew, savor these poetic tea quotes ideas and let the inspiration steep.
The Art of Tea Ceremony: Quotes from Traditions Around the Globe
The Art of Tea Ceremony transcends the boundary of culture, manifesting in unique traditions around the globe. This sacred ritual, steeped in history, is celebrated not just for its exquisite taste but also for its inherent wisdom. It's a symphony of the senses, the aroma of black tea blending with the melodic sound of water in the tea kettle, the sight of the delicate tea set, the touch of the warm cup, and the taste of the tea itself.
The ceremony is a dance, a rhythmic flow of movements. It is quiet contemplation in every cup, a moment of peace in the bustle of life. Each step in the ceremony is a quote, a lesson in patience, mindfulness, and appreciation of the small things.
Here, the wisdom from tea ceremonies around the globe is captured in these profound tea quotes ideas:
"Drink your tea slowly and reverently, as if it is the axis on which the world earth revolves – slowly, evenly, without rushing toward the future." – Thich Nhat Hanh, encapsulating the spirit of a traditional Vietnamese tea ceremony.
"Tea ceremony is a way of worshipping the beautiful and the simple." – Irimoto Tsunagoro, portraying the essence of a Japanese tea ceremony.
"In tea, we find peace." – A Chinese proverb reflecting the tranquillity in a traditional Chinese tea ceremony.
These ceremonies remind us to pause, enjoy a good cup of tea, and find serenity in the ordinary. It's poetry in motion, wisdom in every sip, and a celebration of life's simple pleasures.
Sipping Serenity: Tea Quotes Ideas for Mindfulness and Relaxation.
Immerse yourself in 'Sipping Serenity: Tea Quotes for Mindfulness and Relaxation.' Envision a calm evening, the setting sun casting a warm glow on your favorite tea mug. The aroma of herbal tea fills the air and instantly soothes the senses. Here, the hustle and bustle of the day dissolve into the gentle swirl of tea leaves in hot water. It's an invitation to mindfulness, a moment of serenity wrapped in the comforting warmth of a good cup of tea.
Listen to the whisper of the following tea quotes, each carrying the echo of tranquility:
"There is no sound more peaceful than the kettle singing to the tea leaves."; An anonymous tea saying encapsulating the harmony of tea time.
"Tea is quiet, and our thirst for tea is never far from our craving for beauty." – James Norwood Pratt, reminding us of the aesthetic charm infused in each cup of tea.
"The art of tea is a spiritual force for us to share." – Alexandra Stoddard, expressing the serene bond formed over a cup of tea.
"Drinking a daily cup of tea will surely starve the apothecary." – A Chinese proverb acknowledging the healing properties of tea.
Like a tea bag in warm water, each quote infuses the mind with tranquility. Thus, this section serves as a haven for those seeking peace amidst the chaos of life. Engage in this soothing dance of water and tea leaves, and allow the wisdom of tea to wash over you.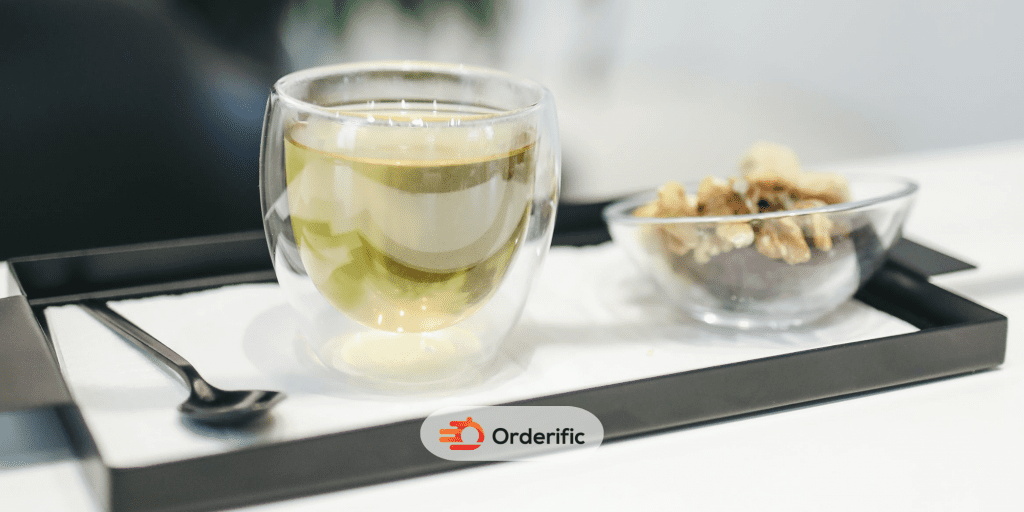 A Toast to Tea: Inspiring Quotes from Famous Tea Lovers
Enter the sanctum of 'A Toast to Tea,' a charming collection of inspiring quotes from renowned tea lovers. Picture the glimmer of anticipation in their eyes as they cradle their cherished tea cups. Feel the comforting warmth of the cup, the steam-carrying whispers of stories and wisdom from these connoisseurs. Like a precious tea leaf, each quote infuses the mind with a unique aroma of thoughts and reflections. Here, the unassuming tea beverage transforms into a medium of expression, a symphony of words and emotions.
Savor these captivating quotes from noted tea enthusiasts:
"There are few hours in life more agreeable than the hour dedicated to the ceremony known as afternoon tea." – Henry James, expressing his fondness for the timeless tea time ritual.
"Tea is the key to the treasure chest of happiness, love, and wisdom." – Samuel Johnson, illustrating the profound allure of the tea beverage.
"Some people will tell you there is a great deal of poetry and fine sentiment in a chest of tea." – Ralph Waldo Emerson, delving into the poetic charm of tea.
"Life is like a cup of tea. It's all in how you make it." – Anonymous reflection on life through tea preparation's lens.
Each quote heralds a moment of quiet contemplation, a sweet interlude in the song of life. So, let the wisdom brewed in these words permeate your being as you sip your favorite tea.
Mindful Teatime: Quotes to Soothe Your Soul
Step into the calming sphere of 'Mindful Teatime: Quotes to Soothe Your Soul.' Picture a serene evening, the world bathed in the gentle hues of twilight. The soft murmur of a kettle signifies the beginning of a special moment, a mindful teatime. The first waft of tea aroma fills the air, bringing a tender smile to your face. It's a pause in time, a chance to ground yourself and find peace amidst the rigors of the day.
Here, the wisdom of tea is captured in these soothing quotes:
"Tea is the music of the mind, a song for the soul." – Anonymous, embodying the therapeutic properties of tea.
"Tea is the key to inner serenity." – A Chinese proverb reflecting a cup of tea's tranquility.
"Tea is the bridge between worry and peace." – Douglas Adams, signifying the calming influence of tea.
"Tea is the balm for all sorrows." – C.S. Lewis, highlighting tea as a source of comfort in distress.
A simple sip can hold a world of wisdom, a tender whisper of solace. It's a journey of quiet contemplation, each quote serving as a stepping stone into the realm of tranquility. So, let the soothing notes of wisdom wash over you, one cup at a time.
A World in a Teacup: Global Tea Quotes that Stir the Heart
Drift into the fascinating sphere of 'A World in a Teacup: Global Tea Quotes that Stir the Heart.' In this enchanting section, every cup of tea unravels a unique tale from a different corner of the globe. As the gentle aroma of tea fills the air, it brings together diverse cultures united by their love for this humble beverage. Each quote becomes a voyage, a grand journey through the annals of global wisdom.
Feel the rhythmic pulse of the world in these stirring tea quotes:
"Tea is a cup of life." ; An Asian proverb symbolizing the essence of life in a cup of tea.
"Tea is drunk to forget the din of the world." – T'ien Yi-heng, insightful Chinese comment on tea's tranquilizing effect.
"Tea to the English is a picnic indoors." – Alice Walker, encapsulating the British tea culture in her words.
"Tea is the magic key to the vault where my brain is kept." – Frances Hardinge, portraying the unlocking of creative inspiration with tea, a common sentiment among writers worldwide.
Feel the harmonious blend of wisdom and tranquility in these words. It's a journey of discovery, a dance of languages and cultures, all encapsulated in a humble cup of tea. Let this global assortment of tea quotes stir your heart, one sip at a time.
Conclusion
And so, our voyage through the world of "Tea Quotes: Sip Wisdom and Inspiration from the World of Tea" concludes. Brimming with tea quotes and ideas, each quote was a sip of wisdom and inspiration. A journey through time, cultures, and emotions, held delicately in the palm of our hands. The experience was immersive, engaging all senses and tangibly connecting us to the warmth of human affairs and the timeless charm of tea. Orderific, much like these quotes, aims to simplify, secure, and serve with zeal. Embracing the inspiration brewed here, may we find new paths to increased revenue, decreased operational costs, and an enhanced user experience. For more information on Orderific, schedule a FREE DEMO today.
FAQs
What are tea quotes, and why do people find them inspiring?
Tea quotes are insightful sayings about tea often linked with wisdom, tranquility, and mindfulness, inspiring people to find peace in life's simplicity.
Where can I find famous quotes about tea from renowned figures?
You can find famous tea quotes in literature, poetry, and the words of famous personalities, especially tea connoisseurs.
Do tea quotes have a connection to tea ceremonies and rituals?
Tea quotes often reflect the wisdom, tranquility, and mindfulness cultivated during tea ceremonies and rituals.
Are there any humorous tea quotes that add a touch of laughter?
There are many witty tea quotes, such as "A day without tea is like a day without sunshine."