Introduction
Welcome to Thai peppers, a universe of vibrant flavors and intense heat that will ignite your taste buds. These Thai chilies, known for their fiery punch, are the mainstay of many Thai dishes, infusing them with a thrilling spice. Whether you're savoring Thai cuisine at a local restaurant or cooking up your version of Pad Thai or green curry at home, the flavor of Thai chili is unmistakable.
From pepper-laden fried rice to a spicy Thai basil dish, the Thai chili peppers add a smack of heat characteristic of Thai cooking. Remember to consider these tiny chili peppers; they may seem small, but their impact on a dish, be it a soup, curry, or sauce, is significant. And yet, Thai peppers are about more than just about the heat. They also contribute a unique flavor to dishes, a subtle blend of sharpness and sweetness that elevates every plate they touch. Whether in a Thai chili sauce or a simple green onion and bell pepper stir fry, these peppers can make a difference.
So, whether you're a pepper enthusiast looking to explore new flavors or a seasoned Thai cuisine lover aiming to replicate those authentic Thai dishes in your kitchen, Thai peppers are a must-have. Prepare for a culinary adventure with a riot of flavors and a rollercoaster of heat.
What Are Thai Peppers?
Thai peppers, also known as Thai chilis, are an integral part of Thai cuisine, bringing a fiery and distinct flavor to a variety of dishes. These peppers aren't just for the adventurous; you'll find them scattered throughout Thai food, adding an unexpected kick to fried rice or lending a potent punch to a bowl of green curry. Many will testify that Thai peppers are the secret behind the addictive heat of Thai chili sauce, a staple in many dishes.
Beyond soups and curries, Thai peppers are also used in a range of sauces, from a spicy garlic sauce to a sweet-and-sour chili paste, each offering a unique flavor profile to meet diverse palates. Whether you're rustling up a quick beef stir-fry or a complex Asian dish that requires a myriad of ingredients, a splash of hot sauce made with Thai chili can take your culinary creation to the next level. So, next time you reach for a bell pepper or a serrano pepper, consider swapping it for a Thai chili pepper and experience the flavor transformation.
In conclusion, Thai peppers are more than just a heat source. They're a crucial element of Thai cuisine, offering a unique flavor profile that sets Thai cooking apart. Whether it's in a green curry, a Thai basil dish, or a simple fried rice, the inclusion of Thai chili can make a world of difference in your culinary adventures. Let the Thai pepper be your passport to a world of flavor, and let your taste-buds embark on a journey they won't soon forget.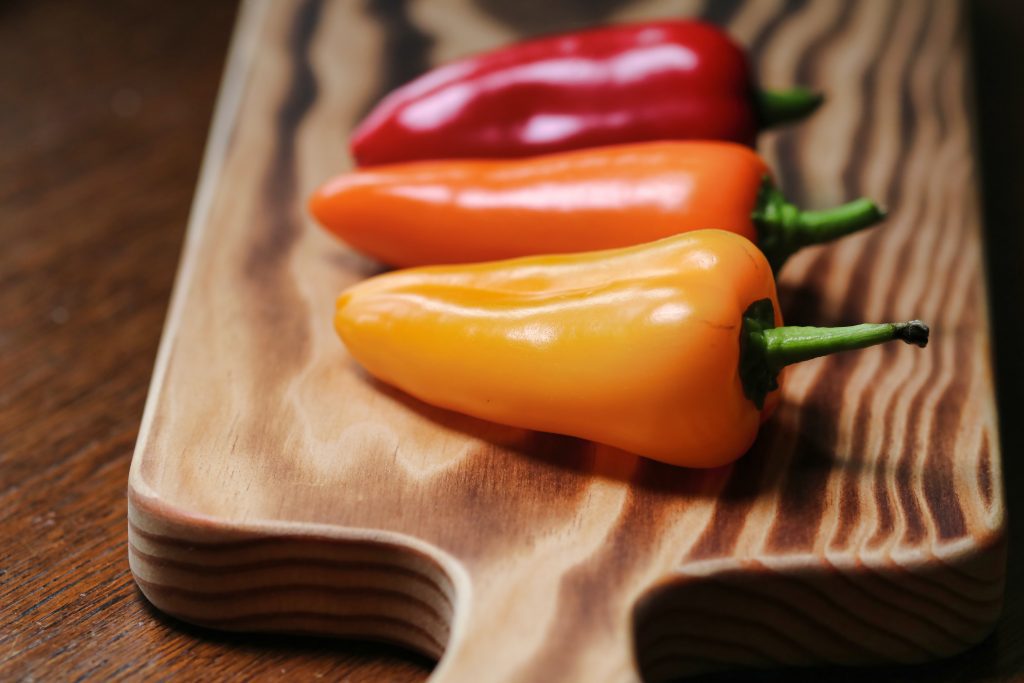 Where Do They Come From?
Thai peppers originate from a region that spans across Central America and Asia, but they have made a significant impact specifically on Thai cuisine. This small but mighty pepper is a native to Thailand, a country known for its vibrant food culture that masterfully balances sweet, sour, salty, and spicy flavors in its dishes. The tropical climate of Thailand provides optimal growing conditions for these peppers, allowing them to develop their signature intense heat and distinct flavor.
This close bond between the country and its beloved chili is reflected in the name – Thai pepper, a symbol of national culinary pride. Whether grown in a rural farm or an urban home garden, these peppers are cultivated with a great deal of care and affection, further enhancing their quality and flavor. So, the next time you taste the fiery punch of a Thai pepper in your food, remember its journey from the sun-soaked fields of Thailand to your plate.
What Do They Taste Like?
Thai peppers offer a captivating blend of taste sensations – a rush of piquant heat, followed by a subtly sweet undertone. This seemingly simple pepper is a powerhouse of flavor, engulfing your palate with its characteristic sharpness that's quickly balanced by a sweet note. This dual flavor profile is what sets Thai chili apart; it's not just about the heat, it's about the overall flavor experience that this pepper brings to the table.
Thai peppers not only bring heat and sweetness but also a fruity note, enhancing dish flavors. Their potency can transform any meal into a culinary adventure, from traditional Thai soup to contemporary fusion stir-fry. Try adding a pepper for an unforgettable burst of flavor and heat to your dishes.
How Hot Are Thai Peppers?
Thai peppers are renowned for their fiery heat that can range from 50,000 to 100,000 Scoville Heat Units (SHU). To give you a point of reference, they're substantially hotter than the jalapeno, which typically ranks between 2,500 and 8,000 SHU, but less intense than the infamous habanero, which can reach up to 350,000 SHU. The heat of a pepper is immediate and intense; it strikes with a fierce potency that can catch you off guard if you're not used to it.
However, for those who crave the thrill of spicy food, the heat is part of the appeal, a tantalizing challenge that invites them to savor and explore the limits of their spice tolerance. It's important to note that while the heat is significant, it is also short-lived, subsiding to allow the distinct flavors to shine through. Hence, Thai peppers offer a well-balanced combination of intense heat and delightful flavor, presenting a culinary adventure that is both thrilling and satisfying.
How To Prepare Thai Peppers
Preparing Thai peppers for your dishes is an easy and straightforward process but remember, these little powerhouses pack a punch! Always handle them with care and preferably with gloves to avoid any inadvertent burns. Start by washing them thoroughly under running water. Next, remove the stems and, if desired, the seeds. Keep in mind that the seeds and membranes are where most of the heat resides, so choose to include them based on your heat preference. You can then slice, mince, or use them whole, depending on the recipe.
For a more subtle flavor, consider roasting the peppers. This process can mellow out the heat, emphasize the sweetness, and add a smoky undertone. To roast, simply place the peppers on a baking sheet and broil them in the oven until the skin is blistered and slightly blackened. Allow them to cool, then peel off the skin, and they're ready to use.
Another popular method is to dry the peppers. Drying intensifies the heat and flavor, making them excellent for use in sauces or as a spice in dry form. Simply thread a needle and string through the peppers and hang them in a dry, well-ventilated area. Once they're completely dry, you can grind them up to make your very own Thai chili powder.
Whether you're using Thai peppers fresh, roasted, or dried, they're sure to add an irresistible kick to your dishes. Get creative and experiment with these fiery gems in your cooking to unlock a world of intense flavors. Remember, the key is to find the right balance—to complement the heat with a symphony of tastes that make Thai cuisine so globally loved.
Types Of Thai Peppers
Bird's Eye Chili
One of the most recognized types of Thai peppers is the Bird's Eye Chili, or "Prik Kee Noo" in Thai, which translates to "mouse droppings chili." Don't be deterred by the name; this small, slender pepper is a powerhouse of heat and flavor. Ranging from red to green, it is exceptionally hot.
Prik Chi Fah
"Prik Chi Fah," also known as the "Sky Pointing Chili," is slightly larger and milder than the Bird's Eye Chili. Its name stems from the way the chili grows upwards towards the sky. This pepper is used in a variety of dishes, including soups and curries, and it brings a moderate kick of heat combined with a sweet, fruity flavor.
Prik Leuang
"Prik Leuang," or Yellow Chili, is another popular variety of Thai pepper. Its vibrant yellow color adds a burst of color to dishes, and its nuanced flavor profile contributes an element of depth to any culinary creation.
These are just a few examples of the diversity within the world of peppers. Each brings its own unique combination of heat and flavor, enabling you to tailor your dishes to your specific taste preferences. So whether you prefer your dishes mildly spicy or tongue-scorchingly hot, there's a Thai pepper out there for you. Happy cooking!
Substitutes For Thai Peppers
If you can't find Thai peppers at your local grocery store or simply want to experiment with different heat levels and flavors, there are several substitutes you can consider.
Serrano Peppers
Serrano peppers are a good substitute for Thai peppers in terms of heat. Originating from the mountainous regions of Mexico, these peppers pack a punch similar to Thai peppers with a Scoville Heat Unit range of 10,000 to 23,000. Their bright, savory flavor can add a unique twist to your dishes.
Cayenne Peppers
If you're looking for a slightly less fiery alternative, cayenne peppers are a great option. With a heat level that ranges from 30,000 to 50,000 SHUs, they offer a manageable kick for those less accustomed to spicy food.
Bird's Eye Chili
Also known as African Bird's Eye Chili or Piri Piri, these are a good substitute if you're looking for a similar heat and flavor profile to Thai peppers. These tiny, red chilies offer a strong, pungent heat that is comparable to Thai peppers.
Fresno Peppers
For a more mild heat, Fresno peppers are a good choice. They have a fruity, smoky flavor and fall between 2,500 and 10,000 on the Scoville scale, making them a less spicy alternative to Thai peppers.
Remember, the best substitute for Thai peppers ultimately depends on the specific flavor and heat level you're aiming for in your dish. Always be mindful of the Scoville rating and adjust the quantity appropriately to ensure a balanced, flavorful dish.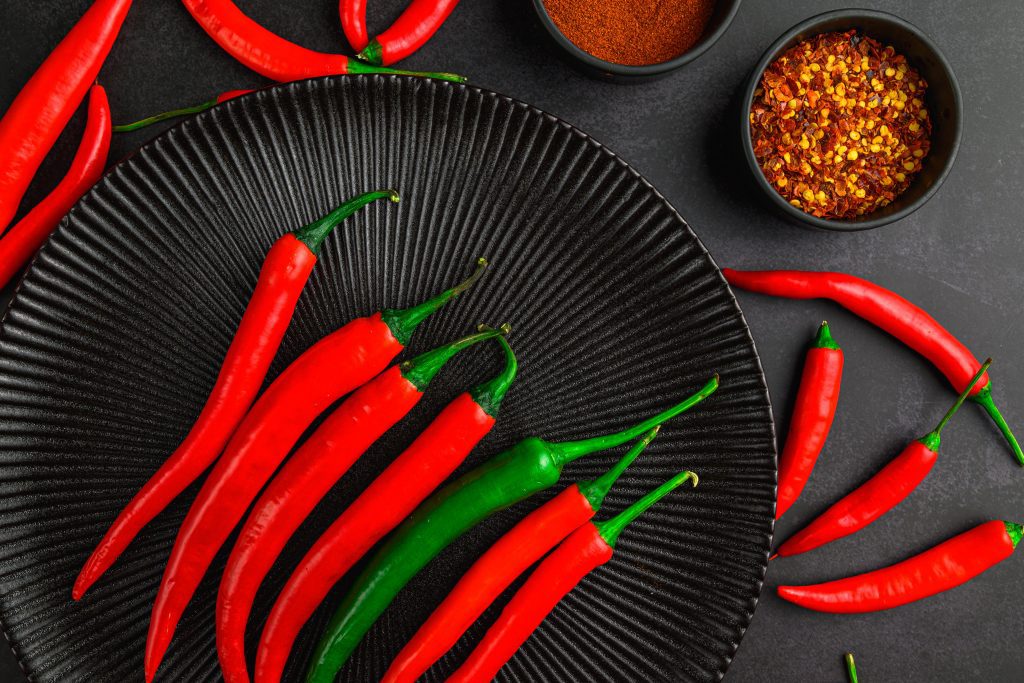 How To Make Chili Oil Using Thai Peppers
Creating your own chili oil using Thai peppers is a fun and rewarding process that allows you to customize the heat and flavor to your liking. To begin, you'll need a handful of peppers, cooking oil of your choice, and optional flavor enhancers such as garlic, ginger, or star anise.
Start by roughly chopping your peppers. If you prefer a less spicy oil, remove the seeds and membranes before chopping. Next, heat your cooking oil in a saucepan over medium heat. Once the oil is hot, add the chopped peppers and any additional flavor enhancers you're using. Allow the mixture to simmer gently; you'll see it start to sizzle as the peppers release their heat and flavor into the oil. Be careful not to let the oil overheat, as this can burn the peppers and create a bitter taste.
After about 5 minutes, remove the saucepan from heat and allow the oil to cool completely. Once cool, strain the oil into a clean, sealable container, discarding the pepper pieces. Your homemade Thai chili oil is now ready to use! It's perfect for drizzling over stir-fries, noodles, or any dish that could use a kick of heat and flavor.
Remember, chili oil can be quite potent, so start with a small amount and add more to taste. The oil will keep for several weeks if stored in a cool, dark place. Enjoy the fiery flavor of Thai peppers in your cooking with this easy and delicious chili oil recipe.
Conclusion
Thai pepper's diverse range and versatility make them a stellar addition to any dish, be it a traditional Thai curry or a contemporary fusion stir-fry. From the subtle sweetness of the Prik Leuang to the intense heat of the Bird's Eye Chili, there's a Thai pepper to suit every palate. Whether you're a seasoned spice enthusiast or a newcomer to the world of chilies, we invite you to embark on a flavorful journey with Thai peppers.
At Orderific, we're passionate about delivering top-quality peppers that bring the heat and flavor of Thailand directly to your kitchen. We invite you to explore the fiery allure of our Thai peppers and spice up your culinary creations. Are you ready to take your taste buds on a thrilling adventure? Schedule a demo with us at Orderific today and let us introduce you to the vibrant world of Thai peppers.
FAQs
How spicy are Thai peppers?
Thai peppers are very spicy, ranking between 50,000 to 100,000 on the Scoville Heat Unit scale.
How can I use Thai peppers in cooking?
Thai peppers can be used fresh, roasted, or dried in salads, stir-fries, soups, curries, and sauces.
Can I adjust the spiciness of dishes using Thai peppers?
Yes, you can adjust the spiciness by altering the quantity of Thai peppers used in your dishes.
Can Thai peppers be used in non-spicy dishes?
Yes, Thai peppers can add flavor to non-spicy dishes when used sparingly.