Introduction
Dive into the world of Thai cuisine, a tantalizing symphony of flavors. That will stay with you long after you've relished the last morsel. At Thai Spices Natural Restaurant, they bring to your plate a unique and authentic experience of Thai food that will transport you straight to the bustling streets of Southeast Asia.
The dishes are a celebration of the renowned Thai cooking. Each one a perfect harmony of sweet, sour, salty, and spicy. With ingredients like aromatic lemongrass, fiery Thai chili, and the soothing zest of kaffir lime. Their Thai seasoning is a delight to the senses. The masterful blend these with a range of herbs such as Thai basil, and spices including ginger and cinnamon, to create an unforgettable Thai spice blend for every dish.
The soul of Thai cuisine lies in curry paste. From the heat of red curry to the mellow tones of massaman curry, each curry offers a different perspective on Thai flavors. Green curry paste is a crowd favorite, a wonderful balance of Thai herbs, pepper, and garlic.
Delicious Thai Food That Is Really Good For You!
Embark on a culinary journey through Thailand's taste landscapes at Thai Spices. The dedication to preserving the heritage of Thai cooking goes beyond just flavors. It's a tribute to the vibrant Thai spice tradition. Each dish on our menu is a harmonious blend of aromatic Thai herbs and spices, carefully crafted by skilled chefs.
Experience the magic as native Thai ingredients like lemongrass, Thai chili, and Thai basil come together in unique Thai spice blend. Meticulously balanced, seasoning captures the essence of Thai cuisine, pleasing both the palate and the eye.
Beyond taste, Thai cuisine is a sensory delight. The aroma of lemongrass, the fiery kick of Thai chili, the sweet notes of cinnamon and basil – it's an enchanting feast for the senses. To perfect dishes, add a delicate drizzle of fish sauce or soy sauce. Achieving the ideal balance of saltiness and umami.
Thai Food: Thai Curries, Pad Thai, And More!
They invite you to explore the diverse range of dishes that Thai cuisine has to offer. The menu features a variety of Thai curries, each an explosion of flavors, crafted using the unique curry paste. Experience the fiery yet balanced taste of red curry. The refreshing and zesty green curry, or the rich and warm massaman curry.
Who can forget Pad Thai? This world-renowned dish is a delightful mix of stir-fried noodles tossed with homemade tamarind sauce, spruced up with chicken, shrimp, or tofu, garnished with crunchy peanuts and fresh lime. It's a must-try for any first-timer or seasoned Thai food lover. The Tom Yum soup is another crowd-pleaser, a hot and sour broth simmering with lemongrass, kaffir lime leaves, and succulent pieces of shrimp. The aroma of this soup alone will transport you to the heart of Thailand.
In essence, Thai Spices offers a culinary adventure through the vibrant flavors of Thai cuisine. So, whether you're a Thai food aficionado or a curious foodie, come and explore the true essence of Thai spices.
Stick On A Vegetarian Diet With Delicious Thai Cuisine
How To Enjoy Thai Food And Stick To Your Diet
Sticking to a vegetarian diet doesn't mean one has to miss out on the excitement and diversity of Thai cuisine. In fact, Thai cooking offers a treasure trove of delicious vegetarian options. That are equally tantalizing and satisfying as their meat-based counterparts. Each dish is enhanced with Thai herbs and spices, such as the distinctively aromatic lemongrass and the striking flavors of homemade curry paste, creating a full-bodied dining experience that even meat lovers will appreciate.
For starters, the versatile Pad Thai can be easily customized with tofu and a variety of fresh vegetables, making it a delightful vegetarian option. Or, the green curry, brimming with wholesome vegetables and tofu, is simmered in a robust green curry paste and creamy coconut milk.
For soup lovers, the Tom Yum soup can be made vegetarian-friendly by swapping out shrimp for mushrooms or tofu, bringing the same fiery, tangy flavors. These are just a few examples of how Thai Spices Natural Restaurant caters to all tastes and dietary needs.
Being A Vegetarian In Thai Food
Being a vegetarian in the world of Thai spices is not only possible but also absolutely delightful. With the versatility of Thai cuisine and its emphasis on fresh, vibrant ingredients, vegetarian dishes retain the zest and aroma characteristic of Thai flavors. From the red curry to the green and massaman curry, each can be made in a vegetarian variant, filled with tofu and an assortment of vegetables, simmered in our signature curry paste.
The special vegetarian Pad Thai, stir-fried with tofu and vegetables in a homemade tamarind sauce, is a testament to the fact that Thai spices can be thoroughly enjoyed even without meat. And let's not forget the rich, tangy notes of our vegetarian Tom Yum soup, a hot and sour broth of lemongrass, kaffir lime leaves, and mushrooms or tofu. So, whether you are a committed vegetarian or someone exploring healthier options. Thai spices ensure your culinary experience is as fulfilling and flavorful as any other.
Healthy Thai Cuisine Cooking Tips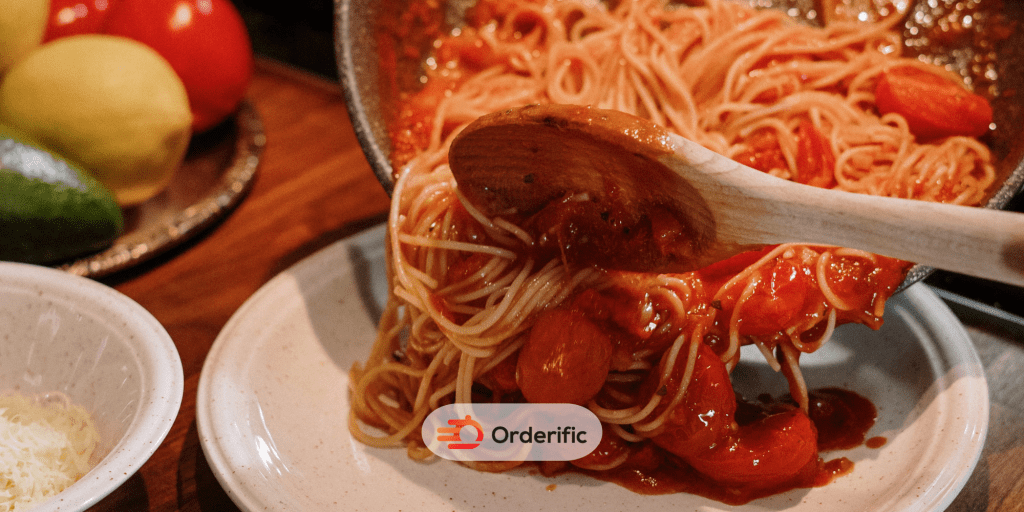 Healthy Thai Cuisine Cooking Tips
Use Fresh Ingredients: Authentic Thai cuisine emphasizes the use of fresh ingredients like lemongrass, kaffir lime leaves, and Thai basil. These ingredients not only infuse dishes with a vibrant flavor but also pack a host of health benefits.
Opt for Lean Proteins: Include lean proteins like chicken, fish, or tofu in your Thai dishes. These proteins are low in saturated fat and high in essential nutrients, making them a healthy choice.
Go Easy on the Salt: Thai cuisine is naturally flavorful thanks to its robust spice blends and curry pastes. Try to minimize the use of salt and instead let the spices do the talking.
Include Plenty of Veggies: Thai dishes often feature a wide array of vegetables. Including lots of colorful veggies in your Thai dishes will not only add texture and flavor, but also increase the nutrient content.
Choose Healthy Cooking Methods: Opt for healthier cooking methods like steaming, grilling, or stir-frying. These methods require less oil and retain more nutrients compared to deep frying.
Use Whole Grains: Consider substitifying white rice with whole grains like brown rice or quinoa. Whole grains are more nutritious and offer a nice, nutty flavor to Thai dishes.
Remember, healthy eating is not about strict dietary limitations, but more about balance, variety, and moderation. Enjoy your Thai cooking adventure!
Anti-Inflammatory Benefits Of Thai Food
Thai cuisine, renowned for its harmony of flavors, also packs a punch when it comes to health benefits. In particular, many Thai dishes incorporate spices and herbs known for their anti-inflammatory properties, contributing towards overall wellness.
Lemongrass: This aromatic herb, a staple in Thai cuisine, is known for its anti-inflammatory and antioxidant properties, helping to reduce inflammation in the body.
Turmeric: Often found in Thai curry paste, turmeric contains curcumin, a compound that exhibits potent anti-inflammatory effects.
Chilies: While they're responsible for the heat in Thai dishes, chilies are also rich in capsaicin, an anti-inflammatory compound.
Ginger: Commonly used in Thai cooking, ginger is known for its powerful anti-inflammatory and antioxidant benefits.
Garlic: Beyond adding flavor, garlic has been linked to reduced inflammation and improved immune function.
The Benefits Of Eating Organic Thai Food
Health Benefits Of Eating Thai Food
Balanced Flavors: Thai cuisine strikes an impeccable balance of sweet, sour, salty, and spicy flavors, offering a unique and enjoyable eating experience.
Rich in Nutrients: Thai dishes, with their emphasis on fresh ingredients and herbs like lemongrass and Thai basil, are packed with essential nutrients, promoting overall health.
Aromatic and Pleasing: The wonderful blend of Thai herbs and spices provide a feast of aroma and visual delight enhancing the overall dining experience.
Diverse Range of Dishes: From savory curries to tangy soups and stir-fried noodles, Thai cuisine offers a diverse array of dishes to cater to all taste preferences.
Vegetarian-Friendly: With its focus on fresh vegetables and tofu, Thai cuisine provides a plethora of vegetarian options without compromising on flavor.
Spice Up Your Life With A Taste Of Thai
Thai spices are a flavor adventure, combining tastes that awaken the palate and captivate the senses. At Thai Spices, we aim to bring you an authentic experience that captures the essence of Thailand in every dish. Our carefully crafted recipes feature fresh, vibrant ingredients and traditional Thai herbs like lemongrass, Thai basil, and fiery Thai chili. We also prioritize health, offering a wide range of nutrient-rich options and tips for cooking with Thai spices.
Eating Road Trip To Adams Organic Farm In Thailand
Embarking on a culinary adventure with Thai Spices Natural Restaurant doesn't stop within the confines of the dining space. Extend your experience beyond the plate with a visit to Adams Organic Farm in Thailand. This journey offers an enriching insight into the origins of the fresh, vibrant ingredients that form the backbone of our treasured Thai cuisine.
Nestled in the heart of Thailand, Adams Organic Farm is where we source a variety of our key ingredients, like lemongrass, Thai basil and even the fiery Thai chilis that lend our dishes their signature kick. The farm prides itself on its organic farming practices, ensuring that every herb, spice, and vegetable harvested is both nutrient-rich and free of harmful pesticides.
Delicious Desserts Of Thailand
7 Thai Desserts You Didn't Know Existed
Mango Sticky Rice (Khao Niew Mamuang): A classic Thai dessert combining sweet ripe mangoes with sticky glutinous rice, drizzled with coconut milk.
Tub Tim Krob: A refreshing dessert made with crunchy water chestnuts coated in vibrant red syrup, served with coconut milk and ice.
Khanom Chan: A multi-layered Thai dessert made with rice flour, coconut milk, and pandan leaves, offering a delightful combination of flavors and textures.
Thong Yip: Golden egg yolk desserts shaped like flowers, symbolizing luck and prosperity in Thai culture.
Bua Loy: Glutinous rice balls filled with sweet coconut or sesame filling, served in a warm ginger-infused syrup.
Kanom Krok: Bite-sized coconut pancakes with a slightly crispy outer layer and a soft, custard-like center.
Sangkhaya Fak Thong: A creamy and fragrant pumpkin custard, often enjoyed with sticky rice or as a filling in traditional Thai desserts.
The Top 10 Healthy Thai Dishes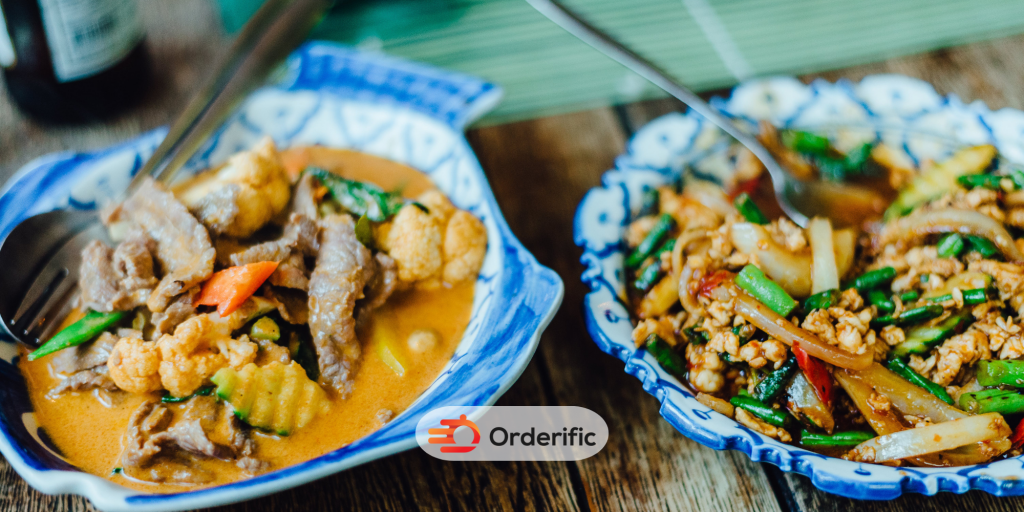 Tom Yum Soup: A hot and sour soup packed with lemongrass, kaffir lime leaves, and protein of choice, providing a low-calorie flavor punch.
Som Tum (Papaya Salad): A light, refreshing salad made from shredded unripe papaya, tossed with lime, chili, and fish sauce.
Larb: A minced meat salad, often made with lean proteins, mixed with lime juice, chili, and fresh herbs.
Yum Woon Sen (Glass Noodle Salad): A tangy and spicy salad made with protein-rich shrimp and fiber-rich glass noodles.
Pad Pak (Stir-Fried Vegetables): A versatile dish featuring an array of colorful vegetables stir-fried in a light sauce.
Gai Yang (Grilled Chicken): A lean protein source, marinated in a mix of herbs and spices and grilled to perfection.
Poh Pia Sot (Fresh Spring Rolls): Fresh vegetables and lean proteins wrapped in rice paper, served with a dipping sauce.
Moo Nam Tok (Grilled Pork Salad): A flavorful salad featuring grilled pork, fresh herbs, lime juice, and chili.
Kai Pad Med Ma Muang (Chicken with Cashews): A protein-rich stir-fry dish featuring chicken, cashews, and bell peppers.
Pla Nueng Manao (Steamed Fish): A simple and nutritious dish featuring steamed fish, fresh herbs, and a tangy lime dressing. So next time you're craving Thai food, remember these healthy options to enjoy without guilt!
How To Knock Off Early Cold Symptoms
A preliminary sign of catching a cold can be easily managed by adhering to a few simple practices. Keep yourself hydrated, get ample rest, and intake of vitamin-C rich foods can help boost your immune system. A hot bowl of Thai Tom Yum soup, packed with lemongrass, kaffir lime leaves, can bring relief against early cold symptoms. Remember to consult your healthcare provider if symptoms persist or worsen.
Dietitian-Approved Thai Food Options
8 Registered Dietitian-Approved Thai Takeout Picks
Chicken Satay: Grilled skewers of marinated chicken served with a peanut sauce. Low in fat and high in protein, this dish is a nutritious and satisfying appetizer.
Tom Yum Soup: This hot and sour soup is packed with herbs like lemongrass and kaffir lime leaves. Opt for a shrimp or mushroom version for a lean protein source and extra nutrients.
Papaya Salad (Som Tum): A refreshing salad made with unripe papaya, tomatoes, and green beans, in light lime and fish sauce vinaigrette. Therefore, It's low in calories and full of vitamins.
Pad Kaprow (Thai Basil Stir Fry): A flavorful stir-fry dish packed with lean protein and fresh Thai basil. Hence, Ask for it to be stir-fried with less oil for a healthier take.
Mango Sticky Rice: This classic Thai dessert combines vitamin-rich mango with glutinous rice. Lastly, Opt for a smaller portion to enjoy the sweet taste without overdoing the calories.
Pad Thai with Tofu: The combination of rice noodles, eggs, bean sprouts, and tofu provides good balance of carbohydrates, protein, and fiber. Hence, Ask for less oil and sauce to reduce the fat and sodium content.
Green Curry with Chicken and Vegetables: This creamy curry is packed with lean protein and nutrient-rich vegetables. Also, Choose brown rice over white for a whole grain, fiber-rich alternative.
Larb Salad: This meat salad is usually made with lean minced pork, lime, chilies, and fresh herbs, making it a high protein, low carb dish. Furthermore, The spicy and sour flavor profile is a bonus for the taste buds.
5 Reasons To Eat Thai-Style For Weight Loss
Balanced Meals: Traditional Thai meals include a balance of all food groups. This includes lean protein like chicken or tofu, a variety of vegetables, and whole grains like brown rice, all essential for weight management.
Portion Control: Thai dishes are often served in smaller portions, promoting mindful eating and helping to prevent overeating, which is key in weight loss.
Spiciness: Thai cuisine is renowned for its spiciness. Spices not only add flavor, reducing the need for high-calorie condiments but also can boost metabolism, aiding in weight loss.
Low-Calorie Ingredients: Thai cuisine commonly uses ingredients like lemongrass, ginger, and kaffir lime leaves which are flavorful yet low in calories.
Healthy Cooking Methods: Thai food is often steamed, grilled, or stir-fried, cooking methods that typically use less oil and retain more nutrients compared with deep frying. This results in lower-calorie dishes that still pack a flavor punch.
Conclusion
In essence, Thai cuisine, with its diverse range of dishes, balanced flavors, and health-conscious cooking techniques, offers a culinary journey like no other. From the robust spice blends and spice-rich curry pastes to the aromatic herbs. Like lemongrass and Thai basil, it brings together the best of flavor and wellness. To truly relish this delightful gastronomic experience, learning to navigate the Thai menu. With mindfulness and balance can unlock a world of distinct tastes and nutrition benefits.
Whether you're a fan of the heartwarming Tom Yum Soup, the nutritious papaya salad, or the lean protein-packed Larb salad, there's always a healthy option to satisfy your Thai cravings. It's time to spice up your life with an exploration of Thai cuisine. For a closer look into the magic of authentic Thai cooking, schedule a demo at Orderific. Delve into the art of Thai food preparation and enjoy a taste of Thailand from the comfort of your home!
FAQs
What are Thai spices?
Thai spices are a variety of aromatic herbs and potent seasonings, including lemongrass, galangal, kaffir lime leaves, and chili, used to flavor Thai cuisine.
How do Thai spices enhance the flavors of Thai dishes?
Thai spices infuse dishes with a unique blend of sweet, sour, spicy, and umami flavors, creating a vibrant and satisfying taste experience.
Where can I find Thai spices?
Thai spices can be found in Asian markets, specialty spice stores, and online.
Can I substitute Thai spices with other ingredients?
While it's possible to substitute certain Thai spices, doing so may alter the authentic flavor of Thai dishes.
How should Thai spices be stored?
Thai spices should be stored in a cool, dark place in airtight containers to retain their flavor and potency.