Thanksgiving Eve is always a busy night—whether you're cooking dinner for the family or trying to make it to one final holiday gathering before heading home for the holidays. But what happens when your plans include going out and enjoying an evening with friends? For many, this means winding up in a bar – Thanksgiving Eve has become known as the busiest bar night of the year. From last-minute cocktails to dancing away all apprehensions about returning home, there's something special about dispersing into the festive jubilee of drinks after another bell rings throughout the cityscape. If you plan on spending Thanksgiving Eve at a spot near you, keep reading; we've got some tips that will ensure your wonderful pre-turkey outing runs smoothly!
Introduction
Thanksgiving Eve has evolved into a widely anticipated occasion, capturing the spotlight as one of the year's most vibrant nights for bar enthusiasts nationwide. Revered as the "ultimate night for revelry," this evening serves as a spirited prelude to the holiday season, drawing friends and family together for an exuberant night on the town. Some attribute its popularity to a desire to sidestep potential family conflicts the following day, while others embrace the opportunity to unwind and bask in the festivities.
Regardless of the motivation, bars, and restaurants experienced a remarkable surge in patrons on this night, prompting many venues to offer enticing promotions and extended operating hours. Evidently, Thanksgiving Eve has blossomed into a cherished tradition, ensuring that those seeking to commemorate the occasion are only a step or two away from an unforgettable celebration.
The History of Thanksgiving Eve
Thanksgiving Eve carries a deep and storied heritage, reaching back to the colonial epoch. It is traced back to the Pilgrims, the earliest European settlers in America, who rejoiced in their plentiful harvest in 1621. However, the transition of Thanksgiving into an annual custom took shape mainly in the 19th century.
In 1863, President Abraham Lincoln officially decreed that Thanksgiving would be observed on the final Thursday of November. Since then, the day before Thanksgiving has evolved into a significant juncture. It holds a special place as families congregate, partake in a meal, and express appreciation for life's blessings.
The Culture of Thanksgiving Eve
Thanksgiving Eve, also popularly referred to as "Black Wednesday," has evolved into a symbol of jovial bar-hopping and merrymaking across various regions in the United States. While there exists a debate about whether this cultural trend has diluted the authentic essence of Thanksgiving, others perceive it as an avenue to relax and reconnect with friends and family ahead of the grand feast.
For numerous young adults, it presents an opportunity to rekindle ties with high school or college companions who have ventured afar. Regardless of one's decision to engage in the revelries or not, one undeniable fact remains – Thanksgiving Eve has established itself as a distinctive tradition.
The Business of Thanksgiving Eve
Thanksgiving Eve is not just a time for family reunions and turkey dinners. It's also a lucrative day for businesses of all kinds. From bars and restaurants to retailers and supermarkets, the business aspect of Thanksgiving Eve can't be ignored. Americans are known for indulging in pre-Thanksgiving feasts, and this day has become one of the busiest nights for bars and restaurants.
Supermarkets also see a significant increase in sales as people stock up on last-minute ingredients. Retailers also benefit from this night by offering Black Friday deals and extended hours in hopes to attract more shoppers. Indeed, Thanksgiving Eve is not just a holiday but has become an important moment for businesses to thrive.
The Risks and Consequences of Thanksgiving Eve Celebrations
Thanksgiving Eve holds a special place in the hearts of many, marking the exciting start of the holiday season and an extended weekend of festivities. Yet, amidst the joy, there lies a sobering truth about the potential risks and ramifications that accompany such celebrations.
One significant concern that surfaces during this time is the intersection of revelry and responsibility – particularly the worrisome combination of alcohol consumption and driving.
According to the National Highway Traffic Safety Administration, the period spanning from 2012 to 2016 witnessed a distressing toll, with over 800 lives lost in accidents linked to alcohol during the Thanksgiving weekend.
This stark statistic underscores not only the tragic potential for accidents but also the looming specter of legal entanglements and the looming possibility of incarceration.
Hence, it's imperative to approach the merriment of the season with a heightened sense of caution and foresight. By enjoying the celebrations in a responsible manner and proactively planning ahead, we can effectively sidestep the negative consequences stemming from ill-advised decisions on Thanksgiving Eve and Thanksgiving Day.
Alcohol-Related Risks and Dangers of Thanksgiving Eve Celebrations
As Thanksgiving draws near, many eagerly anticipate cherished moments with family and friends. Yet, the eve of Thanksgiving has unfortunately become associated with excessive drinking and potentially hazardous behavior. Tragically, alcohol-related accidents, injuries, and even loss of life are regrettably frequent during this holiday period.
It is imperative to underscore that combining alcohol and driving is unequivocally unwise, underscoring the necessity of arranging a safe means of transportation.
Furthermore, indulgence in alcohol can contribute to heightened aggression and impaired judgment, elevating the likelihood of confrontations or legal entanglements.
While enjoying a moderate libation or two is not inherently perilous, it remains paramount to remain cognizant of potential dangers and exercise sound decision-making. As we rejoice in the festivities, let us remember to prioritize responsible choices and the well-being of ourselves and those around us.
Legal Issues and Liability for Bars and Patrons on Thanksgiving Eve
Legal issues and liability considerations for bars and patrons on Thanksgiving Eve are crucial aspects to be aware of. This holiday period often sees increased alcohol consumption, which can lead to potential legal challenges for both establishments and individuals. Here's a breakdown of these concerns:
Bars and Establishments:
Overserving Liability: Bars bear a legal responsibility to avoid serving excessive alcohol to patrons. If a bar continues to provide alcohol to an obviously intoxicated individual who later causes harm or is implicated in an accident, the establishment can be held liable for their choices.
Duty of Care: Bars have a duty to ensure the safety of their patrons. This includes providing a safe environment, preventing altercations, and addressing potential hazards. Failure to fulfill this duty could result in legal claims if accidents or injuries occur on their premises.
Security Measures: Bars must implement appropriate security measures to prevent fights, altercations, and other incidents. Inadequate security could expose the bar to legal action if patrons are harmed due to a lack of proper protection.
Serving Minors: Serving alcohol to minors is illegal and can result in severe legal consequences for bars. Establishments must thoroughly verify the age of patrons before serving alcohol.
Dram Shop Laws: Some jurisdictions have "dram shop" laws that hold bars liable for injuries caused by intoxicated patrons, especially if they contributed to the patron's intoxication.
Patrons:
Public Intoxication: Excessive intoxication in public areas can trigger legal complications. Law enforcement may step in if behavior becomes disruptive or jeopardizes personal or public safety.
Driving Under the Influence (DUI/DWI): Operating a vehicle while impaired or drunk driving is a grave offense. Law enforcement often heightens vigilance during holidays to apprehend intoxicated drivers. Consequences of a DUI/DWI can include fines, license suspension, and potential imprisonment.
Assault or Disorderly Behavior: Overindulgence in alcohol can impair judgment and fuel aggression. Engaging in altercations, fights, or disorderly actions may lead to criminal charges.
Property Damage: Causing harm to property while under the influence can incur responsibility for covering repair or replacement expenses.
Liability for Personal Injury: Individuals whose actions cause harm to others could face accountability for medical costs, emotional distress, and other damages incurred by the injured party.
Strategies for Staying Safe and Responsible on Thanksgiving Eve
Staying safe and responsible on Thanksgiving Eve is essential to ensure an enjoyable and incident-free holiday celebration. Here are some strategies for both individuals and establishments to consider:
For Patrons:
Plan Ahead: Decide in advance how you'll get home after the festivities. Arrange for a designated driver, use rideshare services or public transportation, or stay overnight if possible.
Moderation: Consume alcohol in moderation. Pace yourself and alternate alcoholic beverages with non-alcoholic ones to stay hydrated.
Eat Beforehand: Having a substantial meal before drinking can help slow the absorption of alcohol and reduce its effects.
Know Your Limits: Be aware of your tolerance level and avoid peer pressure to drink excessively.
Watch Your Drinks: Keep an eye on your drink at all times to prevent tampering.
Stay with Friends: Stick together with a group of friends and ensure everyone has a plan for a safe trip home.
Designated Driver: If you're the designated driver, commit to abstaining from alcohol entirely.
For Establishments (Bars, Restaurants, etc.):
Staff Training: Train employees to recognize signs of intoxication and how to handle potentially difficult situations.
Responsible Service: Implement policies to prevent over-serving patrons and monitor alcohol consumption.
ID Verification: Ensure strict compliance with ID verification for age-restricted alcohol sales.
Promote Alternatives: Offer a variety of non-alcoholic beverages for patrons who choose not to drink or need to pace themselves.
Security Measures: Have trained security personnel to maintain a safe environment and prevent altercations.
Promote Designated Drivers: Offer incentives to designated drivers, such as discounted non-alcoholic drinks or special deals.
Limit Drink Specials: Avoid excessive drink specials that encourage rapid and excessive consumption.
Encourage Responsible Behavior: Display signs promoting responsible drinking and behavior.
Provide Information: Make information available about local transportation options and alternatives to driving.
Collaborate with Authorities: Work with local law enforcement to ensure a safe environment for patrons.
By following these strategies, both individuals and establishments can contribute to a safe and enjoyable Thanksgiving Eve celebration while minimizing the risks associated with excessive alcohol consumption and risky behavior.
The Future of Thanksgiving Eve
Thanksgiving Eve, a cherished holiday tradition across the United States, has deep roots that intertwine with our collective history. Yet, as we cast our gaze forward, the evolution of this beloved evening promises an exciting journey. In the embrace of advancing social media and technology, the bonds between distant loved ones are effortlessly nurtured, allowing us to share in the fervor of the holiday season regardless of physical distance.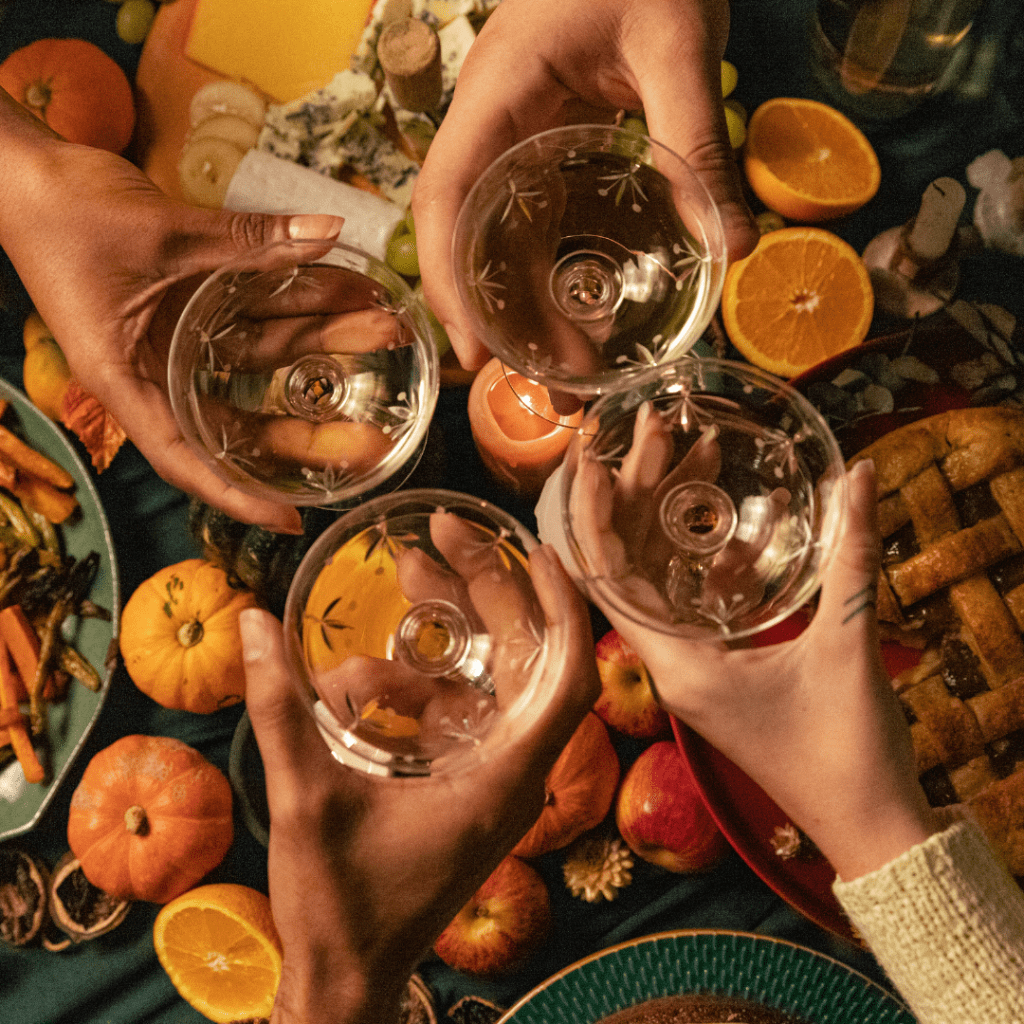 Furthermore, an emerging current flows through this festive tapestry—one of sustainability and conscientious celebration. This novel thread places paramount importance on minimizing waste and fostering community engagement. Through this, Thanksgiving Eve transcends into a moment not only of gratitude but of giving back as well.
In this ever-unfolding narrative, the chapters ahead promise a mosaic of inclusivity and diversity. The tapestry will be woven with the vibrant hues of various cultural traditions that enrich the tapestry of our nation. The trajectory of Thanksgiving Eve is luminous, and we eagerly anticipate the narrative's unfurling as it continues to bind us in novel and profound connections.
Wrapping Up!
From Native American feasts to bars and clubs overflowing with festive revelers, Thanksgiving Eve has a timeless legacy that has spanned centuries and continues to have a significant impact on bar culture in the United States. While it can be an exciting event with memories to cherish, opportunities for overindulgence, injury, and legal ramifications should always be kept in mind.
May we all strive to drink responsibly this Thanksgiving Eve and appreciate the value of life-long safety! As the Orderific blog grows, remember to keep visiting it for extensive reviews and other informative content related to food services; for now, read more about celebrations like Thanksgiving Eve near you. Until next time—cheers!
FAQs
Q. Why is Thanksgiving Eve also known as "Blackout Wednesday"?
Ans. Thanksgiving Eve is often referred to as "Blackout Wednesday" due to the high volume of alcohol consumption that typically occurs on this night, leading to many people "blacking out".
Q. How did Thanksgiving Eve become such a popular night for going out?
Ans. Thanksgiving Eve became a popular night for going out as many people are home for the holiday, leading to reunions and celebrations the night before.
Q. What are some of the risks and dangers associated with Thanksgiving Eve celebrations?
Ans. The main risks associated with Thanksgiving Eve celebrations are excessive alcohol consumption, drunk driving, alcohol poisoning, and potential altercations due to drunkenness.
Q. What are some alternatives to traditional Thanksgiving Eve celebrations?
Ans. Alternatives to traditional Thanksgiving Eve celebrations include family game nights, movie marathons, volunteering at local shelters, or attending community events.
Q. How do bars and restaurants prepare for Thanksgiving Eve?
Ans. Bars and restaurants prepare for Thanksgiving Eve by staffing up, stocking up on alcohol, implementing security measures, and sometimes offering special promotions.
Q. Are there any age restrictions for participating in Thanksgiving Eve celebrations?
Ans. The legal drinking age, typically 21 in the United States, applies to participating in Thanksgiving Eve celebrations that involve alcohol consumption.