Step into The Bistro Eat Drink Connect, where enjoying a good meal pairs beautifully with the warmth of connecting with others.
The Bistro Eat Drink Connect is a restaurant that exudes an aura of friendliness and approachability, creating an environment where everyone, from locals to tourists, feels instantly at home.
The Menu – A Delicious Selection of Food and Drinks
Dive into the flavorsome world of The Bistro Eat Drink Connect, where the menu is a gourmet journey, enticing food enthusiasts from near and far.
This restaurant has curated a collection of dishes that will pique curiosity and satisfy hunger in equal measure.
Starters to Whet Your Appetite
From familiar comfort foods to exciting and innovative creations, the dining options at The Bistro Eat Drink Connect cater to a plethora of palates. Kickstart your culinary adventure with an appetizer, perhaps a mouthwatering baked Brie with cranberry glaze or a classic shrimp cocktail. These enthralling starters set the stage for the delightful main courses.
Main Courses: Classic and Contemporary
Every main dish is thoughtfully designed, incorporating locally sourced ingredients that ensure freshness and support the local community. The menu presents a delightful blend of timeless and modern flavors.
The sizzling rib-eye steak, accompanied by crisp, farm-fresh vegetables, is a beloved choice for those who appreciate meat. For those preferring seafood, options such as pan-seared salmon or spicy shrimp pasta never impress.
Vegetarian and Vegan Delights
Vegetarian and vegan diners are also catered to, with options like vegetable stir-fry and mushroom risotto featured on the menu.
Elevated Burgers and Satisfying Sides
Do you crave a juicy burger? At The Bistro Eat Drink Connect, they take burgers to the next level. With a wide range of options, from traditional cheeseburgers to creative variations topped with gourmet ingredients, there's a burger to satisfy every palate…
…And don't overlook the delicious side dishes. Whether truffle fries, sweet potato fries, or classic coleslaw, they all perfectly complement your meal.
Lighter Bites: Salads and Soups
In the mood for a lighter meal? Indulge in a wide variety of refreshing salads and nourishing soups. For instance, the widely favored choice is the Caesar salad. At the same time, the warm and creamy tomato soup, accompanied by a delectable grilled cheese sandwich, is undeniably comforting.
Refreshing Beverages
As for beverages, The Bistro Eat Drink Connect offers a broad selection to suit all tastes. Experience the delight of expertly brewed coffee for those who savor its aroma, and explore an array of flavors crafted exclusively for tea enthusiasts.
Satisfy your craving for luxury with a selection of handcrafted cocktails, locally sourced beers, or meticulously curated wines.
Sweet Endings: Dessert Selection
And what meal would be complete without dessert? Cap off your dining experience with something sweet: a rich chocolate cake, a tangy lemon tart, or a creamy scoop of ice cream. Ideally, these heavenly delights round off the dining experience at The Bistro Eat Drink Connect.
Thus, dining at The Bistro Eat Drink Connect is about quenching hunger and indulging in a culinary experience that tantalizes the senses.
So, whether you're a gastronome or enjoy a great meal, The Bistro Eat Drink Connect invites you to sit down, connect, and enjoy the delicious journey.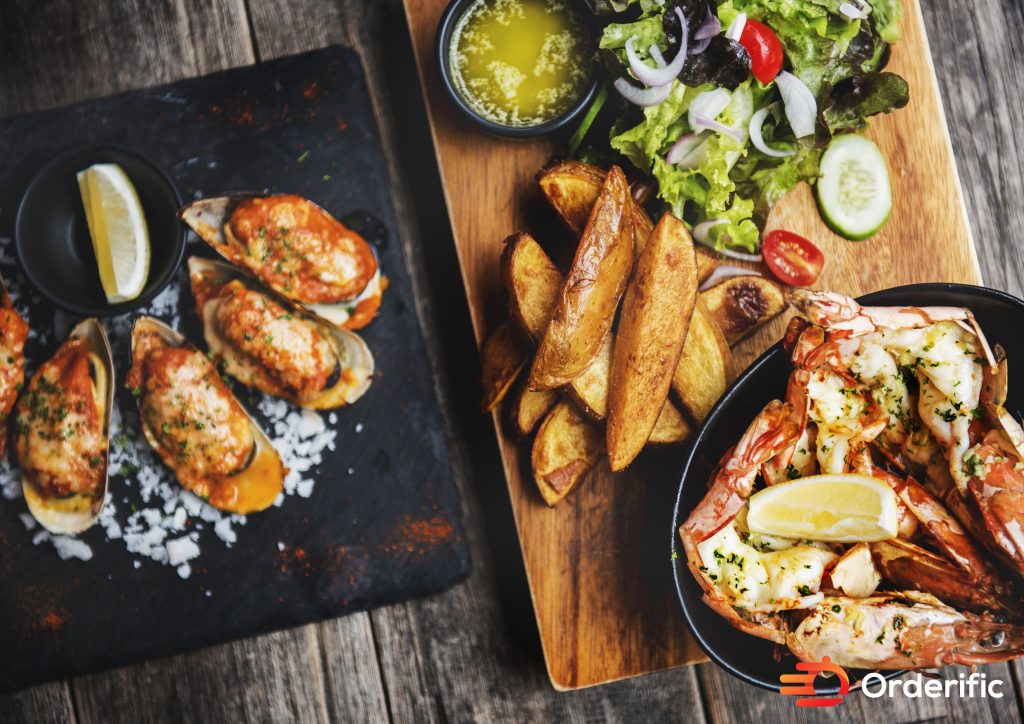 The Dining Experience – A Cozy and Inviting Atmosphere
At The Bistro Eat Drink Connect, the dining experience begins when you enter the door. The warm and friendly staff extends a welcome that feels like a heartfelt invitation into a friend's home.
Comfort and Elegance
The ambiance is a delightful mix of comfort and elegance. Chic modern furnishings and decor blend seamlessly with traditional touches, creating a stylish and relaxed environment.
The seating, from cozy booths to communal tables, is designed to accommodate intimate dinners for two large groups and everything in between.
A Visual Feast
Indulge your senses at this exquisite restaurant, where culinary artistry unfolds before your eyes. With an open kitchen, diners are treated to a captivating behind-the-scenes experience, witnessing the magic in the culinary realm.
Watching the chefs skillfully prepare dishes adds an element of entertainment and anticipation to the dining experience.
Perfect for All Occasions
With its inviting ambiance, The Bistro Eat Drink Connect is the perfect choice for various occasions, including a laid-back lunch, an intimate dinner, or a noteworthy celebration.
The relaxed setting provides an ideal environment to connect with loved ones, and our dedicated and knowledgeable staff guarantees an unforgettable experience with every visit.
An Outdoor Oasis
The Bistro Eat Drink Connect features a beautiful outdoor patio for those who prefer dining al fresco. This space is a serene oasis where guests can enjoy their meals under the open sky, adding charm to the dining experience.
Engaging the Local Community
The Bistro Eat Drink Connect is an everyday eatery. It serves as a hub that unites individuals and actively interacts with the nearby community.
This establishment strives to make a meaningful contribution to the thriving local landscape by showcasing live music gigs and actively participating in local happenings.
The Bistro – A Destination for Connection
Bistro Eat Drink Connect goes beyond being a mere dining and drinking spot. It serves as a hub for connection – with your loved ones and the local community. Embark on a sensory journey here, where the warm ambiance and delectable cuisine nourish your body and soul.
Make it a priority on your list of places to visit if you want a truly fulfilling dining experience.
Supporting Local Businesses – Why The Bistro Eat Drink Connect Matters
The Bistro Eat Drink Connect is more than just a restaurant; it's part of the community. By sourcing ingredients from local suppliers, it supports other local businesses.
This commitment to local sourcing ensures fresh and flavorful dishes and strengthens local economies.
A Boost to the Local Economy
One of the primary reasons The Bistro Eat Drink Connect is essential is its role in stimulating the local economy. The establishment sources many of its ingredients from local farmers and suppliers, providing them with a steady stream of business.
This, in turn, benefits the entire community, as money spent within the local area tends to stay within that economy.
Encouraging Sustainable Practices
The Bistro Eat Drink Connect's commitment to sourcing locally supports local businesses and promotes sustainability. Local sourcing reduces the need for long-distance transportation, resulting in a lower carbon footprint.
It also encourages sustainable farming practices, as local farms are more likely to use organic methods and avoid harmful pesticides.
Building Community Relationships
Supporting local businesses, The Bistro Eat Drink Connect builds relationships within the community. At the heart of this restaurant, you'll find a vibrant tapestry of local farmers, talented bakers, and skilled artisans.
They come together as a tight-knit network, upholding values of excellence and fostering a genuine sense of community. Through this collaboration, they weave an intricate fabric that binds and fortifies the local neighborhood.
Showcasing Local Talent
The Bistro Eat Drink Connect hosts events showcasing local talent, from musicians to visual artists. By hosting these events, the establishment offers delightful entertainment for guests. It provides an invaluable platform for talented local artists to showcase their art to a broader audience.
In doing so, it plays a vital and commendable role in promoting and preserving the rich tapestry of local culture and arts.
The Ripple Effect
Supporting local businesses has far-reaching effects beyond the immediate community. As local companies flourish, they can create more job opportunities, provide competitive wages, and actively contribute to local charities and community projects.
This amplifies the positive impact, fostering a thriving, contented, prosperous community.
Conclusion
In conclusion, The Bistro Eat Drink Connect is a culinary journey worth embarking on. This establishment truly appreciates the art of synergy – blending flavors harmoniously, fostering connections with patrons and employees alike, and nurturing strong ties within the local community.
It's a destination for appeasing your appetite. Yet, it bestows something far greater upon you – a lasting, enriching encounter that lingers long after relishing the final morsel.
In case you want more content like this, visit Orderific right now!
FAQs
What type of cuisine does The Bistro Eat Drink Connect offer?
The Bistro offers a variety of dishes with a focus on modern American cuisine.
Are reservations required to dine at The Bistro Eat Drink Connect?
While reservations are not required, they are recommended, especially for larger parties or peak dining hours.
What is the dress code for dining at The Bistro Eat Drink Connect?
Guests are encouraged to dress in a manner that is comfortable and appropriate for a casual yet sophisticated dining environment.