Do you ever feel intimidated or hear the slang "The Hot Behind You" when working in the kitchen? There's no denying that it can be an overwhelming and complex environment. From knowing which tools to use to understand all of the scientific cooking methods – there's a lot to learn! However, one key factor is often overlooked: the jargon used by chefs and cooks in their daily conversations. While some phrases might seem straightforward on paper, their meanings can have a surprisingly different interpretation in practice. Take, for example, "the hot behind you" — one of many terms that are tossed around casually in professional kitchens. In this blog post, we will explore what "the hot behind you" really means so that the next time you hear it shouted from across the room, you know exactly what action is expected of you!
What is "the hot behind you"? An overview of this common kitchen slang
In the lively hustle of a bustling kitchen, you might catch the phrase "the hot behind you" being vociferously exchanged. This prevalent kitchen slang holds a crucial message: a cautionary alert to make others aware that you're positioned just behind them, carrying something piping hot – be it a pot bubbling with culinary concoctions or a tray laden with sizzling dishes or hot water. It's a safety measure that acts as a shield against accidents and collisions in the dynamic realm of a restaurant or any food service setting.
This succinct yet potent expression, "hot behind you," serves as a beacon of situational awareness, fostering an environment that prioritizes safety and efficiency among all kitchen members.
Other Popular Kitchen Slang
The world of cooking is full of its own unique language, and any chef worth their salt knows that mastering the kitchen slang is key to effective communication. While everyone has heard classic kitchen terms like "mise en place" and "sous chef," there are plenty of other popular phrases that can elevate any culinary conversation. Let's look at a few popular kitchen slangs –
"86" or "Eighty-Six": This term is used to indicate that an item on the menu is no longer available. It can refer to running out of ingredients or discontinuing a dish. Example: "We've 86ed the salmon for tonight due to supply issues."
"Mise en Place": A French term that means "everything in its place." It refers to the practice of preparing and organizing all necessary ingredients and tools before cooking begins. Example: "Make sure your mise en place is ready before you start cooking."
"All Day": Used to communicate the total quantity of a specific dish that is currently in progress or needs to be prepared. Example: "We need three pasta dishes all day."
"Fire": To begin cooking or to start working on a specific order. Example: "Fire two steaks medium-rare and one chicken Alfredo."
"Pick Up": A command is given when a dish is ready to be taken from the kitchen to the serving area. Example: "Fish tacos are ready for pick up."
"In the Weeds" Refers to being overwhelmed or having too many orders to handle at once. Example: "I'm in the weeds here. Can someone help with these appetizers?"
"Walk-in": The walk-in refrigerator or storage area where perishable ingredients are stored. Example: "Grab some fresh herbs from the walk-in."
"Bump": To remove an order from the kitchen's queue or to mark it as complete. Example: "I need you to bump the chicken, Alfredo."
Best way to Use Kitchen Slang properly
Stepping into a restaurant kitchen can sometimes feel like entering a foreign country. With a whole language of its own, it can be daunting to understand and use kitchen slang without embarrassing yourself. However, learning to use this specialized lingo can also be fun and rewarding, making you feel like a true insider.
Whether you are a chef, server, or simply an avid home cook, using kitchen slang properly can help streamline communication and improve efficiency in the kitchen. So, why not take the time to master this language and impress your culinary colleagues? With a little practice, you, too, can speak like a pro and navigate the bustling world of the kitchen with ease.
The Evolution of Kitchen Slang
The evolution of kitchen slang has been influenced by the dynamic and intense environment of restaurant kitchens, as well as the camaraderie and need for efficient communication among kitchen staff. Over time, certain terms have emerged, evolved, and become integral to the culinary world. Here's a brief overview of how kitchen slang has evolved, along with examples:
1. French Influence: The French culinary tradition greatly influenced kitchen terminology, introducing terms like "mise en place" (everything in its place) and "à la carte" (menu ordering style). These terms brought a sense of structure and organization to the kitchen.
2. Slang Emergence: As kitchens became high-pressure environments, chefs and cooks needed quick ways to convey information. Slang terms emerged for both efficiency and a sense of camaraderie. For instance:
"86" or "Eighty-Six": As mentioned earlier, this term originated from the restaurant Chumley's in New York, indicating that an item was no longer available.
"On the Fly": This term was likely born out of the need to communicate a rush order that needed to be prepared quickly.
3. Cultural and Regional Influences: Different types of cuisine and regional practices contributed to the evolution of kitchen slang. For example:
"Topless": In sushi kitchens, this refers to nigiri without the usual slice of fish on top.
"Hassleback": A technique of slicing vegetables (like potatoes) thinly and partially, creating a fan-like appearance when cooked. Named after a Swedish restaurant.
4. Safety and Efficiency: Many slang terms have evolved to enhance safety and efficiency in the kitchen:
"Hot Behind": Warns others that you're carrying something hot behind them.
"Behind": Alerts someone that you're walking behind them, even if not carrying something hot. It could be a sharp knife!
Conclusion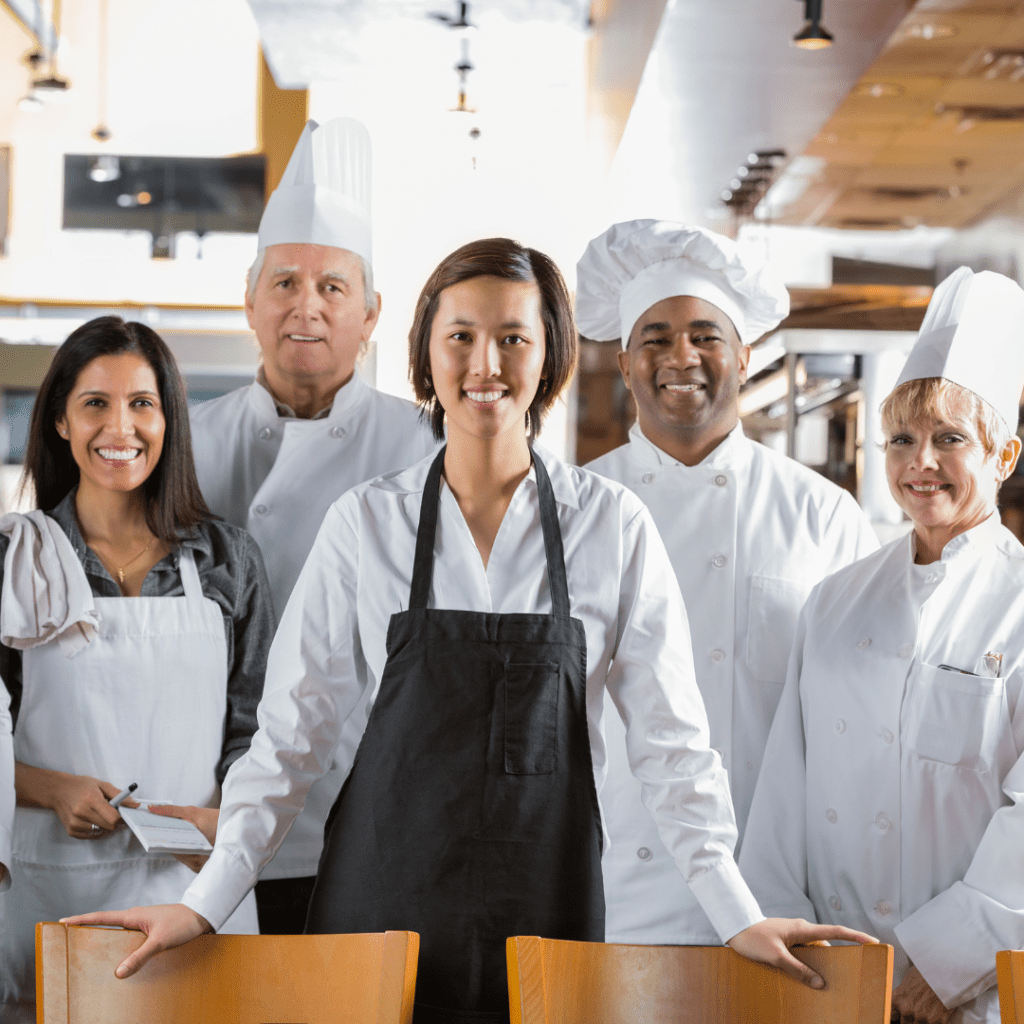 In summation, the language thriving within the kitchen mirrors the diversity and dynamism of the culinary realm itself. From its rudimentary origins to the infusion of varied cultural and culinary influences, kitchen slang has blossomed into an indispensable communication tool for streamlining operations. It embodies a heritage intertwined with tradition yet fluidly evolves to cater to the ever-changing demands of a vibrant and pioneering industry.
Embarking on your own gastronomic journey, delving into this distinct lexicon can unveil doors to novel encounters and profound insights. Regardless of whether you're a seasoned culinary professional, a line cook, or an impassioned home cook, the potential for learning remains boundless. We extend an invitation to delve further into the captivating universe of culinary expressions, methodologies, and customs alongside us at Orderific. Within our blogs lies a trove of knowledge waiting to be discovered by those who hold a fervor for all facets of gastronomy. Keep immersing yourself, keep acquiring wisdom, and let's continue our culinary expedition together!
FAQs
Q. Is "The Hot Behind You" a commonly used phrase in kitchens?
Ans. Yes, "Hot Behind You" is a commonly used phrase in kitchens to warn others that you're carrying something hot behind them.
Q. What other types of kitchen slang should I know?
Ans. You should also be familiar with terms like "86", "On the Fly," "Topless," and "Hassleback," among others.
Q. How can I incorporate kitchen slang into my cooking and dining experience?
Ans. You can incorporate kitchen slang into your cooking and dining experience by using it when communicating about food preparation and serving.
Q. Why do chefs use slang in the kitchen?
Ans. Chefs use slang in the kitchen to enhance communication, improve efficiency, and foster camaraderie.
Q. Is there a specific way to use kitchen slang?
Ans. There's no specific way to use kitchen slang; it differs based on the environment, the team, and what works best for clear and quick communication.
Q. Can kitchen slang vary by region or type of cuisine?
Ans. Yes, kitchen slang can vary by region and type of cuisine, reflecting the characteristics of different culinary traditions and practices.