There's no party quite like a disco party. The mesmerizing lights, the pulsating sounds, and the contagious energy that permeates every corner of the dance floor can ignite a fervor in even the most reserved person. The sheer vibe of a disco party has an unparalleled allure, pulling in everyone present into its rhythmic embrace. Now, imagine amplifying this magic by infusing it with a distinct themes for disco. 
That's the enchanting world of themed discos for you. Here, traditional disco elements blend seamlessly with a chosen theme, crafting an experience that's not only exhilarating but also unforgettable. Every beat, every light flash, and every dance move aligns perfectly with the theme, making the event an indelible memory for all attendees.
How to Choose the Perfect Themed Disco for Your Party
Selecting the perfect theme for a disco party isn't a one-size-fits-all scenario. It requires a thoughtful understanding of who your attendees are and what will resonate with them. If you're throwing a bash for children, you might want to drift towards themes that are both engaging and age-appropriate, like a 'retro school disco' where youngsters can experience the charm of yesteryears in a fun, contemporary setting.
However, for a more mature crowd, diving deep into the golden era of disco offers a myriad of themes. Imagine evoking the spirit of the 'Saturday Night Fever' with John Travolta-inspired dance-offs or getting lost in the soulful tunes of Donna Summer. Are your guests the kind who'd love a throwback with tracks from the Bee Gees or the infectious energy of the Village People? Or perhaps they'd be more intrigued by a fusion of old and new, such as a neon-lit roller disco extravaganza?
Factor in the likes and dislikes of your audience, and also consider the location, budget, and logistics. Whichever theme you land on, the ultimate goal remains the same: creating an ambiance that's irresistible to dance in, ensuring every foot is tapping and every heart is racing to the rhythm of the beat.
The Best Themed Discos for a Girls' Night Out
For those planning a bachelorette party, taking cues from powerhouse female disco divas can set the stage. From the glamorous Donna Summer to the soulful sounds of Gloria Gaynor, curate a playlist that celebrates the powerful women of disco. Create fun props or accessories inspired by these icons, like headbands with glimmering sequins, that every attendee can wear.
Enhancing the gastronomic experience is key too. Desserts can be spruced up with a sprinkle of edible glitter, adding that shimmering touch. Think cupcakes that sparkle or cookies dusted with a glint of gold. And no girls' night is complete without drinks. Opt for classic cocktails from the disco era to keep the theme consistent. The citrusy and slightly sweet Harvey Wallbanger, with its blend of vodka, Galliano, and orange juice, is not just a delicious choice, but also a nod to the vibrant 70s.
Incorporating such elements ensures that the disco vibe is palpable, not just in the music and dance but in every detail of the event, making it an unforgettable night for all the ladies present.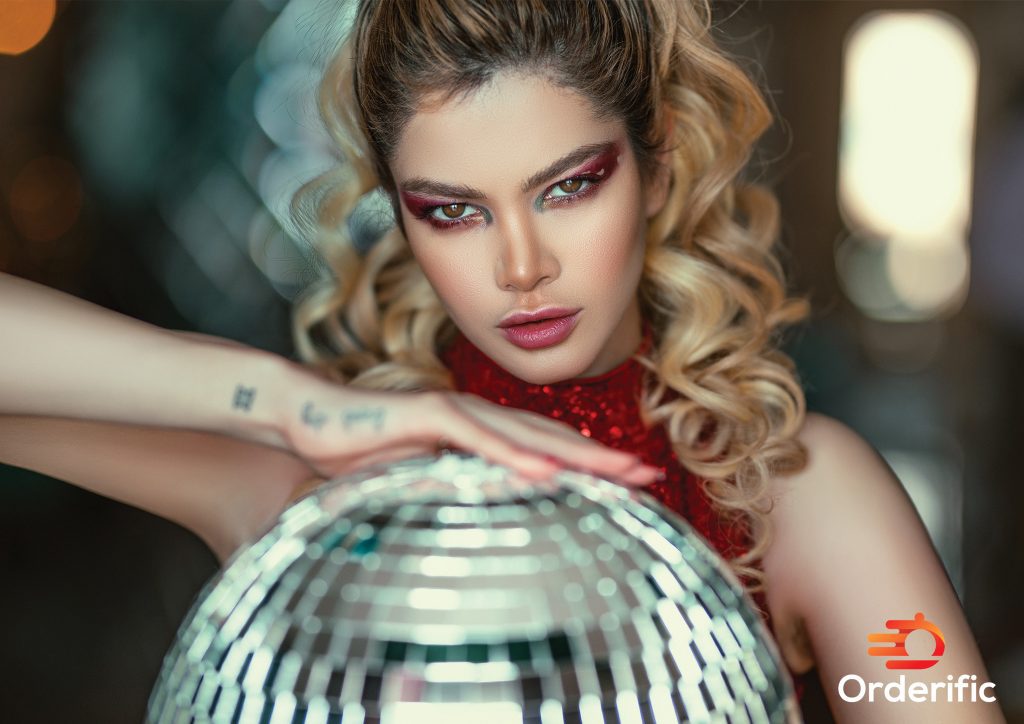 Themed Discos for Couples: Romantic Nights on the Dance Floor
Set the scene by dividing the evening into segments dedicated to each era. Begin with the soulful, tender ballads of the '60s. Imagine couples swaying to the gentle rhythms, sharing intimate moments under the soft glow of the disco ball. Songs from artists like The Righteous Brothers or Etta James can set the perfect mood, evoking emotions of a simpler time.
As the evening progresses, transition into the '70s with its iconic disco beats. The mirrored ball starts spinning faster, and the dance floor becomes alive with energy. Couples can groove to the electrifying rhythms of ABBA, Bee Gees, or Donna Summer. This era, characterized by its flamboyant dance moves, allows couples to be playful and relive the days of bell bottoms and platform shoes.
Lastly, jump into the '80s, a time of vibrant colors and eclectic dance styles. Synth-pop, new wave, and funk dominate, offering couples a diverse range of tracks to jive, moonwalk, or even do the robot to! Think Wham!, Michael Jackson, or even Cyndi Lauper.
By providing a tapestry of eras to dance through, couples not only get to experience a variety of musical genres but also enjoy the beautiful progression of their evening, mirroring the evolution and depth of their own relationships.
Family-Friendly Themed Discos: Dancing with the Kids
Imagine the excitement in kids' eyes as they walk into a 'Cartoon Disco.' The setting comes alive with colorful banners and decorations of beloved cartoon characters. Animated projections could play on walls, making the venue look like a scene straight out of a Saturday morning cartoon fest. Parents can groove with their children to remixes of catchy tunes from shows like "Paw Patrol," "Peppa Pig," or classics like "Scooby-Doo." Interactive segments, like dance-along sessions where kids can mimic the dance steps of their favorite cartoon character, can add an engaging touch.
Now, if the idea of a zoo on the dance floor appeals to the family, an 'Animal Disco' can be a roaring success! Transform the venue into a jungle with green decorations, animal print balloons, and maybe even a mock waterfall. As families sway and bounce in their lion manes, bunny ears, or shark fins, a DJ could play themed tracks, think "The Lion Sleeps Tonight" or "Baby Shark." To make things even more interactive, how about a fun trivia segment? Here, the DJ throws out animal-related questions, and the families can shout out answers, adding an educational twist to the fun.
Another great idea is to have themed props or photo booths. This ensures that kids and adults alike have a memento to take home, remembering the time they danced the night away as a family. The main goal is to create an atmosphere where every family member, no matter their age, feels included, entertained, and most importantly, has an unforgettable time dancing together!
Themed Discos on a Budget: How to Have Fun Without Breaking the Bank
Start with your venue. Instead of renting a costly place, transform a backyard or a spacious living room into your discotheque. Old bed sheets can serve as drapes or backdrops. Enhance their look by projecting disco-era patterns or colored lights onto them.
Speaking of lights, those twinkly Christmas lights stashed away in your attic? Bring them out! When strung around the room, they can emulate the glitz of a disco ball. As for the disco ball itself, craft one using a hanging lantern and some reflective stickers or old CDs cut into small pieces.
Music is the heart and soul of any disco. Platforms like Spotify or YouTube have a plethora of themed playlists. From '70s disco hits to modern-day dance tracks, there's something for everyone. If you have a friend with DJing skills, why not invite them to take over the decks? They get to showcase their skills, and you get the perfect beats for your party – a win-win!
Cost-effective snacks and drinks can also play into your theme. Think popcorn in retro containers or homemade punch served in mason jars with striped straws. You can even have a potluck-style party where guests bring a dish, ensuring a variety of food without straining your budget.
Conclusion
Themed discos transport party-goers to a different world, wrapping them in an atmosphere of electrifying excitement and nostalgia. It's more than just dancing; it's about embodying a particular era, mood, or fantasy. By choosing a theme, you're giving your guests an imaginative backdrop, letting them momentarily escape and dive deep into the rhythmic wonders of the disco realm.
Whether it's the glitz of the '70s, the neon glow of the '80s, or even a futuristic space odyssey, the goal remains: uplift spirits, bring smiles, and ignite the dance floor with energy. So, as the lights dim and the music starts, let the themed magic weave its spell, ensuring an unforgettable evening for all.
In case you want more content like this, visit Orderific right now!
FAQs
What are the most popular themes for discos?
The 70s disco era, neon nights, and retro throwbacks are hugely popular among crowds who enjoy this type of culture.
How do I choose the right theme for my disco?
Consider your audience, the occasion, and what resources you have available, but try to be creative.
Can I mix and match themes for my disco?
Absolutely! Creativity knows no bounds. As long as the themes complement each other, go for it!
What kind of music should I play for a disco with a specific theme?
Research the era or theme for relevant tracks. For instance, for a 70s theme, focus on disco hits from that decade.
How can I decorate my disco to match the theme?
Use themed table decorations, hanging decorations, and even the food and drink to enhance your chosen theme.