Introduction
Time for a bagel, a simple yet undeniably delicious treat, has resulted in a ritual that many of us cherish – the Bagel Break. A hot, fresh bagel straight out of the oven, the dough yielding to the touch, is a delight few can resist. Whether you're ravenous for a New York-style bagel, topped with smoked fish and a generous smear of cream cheese, or yearning for a warm chewy bread slathered with a sweet chocolate chip cream cheese spread, each bite offers a moment of culinary bliss. Bagel sandwiches have evolved beyond the breakfast sandwich, incorporating all kinds of toppings and fillings. From bacon and lettuce to chicken salad, the choice is yours.
Perhaps you're a traditionalist, preferring your bagel toasted with a creamy swirl of cream cheese. Or maybe you fancy making homemade bagels using your own bagel recipe, kneading the dough by hand and feeling the bread flour and yeast come together. Whether you relish the process of baking on a bread flour-dusted baking sheet or prefer to visit your local bagel shop, the ritual remains the same. Savoring each mouth-watering bite reminds us to appreciate these simple pleasures in life. So, let's explore the joy of taking time for a bagel – be it on a leisurely Sunday morning, a quick lunch break, or a special occasion like National Bagel Day.
Embracing The Bagel Experience: A Moment To Savor
Embracing the bagel experience is more than just a meal; it's a magical moment that transcends ordinary food consumption. Picture this: a tantalizing smell of freshly baked dough wafts through the air, filling your nostrils with warm nostalgia. As you delicately tear into the bagel, releasing a symphony of crackling sounds, your taste buds tingle with anticipation. The velvety cream cheese spreads smoothly, adding a layer of indulgence that perfectly complements the chewy texture. Each bite is a harmonious blend of flavors, where the crisp crust gives way to a soft, doughy center, creating a delightful contrast that delights the senses. It's a peaceful pause in the chaotic rhythm of life, a moment to savor and truly appreciate the simple pleasure of a bagel.
The Ritual Of Preparation: Crafting The Perfect Bagel
1. A World Of Flavors: Exploring Bagel Varieties
The world of bagels is expansive and varied, with countless combinations of flavor and texture to explore. Whether you're a fan of the classic plain bagel topped with a thick layer of cream cheese or prefer a cinnamon raisin bagel paired with a sweet cream cheese spread, there's a bagel out there to suit every palate. Experimenting with different types of bagels and toppings can turn your bagel break into a delicious adventure.
2. The Cream Cheese Chronicles: Toppings And Spreads
Cream cheese, the quintessential bagel companion, takes the bagel experience to a whole new level. From the classic plain cream cheese that provides a cool, creamy contrast to the warm, toasted bagel, to flavored varieties that incorporate herbs, spices, or sweet notes such as honey and fruits, it truly is a game-changer. The versatility of cream cheese invites a world of culinary creativity, whether you're spreading it thick on a breakfast bagel or layering it into a hearty bagel sandwich. So next time you reach for your bagel, remember, the cream cheese you choose can redefine your bagel break!
Savoring Each Bite: The Pleasure Of A Bagel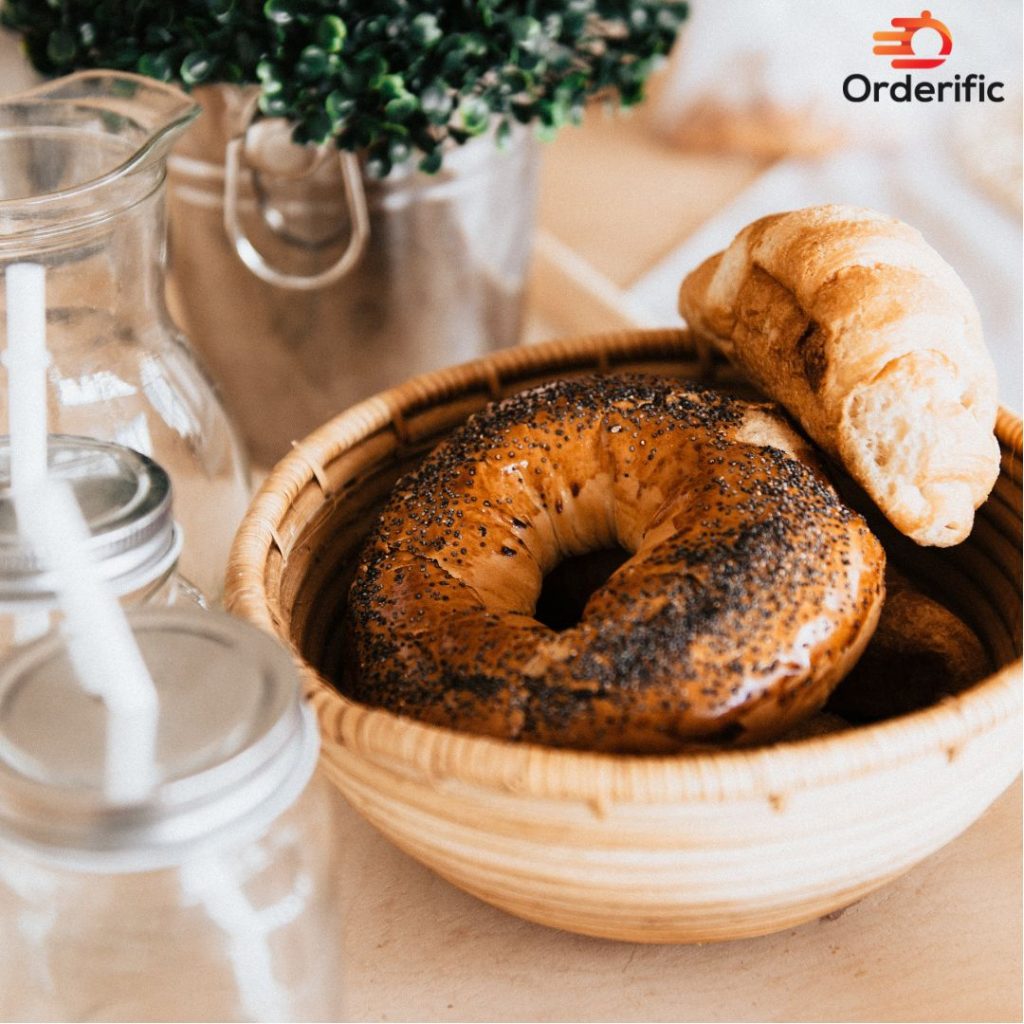 1. Mindful Eating: Enhancing The Bagel Experience
Mindful eating enhances the bagel experience by focusing one's senses on each bite. The feel of the crust and the soft dough, the taste of the bagel mingling with the cream cheese, the aroma of the freshly baked bread. This form of eating allows us to fully appreciate the simple pleasure of a bagel, making each Bagel Break a true moment of relaxation and enjoyment.
2. Pairing Possibilities: Finding The Ideal Beverage
The choice of beverage can profoundly elevate your bagel experience. Furthermore, A refreshing glass of orange juice can provide a zesty contrast to a savory cream cheese-topped bagel, while a hot cup of coffee can complement the rich flavors and bring warmth to each bite. Alternatively, for evening bagel indulgence, a glass of red wine may just become your bagel's new best friend. So, next time you're savoring a bagel, consider the pairing possibilities and transform it into a symphony of flavors.
The Bagel Break: A Moment Of Culinary Delight
To truly enjoy a bagel requires more than just eating; it's an experience that balances preparation and savoring each bite. Hence, The sheer variety of bagels and toppings, including the game-changing cream cheese, elevates this humble food to an adventure for the taste buds. Meanwhile, mindful eating and thoughtful beverage pairings further enhance these moments of culinary delight. So remember, a bagel break isn't just a meal; it's a flavorful journey that invites you to slow down and savor the experience.
Conclusion
In conclusion, the humble bagel, adorned with its loyal companion cream cheese, serves as a delicious reminder to pause, savor, and appreciate the culinary delights that even the simplest of foods can offer. It invites us to take a moment, to embark on a flavorful journey that transcends the act of merely eating. Furthermore, With a world of bagel varieties and cream cheese flavors to explore, every bagel break offers a unique adventure. Mindful eating and the thoughtful selection of a complementary beverage can further elevate this experience, transforming a Bagel Break into a cherished ritual. So, the next time you bite into a bagel, remember to appreciate each bite and the joy it brings.
If you're inspired to take your bagel experience to the next level, why not explore Orderific? Schedule a demo with us and discover how we can help you find your perfect bagel match and simply savor each moment. So, Book a demo today, and let's elevate your Bagel Break together!
FAQs
What makes bagels a popular treat?
Bagels are popular due to their versatility, variety of flavors, and the satisfying combination of a chewy interior with a crusty exterior.
How can I enhance my bagel experience?
Try experimenting with various flavors of bagels and cream cheese, and practice mindful eating to fully savor each bite.
What are some popular bagel flavors and types?
Some popular bagel flavors include plain, sesame, poppy seed, cinnamon raisin, and everything bagel.
Can bagels be enjoyed beyond breakfast?
Absolutely, bagels can be enjoyed at any time of the day!