For coffee shops, bakeries, bars, restaurants, and hotel owners alike, the demands of the modern workday can be intense and that's where toast login comes in. Businesses must keep up with ever-growing customer expectations and find ways to streamline management operations without compromising on service.
Toast Login simplifies your life with a single platform for all your needs. Toast Login offers easy access and a user-friendly interface for everyone in the food and hospitality sector. It lets you quickly check payrolls, bills, payments, and delivered orders and promptly get insights into customers' messages.
How to log in to Toast payroll?
If you're new to Toast Payroll, access the login page through your preferred browser. Once you're there, enter your username and password that you received from your Toast Payroll administrator.
Once you access your dashboard on Toast Payroll, you'll unlock many features and functions at your fingertips. With just a few simple clicks, effortlessly manage your payroll.
Why Toast online ordering?
As technology continues to advance, numerous restaurants are embracing online ordering systems to offer their customers a seamless and efficient experience. This user-friendly platform enables your customers to place their orders swiftly and effortlessly.
With a user-friendly interface, you can effortlessly manage incoming orders and make necessary adjustments. Additionally, toast online ordering increases accuracy and speed in fulfilling orders, leaving customers satisfied and returning for more.
Toast software for restaurants is a game-changer in the industry, allowing businesses to streamline their operations and improve overall efficiency.
Thanks to the software's intuitive interface, restaurants can effortlessly manage crucial tasks like ordering, inventory management, and staff scheduling. Moreover, offering detailed analytics empowers restaurant owners to make informed, data-driven business decisions.
Toast helps restaurants enhance the customer experience, save time and money, and focus on what matters most.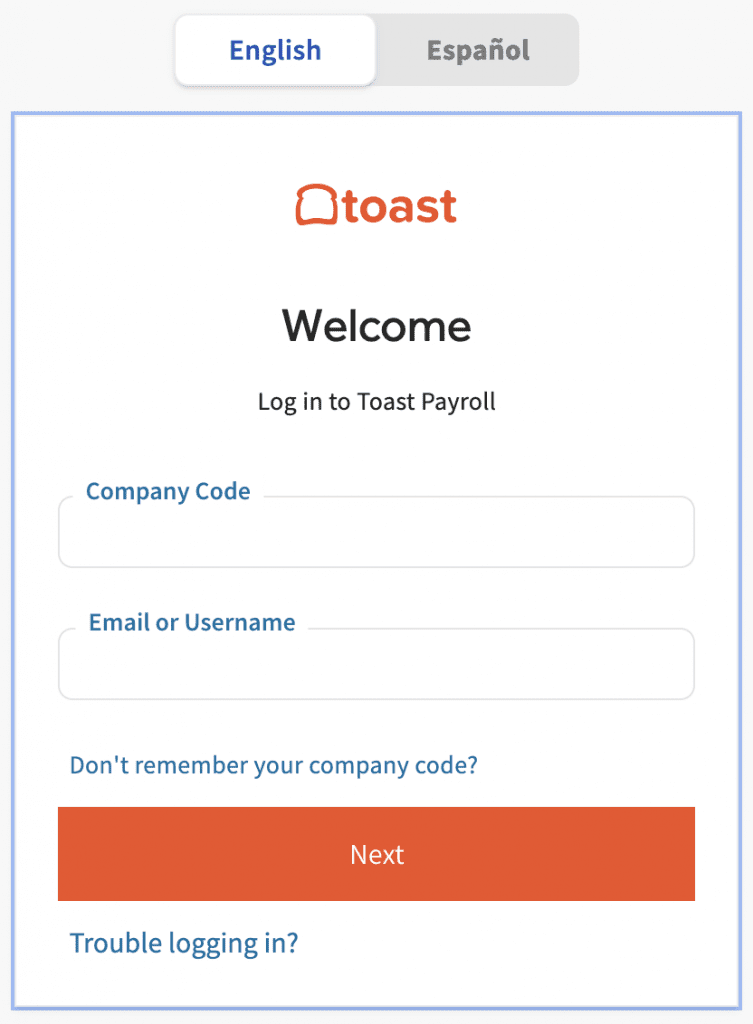 Why choose Toast HR?
In the fast-moving world of business today, choosing the right HR management tool can be daunting. Toast HR simplifies your daily HR operations with end-to-end automation, reducing manual work for you.
Toast HR allows you to easily manage employee information, vacation requests, benefits enrollment, payroll, etc. Our tool comes with 24/7 support, ensuring that your HR team always has the assistance they need. It's simple – to streamline your HR operations and ensure your workforce is managed efficiently and effectively. 
Toast Login is a single sign-on (SSO) solution that allows users to access multiple Toast applications with a single credential. Toast offers several benefits, such as:
Increased security
Convenience, and
Productivity.
However, there are also some drawbacks to consider.
What are some Toast Login drawbacks?
Some of the drawbacks of Toast Login for businesses are:
Toast Login is not a free service; businesses must pay a monthly subscription fee.
It can be complex to set up.
Toast Login requires businesses to change their IT infrastructure, which can be time-consuming and challenging.
Implementing Toast Login can disrupt business operations, as employees must learn how to use the new system.
Toast Login has been known to experience outages, which can prevent users from accessing the applications they need.
Overall, Toast Login is a powerful tool that can benefit businesses. However, they must carefully consider the potential drawbacks before implementing Toast Login.
How to reset your forgotten toast password?
To reset your password, head to the login page and find the "Forgot Password" option. Once there, provide the email address linked to your Toast account. Then, you'll receive an email with comprehensive instructions on how to reset your password. Now follow the steps in the email to regain access to your Toast account.
Remember to choose a unique and secure password you haven't used before to ensure the utmost safety of your account. With these simple steps, you can easily reset your forgotten Toast password.
Conclusion
Toast is a popular restaurant software that can streamline operations, increase efficiency, and boost profits. Toast offers numerous benefits, from online ordering to inventory management, leaving restaurant owners wondering how they ever operated without it.
But what if similar software offered even more advanced features? Orderific provides the benefits of Toast, including seamless order processing and detailed analytics. Plus, it adds AI-powered recommendations, table mapping, and real-time waitlist management.
FAQs
How do I use a POS system in a restaurant?
A restaurant POS (Point of Sale) system is the central hub where all transactions occur. To use it, servers or cashiers input orders into the system, which then sends them to the kitchen. After the meal, the server adds charges for drinks or desserts, applies discounts as needed, accepts payment, and closes the check.
Daily reports can also be generated through the POS system to track sales, inventory, and other vital metrics.
How can I find out the best online restaurant POS system?
Finding the best online restaurant POS system requires researching and comparing other systems based on your needs. Consider the system's ease of use, ability to integrate with other software you already use, and customer support. Reading online reviews or requesting demos from providers can also be helpful.
Which are the best online restaurant POS systems?
Some of the best online restaurant POS systems include Toast, Square for Restaurants, TouchBistro, Orderific, and Lightspeed. These systems are highly rated for their features, ease of use, and customer support.
What does "toast" mean in business?
In the context of the restaurant industry, Toast is a popular software that streamlines operations and helps increase efficiency. It includes features for online ordering, inventory management, staff scheduling, and more.
How to add a service charge on Toast?
To add a service charge on Toast:
Navigate to the check to which you want to add the service charge.
Select 'More' from the options, then 'Service Charge
.'Enter the amount or percentage and save your changes.
What is Toast in Android?
In Android, a Toast is a small message displaying an operation's status, like saving a file. It only fills the required space for the news, and the current activity remains visible and interactive.