Are you looking for the perfect spot to start your day? Toast on Market in downtown New Albany is quickly becoming a favorite among locals. It also boasts fresh ingredients and dishes that will not only satisfy your hunger but make sure it's a breakfast to remember! Not just another breakfast joint, Toast on Market offers carefully crafted breakfast and lunch eats served with warm hospitality. This locally-owned restaurant takes pride in making each meal an enjoyable experience. Whether you're looking for a healthy morning bowl or something sweet and savory, the menu at Toast on Market has something for everyone. Come find out what all the buzz is about. When it comes to starting your day off right, no one does it like Toast on Market!
The History of Toast on Market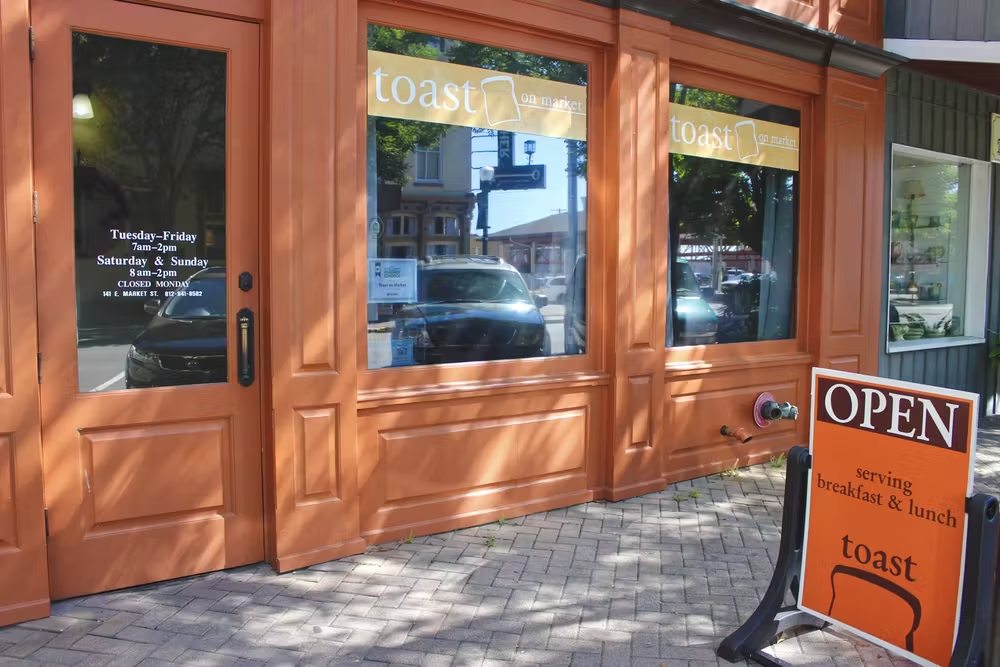 Toast on Market is a cozy daytime café located in New Albany, Indiana, serving all-day breakfast, sandwiches, and salads. The owners, Amy and George, opened their first restaurant on Louisville's East Market Street in the summer of 2006. They slowly grew and became a local favorite, going on to open another branch in New Albany 3 years later. 
Around May 2022, the branch in Louisville was closed down permanently. Toast on Market is now present only in New Albany, Indiana.
The Menu at Toast on Market
The delightful menu at Toast on Market presents a splendid array of culinary choices that cater to both breakfast and lunch enthusiasts. From the tantalizing sweetness of French toast to the fluffy goodness of pancakes, every dish is a masterpiece in its own right. 
For those craving something more savory, a selection of delectable sandwiches awaits. Each is prepared with precision and a burst of flavors that dance on the palate. And if a lighter option is desired, the menu boasts a collection of vibrant and refreshing salads and cookies that showcase the freshest ingredients. 
Whether it's the comforting classics or innovative creations, Toast on Market offers a dining experience that embraces a delightful fusion of flavors to satisfy every craving.
Popular Breakfast Items
Some popular breakfast items at Toast on Market include:
Monte Cristo: Two slices of brioche filled with ham, baby Swiss, a touch of orange marmalade, and a side of orange rosemary syrup.
The Classic: Three scrumptious brioche slices served with butter and syrup.
The King: A blend of peanut butter, bananas, honey, and cream cheese stuffed inside two slices of brioche.
Cliffie's Plate: A hearty meal with eggs, a choice of meat, hashbrown casserole or fruit, toast, and two buttermilk pancakes.
Local and Seasonal Ingredients
Nestled in the heart of New Albany, Indiana, Toast on Market stands as a culinary gem celebrated for its dedication to the essence of locality and seasonality. It has a deep-rooted commitment to showcasing the very best of its surroundings. This beloved restaurant takes paramount pride in curating a menu that harmoniously weaves in the bounty of nearby farms and markets. Every ingredient that graces their plates is meticulously chosen for its freshness. It is also a testament to their unwavering pursuit of uncompromising quality.
In a culinary symphony that pays homage to both the region's fertile lands and the rhythm of changing seasons, Toast on Market embraces a farm-to-table ethos that transcends mere dining. Through their meticulous sourcing of local produce and ingredients, they bolster the livelihood of neighboring businesses. They also paint an ever-evolving masterpiece on their menu canvas. The result is a tantalizing dance of flavors that celebrates the vivid spectrum of each season.
By harmonizing with the rhythms of nature and sourcing locally, Toast on Market transforms dining into an experience that transcends the plate. With each bite, patrons are invited to partake in a vibrant celebration of Kentucky's rich agricultural heritage. Thus woven together with the spirit of innovation that culinary excellence demands. In this harmonious partnership between nature's bounty and skilled craftsmanship, they offer sustenance. And also an enduring memory etched in flavors, textures, and a sense of place.
Vegetarian and Gluten-Free Options
Discovering delectable vegetarian and gluten-free options at Toast on Market is a delightful revelation. Thus showcasing a splendid tapestry of choices to cater to diverse dietary preferences.
Omelets: Begin your culinary journey with their savory omelets. These can be tailored to your exact taste, gracefully sidestepping gluten-laden accompaniments.
Pancakes: For those seeking a touch of sweetness, indulge in their impeccably fluffy gluten-free pancakes or waffles. They promise to gratify your palate.
Salads: The assortment of fresh salads stands as a testament to their commitment to variety. Also, with the option to craft a vegetarian rendition by omitting the meat (chicken). 
Within this realm of culinary excellence, Toast on Market stands ready to serve you a gratifying and nourishing feast that beautifully balances flavor and health.
The Atmosphere at Toast on Market
Nestled within its charming surroundings, Toast on Market exudes the warmth of a cherished daytime haven. This inviting café extends a genuine embrace to its patrons. Thus creating an atmosphere that feels like a home away from home. As you step through its sheltered entrance, you're greeted by a cocoon of comfort, where the hum of conversations mingles with the tantalizing aromas wafting from the kitchen.
The carefully curated interior design transforms each visit into a tranquil escape, where guests can immerse themselves in the pleasure of their meals. This enclosed enclave not only shields diners from the bustling world outside but also offers a sanctuary of relaxation where every bite is savored in perfect harmony with the cozy ambiance.
The Service at Toast on Market
For those in search of an unparalleled dining escapade in the heart of New Albany, your quest concludes splendidly at Toast on Market. This establishment stands as a paragon of excellence, where the art of service ascends to extraordinary heights. The staff's attentiveness and geniality surpass expectations as they earnestly strive to elevate your dining experience to a realm of pure enjoyment.
The moment you grace the threshold, an air of regality envelopes you. The servers, possessing an impeccable grasp of the menu's offerings, extend a personalized touch to guide your culinary journey. Their enthusiasm for sharing recommendations and insights enriches the tapestry of your meal, fostering a sense of delightful discovery.
Should your aspirations encompass a restaurant that marries impeccable service with gastronomic delight, reserving a table at Toast on Market is an unequivocal imperative. Prepare to embark on an odyssey where not only delectable fare awaits but where the very act of dining is elevated to a symphony of elegance and indulgence.
Wrapping Up!
In conclusion, Toast on Market is a must-visit breakfast spot located in New Albany. Its rich history and tasty food attract locals and visitors alike. Some of its most popular menu items are the avocado toast, chia bowl, and oatmeal bowl. The menu changes seasonally and features local ingredients whenever possible, with several vegetarian and gluten-free options to choose from. Besides delicious food, the atmosphere and service of Toast on Market make it stand out from other breakfast spots in the area.
Looking for an excellent weekend breakfast or brunch spot without having to travel far? Visit Toast on Market today – you won't regret it! For more on foodie hotspots near you, please visit our website to read more blogs about great restaurants in your area!
FAQs
Q. What is Toast on Market, and where is it located?
Ans. Toast on Market is a beloved breakfast and brunch spot located in the heart of New Albany, known for its farm-to-table ethos and culinary excellence.
Q. What are some of the most popular dishes and drinks at Toast on Market?
Ans. Some of the most popular dishes at Toast on Market include the avocado toast, chia bowl, oatmeal bowl, and seasonally inspired creations.
Q. Does Toast on Market offer vegetarian and gluten-free options?
Ans. Yes, Toast on Market caters to diverse dietary preferences, offering a range of vegetarian and gluten-free options on its menu.
Q. What is the atmosphere like at Toast on Market?
Ans. The atmosphere at Toast on Market is inviting and homely, offering a tranquil escape from the bustle of the outside world.
Q. How is customer service at Toast on Market?
Ans. The customer service at Toast on Market is exceptional, with attentive and friendly staff eager to enhance your dining experience.
Q. What is the history of Toast on Market, and how has it evolved over time?
Ans. Toast on Market has a rich history rooted in the community of New Albany, evolving over time to champion local produce and showcase the region's agricultural heritage.