The simple joy of waking up to the smell of bread crisping to perfection is unmatched. That's the charm the Toastmaster toaster brings to your mornings. When you think about breakfast, it's not just a meal; it's the launchpad for the day ahead. So, why compromise? With the Toastmaster toaster, each slice comes out with those dreamy crispy edges and a sun-kissed golden-brown center. It's not merely about making toast; it's about elevating every morning to a delightful culinary experience. With such a start, one is truly ready to embrace the day's challenges with enthusiasm.
The Benefits of Using a Toastmaster Toaster in Your Morning Routine
Starting your day with the right breakfast can make all the difference, and the Toastmaster Toaster ensures that you get it right every time. Beyond its impeccable toasting abilities, let's delve into the reasons this toaster stands out:
Consistent Toasting: No more half-burnt or unevenly toasted slices. Every piece of bread gets the golden treatment.
Time Saver: With its efficient toasting cycle, you get breakfast on the table faster, making morning rushes more manageable.
Safety First: The cool touch exterior means even when it's working hard, the outside remains cool, reducing any burn risks—especially vital if kids are around.
Versatility: Whether it's a thin slice of rye, a chunky piece of sourdough, or even a bagel, adjust the settings to fit your bread type.
Easy Clean-Up: With the removable crumb tray, cleaning up after your breakfast session is a breeze.
Incorporating the Toastmaster Toaster into your morning routine is a game changer, ensuring that even on the busiest days, you can enjoy a perfect slice.
How to Choose the Right Toastmaster Toaster for Your Needs
Selecting the ideal toaster isn't just about picking one that looks good on your countertop; it's about functionality and fitting into your lifestyle. When it's Toastmaster on the menu, here's what you need to weigh up:
Capacity: Are you toasting for one or a whole family? A Toastmaster 2 slice toaster is ideal for solo breakfasts or smaller families. However, if mornings see a flurry of activity with everyone wanting a piece of the crispy action, a four-slice toaster might be your ally.
Versatility: Not all toast is created equal. Some of us savor the chunky artisanal breads, while others have a penchant for bagels. Make sure your toaster, perhaps like the acclaimed Toastmaster TP409, can handle varying bread thicknesses.
Speed & Efficiency: If your mornings are more of a sprint than a leisurely walk, you need a toaster that can keep up. Some Toastmaster models, renowned for their rapid toasting cycle, ensure you're not left waiting.
Settings & Features: Whether you like your toast barely browned or crisp and golden, adjustable settings are crucial. Features like a high rise toast lift make retrieving smaller items like English muffins hassle-free.
Footprint: Have limited counter space? Dimensions matter. Ensure the toaster you're eyeing will comfortably fit in your kitchen without causing a space crunch.
Safety: Especially important if you have curious youngsters or if you're a bit of a klutz in the morning. Features like cool touch exteriors prevent unintended burns.
Remember, a toaster is an investment into countless delightful breakfasts. Taking a few extra minutes to assess your needs ensures every morning is a good one.
Toastmaster Toaster: A Reliable and Efficient Way to Make Breakfast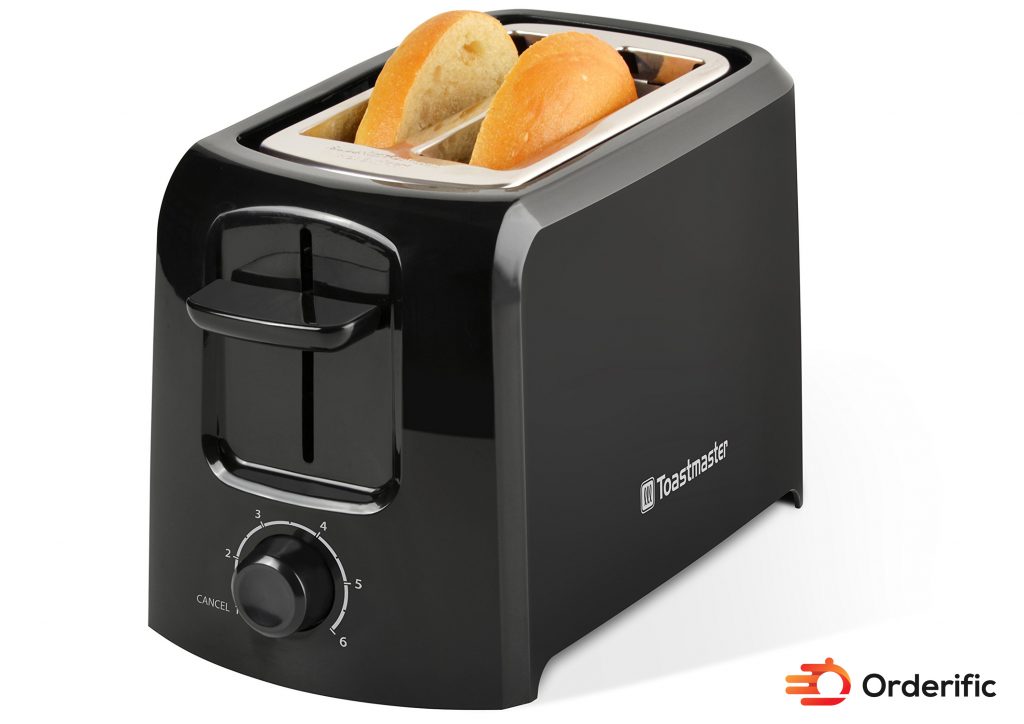 Stepping into the world of toasters, Toastmaster isn't just a name; it's a legacy. Rooted in the brilliance of Charles P. Strite, who revolutionized mornings with the invention of the pop-up toaster, Toastmaster continues to uphold that tradition of innovation and reliability.
The brand understands that everyone has their unique toast preference. So, whether you lean towards a soft, golden hue or a dark, crunchy texture, its adjustable settings ensure your toast is just the way you like it. But that's not all. Ever tried retrieving a smaller piece of bread or an English muffin and found it challenging? The high-rise toast lift feature of Toastmaster toasters comes to the rescue, making sure each slice pops up adequately, eliminating the awkward (and potentially painful) dance of trying to retrieve it.
Moreover, the brand has consistently prioritized safety, durability, and efficiency in all their products. The stainless-steel construction not only lends a sleek look but also ensures longevity. And with additional features, such as the removable crumb tray, maintenance becomes a breeze.
Tips and Tricks for Getting the Perfect Toast with Your Toastmaster Toaster
Getting that ideal, crispy-on-the-outside, soft-on-the-inside piece of toast can elevate your breakfast game. With the Toastmaster toaster in your corner and a few handy tricks up your sleeve, achieving toast nirvana is within reach. Here are some tips and tricks to help you make the most out of your Toastmaster toaster:
Room Temperature Bread: Always start with bread that's at room temperature. This ensures a uniform toasting without any cold spots.
Adjust According to Freshness: Freshly baked bread? A medium setting typically does the trick. For frozen slices, consider nudging the setting a tad higher for that perfect crunch.
Bagel Bliss: Bagel enthusiasts, rejoice! If your Toastmaster model has a dedicated bagel setting, use it. Remember to place the bagel with the cut side facing the center for a crispy edge and a soft middle.
The Crumb Tray is Key: The removable crumb tray isn't just there for show. Cleaning it regularly does wonders.
Safety First: If your toast gets stuck, always unplug the toaster before attempting to retrieve it. Using a non-metal utensil is also a good precaution.
Remember, toasting is an art as much as it is a science. With these tips, your Toastmaster toaster will deliver picture-perfect slices, batch after batch.
Toastmaster Toaster: A Must-Have Appliance for Every Kitchen
Every kitchen, whether it's bustling with activity from dawn till dusk or only sees action during weekend brunches, needs tools that complement its rhythm. The Toastmaster toaster has emerged as one such indispensable appliance. At breakfast, which for many sets the tone of the day, this toaster shines by consistently delivering the ideal toast.
The joy of hearing that familiar "pop," followed by the sight of evenly browned, crispy bread, is unparalleled. The machine offers more than just utility—it brings with it a promise of reliability and perfection. While most mornings might rush by in a blur, pausing for a moment to enjoy that impeccable slice can make all the difference. In the realm of kitchen appliances, the Toastmaster toaster stands as a champion, making every breakfast not just a meal, but a moment to savor.
Conclusion
Toasts, simple as they may seem, hold the power to transform breakfast from ordinary to extraordinary. The Toastmaster Toaster elevates this experience, meticulously ensuring that each slice is toasted to golden-brown perfection. It's not just an appliance; it's a morning companion.
Whether you're slathering on creamy avocado or just a hint of butter, the texture and taste become exceptional when started with a toast from this reliable machine. Amidst the morning rush, it's comforting to know that at least one thing remains consistent: a flawless toast to brighten the start of any day.
In case you want more content like this, visit Orderific right now!
FAQs
What makes Toastmaster Toaster different from other toasters in the market?
The brand's long-standing reputation, combined with innovative features like high-rise toast lift and varied settings, sets it apart.
How many slices of bread can I toast at once with Toastmaster Toaster?
This depends on the model. While some can toast two slices, others can accommodate four.
Can I use Toastmaster Toaster to toast other types of bread aside from sliced bread?
Absolutely! Many models can toast bagels, English muffins, and all other different types of sliced bread and similar pastries.
Is Toastmaster Toaster easy to clean?
Yes, with its removable crumb tray, cleaning becomes a breeze. Just remove the tray, get rid of the crumbs and you're good to go!
Does Toastmaster Toaster come with a warranty?
Yes, Toastmaster products generally come with a warranty. Ensure to check the specifics upon purchase.