Tousled hair, with its signature carefree waves and undeniable volume, perfectly captures the spirit of a breezy summer day spent by the beach. Each strand seems to dance with a life of its own, creating a symphony of textures that tantalizingly sway between the natural and the nurtured.
This effortlessly chic hairstyle exudes a relaxed vibe, reminiscent of sun-kissed moments and oceanic whispers. Yet, therein lies its artistry: presenting a style that appears spontaneous, but is meticulously crafted. The true allure is mastering that equilibrium between a relaxed, free-spirited appearance and an intentional, stylishly unkempt finish.
How To Get Tousled Hair
Tousled hair epitomizes the essence of carefree beauty. Imagine the wind gently tousling your hair as you stroll on a sandy beach. That's the look – spontaneous yet striking, relaxed but radiant. But how does one recreate this effortlessly stylish look away from the coastal breeze? Let's embark on this hairstyling journey together, revealing the secrets to perfectly tousled tresses.
Step One: Wash And Dry Your Hair
Begin with pristine, clean locks. Use a sulfate-free shampoo that helps maintain natural hair oils, resulting in smoother hair texture. If your hair is naturally frizzy, consider using a smoothing conditioner. This step is essential because how your hair starts will influence how the end style sets.
Some individuals, especially those with thicker hair, might prefer starting on damp hair for a more relaxed, natural wave, while others with thin hair might go the dry route. Before moving on to the next step, make sure to detangle your hair using a wide-tooth comb. This will ensure even application of products and more uniform waves.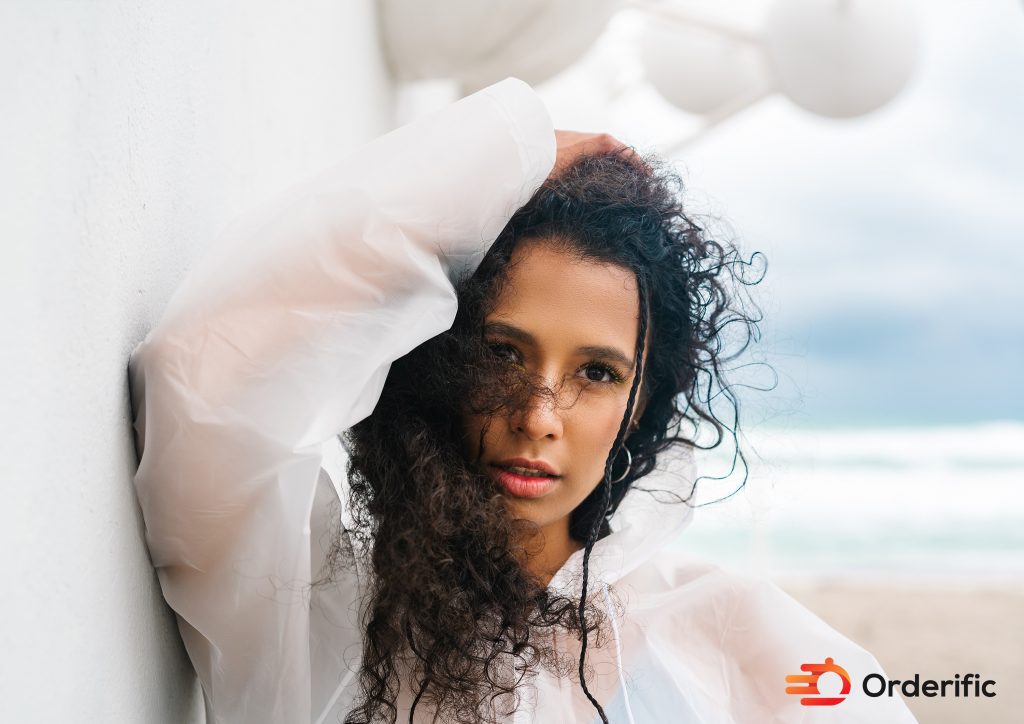 Step Two: Spritz With Salt Spray
This versatile product is a beach in a bottle. For those with fine hair, the salt spray can be a lifesaver, adding volume and texture. When applying, lift sections of your hair and spray underneath to ensure an even distribution, thus giving an all-around beachy feel. While it's tempting to drench your hair, remember: less is more. Too much can make your hair feel sticky.
Step Three: Pick Your Curl
Visualize your desired outcome. If you're aiming for a soft, natural beach wave, you might want to go for larger, looser curls. If it's a bit of a wild, post-beach day look you're after, tighter curls can be interspersed with looser ones for that added texture and depth. Understanding the end look you want will make the curling process more intuitive and straightforward.
Step Four: Dig Out The Curling Irons
The choice of curling tool can dramatically influence your final look. For languid, relaxed waves, a wide-barreled curling wand is ideal. It gives a softer wave, reminiscent of a day spent by the sea. For those wanting more pronounced curls, a traditional curling iron with a smaller barrel might be more appropriate. Remember, the size of the section you're curling and the type of tool you're using will both affect your results.
Step Five: Start Making Waves
Sectioning your hair ensures that every strand gets equal attention. Starting from the nape of your neck and moving upwards can make the process more organized. Hold each curl for about 10 seconds, ensuring consistent waves. A pro tip: alternating the direction of the curl (one curl towards your face, the next away from your face) can create a more natural, voluminous look.
Step Six: Finish with Hairspray
Once your hair has fully cooled down from the curling process, it's time to set those waves in place. Opt for a lightweight, flexible hairspray. Mist it over your hair from a distance to ensure even distribution without wetting or weighing down your newly formed waves. If you're after more volume, flip your head upside down and give a quick spray to the roots. This not only sets the curls but gives that desirable tousled volume.
Conclusion
Achieving the perfect tousled hairstyle, characterized by its playful waves and relaxed vibe, is simpler than one might think. Equipped with the proper tools and a grasp on the right techniques, anyone can master this chic, wavy style that has consistently dominated the beauty and fashion scene for years.
This hairstyle exudes a carefree, beachy essence, making it a favorite among celebrities and hair enthusiasts alike. Whether for a casual day out or a more formal event, the tousled look offers versatility and timeless appeal, ensuring you're always in style.
In case you want more content like this, visit Orderific right now!
FAQs
Why is curly hair so attractive?
Curly hair stands out because of its volume, texture, and the way it frames the face. It exudes a youthful and playful vibe that many find appealing.
How to achieve a messy hair effect?
Messy hair can be achieved using a combination of the right styling products like salt spray or texturizing mousse, and techniques like scrunching or tousling with your fingers.
What is the best way to style curly hair?
Styling curly hair requires hydration. Use leave-in conditioners, serums, and curl creams. For styling, consider techniques like finger coiling or using a diffuser for added volume.
How to get messy hair without hair products?
Messy hair can be achieved by braiding damp hair overnight, and then letting it loose in the morning, or by using a flat iron to create waves.