Introduction
Emerging cafe management tools can revolutionize your establishment's operations, but proper employee training is paramount for effective implementation. This guide shares best practices for equipping your employees with the necessary knowledge and skills, using a blend of training methods for optimal learning. We'll examine how structured training programs and targeted training opportunities enhance functionality and boost customer service. Whether you're introducing new employees to the system or upgrading the skills of existing staff, the right training course and resources can make all the difference. We'll also touch on the role of generative AI and performance cookies in crafting an engaging, interactive training session. By investing in your team's learning journey, you're bolstering employee engagement and propelling your cafe to new heights of success.
A 10 Step Guide To Cafe POS System Training With Your Staff
1. Involve Your Staff Early On
1.1 Initial Engagement: The First Step
The initial step in implementing new cafe management tools is to involve your employees from the beginning. By engaging your employees early on in the decision-making process, you foster a sense of ownership and empowerment among the staff. This encourages a proactive approach to learning and skill development, setting the tone for the forthcoming training program.
1.2 Employee Involvement: A Key To Success
In a café setting, employees are essential in delivering exceptional customer service. Hence, their input during the selection of new management tools can be invaluable. Their involvement helps identify specific training needs and aligns the training program with actual on-the-job requirements. This approach lays a strong foundation for meaningful learning and successful implementation of the new tools.
1.3 Benefits Of Early Employee Involvement
Early employee involvement in training decisions fosters a more substantial commitment to learning. Employees who see their suggestions and ideas incorporated into the training program feel more engaged and motivated to enhance their skills. In addition, involving employees early can help identify potential training opportunities and learning styles, ensuring each employee can get the most out of the training sessions.
1.4 Role Of Generative AI In Employee Involvement
Generative AI offers innovative methods for involving employees in training decision-making. It can be used to automate the collection of employee feedback and suggestions, helping to identify common themes and potential areas for improvement. With insights from generative AI, trainers can design more interactive and engaging training sessions.
1.5 Utilizing Performance Cookies In Training
Performance cookies contribute significantly to creating customized, interactive training sessions. These digital tools track an employee's training progress and provide real-time feedback, enabling trainers to adjust the training course as necessary. Performance cookies aid in identifying knowledge gaps and areas of strength, ensuring that every learning opportunity is maximized.
1.6 Utilizing Official Websites For Learning Resources
Official websites of cafe management tool providers often offer a wealth of training resources. From basic training tutorials to in-depth certification programs, these resources supplement your in-house training program. Employees can explore these resources at their own pace, reinforcing their knowledge and enhancing functionality skills.
1.7 Importance Of Soft Skills In Training
Training employees on new cafe management tools should go beyond technical skills. Soft skills like communication, teamwork, and problem-solving play a crucial role in successful tool implementation. Therefore, your training program should also focus on developing these essential soft skills.
This comprehensive approach to employee training not only equips your staff with the necessary technical skills but also fosters an environment of continuous learning and growth. By prioritizing employee involvement, utilizing generative AI and performance cookies, and incorporating a variety of training methods and resources, your cafe can master the latest management tools and deliver an unmatched customer service experience. Remember, your employees are your greatest asset, and their knowledge and skills are the catalysts for your cafe's success.
2. Provide Training
2.1 Structured Training Sessions
Training is crucial for employees to fully grasp and effectively use new café management tools. Consider conducting structured sessions that provide a comprehensive understanding of the tools. In these sessions, employees can actively participate, ask queries, practice, and get familiar with the system. This approach promotes confidence and competence in using the tools.
2.2 Hands-On Training
While theoretical knowledge is necessary, hands-on training is equally essential. It allows employees to apply their learning in a safe environment, understand the implications of each action, and learn from their mistakes before they start using the tools in the actual work scenario.
2.3 Role-Play Scenarios
Role-play scenarios can significantly enhance the training experience. They allow employees to understand how to use the tools in different situations they may encounter in their daily tasks. This improves their problem-solving abilities and prepares them for real-world application of the devices.
2.4 Continuous Learning Opportunities
Providing continuous learning opportunities is essential once the initial training sessions are over. This could be through refresher courses, advanced training, or online resources. Continuous learning ensures that employees keep their skills up to date and can adapt to any updates or changes in the management tools.
The training process is not a one-time event but a continuous journey. It needs to be interactive, engaging, and flexible to cater to the learning needs of all employees. Practical training empowers employees to proficiently use the new café management tools proficiently, leading to improved operational efficiency and customer service.
3. Don't Overwhelm Them And Focus On The Essentials
Introducing new cafe management tools can be a complex process that might overwhelm employees if not handled carefully. To mitigate information overload, focusing on the essentials during the initial training phase is crucial. Prioritize the most commonly used features and functions rather than attempting to cover all parts and functionalities at once. This allows employees to grasp the core aspects of the tools, laying a solid foundation for further learning. You can gradually introduce more advanced features as employees gain mastery and confidence. Remember, the goal is to equip your staff with the practical knowledge they need to perform their daily tasks efficiently.
Providing too much information simultaneously may need to be clarified and demotivate them. Hence, pace your training gradually and systematically, ensuring each employee fully comprehends and integrates each aspect of the tools into their workflow before moving on to the next. This approach enhances learning retention and facilitates smoother and more efficient tool implementation.
4. Set A Dry-Run
Before diving into live operations with the new cafe management tools, setting a 'dry-run' or practice scenario can be extremely beneficial. It gives your staff an opportunity to apply their newfound knowledge and skills in a controlled, risk-free environment. A dry-run provides a real-world context for the theoretical concepts learned during training, reinforcing this knowledge and offering a clearer understanding of the practical aspects of the tools. Employees can experiment with various features, make mistakes, learn from them, and get a feel for the tools without the pressures of a live cafe environment. It also allows for instant feedback and correction, helping to address any misunderstandings or gaps in knowledge. Furthermore, a dry-run can boost employee confidence, ensuring they feel comfortable and ready when it's time to implement the tools in real-time operations. Remember, practical experience often proves to be the most powerful teacher, solidifying learning and enhancing operational efficiency.
5. Take Feedback And Encourage Questions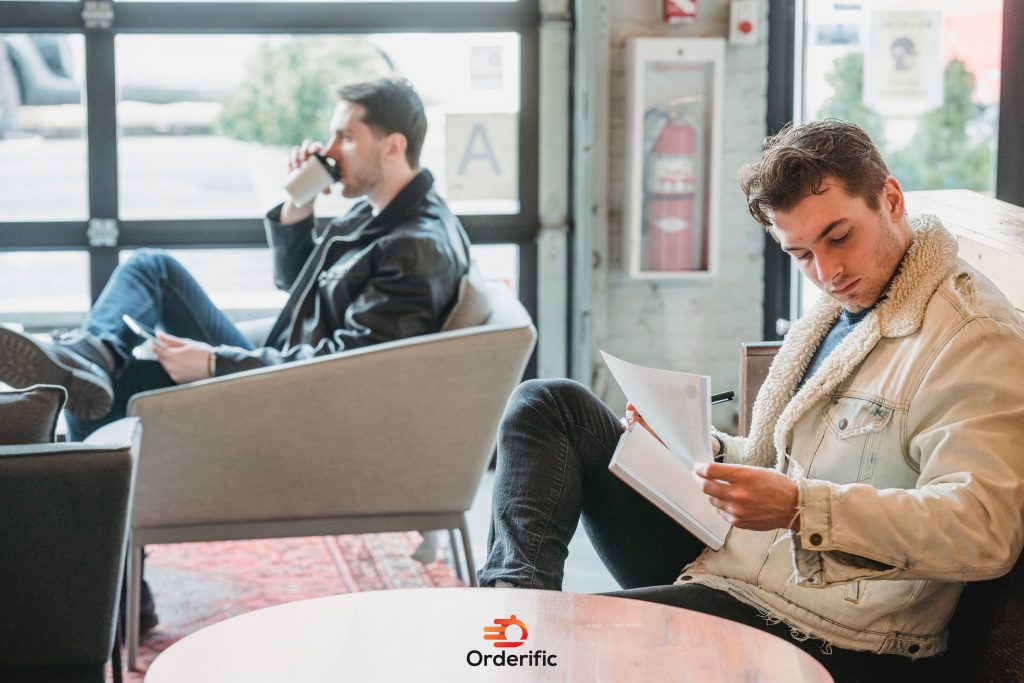 Encouraging feedback and questions is a crucial aspect of employee training. It fosters an open dialogue between the trainers and employees, enabling custom-tailored training content and addressing individual learning needs. Encourage your staff to voice their thoughts, concerns, or suggestions about the new cafe management tools. This approach not only clarifies any misunderstandings or doubts but also provides valuable insights into areas of the training program that could be improved or expanded. Furthermore, it nurtures a culture of continuous learning and improvement within the organization. By facilitating an environment where questions are encouraged and feedback is valued, you empower your employees to take charge of their learning journey and become proficient users of the new tools, ultimately improving the overall operational efficiency of your cafe.
6. Nurture Your Superstars
In every team, there are individuals who naturally grasp new concepts faster than others. Identifying and nurturing such superstars in your staff during the training phase can be highly beneficial. These employees can become 'go-to' resources for other staff members, providing peer assistance and sharing their knowledge and expertise. This does not only enable peer-to-peer learning, but it also builds an atmosphere of teamwork and cooperation. Furthermore, these superstars can offer valuable insights and feedback on the training process, helping to shape future training initiatives. Additionally, their proficiency with the new tools can serve as a beacon of motivation for other employees, encouraging them to enhance their own skills. It's essential to acknowledge and reward these superstars for their contribution, to keep them motivated and committed to their role as informal leaders within your staff.
7. Reward The Natural Leaders
Recognizing and rewarding the natural leaders among your staff is a key step in successful management tool training. These individuals, with their innate leadership qualities and advanced grasp of the new tools, can act as mentors within your team, guiding their peers through the learning process. Their ability to lead by example, clarify doubts, share knowledge, and provide on-the-job training can significantly enhance the overall learning experience for the entire team. Furthermore, their active involvement and initiative in training can stimulate a positive, collaborative learning environment, fostering teamwork and mutual growth. Rewarding these natural leaders for their contributions not only motivates them to continue their supportive roles but also inspires others to follow in their footsteps. This strategy of recognizing and utilizing natural leaders proves to be a highly effective method of optimizing training output, accelerating the adoption of new cafe management tools, and driving your cafe's success.
8. Encourage Staff To Self-Teach
Promoting a culture of self-teaching is valuable in the successful implementation of new cafe management tools. Encouraging your staff to independently explore and learn the ins and outs of the tools can foster a sense of ownership and enhance their problem-solving capabilities. This approach promotes active engagement and continuous learning, which are critical for mastering new technologies. Self-teaching also allows your staff to learn at their own pace, ensuring they thoroughly understand the tool's functionalities and can effectively apply them in their work. Provide them with access to a variety of resources, such as online tutorials, manuals, and user forums, that they can utilize in their self-learning journey. Remember, while structured training sessions are important, self-teaching instills a deeper understanding and long-term retention of knowledge, ultimately driving the successful usage of your new cafe management tools.
9. Let Them Know How It Directly Benefits Them
Employees are more likely to embrace new cafe management tools if they understand the direct benefits these tools can provide them. Therefore, make it a point to highlight how mastering these tools can make their jobs easier, increase their efficiency, and enhance their career skills. For instance, these tools can automate routine tasks, giving them more time to focus on customer service. They can also provide valuable insights to help them make data-driven decisions, increase their productivity, and potentially increase their chances of career advancement. By understanding the direct personal benefits, employees will be motivated to actively engage in the learning process and master the use of these tools. This, in turn, can lead to improved operations, higher customer satisfaction, and overall success for your cafe.
10. Lean On Your POS Support Team For Quick Service
Your Point of Sale (POS) support team can play an instrumental role in successful tool implementation. These professionals are adept at troubleshooting any issues and providing quick solutions, minimizing downtime and ensuring smooth operations. Utilizing their expertise can significantly expedite the learning curve for your staff, enabling them to quickly adapt to the new system. Moreover, they can provide customized training sessions and resources based on your specific needs. This can support your employees' self-teaching efforts while also supplementing structured training programs. The POS support team can also help showcase the benefits of the new tools to your staff, helping them see the value in mastering them. Ultimately, leaning on your POS support team can help foster a smooth, efficient, and successful transition to your new cafe management tools, enhancing your cafe's overall operational efficiency and customer service quality.
Conclusion
Implementing new cafe management tools can be a transformative process for your cafe, fostering operational efficiency, improving customer service, and ultimately driving success. However, the key to successfully navigating this transition lies in the training you provide your employees. From structured training sessions and hands-on practice to continuous learning opportunities and fostering a culture of self-teaching, it's imperative to adopt a multifaceted approach to training. Encouraging feedback, nurturing your superstars, and rewarding natural leaders further enhances the training process. Remember, your employees are the backbone of your cafe, and empowering them with robust knowledge and skills is a surefire way to optimize the potential of your new management tools.
If you're ready to start this transformation, consider scheduling a demo with Orderific. Our team has extensive experience in supporting cafes just like yours in implementing new management tools. We can provide customized training resources, ongoing support, and hands-on assistance to ensure your staff master the tools and harness their full potential for the benefit of your cafe. To schedule a demo, simply click here. We look forward to partnering with you on this journey towards greater success.
FAQs
Why is it important to train staff on new cafe management tools?
Training is essential to ensure efficient use of the tools, improve service quality, and enhance operational efficiency.
What are the key features of these tools that staff need to be trained on?
Key features include inventory management, order tracking, customer relationship management, and reporting.
How long does it typically take to train staff on new cafe management tools?
The training duration can vary, but typically takes a few weeks for complete proficiency.
Are there resources available to support ongoing training as tools evolve?
Yes, there are continuous training resources like online tutorials, user forums, and support from the POS team.
How can training on new tools enhance staff efficiency and customer service in cafes?
Training equips staff with essential skills to use new tools effectively, leading to quicker service, improved order accuracy, and enhanced customer satisfaction.