In the ever-evolving realm of coffee, the diverse types of espresso drinks have carved a unique niche, merging the precision of science with the creativity of art. They cater to both the aficionado who relishes every aroma and the occasional drinker just seeking a caffeine fix. 
Delving into the world of espresso means understanding the intricate dance between milk, coffee, and sometimes, even flavors like caramel or chocolate. From the light and airy feel of a macchiato to the indulgent, chocolaty embrace of a mocha, this guide is your treasure map to navigating and relishing the multifaceted universe of espresso concoctions.
Types Of Espresso Drinks
Coffee is not just a drink; it's an experience. For many, it's a ritualistic start to the day, a mid-day pick-me-up, or a social lubricant. At the heart of this revered beverage lies the espresso, the potent shot that serves as the foundation for a plethora of coffee concoctions. Let's dive into the fascinating world of espresso drinks, unraveling each one's unique characteristics.
Doppio:
Dive deep into the world of intense coffee with a Doppio. Literally translating to "double" in Italian, a Doppio offers double the pleasure. Served as two espresso shots, it caters to those who yearn for a bolder, more concentrated flavor. Ideal for mornings when you need an extra boost, or for days when a single shot just won't do.
Caffé Latte:
Imagine a harmonious dance of bold espresso with silky steamed milk, culminating in a coffee masterpiece. That's the Caffé Latte for you. The beauty lies in its simplicity and balance. Every sip provides the robustness of the espresso shot mellowed by the creaminess of milk. Whether sipped in the quiet of a morning or paired with an evening dessert, it never fails to charm.
Espresso Macchiato:
The Espresso Macchiato is a testament to the idea that sometimes, less is more. This minimalistic beverage packs a punch. The light touch of steamed milk is like a gentle stain or "mark" on the robust espresso, lending a whisper of creaminess without overpowering the coffee's essence. It's perfect for those who appreciate the strength of espresso but desire a slight milk mellowness.
Red Eye / Black Eye / Dead Eye:
These aren't just coffee drinks; they're powerhouses. Combining the earthiness of drip coffee with the robust essence of espresso shots, each variant offers a unique caffeine level. The Red Eye provides a gentle lift, the Black Eye gives a stronger jolt, while the Dead Eye is for the brave-hearted, seeking the ultimate caffeine rush.
Americano:
Named presumably for Americans in Europe who sought a coffee closer to their familiar drip brew, the Americano elegantly stretches the intense flavor of an espresso shot with hot water. It's like a watercolor painting, where the espresso paints vibrant strokes, and the water dilutes it to create a masterpiece.
Ristretto:
Ristretto is the espresso's even bolder cousin. Brewed with half the water typically used for an espresso, every drop of a Ristretto sings of concentrated coffee goodness. It's an ode to coffee purists, offering an intense, full-bodied flavor experience.
Cappuccino:
Layered, luscious, and luxurious—three words that encapsulate the essence of a Cappuccino. An equilibrium of espresso, steamed milk, and a cloud of milk foam, it's like tasting three drinks in one. The foam insulates the drink, keeping it warm, while offering a delightful texture contrast.
Mocha:
Mocha is where coffee meets indulgence. Picture the depth of espresso blending seamlessly with rich chocolate, rounded off with steamed milk. Often crowned with a dollop of whipped cream, it's a drink, a dessert, a delight!
Espresso Martini:
When the worlds of coffee and cocktails collide, magic happens. The Espresso Martini is sophistication in a glass. Cold, crisp, with the deep notes of espresso complemented by the punch of vodka and sweetness of coffee liqueur, it's elegance and excitement, all in one sip.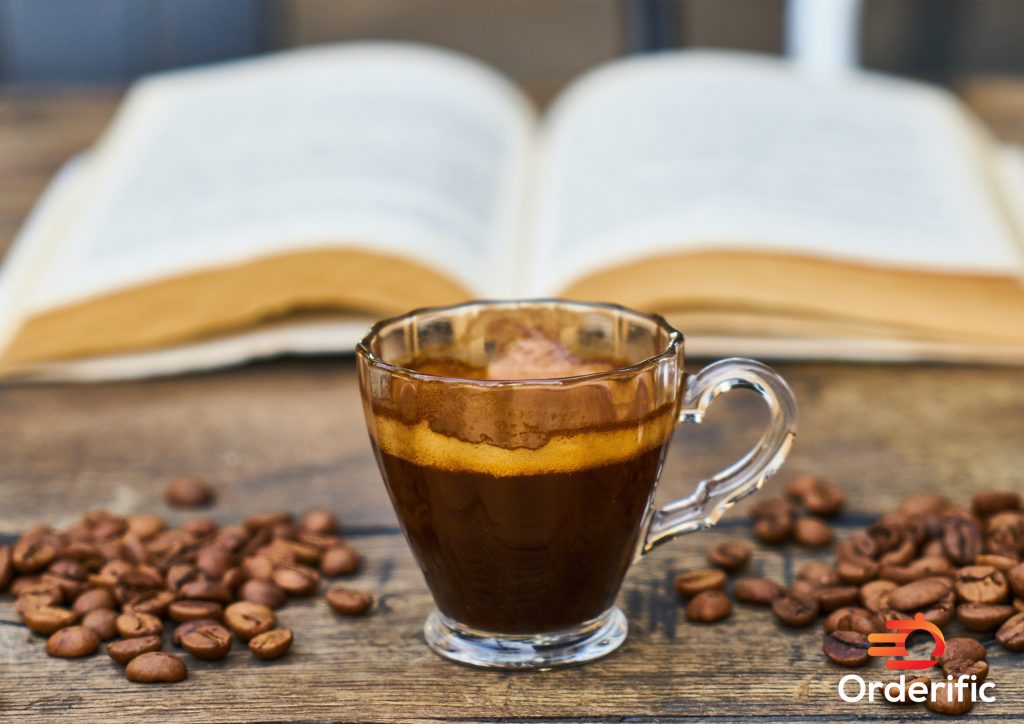 Is Drinking Espresso Bad For You?
Espresso, a concentrated form of coffee, has been a favorite pick-me-up for many around the world. The rich aroma and intense flavor make it not only a beverage but an experience. However, as with most things in life, moderation is crucial. While a shot or two of espresso can boost alertness, improve mood, and even offer antioxidants, overindulging might have its drawbacks.
Excessive caffeine intake can result in symptoms like jitters, an increased heart rate, stomach upset, and disrupted sleep patterns. Therefore, while savoring your espresso, it's essential to strike a balance, ensuring you reap the benefits without the unwanted side effects.
Which Drink Has The Most Espresso?
In the bustling world of coffee shops and varied menus, if one is searching for a drink that packs the most caffeine punch, the Dead Eye takes the crown. Typically, this robust beverage consists of regular drip coffee combined with three shots of espresso. However, coffee aficionados and those seeking an extra jolt can often find or request variations.
Some establishments or custom orders might even push beyond the three-shot mark. While it's an exhilarating experience for some, it's essential to consume such high-caffeine drinks judiciously to ensure it complements your day rather than leaving you jittery.
How To Drink Espresso
The world of espresso is rich and aromatic, deserving more than just a hurried gulp. For a true espresso experience, begin by inhaling its fragrance, letting the aroma tell the first part of the coffee's story. Then, as you take the first sip, let it roll over your tongue, allowing the layered flavors to unfold.
Whether it's the hint of caramel, chocolate, or even fruity undertones, sipping slowly reveals the complex profile of the coffee bean. So, the next time you're presented with a shot of espresso, remember it's not just about the caffeine jolt; it's a journey of taste and appreciation.
Conclusion
Espresso drinks are like a treasure trove for the taste buds, presenting a spectrum of flavors that cater to every palate. The sheer intensity of a pure espresso shot can be an awakening, making you appreciate the essence of a coffee bean.
On the other end of the spectrum, there are velvety concoctions that blend the boldness of espresso with the creaminess of milk and other delights, creating a harmonious dance of flavors in your mouth. No matter your preference, in the expansive universe of espresso beverages, there's undoubtedly a drink tailored to your taste, just waiting to be discovered and cherished.
In case you want more content like this, visit Orderific right now!
FAQs
What's the difference between a latte and cappuccino?
While both have espresso and steamed milk, a cappuccino has a thicker layer of microfoam on top, while lattes have more steamed milk.
How is a macchiato different from an espresso?
Macchiato has a touch of steamed milk, essentially "staining" the espresso, and adding to the flavor.
What's in an Americano coffee?
An Americano is made by adding hot water to an espresso, diluting its strength but retaining its taste.
How do I order a mocha at a café?
Ask for a mocha! You can specify the type of milk or any additional flavorings you want, as there are many to choose from.
Are there decaffeinated espresso options?
Absolutely! Most coffee shops offer decaffeinated beans for those wanting the taste without the caffeine kick.