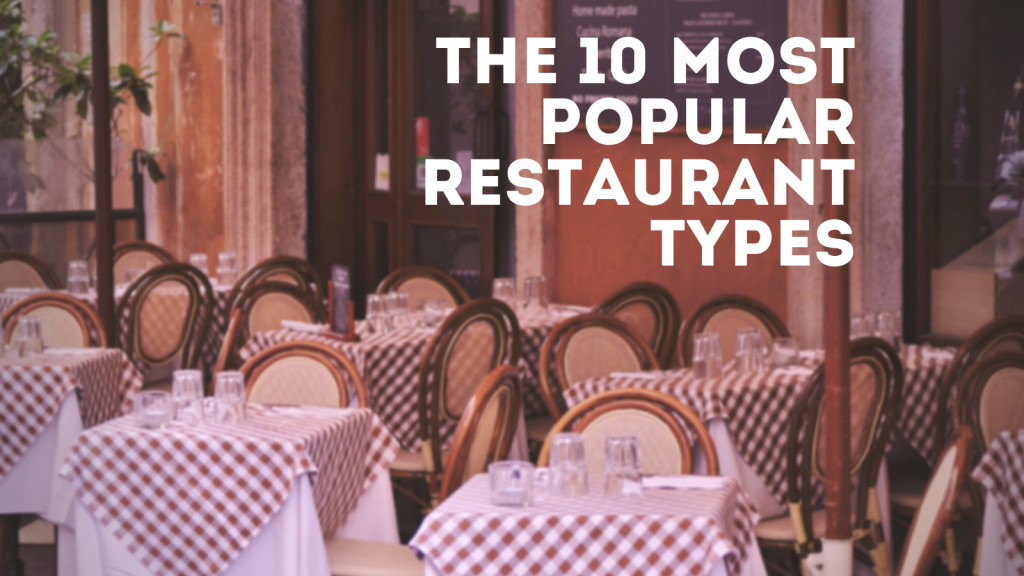 The different types of restaurants continue to widen, from the white tablecloth restaurant with a three-page wine menu to hip downtown vegan eateries serving herb-infused cocktails.
Although each restaurant has its unique ambiance and feel, it is still possible to distinguish restaurants based on common factors.
When you're looking to open a restaurant, there are a lot of things you need to think about. But what are the most popular Restaurant types?
Let's take a look at them!
Different Types of Restaurants
These are the ten most common types of restaurants you need to know.
Fine Dining restaurants
These restaurants offer diners a high-quality meal experience comprising several courses like dessert, salad, appetizer and entrée.
These dining restaurants have a stylish atmosphere full of elegance, exclusivity, and class.
Most people may only visit high-end establishments for special occasions, like anniversaries, birthdays, and weddings.
The majority of fine dinner restaurants have the following characteristics:
Formal dress code and fine dining etiquette is required
Formal atmosphere with high-end decor
Generally, more attentive staff members who follow certain etiquette for taking and serving meals
Menus that feature exotic or interesting dishes and ingredients
Sommeliers are available to help you with food and wine pairings
These establishments may operate as a franchise to gain a broad appeal or in a single location to increase their sophisticated image.

Casual Dining Restaurants
These dining restaurants make up a large segment of the restaurant industry. Their ambiance varies depending on the brand and intended customer base.
These restaurants range from local independent establishments to larger franchises. Many of them share the following qualities:
Have menus with moderate prices
Offer table service and sit-down meals
Have a unique décor that makes the dining experience stand out.
Oversized and comfortable seating.
Depending on the cuisine, a customer dining at this restaurant can find nearly any food items from a salad bar, spaghettis, Pad Thai, and all-day breakfast staples, such as pancakes and waffles.
Casual establishments are in nearly city and they meet the need for regular meals and for more special occasions. These restaurants are quite profitable because their prices are higher than fast food restaurants.
They therefore make more money per dish sold. These restaurateurs depend on customers spending more on drinks and desserts, which drive their profits higher.

Contemporary Casual Restaurants
The contemporary restaurants have emerged as a new restaurant type recently.
These types of eateries are modern and trendy and have a distinct brand with the following characteristics
They offer a sit-down experience emphasizing the atmosphere and experience.
Culinary trends, such as fusion cuisine, craft beverages, sustainability and farm-to-table, are popular with today's consumers.
They follow eco-friendly protocols when serving unique, healthy food options.
They usually do table service.
They emphasize visuals with Instagram-worthy décor and food presentation
Many of these restaurants are known for mastering a specific meal — for instance, they may have a delicious brunch that is popular known and that cause people queueing to eat them. down the block.
This type of restaurant is profitable because it is famous among the younger generation. They can also gain popularity quite quickly for a signature dish that everyone loves and talks about. These restaurateurs can gain a good reputation for specializing in dishes like Mexican Taco Salad or homemade Ginger Beer to ensure profitability.
Family Style Restaurants
A family-style restaurant is similar to a casual dining restaurant, but the major difference that stands out is that:
Attendants serve food in large dishes for customers to serve and pass it to other diners at the table.
These restaurants usually have a relaxed atmosphere compared to the fine dining and casual dining models.
They serve families with children or groups of friends.
They offer table service.
Fast Casual Restaurants
These casual restaurants are specific to customers looking for a relatively quick service restaurant that is healthier than fast food, and more affordable than casual dining establishments. They have the following characteristics:
They offer higher quality food and charge higher prices than fast food but lower than casual dining.
As opposed to table service, they offer counter service.
They have a more casual, contemporary style and decor.
Pop Up Restaurant
These restaurants allow chefs, owners, and guests to try out new food and restaurant concepts and creations. Some of the qualities of these restaurants include:
Temporary operation from a few hours to a few months
They vary in location from shipping containers to outdoor spaces and rooftop gardens
They have a contemporary concept
They may include food stands, food service trucks, or full table service
They rely on technology and social media to announce their presence.
These eateries are profitable because they are temporary and do not incur many regular expenses that other restaurants have to pay. For example, rent and expensive equipment. The costs are kept down because restaurateurs are not running a full restaurant operation.

Ghost Restaurants
These restaurants are also known as virtual restaurants or delivery-only restaurants. They are characterized by:
They don't have a store front and receive orders for delivery by phone.
These restaurants have minimal overhead costs because they don't have dining rooms, a host stand, or a welcoming bar area. There is no sign out front.
Owners and chefs have time to focus on efficiency and developing quality culinary creations.
They enjoy the flexibility to alter their menus because they don't need to change physical copies but to update their online websites.
They have a partnership with third-party delivery services, like UberEats, Orderific, Dashdoor etc.
They offer many types of meals.
They have a strong website and social media presence.
These restaurants are profitable because they often consist of just a kitchen and a few delivery drivers, and receive their orders only from online ordering.
These kitchens, incur lower costs associated with their operation. They are therefore more profitable than a traditional type of restaurant. Restaurants located in the United States should consider virtual restaurant business expansion with DoorDash.
If you would like to learn more about Ghost Kitchen's take a look at our blog post "5 reasons why ghost kitchens are becoming popular"


Buffet Restaurants
These restaurants allow guests to customize their meals by providing different options. Some are known as "All You Can Eat" restaurants.
This concept may specialize in specialty cuisine that includes pizza, Indian, Chinese, "home cooking," and breakfast foods and more. These are the common characteristics of a buffet restaurant:
They provide different varieties of foods at a fixed price
Guests serve themselves food on buffet bars
It features an extensive selection of foods which may include soup, salad, appetizers, hot entrees, dessert, and fruit
Some restaurants provide one or multiple cuisines
The décor is usually casual yet elegant
These are very popular in college towns due to the one price for an all you can eat menu.
Food Trucks and Concession Stands
These eateries can take various forms for example, the city street falafel truck and a hot dogs stand in your baseball game or your organic burger meal truck.
These trucks are convenient options because owners purchase a small truck or stand instead of renting or buying a large brick-and-mortar space.
These trucks and concession stands have the following characteristics:
Have small menus of a singular type of food like ice cream, sandwiches, smoothies, etc.
They are found outdoors at sporting events, fairs, or city streets.
Food is sometimes partially made or fully pre-made.
Generally, these eateries are categorized together with fast food restaurants as they focus on speedy delivery.
Café
This is the simplest form of restaurant and it is beverage-focused.
They mainly offer coffee, tea, and a smaller menu of food or snacks. Their prices range from low to moderate.
Each country has different traditions for enjoying its caffeinated brews —for example, in the US, coffee is usually consumed on the move in large cups.
However, around the world, many people sit and sip coffee for hours.
They are very popular because they serve as a social meeting place for many people, can be a mobile office, a leisure spot, or a convenient place to watch a match or a quick bite.
These restaurants normally serve large quantities of hot or cold caffeinated beverages to regular clients. They are profitable because of the low cost of simple beverage drink ingredients and they can outsource the snacks for less operating costs.
This is unlike other types of restaurants where extensive food preparation costs can add up. Additionally, the staff requirements at a café are fewer than in a full-service restaurant and its decor is usually minimal. Many have the following attributes:
Mainly serve coffee, tea, and small items for breakfast and lunch
They provide a relaxed atmosphere in busy street corners.
Conclusion
Opening a new restaurant can be an exciting time for you as an entrepreneur. However, the type of restaurant you choose to run influences everything about your business.
The type of restaurants that will get noticed easily requires thinking strategically and answering big questions. Though are many types of restaurants and cuisines you can choose from, knowing the pros and cons of each type will help you determine a successful restaurant type.
Also consider the business strategy, expected profits, and consumer preferences and you will choose the model that suites you best!
If you are opening one of the restaurant types and dont know where to start, take a look at Orderific's free resources to help you get started and grow your business form the beginning.
You can get your own free website with online ordering integrated , your own digital menu with order and pay options that help you reduce labour costs.
FAQs
What is the most popular type of restaurant?
The most popular type of restaurant can vary by region and culture, but globally, casual dining restaurants tend to be widely popular.
What type of restaurant is most profitable?
The profitability of a restaurant depends on various factors, but fine dining establishments and those with a unique, in-demand concept often have higher profit margins.
What are the most popular menu types?
The most popular menu types can include a range of cuisines, but globally, Italian, Chinese, and American menus are often among the most popular.
What's the #1 restaurant in the world?
The title of the "#1 restaurant in the world" can change annually, as it's typically determined by rankings like the World's 50 Best Restaurants list.