Introduction
UX in hotel software is a pivotal factor shaping its trajectory in the ever-evolving hospitality industry. In this increasingly digital age, hotel booking has shifted predominantly online, necessitating an intuitive, smooth, and engaging user experience. The focus has transitioned from merely providing a service to creating memorable guest experiences, starting right from booking. Whether it's a hotel website or a mobile app, UX design must be balanced.
As we explore this topic, we'll delve into the impact of UX design on hotel booking apps, the importance of user testing in app development, and the relevance of UI/UX design in the hospitality industry. This discussion seeks to illuminate the path for hotel managers aiming to leverage software development for improved guest experience and for UX designers striving to innovate in this dynamic domain.
Why Software UX Matters
Imagine a potential guest visiting a hotel website, intending to book a room for their upcoming vacation. The website design, intuitiveness, and user flow directly impact their booking journey, shaping their initial impression of the hotel. The difference between a smooth, engaging booking process and a complicated one could mean between a successful booking and a lost opportunity.
UX design plays a crucial role here. A well-designed user interface with easy navigation can simplify the booking process, making it a delightful experience for the user. By relying on user testing, UX designers can optimize the user journey on the hotel website and mobile app, allowing users to make direct bookings easily.
Furthermore, the UX design process is iterative. Designers must continually refine and enhance the product based on user feedback and evolving UX trends. For instance, an innovative feature such as virtual reality for previewing hotel rooms could enhance guest experience.
Crucial UX Components Of A Perfect Hotel Website Or App
A Last-Minute Hotel Booking Feature
Providing a last-minute hotel booking feature within a website or app is a crucial UX element in the hospitality industry. This feature not only caters to the needs of spontaneous travelers but also helps hoteliers maximize occupancy levels. A user-friendly interface allowing quick and hassle-free last-minute bookings can significantly enhance the guest experience. The booking process should be streamlined, with minimal steps involved – from room selection to payment. It should also incorporate real-time room availability and provide various convenient payment options.
Upselling Additional Services
Another key UX component in hotel software is the ability to provide personalized suggestions and recommendations. By leveraging data on customer preferences and previous behavior, the software can offer tailored advice for room upgrades, add-on services, or even local tourist attractions. This personal touch elevates the user experience and leads to increased sales and customer loyalty. Rendering a service attuned to the guests' preferences can significantly enhance their overall hotel booking experience, making it memorable and more likely to be repeated.
In-App Messages, Chatbots, Push Notifications, And Emails
Maintaining a steady line of communication with the user in digital hospitality is paramount. This can be achieved via In-app messages providing real-time updates, ensuring that the user stays informed about their bookings, changes, and other crucial information. Chatbots, on the other hand, serve as a virtual concierge, providing immediate responses to user queries and thus making the user experience more efficient and satisfactory. Push notifications keep users engaged, reminding them of upcoming bookings, special offers, or any changes to itineraries. Lastly, personalized emails can help foster a deeper relationship with the user, serving as a tool for providing detailed information and marketing new offers or services.
Cost And Time Effective
A well-implemented UX design is not just beneficial for guests, but also for hoteliers, contributing significantly to cost and time efficiency. Hotel software that is designed with a focus on user experience can streamline various processes, from booking to guest services, thereby reducing administrative tasks. This allows hotel staff to focus more on providing a top-notch guest experience, instead of getting entangled in paperwork or manually managing bookings.
A user-friendly booking process reduces abandoned bookings, boosting revenue. Investing in good UX design yields high returns. A well-designed interface enables quick and effortless bookings, saving guests time.
Innovative And Personalized Customer Experiences
The capacity to deliver innovative and personalized customer experiences is the key to standing out in a competitive industry like hospitality. Tailored experiences resonate with customers, making them feel valued and increasing their likelihood to return. A hotel booking software that leverages AI and machine learning can discern patterns in guest preferences and behaviours, enabling it to recommend personalized experiences.
As we step further into the digital age, innovation is at the forefront of change. Hotel booking software that incorporates features such as virtual hotel tours or digital check-ins can make a significant difference in enhancing the user experience. It's about integrating technology in ways that add value and convenience for the user, creating an overall seamless and enjoyable booking experience.
Things To Considers For Your Hotel Software UX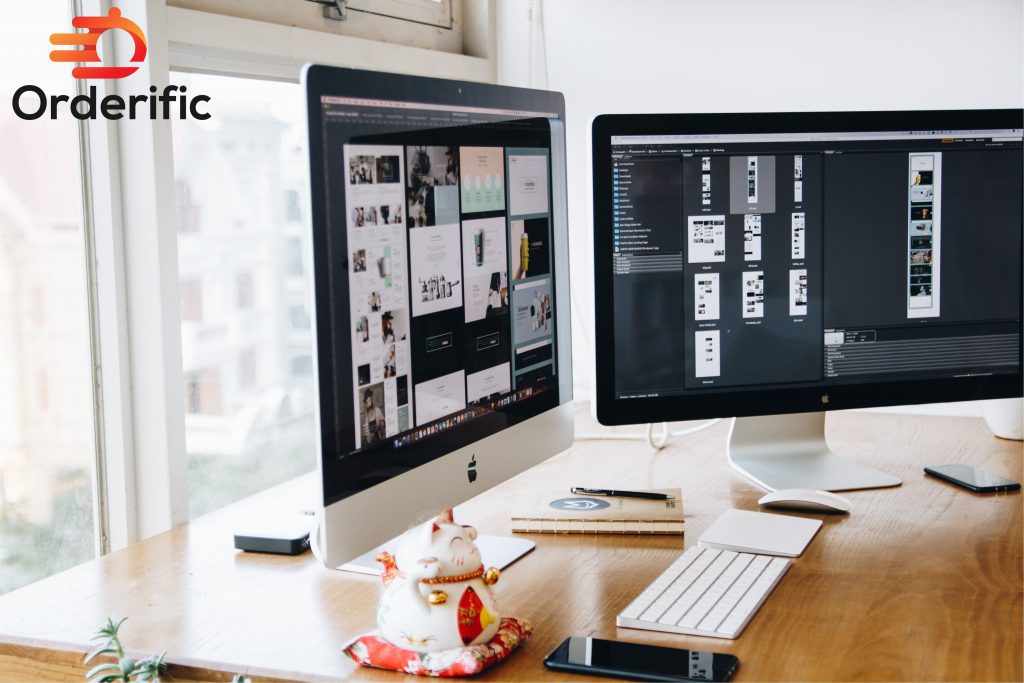 Ease Of Navigation With UX In Hotel Software
One of the most important aspects to consider in hotel software UX design is ease of navigation. The software should be intuitive and user-friendly. Which allows guests to effortlessly move through the booking process, from room selection to payment. Complex or confusing interfaces can lead to abandoned bookings, negatively affecting the hotel's bottom line.
Mobile Responsiveness
With the growing use of mobile devices for online bookings, ensuring your hotel software is mobile-responsive is paramount. The UX should be as seamless and intuitive on a smartphone or tablet as it is on a desktop. This includes easy readability, streamlined layout, and efficient loading times. A mobile-optimized interface can significantly enhance the user experience, leading to increased bookings and guest satisfaction.
User Feedback
Engaging in consistent user testing and feedback is crucial in refining the UX of hotel software. This allows designers to understand the needs of the users better and to make necessary adjustments. Regularly updating and improving the software based on user feedback is pivotal in maintaining an effective, user-centric design.
Personalize With UX In Hotel Software
Incorporating personalization into your hotel software UX can make the user feel valued and enhance their overall experience. This could include personalized recommendations based on past bookings or preferences, or tailored messages and notifications. By acknowledging and catering to the user's unique needs and preferences, you can foster a sense of loyalty, encouraging repeat bookings.
Integration Of Innovative Features
The integration of innovative features can significantly elevate the user experience. For instance, virtual hotel tours can give guests a realistic view of the hotel amenities, or digital check-ins can save considerable time and hassle. By staying ahead of technological advancements and integrating them into the UX, you can make the booking process more efficient, engaging, and memorable for the users.
How To Use UX Design To Increase Hotel Conversion Rate?
UX Design can significantly boost hotel conversion rates by enhancing the overall user experience. This involves ensuring the hotel software has an intuitive and easy-to-navigate interface, with a quick, hassle-free booking process. The software should also be optimized for mobile devices. Considering the growing trend of online bookings made via smartphones or tablets. Regular user feedback and testing is crucial to continuously improve the design and keep up with the evolving needs of the users. Personalization is another key aspect, as tailored recommendations and messages can make users feel valued and encourage repeat bookings. Lastly, staying updated with technological advancements and integrating innovative features like virtual tours or digital check-ins can make the booking process more engaging and memorable.
UX Best Practices For Hotels
Creating an impressive digital experience is paramount for hotels aiming to drive bookings and enhance guest satisfaction. Here are some best practices to ensure an outstanding user experience:
Simplicity is key: Design the user interface to be simple, clean, and intuitive. Minimize complexity to prevent users from abandoning their bookings.
Mobile optimization: As mobile bookings continue to rise, ensure that your hotel software is mobile-responsive. The user experience should be seamless across all devices.
Leverage user feedback: Regularly conduct user tests and gather feedback to understand user needs and refine the software accordingly.
Offer a personalized experience: Incorporate features that offer tailored recommendations based on user preferences to enhance the overall experience and foster guest loyalty.
Innovate continuously: Stay ahead of technological trends and incorporate innovative features such as virtual tours or digital check-ins.
Conclusion
In conclusion, the User Experience (UX) in hotel software design plays a pivotal role in fostering guest satisfaction, loyalty, and boosting conversion rates. Through a combination of factors such as easy navigation, mobile responsiveness, actionable user feedback, personalization, and the integration of innovative features, the UX can enhance the overall guest journey, making it seamless and enjoyable. It bridges the gap between technology and hospitality, creating memorable experiences that resonate with guests long after their stay. By marrying these user-centric design principles with technology, hotels can significantly elevate their digital presence, standing out in a competitive industry. Interested in experiencing the transformation that a well-crafted UX can bring to your hotel software? Contact Orderific today to schedule a demo and take the first step towards revolutionizing your digital hospitality service.
FAQs
What softwares do hotels use?
Hotels typically use Property Management Systems (PMS), Customer Relationship Management (CRM) software, and Booking Engines.
What is UX software?
UX software refers to tools used to design and improve the user experience on digital platforms.
What UX components crucial to hotel software?
Crucial UX components for hotel software include ease of navigation, mobile responsiveness, user feedback, personalization, and integration of innovative features.
What is an example of good hotel software UX?
Good hotel software UX is a platform that is user-friendly, intuitive, and personalized, offering a seamless booking process across all devices.