Amidst the relentless pace of modern existence, where each day often feels like a whirlwind of tasks, deadlines, and commitments, individuals universally crave those brief moments of solace and pleasure. It's within these fleeting interludes that life's purest joys often emerge. One such joy, surprisingly, comes in the form of a beverage – Vivi Bubble Tea.
Hailing from the vibrant culture of Taiwan, this bubble tea phenomenon didn't just stop at New York's bustling streets; it went on to capture hearts globally. For many, it's astounding how this seemingly ordinary drink manages to weave tales of happiness, mystery, and a spectrum of tantalizing flavors, serving as a sweet escape from the ordinary.
What is Vivi Bubble Tea?
Imagine a concoction that not only quenches your thirst but also takes you on an enchanting flavor journey with every sip. Envision a drink where each gulp offers a harmonious blend of rich tea, vibrant flavors, and the playful texture of chewy pearls and toppings. That, right there, is the magic of Vivi Bubble Tea.
Steeped in the age-old traditions of Taiwanese tea craftsmanship, this drink has been given a contemporary twist to resonate with today's global audience. It's not just a beverage; Vivi Bubble Tea is an experience, masterfully crafted to elicit joy and satiate cravings, earning its rightful place in the hearts of enthusiasts around the globe.
The Variety of Flavors Available
In the vibrant world of beverages, few offer the tantalizing variety and creativity that bubble tea brings. Vivi Bubble Tea, in particular, stands as a testament to the versatility and expansive spectrum of this delightful drink. 
From the timeless classics that evoke nostalgia to exotic concoctions that spur curiosity, and the ever-evolving seasonal delights that resonate with the rhythms of nature, Vivi Bubble Tea ensures there's a flavor for every mood, occasion, and individual. Let's delve deeper into this flavorful universe.
Classic Flavors: What You Need to Know
When one thinks of bubble tea, certain iconic flavors immediately spring to mind. These classics, like milk tea or jasmine honey tea, are the bedrock upon which the bubble tea empire has been built. They're timeless, familiar, and evoke a sense of comfort. Vivi Bubble Tea's rendition of these staples pays homage to tradition while ensuring a consistency in quality and taste, keeping customers coming back for those familiar sips time and time again.
Unique Flavors: Exploring the Exotic
For the adventurous souls and curious palates, Vivi Bubble Tea offers a gateway to a world of exotic flavors. Think lychee jelly tea with its burst of tropical freshness or the peach oolong cold brew that's both fragrant and invigorating. These unique concoctions are crafted to intrigue, surprise, and offer a refreshing departure from the norm. It's a journey of taste, introducing customers to diverse ingredients and innovative combinations that are both delightful and memorable.
Seasonal Flavors: The Best for Every Time of Year
Nature has its rhythm, and with every changing season, there's a shift in preferences, moods, and cravings. Recognizing this, Vivi Bubble Tea introduces seasonal flavors that perfectly encapsulate the essence of each time of year. Whether it's a strawberry cream float that screams summer or a spiced tea that brings warmth in winter, these flavors are crafted to resonate with the season's spirit. It's a beautiful way to stay connected with nature's cycle, one delicious sip at a time.
The Best Toppings to Add to Your Drink
The allure of bubble tea isn't limited just to the flavorful tea base; it's the playful dance of toppings that truly makes every sip an experience. Imagine a drink that isn't just about taste, but also texture and the delightful surprises that come with every gulp.
Vivi Bubble Tea, understanding the essence of this, offers a plethora of toppings that elevate your drink from simply refreshing to absolutely riveting. Each topping not only complements the drink but adds a unique dimension to it. Let's explore these additions that make every cup a personalized treat.
Boba: The Classic Topping
Boba, often synonymous with bubble tea itself, are those delightful chewy pearls that started it all. Made typically from tapioca, these balls are a perfect blend of chewiness and sweetness, adding a fun texture to the drink. They are the heart of the bubble tea experience, a classic choice that never goes out of style.
Jelly: A Sweet and Refreshing Addition
Looking for a burst of flavor with a hint of chew? Jelly toppings, with their translucent beauty, are your answer. Whether it's the tropical allure of lychee jelly or the subtle charm of aloe, jellies infuse the drink with a distinct taste while offering a delightful contrast in texture. Each slurp becomes a mini adventure as these jellies playfully slide through the straw.
Pudding: A Creamy and Delicious Option
For those who enjoy a richer, creamier texture in their drink, pudding is a dream come true. This luscious topping, reminiscent of a silky custard, adds depth to the drink. It pairs beautifully with milk-based teas, enhancing their creaminess and offering a dessert-like experience in every sip.
Fruit: A Healthy and Colorful Choice
Embrace the freshness of real fruits in your drink. From the sweet tang of passion fruit to the refreshing bite of citrus segments, fruit toppings add natural sweetness, vibrant colors, and a touch of healthiness. They infuse the drink with natural flavors, ensuring every sip is as refreshing as biting into a fresh piece of fruit.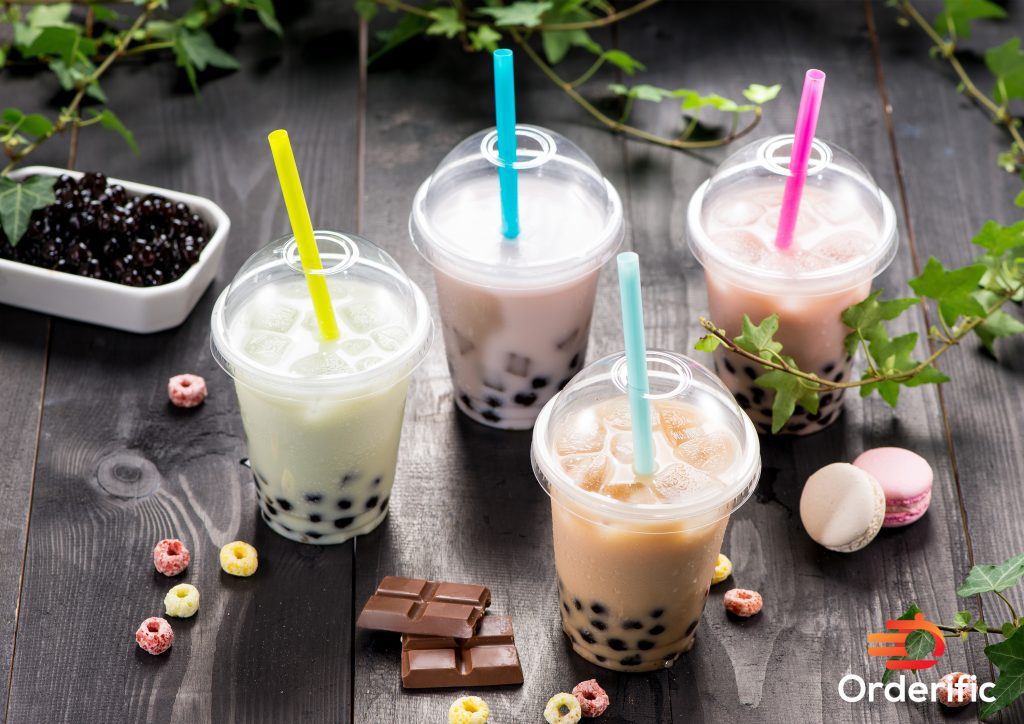 Why Vivi Bubble Tea is a Great Choice for Any Occasion
In the mosaic of life's moments, some beverages have the unique ability to fit seamlessly into any picture, and Vivi Bubble Tea is a prime example. Consider those leisurely catch-ups with friends, where conversations flow freely, punctuated with laughter and memories; a cup of Vivi Bubble Tea adds to the delight. Or envision intense study sessions, where focus is paramount, and a refreshing sip becomes the perfect break to rejuvenate.
For those solitary moments, when one seeks comfort or a momentary escape, this bubble tea acts like a silent companion, offering solace with every sip. Birthday parties, business meetings, or just a simple afternoon break – its versatility shines through. The secret lies in its extensive menu.
With flavors ranging from classic to experimental, and toppings that add texture and surprise, there's a Vivi Bubble Tea tailored for every taste and mood. So, regardless of age or preference, it truly stands as a universal favorite, enhancing every occasion it graces.
Where to Find Vivi Bubble Tea Near You
The global beverage landscape has been witnessing a delightful stir, thanks to the phenomenon called Vivi Bubble Tea. Such is its soaring popularity that a craving for this delectable drink can be satiated almost anywhere you go. From bustling city centers to quaint suburban malls, Vivi Bubble Tea outlets are making their presence felt ubiquitously.
The brand's expansion strategy isn't just about numbers; it's a commitment to bringing quality, consistency, and innovation to every customer's doorstep. Whether it's San Diego, San Marcos, or San Gabriel, the iconic logo and inviting interiors beckon tea enthusiasts.
Moreover, in this digital age, locating a Vivi Bubble Tea outlet is a breeze. With user-friendly apps, websites, and even social media platforms offering store locators and real-time reviews, one is never too far from diving into a cup brimming with flavor.
Conclusion
In the ever-evolving landscape of global trends, many fads have flashed brightly, only to fade away swiftly. However, Vivi Bubble Tea stands out as a remarkable exception. Its meteoric rise in recent years isn't solely attributed to its delightful taste, but the holistic experience it promises. Each cup offers an adventure, an invitation to embark on a journey of discovery, experimentation, and deep appreciation.
Beyond just quenching thirst, it taps into a universal desire for novelty and pleasure. The consistency in its global appeal hints at more than a fleeting trend. So, when the urge to sip something extraordinary hits, remember that Vivi Bubble Tea awaits, beckoning you to be a part of a sensation that shows no signs of slowing down.
In case you want more content like this, visit Orderific right now!
FAQs
What is the difference between bubble tea and regular tea?
Think of bubble tea as the jazzed-up cousin of regular tea. While both share the same ancestry, bubble tea brings in a playful twist with its flavors and toppings.
Can I customize the sweetness level of my Vivi Bubble Tea?
Absolutely! Whether you have a sweet tooth or prefer a subtle taste, Vivi Bubble Tea ensures your drink is tailored to your liking.
Are there any health benefits to drinking Vivi Bubble Tea?
Depending on the ingredients you choose, such as basil or chia seed, your drink can pack a nutritional punch. Remember, moderation is key.
How do I know which toppings to choose for my drink?
It's like picking a dress for a party – trust your mood and go with what feels right. Or, ask the friendly staff for their recommendations.
Is Vivi Bubble Tea suitable for people with dietary restrictions?
From dairy-free to low-sugar options, Vivi Bubble Tea ensures everyone can enjoy their offerings. Always check with the store for detailed ingredient information.