Hello there, fellow food enthusiasts! Welcome to this delightful culinary journey, where we'll explore the mouthwatering world of waffle businesses. Being an aspiring writer who adores everything delectable, I can't contain my excitement as I unveil the inside scoop on launching a successful waffle enterprise that will make your taste buds dance, and your entrepreneurial aspirations soar. Picture a cozy waffle shop filled with the enticing aroma of freshly baked waffles.
Customers happily indulge in their delicious treats, creating a scene from a storybook. With dedicated effort and a touch of entrepreneurial creativity, you can turn this magical idea into a tangible dream come true!
Waffles have long been a beloved breakfast favorite, but their appeal goes far beyond the morning hours. Whether you're a sweet or savory delights fan, waffles provide the perfect foundation for indulgence and culinary imagination. This versatile treat is universally adored, and today we'll uncover the secrets to building a thriving waffle business. Get ready to embark on a truly delicious adventure!
The Demand for Waffles is Growing: Why?
Waffles have experienced a renaissance in recent years, captivating people's hearts and taste buds worldwide. But why is this delightful treat enjoying such a surge in popularity?
Above all, waffles present an irresistible blend of crispy and fluffy textures that keep customers returning. The contrast between the perfectly golden-brown exterior and the tender, airy interior guarantees a delightful and satisfying experience.
Moreover, the versatility of waffles knows no bounds. Whether you crave the classic Belgian waffle adorned with fresh strawberries and a dollop of whipped cream or a savory masterpiece with bacon and melted cheese, there's a waffle to suit every discerning palate.
In addition to their delightful flavors, waffles offer a convenient and portable option for meals on the move. Suitable for breakfast, lunch, or even dessert, waffles are a flexible choice that fits effortlessly into the hectic schedules of our valued customers.
Moreover, waffle businesses have the opportunity to tap into the growing trend of personalized food experiences. Customers love having the freedom to choose their favorite toppings and create a waffle that suits their unique taste preferences.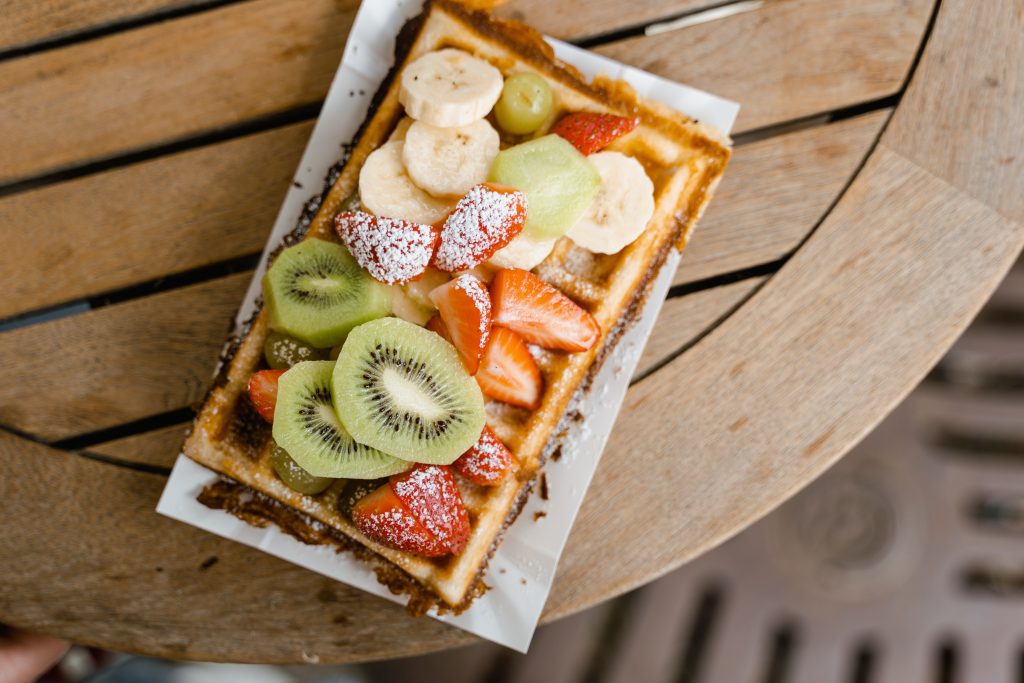 Setting Up a Waffle Business: How Profitable is It?
Considering the high demand for waffles, let's explore whether starting a waffle business can be financially rewarding. Absolutely! By adopting the right approach and staying committed, running a waffle business can generate substantial profits and provide a sense of fulfillment.
One of the key factors behind the profitability of waffle businesses is the affordable cost of ingredients. The basic waffle batter usually comprises common and inexpensive elements like flour, eggs, milk, and a touch of melted butter. You can easily make delicious waffles using these budget-friendly pantry staples without spending too much.
What's more, the versatility of waffles opens up endless possibilities to craft a varied menu that caters to a diverse customer base. By providing various toppings, fillings, and flavor combinations, you can attract different segments of customers and encourage repeat patronage.
Additionally, the ability to set competitive pricing is another aspect that contributes to the profitability of waffle businesses. Waffles can be priced at an affordable point for customers while still providing a healthy profit margin for the company.
Waffle businesses have the flexibility to cater to different target markets and occasions. From busy professionals grabbing a quick breakfast to families enjoying a leisurely weekend brunch, waffles can cater to a diverse clientele.
To drive the success of your business, it's essential to grasp the significance of implementing result-oriented marketing tactics and nurturing proactive customer participation. By building a unique brand persona, curating an alluring menu, and leveraging the potential of various marketing platforms, including social media, you can foster a loyal customer base and create organic buzz through positive recommendations.
5 Effective Steps to Set Up a Waffle Shop
Now that we've confirmed the viability of waffle enterprises let's delve into the crucial stages of establishing your waffle emporium. From envisioning your ideal waffle shop to transforming it into reality, each step is integral to guaranteeing your triumphant journey.
Plan the Features of Your Waffle Shop
When establishing a waffle shop, the initial phase involves envisioning the essence of your establishment. Experience the allure, concept, and distinctive aspects that make you stand out. Can you imagine a cozy and inviting café where visitors can relax with their favorite waffles and coffee? Or perhaps you envision a vibrant and fun space for families and friends to gather and create delightful waffle memories.
To establish your target market and shape the desired experience, carefully considering these factors is crucial during the setup process. Prioritize researching the local market to identify untapped opportunities your waffle shop can seize. By providing a distinctive and unforgettable experience, you captivate customers and foster their loyalty, enticing them to return time and time.
Waffle Machine and Special Cooking Equipment
The cornerstone of any waffle shop lies in its waffle iron. Investing in a top-notch waffle machine that can consistently deliver irresistibly crispy and fluffy waffles is crucial. The choice of waffle machine will depend on your menu offerings and production capacity.
Consider other specialized cooking equipment that will support your unique menu creations. For example, consider serving up delicious waffles with melty cheese and various fillings. In that case, investing in a panini press might be wise. Ensuring an exceptional cooking experience delights your customers and provides their continued patronage.
Spread the Word about Your Waffle Shop
Once your waffle shop is perfected, it's time to generate awareness and inform the world about your delectable treats. Crafting effective marketing strategies, both online and offline, becomes indispensable in creating the desired buzz and attracting customers to your establishment.
Leveraging social media platforms like Instagram and Facebook presents a formidable opportunity to showcase your tantalizing waffles and engage with potential patrons. Utilize enticing visuals, compelling captions, and genuine customer testimonials to establish a commanding brand presence and generate excitement surrounding your waffle shop.
Beyond social media, explore collaborative efforts with local businesses, active participation in community events, and partnering with influential food enthusiasts to expand your customer base and increase foot traffic.
Always remember the influence of word-of-mouth can be an invaluable marketing tool. Encourage satisfied customers to enthusiastically share their waffle experiences with friends and family and contemplate implementing loyalty rewards to foster repeat visits.
Hire People Who Share Your Values
The prosperity of any business hinges on the collective effort of its team. When selecting staff members for your waffle shop, seek out individuals who genuinely love delectable cuisine and deliver exceptional service. A personable and attentive workforce will cultivate an inviting and hospitable ambiance that patrons treasure.
In addition to their qualifications and expertise, recruiting employees who align with your brand ethos and display a heartfelt enthusiasm for waffles is imperative. Allocating resources to employee training and fostering a positive working environment will ensure outstanding customer service and enhance employee contentment and retention.
Acquire Management Software for Your Business
Efficiency is critical to running a successful waffle shop. As your business expands, optimizing processes, handling orders efficiently, and managing inventory becomes vital. Investing in specialized software tailored for the food industry can revolutionize your business operations.
Such software lets you track inventory levels, monitor sales trends, and seamlessly manage customer orders. By implementing this approach, you can save precious time and effort while ensuring seamless operations and exceptional customer service.
When choosing the right management software, please consider its compatibility with your current systems, user-friendly interface, and comprehensive customer support.
A reliable software solution will be valuable in scaling your waffle business and keeping everything running like a well-oiled machine.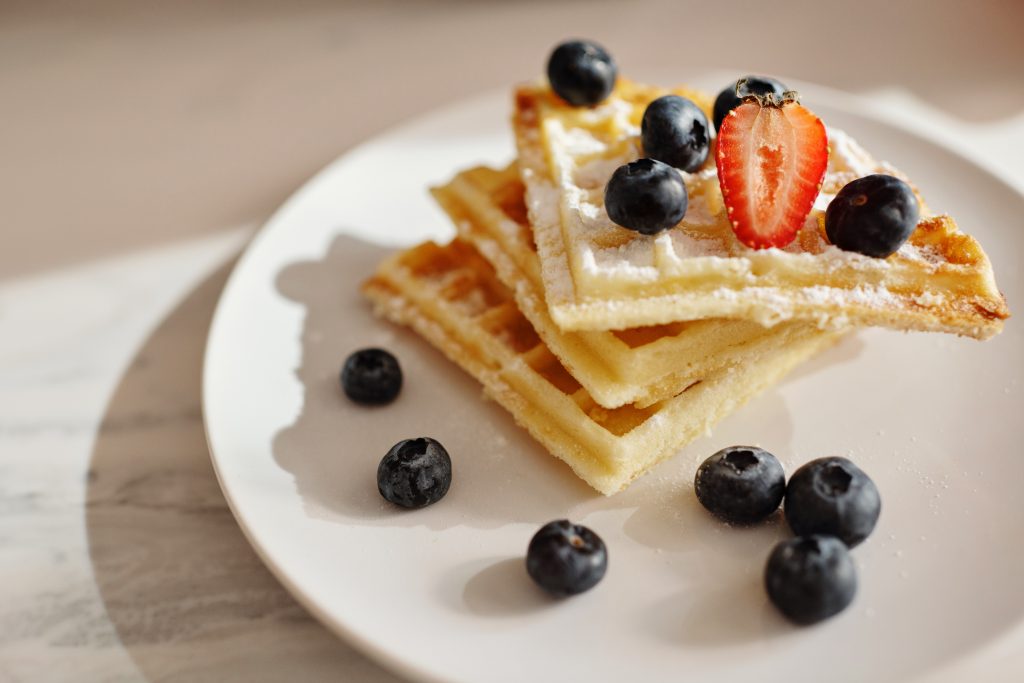 How to Make the Waffle Batter: The Best Recipe to Get Started
The key to a truly delightful waffle lies in its irresistible batter. Crafting the ideal waffle batter from scratch is a breeze, regardless of your culinary experience; with just a few simple ingredients and a touch of cooking finesse, heavenly waffles boast a light, fluffy consistency, and a delectable, golden-brown color. These mouthwatering treats are guaranteed to keep your customers returning for more.
Here's a classic Belgian waffle recipe to get you started:
Ingredients:
2 cups all-purpose flour
Two tablespoons of granulated sugar
One tablespoon of baking powder
1/2 teaspoon salt
1 3/4 cups milk
1/3 cup unsalted and melted butter
One teaspoon of vanilla extract
Two large eggs
Instructions:
To prepare your delicious batch of waffles, combine flour, sugar, baking powder, and salt in a large mixing bowl. Please give it a good whisk until the ingredients are perfectly blended.
Whisk together milk, melted butter, vanilla extract, and eggs in a separate bowl until the mixture becomes smooth and velvety.
Gradually pour the wet ingredients into the dry mixture, gently stirring until they meld harmoniously. Don't stress over a few lumps; they won't spoil the party.
Before diving into the waffle-making adventure, follow the manufacturer's instructions to preheat your waffle iron. Give the waffle plates a light coating of cooking spray or melted butter.
Now comes the exciting part! Ladle or measure your waffle batter onto the hot iron, ensuring even distribution. Close the lid and let the magic happen. Keep a close eye on those golden-brown beauties until they reach the desired level of crispiness.
Once your waffles are fully cooked, skillfully remove them from the iron and serve immediately. Elevate the flavor by adding your favorite sweet or savory toppings.
The wonder of waffles lies in their endless possibilities. While the classic Belgian waffle never disappoints, feel free to explore a world of flavors and toppings. Delight your senses with a decadent chocolate-infused waffle adorned with cocoa powder and a generous dollop of whipped cream. Alternatively, take a savory detour with a sprinkle of shredded cheese and aromatic herbs.
Remember, the secret to crafting the perfect waffle batter is achieving the ideal balance of flavors, texture, and consistency. Allow your creativity to lead as you bring your dream waffles to life. It's time to savor every delightful bite!
Conclusion
Congratulations on embarking on an exciting journey into the world of waffle businesses, where you'll uncover the closely-guarded secrets behind crafting irresistible, golden-brown delights that will captivate customers from all walks of life. Whether you're a budding food enthusiast-turned-entrepreneur or simply a waffle lover searching for the perfect homemade recipe, these delectable treats will surely bring joy to people of all ages.
Building a profitable waffle empire requires unwavering dedication, creativity, and entrepreneurial charm. With the right mindset and a passion for serving mouthwatering waffles, you can turn your vision of a bustling waffle shop into a tangible reality.
Prepare to embark on a delightful culinary adventure with your beloved waffle iron. Explore a plethora of irresistible toppings and unleash your creativity to create crispy wonders that will leave everyone wanting more. Whether it's a hearty breakfast, a satisfying lunch, a delightful dinner, or a delicious dessert, waffles offer limitless possibilities. Let your imagination soar and experience the enchantment of these lovely indulgences.
Remember that the most exquisite waffles are born from the purest love, unwavering passion, and a sprinkle of untamed ingenuity. So, venture forth and conquer the realm of waffle mastery – your loved ones, loyal patrons, and friends will forever be indebted to you for this exhilarating culinary undertaking!
In case you want more content like this, visit Orderific right now!
FAQs
Q: How Healthy Are Waffles?
Waffles can be enjoyed as a delightful treat in moderation. Waffles can serve as a valuable energy source due to their carb content.
Q: How Do You Clean a Waffle Maker?
Cleaning your waffle maker is easy and essential for maintaining its performance. After the waffle maker has cooled, take a slightly moist cloth or sponge to wipe off any residue.
Q: Do You Like Waffles?
Absolutely! With my passion for writing and love for food, I find myself captivated by the beautiful realm of waffles.
Q: Is the Ice Cream Cone Made Out of Waffles?
Correct! The delightful ice cream cone we all adore is created using delicious waffles. These mouthwatering edible cones bring more delight to the ice cream indulgence.