Introduction
Welcome to the world of well drinks, a realm overflowing with timeless tipples and beloved mixed drinks. Also, Become a connoisseur of classical cocktails, like the whiskey sour, made with the perfect balance of whiskey, fresh-squeezed lemon juice, and simple syrup, or the legendary Long Island Iced Tea, a symphony of flavors served in a highball glass altogether. Furthermore you may prefer the warm, smooth embrace of an Old Fashioned, a rail drink that combines the rich flavor of bourbon or rye whiskey with a hint of sugar and bitters.
Our guide will introduce you to the art of the cocktail shaker, the importance of quality spirits like tequila and scotch whisky, garnishes such as lime wedges or orange slices, and the nuances of different glasses. We'll explore the differences between premium liquor and everyday specials, as well as the bartender's role in crafting these delightful drinks.
What Is A Well Drink?
A well drink, often found at the heart of any bustling bar or restful pub, is a mixed drink typically made using the house's alcohol, also known as rail drinks. Bartenders skillfully blend these spirits with various mixers like soda, tonic, or fruit juice to conjure up an array of flavors. A classic example of a well drink is the Long Island Iced Tea, a harmonious mix of tequila, scotch, and other spirits, perfectly balanced with lemon juice and a splash of cola.
Another timeless favorite is the Whiskey Sour, a simple but satisfying combination of whiskey, whether bourbon or rye, a generous squeeze of fresh lemon juice, and a touch of simple syrup. It's a lemony delight that is sharp and sweet in a rock glass. An Old Fashioned might be up your alley for those who relish bolder flavors. This premium drink consists of a rich scotch or rye whiskey, a cube or two of sugar dissolved in a few dashes of bitters, garnished with an orange slice or a lime wheel, and served in rocks or mixing glass.
The art of the well-drink lies in the bartender's skills, who creates a tasty symphony of flavors, ensuring every customer's palate is catered to. The ounces of alcohol, the selection of garnish, and the choice of glass all contribute to these classic favorites' overall flavor and experience. Every sip of a well drink offers a unique and memorable taste adventure, from the refreshing tang of lime to the aromatic hint of bitters.
The Benefits Of Well Drinks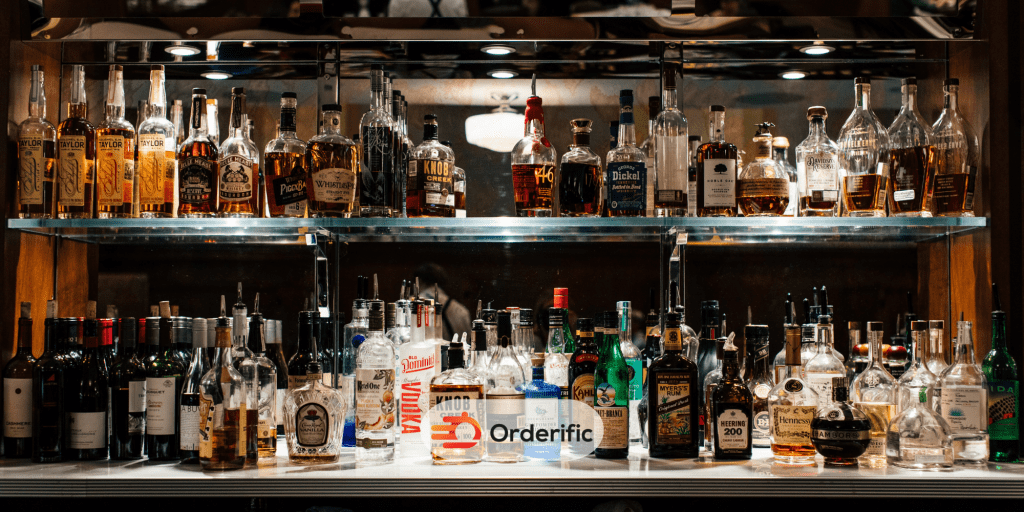 Well drinks offer many advantages, making them a crowd favorite at any bar or pub.
Affordability: Being made with house spirits, well drinks are typically more affordable than cocktails made with top-shelf spirits. This makes them an excellent choice for those who enjoy a well-made cocktail without breaking the bank.
Versatility: The diversity of flavors achievable with well drinks is genuinely astounding. Whether you prefer bitter, sweet, sour, or fruity tastes, there's a well drink out there.
Simplicity: Well drinks usually consist of a spirit and one or two mixers, meaning they're straightforward for bartenders and customers to understand what they're drinking.
Familiarity: The classic recipes used for well drinks are time-tested favorites. Ordering a well drink means you'll be served a cocktail with familiar flavors.
Experimentation: Well-drinks are a great canvas for experimentation due to their simplicity. Bartenders can easily add a twist to a them, allowing you to try something new while still sticking to the flavors you know and love.
How To Maximize Your Well Drink List
Maximizing your well drink list is all about providing variety, creativity, and balancing flavors. Here are some tips to make the most of your offerings:
Highlight Seasonal Flavors: Align your list with the seasons. For instance, offer refreshing citrus-based cocktails in summer and warmer liquor-based drinks during winter. This keeps your menu fresh and exciting all year round.
Offer Signature Drinks: Create a unique signature well drink that separates your bar or pub. This encourages customers to return and fosters a sense of identity and exclusivity.
Educate Your Staff: Ensure your bartenders are well-trained and knowledgeable about your offerings. They should be able to recommend drinks based on customers' preferences and answer any questions about the ingredients used.
Balance the List: Your list should cater to a range of palates, from those who prefer sweet or fruity cocktails to those who enjoy a more potent, more alcohol-focused choice. A balanced menu ensures there's something for everyone.
Regularly Update Your Menu: Keep your list interesting by adding new drinks and retiring less popular ones. This keeps customers curious and eager to try out your latest concoctions.
A Complete Well Drink List: 5 Essential Recipes
Vodka-Based Well Drinks
Screwdriver
Make a classic cocktail easily. Pour 1.5 oz vodka into a highball glass filled with ice. Top with 4 to 6 oz fresh orange juice. Stir and garnish with an orange slice. Serve chilled and savor the crisp, citrusy flavor of your Screwdriver.
Gin-Based Well Drinks
Tom Collins
The Tom Collins is a refreshing gin-based classic perfect for any occasion. To make a delicious cocktail, combine 2 oz gin, 1 oz lemon juice, and 1/2 oz simple syrup in a shaker with ice. Shake vigorously until chilled, then strain into a highball glass filled with ice. Enjoy! Top off with club soda, stir gently, and garnish with a lemon slice and a cherry. Enjoy the bright, citrusy flavor of this timeless favorite.
Rum-Based Well Drinks
Cuba Libre
It's a thirst-quenching classic that's a breeze to mix. Pour 2 ounces of rum into a highball glass. Squeeze in the juice of half a lime, and drop the lime half into the glass. Fill the glass with ice and top up with cola. Please give it a quick stir and enjoy the harmonious blend of rum, lime, and cola.
Tequila-Based Well Drinks
Tequila Sunrise
A vibrant cocktail that pleases both the eye and palate. In a highball glass filled with ice, add 2 ounces of tequila. Pour in 4 ounces of fresh orange juice and gently stir. Slowly add a dash of cranberry juice, allowing it to sink and create a stunning sunrise effect. Garnish with a lime wheel. Enjoy the refreshing citrus flavor complemented by the tart cranberry.
Whiskey-Based Well Drinks
Whiskey Sour
The Whiskey Sour perfectly balances whiskey's warmth and the freshness of citrus. To make a whiskey sour, start by pouring 2 ounces of whiskey into a shaker. Add 3/4 ounce of lemon juice and 1/2 ounce of simple syrup. Fill the shaker with ice and shake well until it's chilled. Strain into a rock glass with ice and garnish with a lemon wheel and cherry. Savor the interplay of whiskey's flavor with the tang of lemon. Cheers!
Conclusion
As we raise our glasses to the close of this flavorful journey, it's clear that the world of well-drinks is as diverse as it is delightful. From the citrusy Screwdriver and the refreshing Tom Collins to the vibrant Tequila Sunrise and the complex Whiskey Sour, there's a healthy choice for every palate. Furthermore we've explored these timeless favorites' affordability, versatility, and simplicity and offered some tips to maximize your list. The art of the it lies in the expert hands of the bartender, who orchestrates a symphony of flavors with each cocktail. So, whether you're a bar owner looking to refresh your list, or a cocktail enthusiast seeking new sips to savor, they offer a world of flavor waiting to be explored.
To dive deeper into the art of making and serving well drinks, why not schedule a demo with us at Orderific? Our team of experts is ready to guide you through every step of the process, ensuring that every sip served is a taste experience to remember. Contact us today, and let's shake things up together in the world of well drinks!
FAQs
What are well drinks, and how do they differ from other types of alcoholic beverages?
Well drinks are simple, affordable cocktails made with a bar's house spirits and mixers, as opposed to more expensive, top-shelf liquors.
Can you provide examples of commonly ordered well drinks at bars or restaurants?
Commonly ordered well-drinks include Screwdriver, Tom Collins, Cuba Libre, Tequila Sunrise, and Whiskey Sour.
Are well drinks typically made with specific types of liquor, or can the selection vary?
Well drinks can be made with house liquor, including whiskey, rum, gin, vodka, and tequila.
How do the prices of well drinks compare to other specialty or top-shelf drink options on a menu?
Well drinks are typically more affordable due to house spirits, making them a budget-friendly option compared to specialty or top-shelf drinks.