Welcome, sports fans! Ever found yourself amidst the energetic atmosphere of a sports bar, surrounded by fellow enthusiasts, and wondered about the thought and planning behind its layout and design? Well, you're not alone. The charm of a sports bar extends beyond the large screens and the endless supply of beers—it's the aura, the decor, and the amenities that contribute to its unique vibe.
This guide will take you on a tour behind the scenes, unraveling the elements that make up your favorite sports bar. We'll delve into everything from the types of seating and the strategic placement of TV screens, to the memorabilia adorning the walls. Each element is meticulously planned to enhance your experience, making a sports bar much more than just a place to catch the game. So, let's get started!
Seating Options in Sports Bars
When it comes to seating, sports bars offer a variety of options designed to cater to different patrons' preferences. From conventional tables and chairs for those who prefer to enjoy the game in a relaxed atmosphere, to bar stools for those seeking a more casual, sociable experience. High-top tables are also a common feature, providing a perfect balance between the two. The arrangement of seating is strategic – tables and bar stools are typically oriented to ensure a clear view of the TV screens, so no matter where you sit, you won't miss a moment of the game.
An interesting trend seen in some modern sports bars is the introduction of comfortable couch seating, reminiscent of a living room setting. These areas offer a more intimate and cozy atmosphere, perfect for groups of friends who want to watch the game together. They often have their dedicated large screens, ensuring a fantastic view of the action. This diversity in seating options ensures that everyone can find a spot that suits their comfort and viewing preferences, reinforcing the inclusive and welcoming nature of sports bars.
Types of TVs and Audio Systems in Sports Bars
When you walk into a sports bar, one of the first things that grab your attention is the array of televisions. They generally feature high-definition flat-screen televisions strategically placed around the venue. The size of the screens generally varies depending on their location. Large screens dominate the main viewing areas, ensuring patrons can easily follow the game from any angle. Smaller screens are typically set up in other areas, allowing patrons to catch up on other games or sports news.
Alongside the visual, the audio system plays an equally vital role in creating the perfect sports bar ambiance. A good one will have a state-of-the-art sound system that delivers crisp, clear audio. The sound management is usually well-balanced, with the volume set to allow patrons to enjoy the game commentary without overpowering their conversations. For the big games or special events, some of them might elevate the audio experience further by providing individual table speakers or earpieces, allowing patrons to tune into their chosen game. It's all about creating an immersive experience that brings sports enthusiasts closer to the action.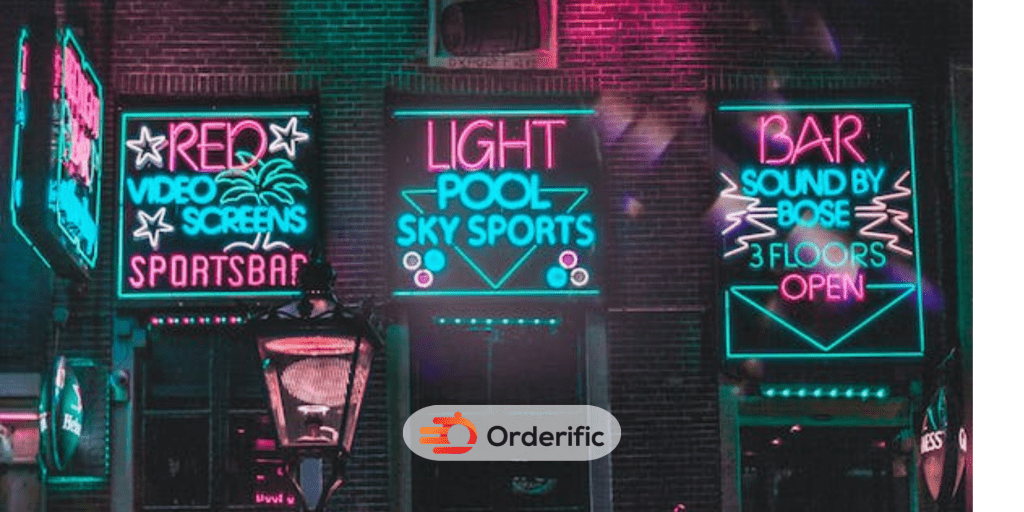 Decor and Theme Options
The visual appeal of a sports bar doesn't stop with the TVs. Everything from the colors to the memorabilia is carefully chosen to create an atmosphere that reflects its theme and encourages customers to keep coming back for more. The most common themes revolve around local teams or popular college teams, though it's not uncommon to find bars dedicated to certain sports, such as soccer, baseball, or basketball.
The decor often incorporates the team's colors, as well as other memorabilia such as flags and jerseys. There may also be frame photos of star players or famous moments in sports history on display. The goal is to create an atmosphere that welcomes fans and encourages them to stay for longer periods – some bars even go so far as to host special events and giveaways to further reward their loyal customers.
Food and Drink Menus in Sports Bars
None of them would be complete without its food and drink selection. While the offerings vary from one bar to another, you can typically expect a range of beers, cocktails, and other alcoholic beverages at the ready.
Food menus often include items such as burgers, sandwiches, nachos, wings, and other classic pub grub that are perfect for sharing while watching the game. Some sports bars may also offer unique dishes specific to their theme, such as a barbecue platter for a Texas-style bar or tacos for a Mexican-themed venue.
Other Amenities and Features
Many of them are full with other amenities and features that enhance the customer experience. Some may feature arcade games, pool tables, or dart boards to keep patrons entertained between games. Most have Wi-Fi networks so customers can stay connected while enjoying a few drinks and watching their favorite team play. Outdoor patios are also common in sports bars that encourage al fresco drinking and dining.
Finally, it's worth mentioning that many of them also provide private areas for birthday parties, corporate functions, or other special occasions. These reserved spaces offer an exclusive atmosphere within the same inviting environment as the bar.
15 Sports Bar Ideas and Concepts
To further help you plan your ideal sports bar experience, here are 15 ideas and concepts that could bring a unique touch to your local spot:
First 8
Retro Sports Bar: Showcase classic memorabilia from past teams and athletes, setting the mood for a nostalgic atmosphere.
Beer Garden: Combine a beer garden with the fun of watching sports, creating an outdoor experience that's both refreshing and entertaining.
Stadium-Style: Transform your venue into an interactive stadium experience, with seating and TVs arranged like a real stadium.
Sports Lounge: Create a lounge atmosphere with modern decor and plenty of comfortable seating, including sofas and armchairs.
Sports Restaurant: Combine the best of both worlds – offer food and drinks alongside sports viewing, in a restaurant-style setting.
Sport and Grill: Provide patrons with a full-service grill option, adding a delicious barbecue experience to their evening.
Pub: Turn your bar into a traditional pub and serve classic British dishes alongside the games.
Barcade: Make your bar even more fun with arcade games and other activities to keep customers entertained.
Rest of the 15
Sports Bar and Bowling Alley: Combine the two popular pastimes and offer your customers a complete sports bar-and-bowling experience.
Sports Bar and Cigar Lounge: Give your bar a unique twist by offering cigar smoking and pairing it with sports viewing.
Sport and Karaoke: Bring the karaoke experience to your bar and let customers show off their singing skills.
Sports Bar and Comedy Club: Create an interactive and entertaining experience with live stand-up comedy shows.
Sports Bar and Brewery: Introduce locally brewed beer to your bar, allowing customers to sample and appreciate the different flavors.
Sports Bar and Rooftop Lounge: Treat your customers to a spectacular view of the city with a rooftop lounge for sports fans.
Sports Bar and Wine Bar: Provide an alternative option and add a wine bar to your sports bar, allowing customers to sip on fine wines while watching the game.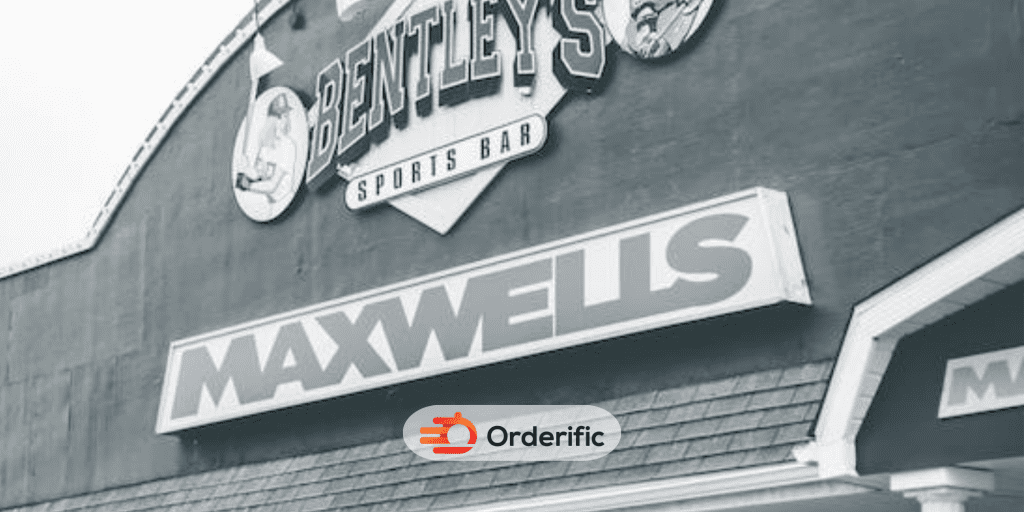 Conclusion
The decor, amenities, and features of a sports bar play a major role in creating its unique atmosphere. Every element is carefully chosen to ensure that patrons can enjoy their favorite pastime without missing out on any of the action. From comfortable seating and strategically placed TVs to memorabilia and food menus – each element is an integral part of a memorable sports bar experience.
So if you're looking for the perfect place to watch your favorite team play, why not consider one of these 15 ideas for your local sports bar? Have fun exploring all the possibilities! Cheers!
Let's find out more with Orderific here! Also don't forget to take advantage of Orderific's benefits for your business. Click here to get involved!
FAQs
What is the typical seating in sports bars?
They generally feature a variety of seating options, including conventional tables and chairs, bar stools, high-top tables, and comfortable couch areas.
How many TVs are in a sports bar?
They typically feature large screens in the main viewing areas, with smaller screens set up throughout the venue.
What are the most popular sports bar themes?
The most common themes revolve around local teams or popular college teams. Though some bars may be very fun of certain sports such as soccer, baseball, or basketball.
What types of food and drink can serve?
They usually offer a range of beers, cocktails, and other alcoholic beverages. Food menus often include items such as burgers, sandwiches, nachos, and wings.
Do sports bars have private event spaces?
Yes, many of them offer private areas or rooms for special occasions such as birthday parties and corporate functions.