What do restaurant chefs mean when they yell out "all day" in the kitchen? As it turns out, this phrase has a few different meanings depending on context. Whether you're a chef or a diner looking to understand what's happening behind the scenes, decoding restaurant lingo is essential to understanding and thriving in the culinary world. This blog post will explore not only what "all day" specifically means but also various other slang terms used in professional kitchens around the world. Get ready for an insider look into how restaurants operate as we craft up some delicious dishes "All Day."
Understanding "All Day" in the Kitchen slang
In the realm of professional kitchens, a unique language thrives, rich with culinary shorthand. Amidst these phrases, one that frequently resonates is "all day." Although initially misconstrued as a directive demanding ceaseless labor, its true purpose is to convey the cumulative count of a specific dish requiring preparation.
Picture this: an order materializes, encompassing two delectable steak dinners and three classic Caesar salads. In response, the chef orchestrates, "Two steaks all day, three Caesar salads all day." This linguistic convention serves as a meticulous ledger, ensuring no item eludes memory or execution. Thus, armed with this insight, the next instance you hear the resonant call of "all day," you'll effortlessly decipher its culinary intent.
Other Common Kitchen Terms and Phrases
1. "Behind"
The kitchen functions as its own distinct world with a unique language. When you initially hear a chef loudly exclaiming "behind!" at the top of their voice, it might appear perplexing. However, within the realm of the restaurant industry, this is a customary phrase indicating that someone is passing behind them. Failing to stay attentive could lead to accidental collisions and consequential disruptions.
Nevertheless, as you acclimate, you'll find yourself effortlessly uttering "behind," just like the rest of the team. Familiarizing yourself with kitchen slang can be a tad overwhelming initially, but the investment is worthwhile. It enables effective and efficient communication within a restaurant's rapid-paced, high-pressure setting.
2. "Fire"
In culinary circles, the term "fire" is a colloquial expression that doesn't pertain to actual flames. Rather, it serves as a shorthand to signal the urgent need for a dish to be prepared immediately. Picture a bustling kitchen during peak hours: when a chef cries out "fire!" amidst the controlled chaos. They're essentially initiating a countdown, underscoring the necessity to swiftly cook and finalize the order.
However, it's more than just rapidity that's at play here. Crafting food on demand demands a blend of expertise and delicacy. And adeptly maneuvering through a bustling kitchen can be as electrifying as it is demanding. Thus, the resonance of the term "fire" in kitchen culture is profound. It is a perpetual reminder of the fast-paced, high-stakes environment intrinsic to the culinary realm.
3. "Pickup"
Effective communication is a cornerstone in the bustling realm of a restaurant kitchen. Amidst this dynamic environment, a unique slang term emerges: "pickup." This culinary vernacular signifies that an order has been completed and is primed for service. When a chef calls out "pick up," it's a concise and efficient signal to the waiting staff that the dishes are prepared, piping hot, and at their freshest.
Within the intense and rapid pace of a thriving kitchen, the utility of such shorthand becomes invaluable. "Pickup" exemplifies how specialized jargon can harmonize the team's efforts. Thus ensuring a seamless orchestration that culminates in delectable meals for eagerly awaiting patrons.
4. "86"
Have you ever heard someone say "86" while working in a restaurant or bar? This code may sound like gibberish to some, but to those in the food and beverage industry, it has a special meaning. "86" is a code for being out of something or no longer serving an item. 
It's a quick and efficient way for staff to communicate when informing each other and customers that a certain dish or drink is no longer available. The code has been around for decades and is still widely used today. So the next time you hear someone shout "86 the salmon!" at a busy restaurant, you'll know exactly what they mean.
5. "Mise en place"
Effective communication plays a pivotal role in the kitchen's dynamic realm. Within this culinary domain, a distinct language has evolved. It's brimming with jargon and phrases that might baffle those on the outside. Among these terms lies "mise en place,". A concept that centers around preparing ingredients and tools before embarking on the cooking journey. This intricate process encompasses activities such as dicing vegetables, precisely measuring out spices, and arranging all necessary equipment in a meticulous order. By orchestrating this symphony of readiness, chefs can seamlessly and efficiently craft their culinary creations. Thus, the next instance you catch someone exclaiming "mise en place," you'll recognize that these words hold more than mere syllables. They encapsulate a fundamental phase in the intricate dance of cooking.
Kitchen Roles and Responsibilities
1. Chef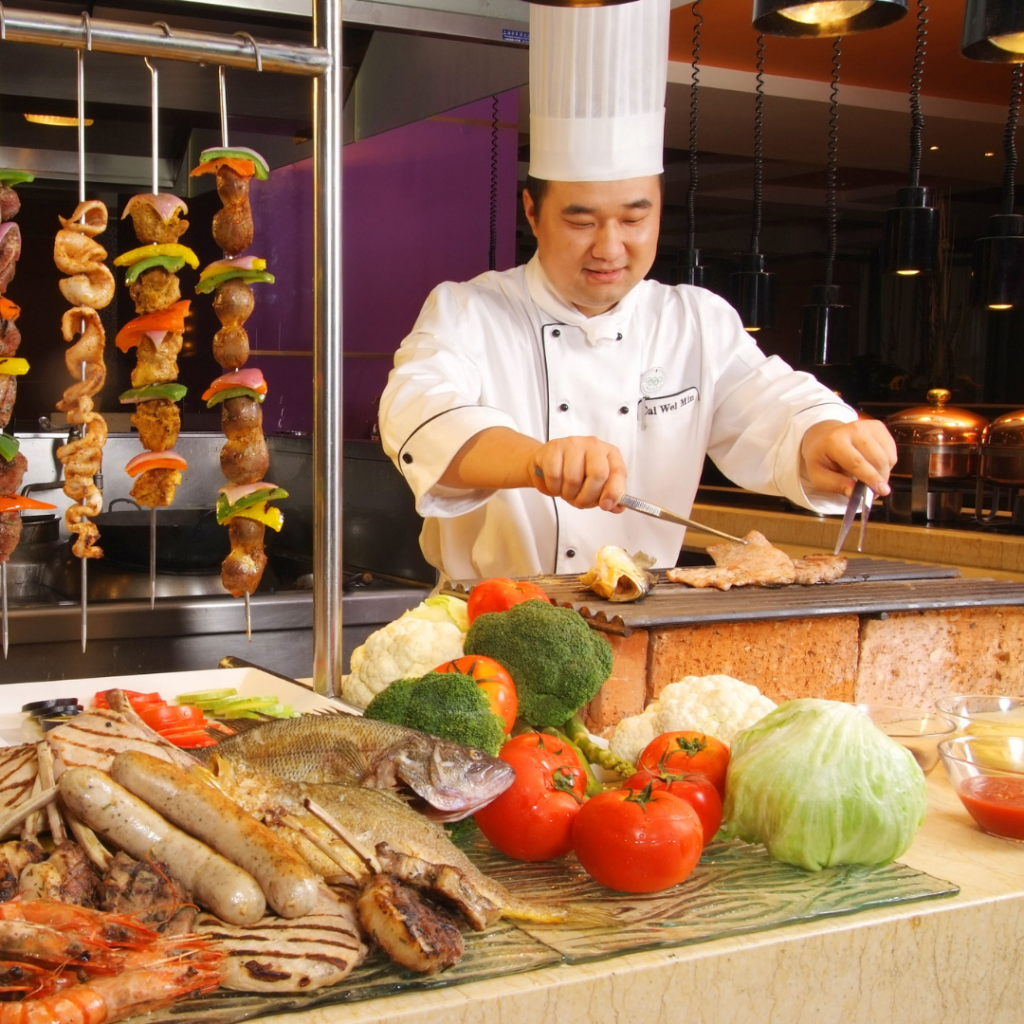 The pivotal role of a chef within the kitchen is not to be underestimated. They bear the responsibility of crafting exquisite and delectable dishes that tantalize the taste buds. However, their contributions transcend the realm of cooking itself. They orchestrate kitchen personnel, procure the finest ingredients, and uphold rigorous food safety standards.
A chef must embody versatility, seamlessly juggling effective communication with the team. While also never losing sight of the broader culinary panorama. The capability to thrive under the intense demands of a high-paced environment while exuding a composed demeanor is paramount. Undoubtedly, being a chef constitutes a demanding yet enriching vocation that demands an unwavering devotion to gastronomy. It also requires a flair for innovation and impeccable organizational acumen.
2. Sous Chef
The role of a sous chef is pivotal within a kitchen, acting as a linchpin in ensuring the kitchen operates with precision. Working closely with the head chef, a sous chef undertakes a range of vital responsibilities that contribute to the kitchen's seamless functioning.
At the core of their duties is supervising kitchen staff and orchestrating the entire culinary preparation process. The sous chef's hands guide the culinary journey from procuring the finest ingredients to elegantly plating the final dishes. Furthermore, they assume the crucial task of upholding the kitchen equipment, meticulously tending to its cleanliness and functionality, thereby ensuring a flawless cooking process.
A mastery of culinary techniques is intrinsic to the role of a sous chef. Their culinary prowess supports the head chef in crafting imaginative and delectable creations, enriching the dining experience. The sous chef's presence is undoubtedly indispensable in a restaurant's kitchen, embodying the conduit through which excellence is channeled to present exquisite, delectable cuisine to patrons.
3. Line Cook
The role of a line cook within a kitchen is pivotal to the triumph of any dining establishment. These cooks bear the responsibility of meticulously preparing and cooking food orders, ensuring swift execution while maintaining impeccable precision, resulting in each dish being presented flawlessly. Adapting well in high-pressure environments is essential, and superb communication skills are crucial for the seamless orchestration of kitchen operations.
Beyond their culinary prowess, line cooks also play a vital role in upholding a tidy and orderly workspace. They actively monitor inventory levels, facilitate efficient ingredient availability, and collaborate closely with fellow kitchen staff members to uphold harmony in the kitchen's rhythm. This multifaceted role showcases why line cooks are the cornerstone of a thriving restaurant.
Despite the job's demanding nature, individuals who hold a deep-seated passion for gastronomy and culinary arts will discover profound gratification in this role.
4. Expeditor
Amidst the bustling energy of a kitchen, a symphony of roles and responsibilities harmonize to orchestrate the efficient and impeccable preparation of food. Within this culinary ballet, the Expeditor emerges as a pivotal figure, entrusted with the vital task of maintaining the kitchen's seamless rhythm. In essence, the Expeditor assumes the role of a conductor, harmonizing the efforts of diverse stations — from grill to sauté to dessert — to ensure the timely creation and delivery of every order.
This position demands superb organizational prowess and adept communication and an intimate familiarity with the menu and culinary techniques. With the Expeditor at the helm, the kitchen operates akin to a finely tuned engine, yielding delectable creations that tantalize the taste buds of eager diners.
5. Dishwasher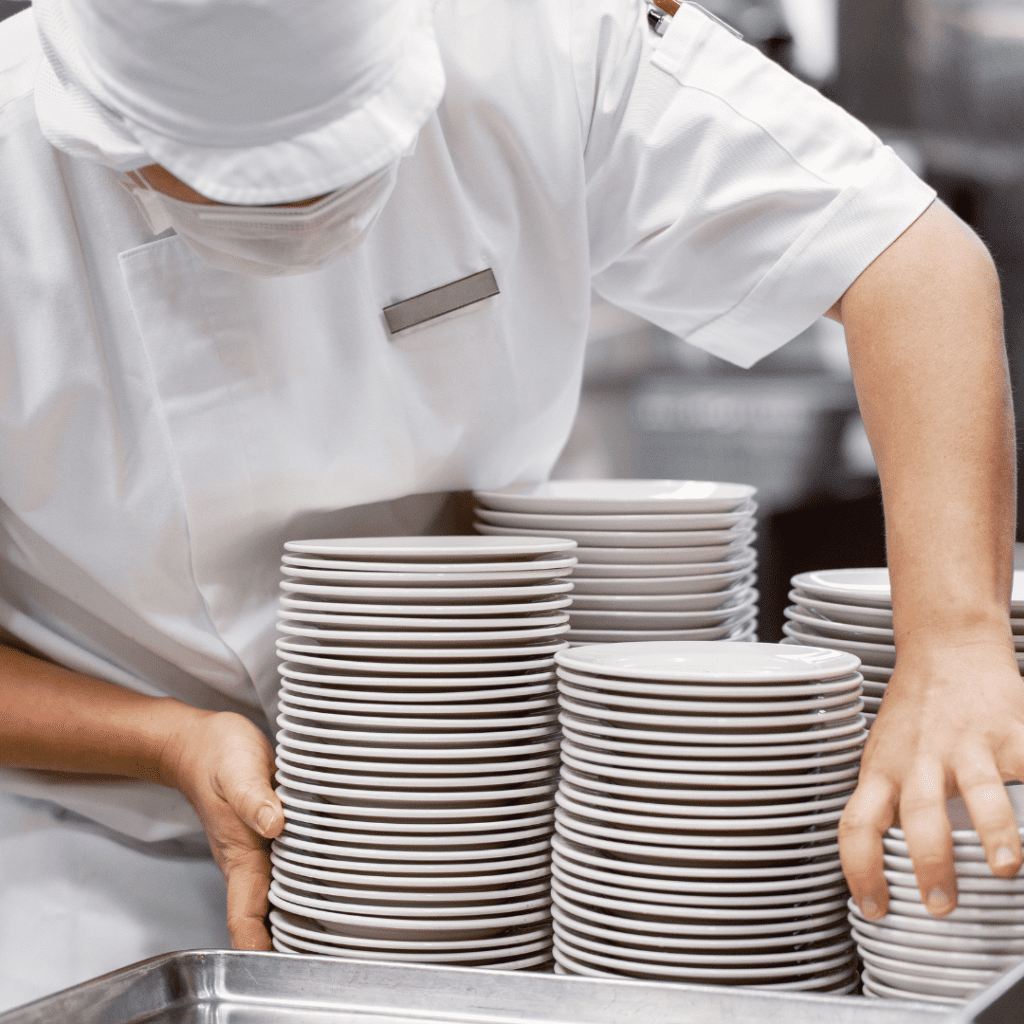 The role of a dishwasher is indispensable within a restaurant kitchen. While they may not command the same spotlight as chefs and waitstaff, their contribution is pivotal in ensuring a continuous supply of clean, ready-to-use dishes. Beyond the obvious, a dishwasher's responsibilities encompass a wide array of tasks, including meticulous sorting and prompt washing of dishes, pots, and utensils.
Their duties extend to maintaining the dishwasher itself in a state of cleanliness and proper functioning, all while upholding the kitchen's adherence to health codes and overall organization. Amidst this intricate balancing act, a resolute and diligent individual thrives in this fundamental position. Undoubtedly, the prowess of an exceptional dishwasher can distinctly elevate the seamless and efficient rhythm of a restaurant kitchen's operations.
Tools and Equipment in the Kitchen
1. Knives
Knives serve as indispensable companions in the culinary realm, playing a pivotal role in food preparation. Beyond mere time-savers, they embody precision, enabling deft slices and dices of ingredients. From the finesse of vegetable chopping to the finesse of fish filleting, the possession of a dependable, sharp-edged knife can be transformative. However, diversity abounds within the realm of knives, demanding judicious selection for each culinary endeavor. While a chef's knife boasts versatility, adapting to various tasks, a serrated counterpart excels in conquering the crusty dominion of bread and other tough-skinned victuals.
Yet, their worthiness extends beyond application alone. The longevity of knives hinges upon their correct maintenance – the dual rituals of sharpening and proper storage. The symphony of culinary mastery is incomplete without the harmonious marriage of the right knife with its task, lovingly upheld through diligent care. Hence, as you stand in your kitchen arena, remember the silent orchestrators of taste, the knives, and their artistry in conjuring the essence of delectable repasts.
2. Cutting Boards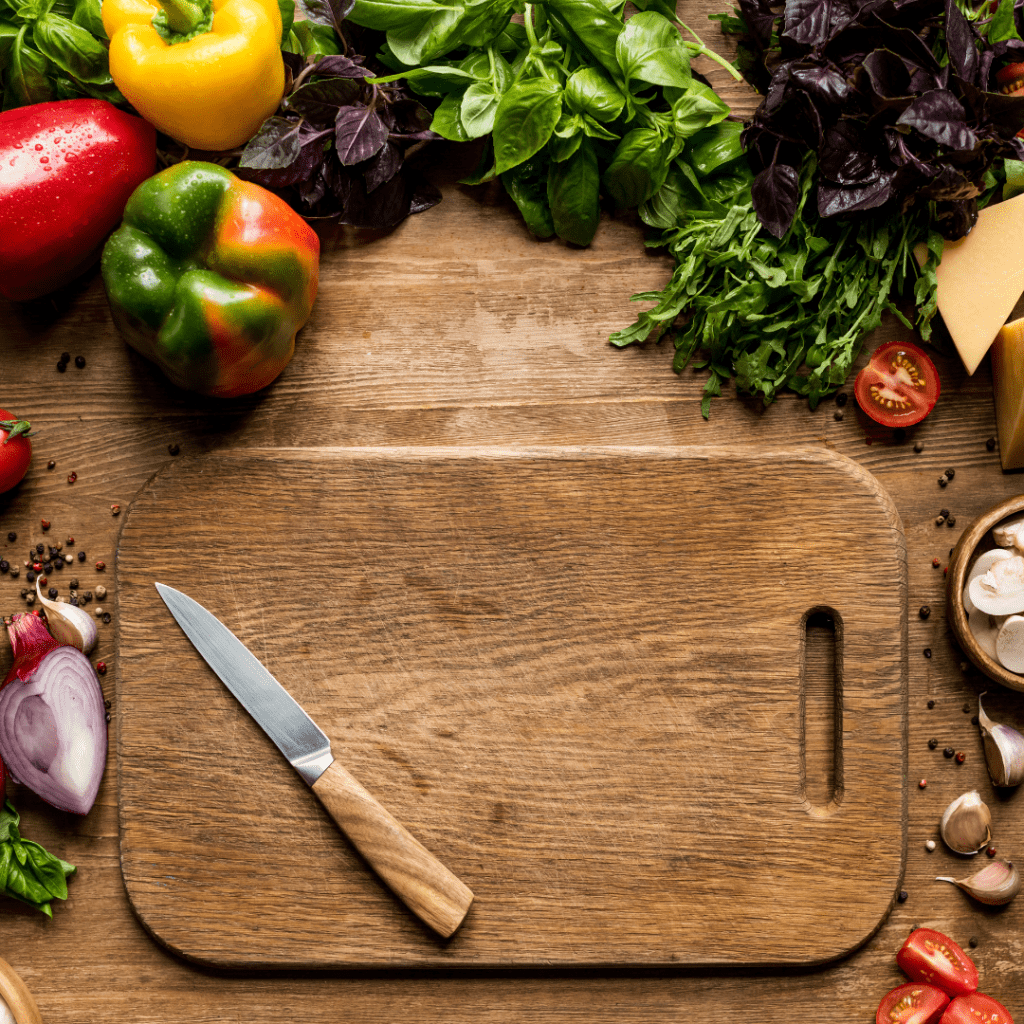 Cutting boards stand as indispensable tools within every culinary space. These essential instruments furnish a robust and sanitary platform for meal preparation. Offering an array of material choices—from wood and plastic to bamboo—a cutting board is tailored to suit every culinary demand. Many households embrace a color-coded system to thwart cross-contamination, assigning specific cutting boards for various food categories such as meats, vegetables, and fruits.
Ensuring the endurance of these boards mandates attentive upkeep; routine cleaning and oiling are advised to avert bacterial accumulation, as well as to stave off the board's desiccation and potential for cracking. Regardless of whether one possesses a wealth of culinary experience or is just embarking on their kitchen journey, a cutting board of commendable quality asserts itself as an imperative tool for any gastronomist.
3. Pans and Pots
Engaging in cooking can be an enjoyable and satisfying endeavor, but it's crucial to be equipped with the appropriate tools and utensils to ensure kitchen triumph. Among the indispensable items, pots and pans stand out as essential components for any home cook. These versatile instruments play a pivotal role, facilitating tasks from sautéing vegetables to boiling pasta and enabling diverse culinary creations.
Distinguished by materials like stainless steel, cast iron, and non-stick coatings, each variant boasts its own merits and demerits, necessitating a thoughtful selection process tailored to individual requirements. By possessing the right pots and pans, one can enhance their culinary prowess and craft delectable meals that will leave a lasting impression on loved ones and guests.
4. Ovens and Stoves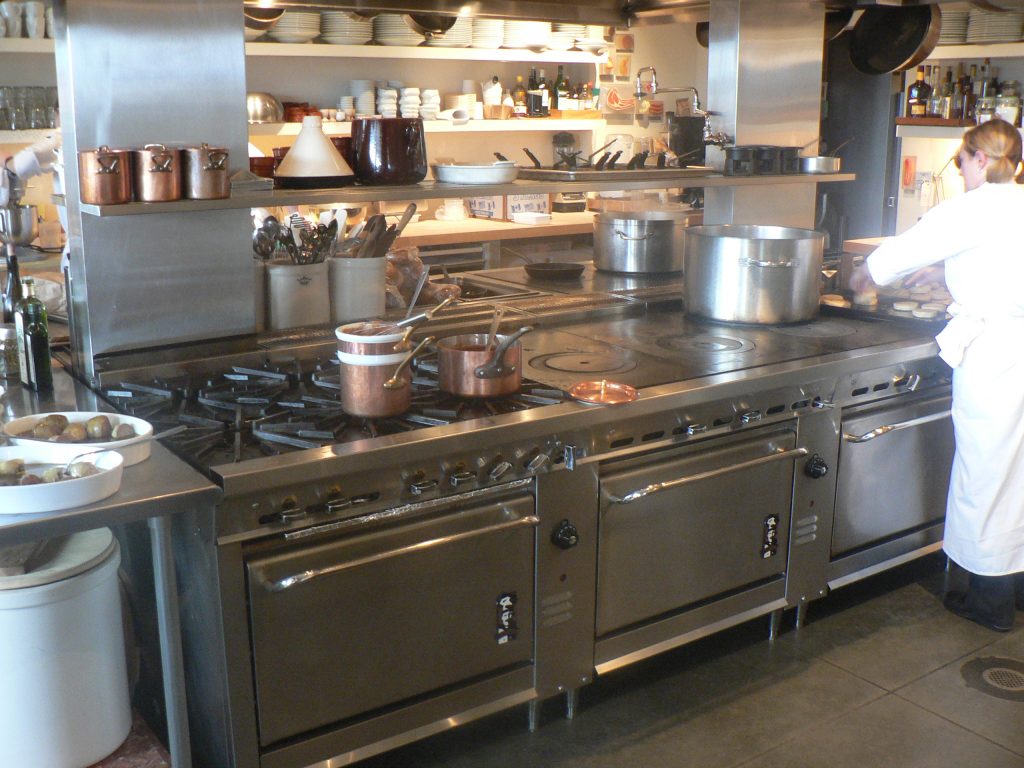 Cooking is undoubtedly an art, and the tools and equipment you wield in the kitchen have a profound impact. Among these, ovens and stoves stand as indispensable cornerstones. With the relentless march of technology, an extensive array of ovens and stoves has emerged, catering to every chef's diverse needs and preferences. 
The choices are abundant, from the rapid and efficient heat delivery of gas ovens to the fuss-free maintenance and cleanliness of electric ovens. Whether crafting a delicate cake or orchestrating a sizzling stir-fry, the presence of a dependable oven and stove empowers you to confidently showcase your culinary prowess.
5. Refrigerators and Freezers
When establishing a restaurant kitchen, refrigerators and freezers go beyond mere additions – they stand as indispensable assets. These appliances offer a secure and dependable environment for preserving ingredients, beverages, and prepared dishes, shielding them from spoilage and microbial proliferation.
When patrons step into a dining establishment, their anticipation extends beyond mere taste; it encompasses the assurance of consuming fare that is both untainted and delectable. The absence of refrigeration in a restaurant's kitchen parallels a vehicle devoid of wheels – progress is stymied. Hence, for those embarking on the journey of restaurant ownership, prioritizing top-tier refrigeration equipment becomes synonymous with sustaining the freshness of edibles and fostering customer contentment.
Conclusion
In conclusion, understanding kitchen slang, such as "all day," is essential for anyone who works in a professional kitchen. Furthermore, it's important to know and understand the roles and responsibilities of the various members of the culinary team so that efficient and effective workflow can be achieved. Additionally, having knowledge of the different tools and equipment used is just as important – it allows for precision with each dish or plate served. Orderific would like to invite you to continue reading our blogs to deepen your food service industry expertise – start by learning more about how our intelligent software makes managing restaurants easier than ever before!
FAQs
Q. What does "all day" mean in a restaurant kitchen?
Ans. "All day" in a restaurant kitchen refers to the total number of a particular dish that has been ordered during a service.
Q. Why is "all day" used in the kitchen?
Ans. "All day" is used to ensure that kitchen staff maintain an accurate count of dishes they need to prepare, promoting efficiency and avoiding confusion.
Q. Are there other common phrases used in restaurant kitchens?
Ans. Yes, other common phrases include "86" (running out of an item), "on deck" (next dish to be cooked), and "in the weeds" (falling behind on orders).
Q. What tools and equipment are commonly used in restaurant kitchens?
Ans. Common tools and equipment in restaurant kitchens include knives, cutting boards, pots, pans, ovens, stoves, refrigerators, and freezers.
Q. How do I learn more about restaurant lingo?
Ans. One could work in a kitchen, delve into culinary literature, or engage with online resources and forums to learn more about restaurant lingo.
Q. Can restaurant lingo vary by region or type of cuisine?
Ans. Yes, restaurant lingo can vary by region or type of cuisine, reflecting local colloquialisms and specific culinary traditions.