Introduction
Welcome to the fascinating world of Japanese cuisine, where we unwrap the secrets of the iconic dish, tempura. This delicacy, known for its light, crispy batter, and flavorful interior, is a cornerstone of Japanese food culture. The magic lies in the batter, whether shrimp tempura, with its delicate yet robust flavor, or vegetable tempura, offering a delightful crunch with each bite. The batter, made with flour and often enhanced with sesame oil, creates a unique texture that encapsulates the core ingredients. Served hot, often with rice and a tangy dipping sauce, an exquisite blend of flavors and textures. So, are you ready to explore the art of making tempura, from the perfect shrimp roll to the sweet whisper of sweet potato tempura? Let's dive into the world of them!
History of Tempura
The secret to achieving the perfect tempura lies in its batter. A deceptively simple blend of flour, often enhanced with sesame oil, the batter is the heart of this dish, lending it the signature light, crispy texture. The batter, whether used for shrimp or vegetable tempura, can transform humble ingredients into a gastronomic sensation.
The allure of shrimp tempura, in particular, lies in the interplay of textures and flavors. The tender and flavorful shrimp is encased in a layer of batter, which turns golden and crispy upon frying. This shrimp tempura, often featured in a shrimp tempura roll, juxtaposes the succulent shrimp and the light, crispy batter.
Vegetable tempura, on the other hand, offers many flavors depending on the assortment of vegetables used. Sweet potato tempura whispers a hint of sweetness amidst the savory, its natural flavors elevated by the tempura batter. Like bell pepper tempura, other vegetables lend their distinct flavors to the mix, resulting in a medley of tastes under the encompassing umbrella of the crisp tempura batter.
The joy of tempura, be it shrimp or vegetable, is seldom complete without a tangy dipping sauce. The soy-based dipping sauce, often spiked with a dash of rice vinegar, accentuates the flavors of the tempura, making every bite an explosion of flavors. Served alongside steaming rice, it is a testament to ingredients' versatility and flavor potential when used wisely.
When Did The Word "Tempura" First Appear In Japanese Literature?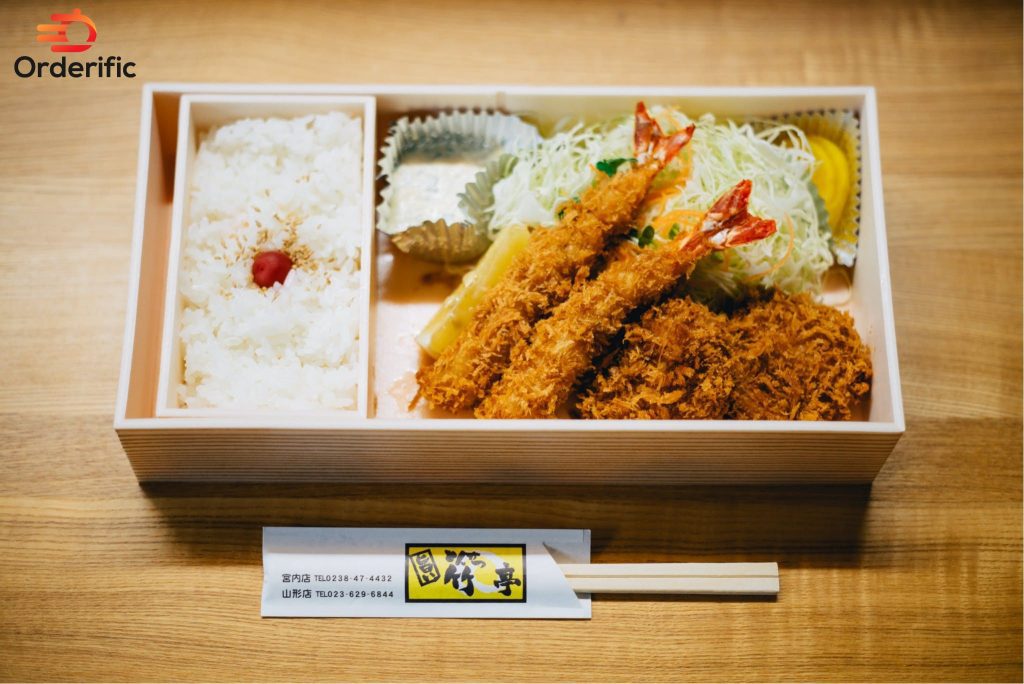 The term "tempura" appeared first in Japanese literature during the Edo period. However, the origins of the word itself remain a subject of debate among historians. Some suggest that it is derived from the Portuguese word 'tempero,' which means seasoning or spice, indicating the influence of Portuguese traders and missionaries on Japanese cuisine during the 16th to 17th centuries. Others propose that it refers to the Latin word 'tempora,' used by Spanish missionaries to denote the Lenten period, during which meat was substituted with fish and vegetables. Despite these varied theories, what remains undisputed is that it has been an integral part of Japanese cuisine for centuries, its allure unfading and its popularity unquenched.
What Are the Different Types of Tempura?
Shrimp
Shrimp tempura is arguably the most well-known type of tempura. Each piece features a succulent shrimp tightly wrapped in a light, airy batter and fried to a perfect golden hue. The result? An incredibly crispy exterior that gives way to juicy, tender shrimp inside. It's a mouthwatering gastronomic experience that leaves you wanting more.
It becomes a delightful ensemble of textures and flavors when made into a shrimp tempura roll (a staple in sushi menus). The roll combines the crunchy shrimp with creamy avocado, succulent cucumber, and a hint of wasabi for a kick. Each bite is a burst of flavors, the perfect balance of the ocean's bounty and the earth's produce.
Shrimp tempura, with its universal appeal and delicious taste, retains a top spot in Japanese cuisine, and it's not hard to see why. Whether enjoyed on its own, as part of a sushi roll, or dipped into a savory sauce, shrimp tempura is a dish that never disappoints.
Pumpkin
Pumpkin is another beloved variety of this dish, particularly popular in autumn when pumpkins are in peak season. Once fried, the result is a golden, crispy exterior encasing a soft, sweet interior – a delightful surprise for the palate. Served with a tangy, soy-based dipping sauce, pumpkin offers a unique take on this traditional Japanese delicacy, proving that it extends beyond the realm of seafood and can deliver a gastronomic delight even with the humblest of vegetables.
Egg
Egg tempura, or "Tamago Tempura," is a lesser-known, equally tantalizing variant. It involves a boiled egg encased in the characteristic batter and deep-fried to perfection. The crust, crisp and light, gives way to the soft, firm texture of the boiled egg, making this variant a delightful textural exploration. The inclusion of sesame oil in the batter adds an aromatic dimension to the otherwise simple dish, further enhancing the overall flavor profile. This innovative use of egg showcases its versatility it, reiterating its enduring popularity in Japanese cuisine.
Discover Authentic Flavors With Sakuraco
Tempura, an iconic Japanese dish, is a symphony of textures and flavors created by encasing succulent shrimp or a variety of vegetables in a light, airy batter. The batter, often enhanced with the aromatic addition of sesame oil, transforms into a golden, crispy layer upon frying, a delightful contrast to the tender interior. Whether it's the savory shrimp tempura rolls, the subtly sweet potato tempura, or even the innovative egg tempura, every bite is an exploration of taste and texture. Expertly paired with a tangy, soy-based dipping sauce, It is a testament to the authentic flavors of Japanese cuisine. Thus, Originating from the Edo period, tempura's popularity transcends time, making it an enduring favorite in the culinary world.
Conclusion
In conclusion, tempura is more than just a dish; it's an emblem of Japanese culinary finesse and heritage. This delightfully crispy, light, and flavorful dish, whether featuring shrimp, vegetables, or even egg, is a testament to the beauty of simplicity and the incredible versatility of its key ingredients. The perfect tempura batter, subtly infused with sesame oil, and the artful pairing of ingredients create a gastronomic journey that is as captivating as it is delicious. From the historical streets of the Edo period to the modern sushi bars around the globe, the legacy and charm of tempura remain timeless.
Now that you have delved into the secrets of this iconic dish, why not experience it firsthand? So, Register with Orderific and schedule a demo to explore a world of diverse and authentic flavors right at your fingertips. Embark on your culinary adventure with us today, and let it be the beginning of your voyage into the rich tapestry of Japanese cuisine.
FAQs
What does the term 'tempura' mean?
It is a Japanese cooking technique where ingredients are lightly battered and deep-fried.
What types of ingredients are commonly used in tempura?
Common ingredients used in it include shrimp, squid, and a variety of vegetables like bell peppers, sweet potato, and mushrooms.
Is tempura a traditional Japanese dish?
Yes, It is a traditional Japanese dish.