Picture this: an entrepreneur, having just completed a successful transaction, puts together a vital document. This document, known as an invoice, is more than just a piece of paper. It's a ticket to capturing revenue, maintaining accurate records, and ensuring smooth cash flow. Whether you're a seasoned business owner or a novice freelancer, understanding invoices is essential. In this guide, we'll demystify what an invoice is, explore its various types and elements, and share valuable tips. With this knowledge, you'll be able to leverage professional invoices for better invoicing processes, enhanced automation, and effective tracking of payments. So, let's dive into the world of invoices!
Evolution of Invoices
In the beginning, the essence of an invoice was far from what we know today. Think of a time when transactions were noted on parchment, exchanges of goods traced back to trading routes. Yes, the precursors to today's invoices were much more straightforward, their purpose primarily to confirm and record transactions.
Yet, as commerce expanded, the humble invoice evolved, growing in complexity. Let's trace its journey. From an ancient tally stick marking transactions to the meticulously detailed documents used in today's digital age, the transformation has been remarkable.
Invoices, at their core, are about communicating information. In the days of barter, they were simple records of exchange. As society moved to currency-based trade, it gained importance, providing detailed breakdowns of goods sold, prices, and payment terms.
During the Industrial Revolution, the emergence of mass production necessitated more sophisticated invoicing. Businesses needed to track sales, manage inventory, and regulate cash flow. The invoice, once a simple record, became an essential business tool.
Fast-forward to the present day, the technological wave has swept over every aspect of our lives, including invoicing. Innovative invoicing software has made the process faster and more efficient, transforming how businesses handle their finances. Today's invoices serve multiple functions: a demand for payment, an official record, a tool for tracking financial data, and a means to streamline the invoicing process.
Stone Invoices
Stepping back in time, let's visualize stone invoices. Picture a bustling marketplace nestled in the heart of an ancient civilization. Amid haggling merchants and clattering carts, transactions are being made. Each exchange, whether for a bag of grain or a handcrafted amphora, is recorded on stone – the earliest form of an invoice.
In that age, these stones were simple, chiseled records of exchanges. Each mark represented a count of traded goods, availing a clear understanding of the trade's nuances. Safety was ensured through these records, acting as an early predecessor to our modern-day invoicing systems.
As we progressed on our historical journey, stone invoices were eventually replaced. The arrival of parchment and paper provided a more convenient platform for recording transactions. However, the essence of invoicing, its role as a record of trust between parties, remained constant.
From the noise-filled ancient marketplaces to our modern, digitally connected world, stone invoices signpost the beginnings of our journey through the evolution of invoicing. They remind us of a time when trade was tactile, personal, and etched in stone – quite literally. Let's carry these lessons forward as we delve deeper into the rich history of the invoice.
Handwritten Invoices
As we journey through the annals of commerce, a pivotal shift occurred – the advent of handwritten invoices. This transition marked a significant leap from the primitive stone records, bringing a personal touch to invoicing. Visualize a busy shopkeeper, pen in hand, meticulously noting down every detail of a transaction, each stroke representing a sold item or a promised payment.
No longer chiseled on stone, these invoices bore the unique imprint of the writer's hand, adding a humanistic dimension to a realm otherwise dominated by numbers and data. The handwritten invoice transformed the invoicing process, making it less impersonal. It breathed life into the mundane details of a transaction, capturing the essence of the seller and the buyer in each carefully inscribed detail.
The advent of handwritten invoices wasn't just about the transition from stone to paper; it was about humanizing the process. It was about infusing warmth into the cold, hard facts of commerce. This new era of invoicing saw the introduction of payment terms, invoice numbers, and other essential elements of a professional invoice.
Electronic Invoices
As we hurtle into the digital age, we encounter the newest member of the invoice family: electronic invoices. Imagine a world where transactions happen at lightning speed, with no pens, paper, or postage required. This reality is embodied in the advent of electronic invoices. 
In the blink of an eye, a business transaction can be recorded, verified, and sent off into the digital ether. Picture a sales invoice, complete with invoice numbers, payment terms, and invoice date, seamlessly whizzing worldwide, its journey only seconds.
The benefits are plentiful. Electronic invoices save time, reduce waste, and streamline the invoicing process. With the help of innovative invoicing software, these virtual documents are rapidly becoming the standard. They're a testament to the power of technology and its ability to simplify, enhance, and expedite.
Online Invoices
Turning the page of time, we now arrive at the era of online invoices. Picture an environment where clicking a button transforms business transactions. Envision a world where invoicing software brings a level of speed and efficiency previously unimaginable. Within moments, a professional invoice, complete with the invoice date, total amount, and invoice number, can be whisked away into the digital ether.
Each dispatched online invoice tells a story. It speaks of a transaction completed, a deal sealed, and a business relationship maintained. Behind every invoice ID lies a narrative of hard work, trust, and mutually beneficial commerce. Yet, it's not just about cold, complex data; these digital documents also capture the human essence of business.
Online invoices, while impersonal in appearance, carry a distinctly human touch. They represent an exchange of efforts, a promise for payment, and nurturing a business relationship. With online invoicing, businesses don't just streamline their invoicing process and enhance cash flow; they also forge more robust, more efficient business relationships.
As we continue to traverse the digital landscape, online invoices serve as our trusted companions, guiding us toward a future where efficiency and human connection coexist harmoniously. Welcome to the world of online invoicing – a world of endless possibilities fueled by technology and driven by human contact.
Mobile Invoices
As we peer into the realm of mobile invoicing, we're introduced to a world that intertwines commerce and convenience. Picture this: on one hand, you have your morning coffee, and on the other, you're finalizing a business transaction. The smartphone, an emblem of our digital age, hosts the invoicing software that propels this swift, efficient exchange. You tap on the screen, the device's intimate familiarity lending warmth to this process.
With each tap, you navigate through the invoice template, inputting data such as the invoice number, total amount, and payment terms. Each data point tells a tale, encoding the spirit of business transactions in the language of ones and zeros. Indeed, mobile invoicing offers more than just convenience; it interlaces the thrill of commerce with the warmth of human interaction.
Just as the payment terms set the timeline for the transaction, an invoice date stamps the deal in time, a testament to the ongoing business relationship. Lastly, the final tap on the 'send' button propels the invoice into the digital realm, marking the completion of the invoicing process.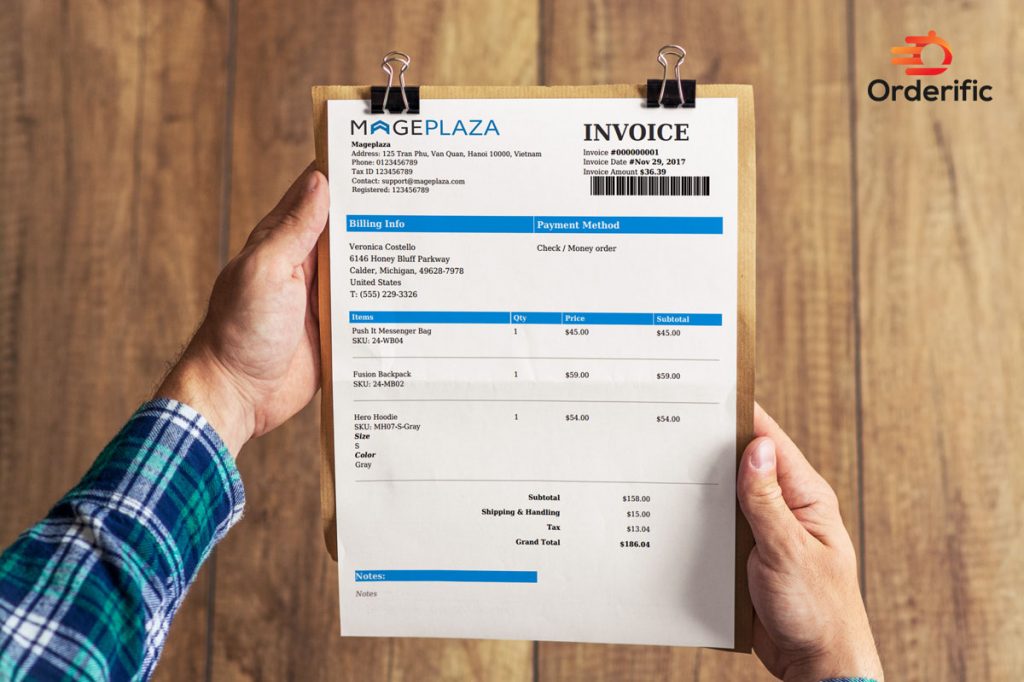 Functions of Invoices
In the grand tapestry of business, invoices serve many critical roles. They're not just simple requests for payment; they're a dance of data, each step carefully choreographed to ensure smooth transactions.
Let's delve into the heart of these functions. Firstly, invoices stand as a formal request for payment. They knock gently on the door of the buyer's wallet, politely asking for the due amount.
Crucially, they also act as a legal document. Each invoice, with details like the invoice number, total amount, and payment terms, serves as an official transaction record. These records can be precious, especially in cases of financial disputes.
Next, we see their role as accounting tools. Just as a compass guides a sailor, invoices steer the financial ship of businesses, helping them navigate the stormy seas of income and expenses. Through invoice automation, this process becomes even more efficient.
Maintaining Records
In the vast world of business transactions, maintaining accurate records is vital. Picture an ever-flowing river of data, each drop representing a transaction. Each invoice number, like a unique fingerprint, marks the identity of a transaction – a lasting imprint in the river's current.
In this river, invoices are like stepping stones, providing solid grounding amidst the ceaseless flow of data. Each stone represents a completed transaction, its surface etched with details – the total amount, the payment terms, and the invoice date. Together, these details provide a tangible record, a testament to the transaction's reality.
Feel the weight of these records, their impact resonating beyond numbers. They're not just cold data points. Instead, they embody the business spirit, capturing the essence of trust, mutual benefit, and commitment between parties.
Imagine the warmth of this human connection, infused within the hard lines of data. Each invoice record, while brimming with numbers, bears the subtle fragrance of a human touch – a whisper of negotiation, a hint of agreement, a nod of satisfaction.
Payment Tracking
Just as a lighthouse guides ships through a stormy night, invoices illuminate the path of payment tracking in the vast ocean of business transactions. Picture yourself as a captain navigating this sea of data. Each invoice in your hand is a beacon, casting a radiant beam on the course of payments.
Feel the texture of each invoice, the numbers beneath your fingertips pulsating with stories of transactions, negotiations, and agreements. Each invoice number is like a distinct star in the business cosmos, glowing with the tale of a payment processed or pending payment.
Taste the satisfaction as you align your revenue with the invoice records, each matching pair a sweet note of triumph. The total amount on each invoice is a robust flavor, a strong coffee kick that energizes your financial records.
Legal Protection
Drifting into the realm of legal protection, invoices serve as trusted guardians. Imagine holding a shield embossed with each invoice number, standing firm against potential financial disputes. Feel the solidity of this protection; each detail etched into the invoice's surface forms a robust defense.
Taste the relief as this shield deflects a legal dispute, the bitter potential conflict replaced by the sweet victory of clarification. Listen to the whispers of agreement as both parties accept the invoice's narrative, a testament to the trustworthiness of your business records.
Breathe in the confidence that the sturdy fortress of invoicing guards your financial transactions. Each invoice date and total amount forms an unyielding bastion guarding your business interests. Picture the fortress walls, each brick stamped with payment terms, forming an impenetrable barrier against misunderstandings.
Feel the warmth of this protection, a comforting cloak against the chilly winds of legal disputes. Behind every invoice is a story woven with threads of trust, commitment, and mutual benefit – a tapestry of successful business relations. Savor this harmony; the dance of business and legal protection is choreographed to perfection.
Easy Tax Filing
Imagine standing in a meadow of paperwork, each leaf a critical tax document. In the distance, a mountain peak symbolizes the daunting tax filing task. But fear not. In your hands, you hold the compass of invoices, each one a reliable guide through this labyrinth. The invoice number, total amount, and payment terms – each detail a stepping stone on your journey towards easy tax filing.
These invoices, while seemingly mundane, are an oasis amidst the desert of tax documents. They quench your thirst for accuracy, streamline your tax process, and bring you closer to your destination. Picture yourself savoring each successful step, the sweet taste of efficiency lingering on your tongue.
As you navigate this complex terrain, each invoice emits a comforting warmth. It's more than just cold, complex data. It's a trusted companion on your journey, a beacon of trust and commitment.
Business Analytics
Immerse yourself in the world of business analytics with invoices as your guide. Each invoice number whispers a unique transaction story in the vast sea of commerce. Imagine each data point like a twinkling star, illuminating the enormous canvas of your business landscape.
Feel the satisfaction as patterns emerge, painting a picture of your business's health. The total amount and payment terms are vital indicators, radiating insights about your income flow. Luxuriate in the delightful symphony of data, its rhythm pulsating with invaluable business insights.
Now, taste the sweet success as you harness these insights, refining your business strategies. Sense the warmth as these cold data points transform into informed decisions, fueling growth and success. Indeed, invoices are more than mere documents. They're your eyes into the soul of your business, a testament to the intricate dance of commerce and data.
There Are Several Different Types of Invoices.
Elements of an Invoice
Invoice number: The unique identifier, like a fingerprint in transactions.
Customer and supplier details: The protagonists of the transaction story.
Description of goods/services: The heart of the transaction narrative.
Total amount: The tangible marker of the transaction's value.
Payment terms: The rhythm guiding the transaction dance.
Tips for Invoicing
Be clear and concise: Think of it as crisp, clear notes in your business symphony.
Use a professional format: The well-tailored suit of your business transactions.
Specify payment terms: The compass guides your payment journey.
Timely invoicing: The tempo in your business's cash flow melody.
Modern Invoicing Software
Invoice automation: The magic wand that streamlines your invoicing process.
Customizable templates: The color palette for your invoice designs.
Online payment options: The bridges connecting you and your customer's wallet.
Reporting and analytics: The telescope provides insights into your business galaxy.
With each type, element, tip, and software, invoicing becomes a more colorful, vibrant, and efficient marketplace, humming beautifully with the melody of successful transactions.
Advantages of Using Invoice Software
Imagine entering the business realm with a trusted ally – the invoice software. It's like a cool breeze on a hot day, refreshing and necessary. This ally offers numerous advantages, turning the daunting labyrinth of invoicing into a friendly landscape.
Effortless organization: Imagine the satisfaction of having all your invoices neatly organized. It's like a well-arranged bookshelf, each invoice a compelling story of transactions, easily accessible at a moment's notice.
Time-saving: Picture the hands of a clock slowing down graciously, offering you the gift of time. With the automation provided by invoice software, freeing up hours in your business day is no longer a fantasy.
Accuracy: Embrace the relief of error-free invoicing. It's like an invisible shield, protecting your business from the potential pitfalls of human error.
Easy access: Envision accessing your invoices anywhere, anytime. It's akin to a friendly ghost, faithfully following you, whispering the tales of your transactions whenever needed.
Financial forecasting: Imagine peering into a crystal ball, foreseeing the economic future of your company. The analytics provided by its software offers just that, guiding your business decisions with their illuminating insights.
So, breathe in the possibilities, taste the efficiency, and embrace the warmth of this digital ally. With invoicing software, It is a friendlier place, humming with the rhythm of accuracy, organization, and insights.
The aroma of success, the melody of efficiency, and the touch of convenience make it an indispensable asset in business.
Conclusion
In essence, understanding an invoice is akin to decoding the language of business transactions. Each invoice, with its unique elements, is a vibrant tale in the grand epic of commerce. Orderific, with its integrated systems and tailored experiences, adds a touch of finesse to this narrative. It's like having a trusted guide, lighting up the path toward increased revenue, decreased operational costs, and an enhanced user experience. Breathe in the symphony of efficiency, taste the satisfaction of automation, and luxuriate in the warmth of customization. For a deeper dive into this intoxicating world of invoicing and to explore how Orderific can transform your restaurant operations, schedule a FREE DEMO today. Let the dance of data, the rhythm of transactions, and the melody of efficiency paint a vivid picture of your business's future.
FAQs
What exactly is an invoice in business?
It is a document sent by a provider of goods or services to the purchaser detailing the transaction and payment terms.
Why are invoices important for businesses and financial transactions?
They are crucial for tracking sales, maintaining accurate records, legal protection, easy tax filing, and insightful business analytics.
Are there different types of invoices, and how do they differ?
Yes, there are multiple types of invoices, such as standard, proforma, credit, debit, and recurring, each with unique functionalities.
What information is typically included in an invoice?
An invoice typically includes the number, customer and supplier information, product/service description, total amount, and payment terms.
How does the invoicing process work in various industries and businesses?
The invoicing process varies by industry but generally involves issuing, sending, tracking, and recording transactions.