Stepping into a sushi restaurant can often feel like venturing into an expansive world of flavors and traditions. The rich tapestry of Japanese culinary delights unfolds before you, sometimes making it a tad challenging to decide where to start. Amid this plethora of dishes, maki, with its intricate rolls and flavorful combinations, effortlessly captures attention. 
A quintessential component of Japanese gastronomy, maki holds tales of traditions, skills, and artistry. This article seeks to be your compass, guiding you through the maze of maki's subtleties, offering insights into its many variations, and drawing comparisons with other iconic sushi offerings. Ready to unravel the secrets of maki? Dive in, and let's embark on this flavorsome voyage together.
What is Maki?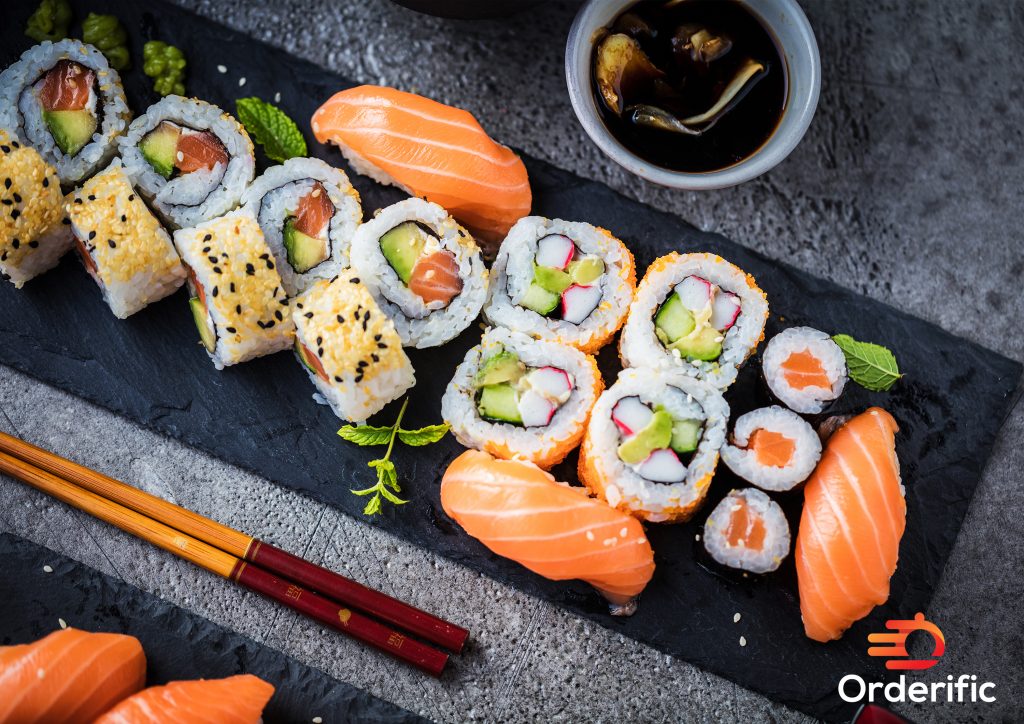 So, amidst the intricate tapestry of Japanese culinary traditions, where does "maki" fit in? In essence, maki symbolizes an iconic style of sushi roll. Its foundation is the specially seasoned vinegared rice, which is meticulously paired with an array of ingredients, ranging from fresh fish to crisp vegetables. This delightful combination is then neatly wrapped in a sheet of nori, which is a type of dried seaweed.
The term "maki" itself derives from the Japanese verb "to roll", reflecting the artful process of rolling these ingredients together. While the concept sounds simple, crafting the perfect maki is a testament to the delicate balance and harmony inherent in Japanese cuisine. Every roll is a representation of flavors, textures, and tradition, all seamlessly coming together.
Types of Maki
Diving deep into the world of Japanese cuisine, maki emerges as a versatile and vibrant culinary creation. But did you know there are multiple types of maki rolls, each with its distinct style and flavor palette? These variations aren't just about different fillings, but also the techniques employed in their crafting. Let's embark on a journey to explore these tantalizing types.
Inside Maki Rolls
Inside maki rolls are what most people envision when they think of sushi rolls. The name signifies the technique: the ingredients are "inside" the nori sheet. While this might sound standard, the art and precision required to craft these rolls are profound. It's the roll where the seaweed's crispness meets the tender rice, culminating in a burst of flavors from the fillings nestled within.
Futomaki
Distinguished by its thick, robust size, futomaki is like the grand display of the maki family. Often characterized by its generous width, futomaki can house multiple ingredients, making each bite a complex dance of flavors. From fresh fish and tangy pickled radishes to the sweetness of egg, these rolls are a feast both for the eyes and the palate. It's not uncommon to find futomaki adorned with colorful ingredients, turning each slice into a vibrant mosaic.
Chumaki
Striking a balance between the robust futomaki and the slender hosomaki, chumaki is often considered the "medium" sized roll in the maki spectrum. Typically about an inch in diameter, chumaki allows chefs to showcase a harmony of two to three ingredients without overwhelming the palate. This size is perfect for those who wish to savor a blend of flavors without the commitment of a hefty roll.
Hosomaki
Elegance in simplicity – that's what hosomaki is all about. These are thin rolls, usually spotlighting a single ingredient. Whether it's the soft texture of fresh tuna or the crispness of cucumber, hosomaki emphasizes the purity and essence of its star ingredient. Wrapped tightly in a nori sheet with a modest amount of vinegared rice, hosomaki offers a delicate bite, making it an ideal choice for those looking to relish the nuanced flavors of Japanese cuisine.
Inside-Out Maki Rolls
An exciting twist to traditional sushi rolls, inside-out maki rolls offer a visual and culinary spectacle that stands out on any sushi platter. As the name implies, these rolls flip the script by placing the rice on the outside, enveloping the nori sheet which holds the ingredients.
This reverse layering doesn't just add an element of surprise but also provides a different textural experience. The outer layer of rice, often sprinkled with sesame seeds or even roe, gives a slightly sticky bite followed by the crispness of the nori and the softness of the inner fillings. It's a roller-coaster for the senses, combining aesthetics with taste in one delightful package.
Uramaki
Often synonymous with inside-out rolls, uramaki is the Japanese term that specifically denotes this style. Characterized by its rice-outside appearance, uramaki is particularly popular in the West. It's not uncommon to find these rolls topped or coated with various ingredients like avocado slices or tempura flakes, enhancing both its visual appeal and taste profile.
The name "uramaki" literally means "reverse roll," highlighting its divergence from traditional maki. Its origin is often attributed to cater to those who preferred not to see or feel the nori on the outside. Over time, uramaki has carved its niche, beloved by many for its innovative approach and the myriad of flavor combinations it brings to the table.
Handrolls
A casual, handheld delight, handrolls bring the authentic experience of Japanese cuisine right to the diner's fingertips. Unlike the typical sushi rolls that are served in bite-sized pieces, handrolls are cone-shaped, allowing for an intimate, tactile dining encounter. This style of sushi showcases the ingredients more prominently, as they are not tightly packed but instead loosely enveloped in a sheet of crispy nori.
The experience of biting into a handroll, with its mix of textures from the seaweed, rice, and fillings, offers a unique gustatory journey. Often enjoyed freshly made, right off the sushi counter, handrolls are a testament to the simplicity and elegance of Japanese culinary arts, making every bite a delightful fusion of taste and tradition.
Temaki
Temaki, translating to "hand-wrapped," is essentially the formal term for handrolls in Japanese. As a style of sushi, temaki is known for its conical form, held by one end and eaten with the hands. This sushi form stands out for its informal and personal appeal. With a base of perfectly seasoned sushi rice and a choice of fillings, from fresh fish like tuna or salmon to vegetables or even tempura, each temaki roll is a personalized culinary canvas.
The slightly roasted nori sheet adds a crunch, contrasting the soft fillings and moist rice. Ideal for parties or gatherings, temaki allows guests to pick their preferred fillings, making each cone a personalized treat. The act of eating temaki, holding it like an ice cream cone and enjoying each bite, makes it not just a meal but a unique dining experience.
Maki vs. Sushi
The distinction between maki and sushi might seem perplexing, but it's essential to clarify. Maki is indeed a type of sushi, but sushi encompasses a broader spectrum. Sushi refers to any dish made with vinegared rice, and maki falls under this umbrella. However, when most people think of "sushi," they often envision various forms of maki rolls or nigiri.
Nigiri and sashimi are also considered sushi, yet they deviate from the rolled nature of maki. So, while all maki is sushi, not all sushi is maki. Think of maki as a subcategory of sushi, specifically characterized by its rolled form with rice, fillings, and seaweed.
Maki vs. Sashimi
Maki and sashimi are siblings within the realm of sushi, yet their differences are pronounced. It showcases a harmonious fusion of vinegared rice, fillings, and nori, all rolled into a compact package. In contrast, sashimi is a slice of raw seafood, skillfully cut and presented with meticulous attention to detail. While maki engages various ingredients, sashimi focuses on the pure, unadulterated flavor of the fish itself.
Maki boasts a diverse range of textures and flavors, while sashimi is all about celebrating the natural essence of the fish. So, the next time you're at a sushi restaurant, remember that while both maki and sashimi are synonymous with sushi, they showcase different aspects of this revered cuisine.
Maki vs. Nigiri
In the arena of sushi, maki and nigiri often take center stage, each with its own identity. Maki rolls are characterized by their rolled and cylindrical form, encasing vinegared rice, various fillings, and seaweed. On the other hand, nigiri showcases a more minimalistic presentation. It consists of a hand-pressed mound of sushi rice, topped with a slice of raw fish or other toppings.
While maki delights in its colorful combinations and play of textures, nigiri takes pride in showcasing the nuanced flavors of the seafood. Nigiri is akin to a canvas where the fish itself is the masterpiece, while maki is a symphony of flavors, textures, and colors, all harmonizing to create a delectable ensemble. Both maki and nigiri are integral parts of the sushi repertoire, each offering a unique gastronomic experience.
Conclusion
Maki stands as a testament to Japan's rich culinary legacy, seamlessly blending time-honored tradition with the finesse of culinary artistry. Each roll is meticulously crafted, reflecting a passion and precision that transforms simple ingredients into an exquisite tapestry of flavors and textures. Beyond its delectable taste, maki is a visual delight, often adorned with vibrant hues that mirror the craftsmanship of a skilled artist.
For those new to the sushi realm, delving into the world of maki offers an enthralling initiation. And for seasoned sushi enthusiasts, appreciating the nuances of maki provides an enriched perspective. Every bite is not just a gastronomic journey but also an exploration of culture, craft, and creativity.
In case you want more content like this, visit Orderific right now!
FAQs
Why Is Sushi Called Maki?
Sushi refers to any dish with vinegared rice, while maki is specifically sushi that has been rolled with ingredients inside, typically encased in nori.
Is Maki Sushi Raw Or Cooked?
It can be both! Depending on the ingredients, maki can feature raw fish or cooked elements like shrimp tempura or grilled eel.
Is Maki Sushi Healthy?
Packed with protein and omega-3 fatty acids, maki can be a nutritious choice. However, it's essential to be wary of rolls with creamy sauces or fried components.
How Often Can I Eat Maki Sushi?
Moderation is key. While maki sushi can be healthy, overindulgence, especially in maki with raw fish, might pose health risks.
Is Maki Sushi A Junk Food Or a Cheat Meal?
Not necessarily! While some rolls can be calorie-dense, many maki variations are wholesome and nutritionally balanced.
Is Maki Sushi High Risk?
If sourced from reputable places and consumed fresh, maki is generally safe. However, raw fish always carries a minimal risk of parasites or bacteria.
Can You Lose Weight With Maki Sushi?
Maki, when chosen wisely (think lean fish, veggies, and minimal sauce), can be a part of a balanced diet. Always consult with a nutritionist when considering dietary changes.