Are you looking for something new and exciting when it comes to coffee? White coffee is an intriguing alternative and gaining more recognition recently. It's a relatively unknown specialty type of roast that offers unique flavors, health benefits, and creative ways to prepare it. Whether you're already a fan of coffees or just starting to explore what tastes great for you, this has so much potential.
In this post, we'll discuss what white coffee is, the beans used in its preparation, its tummy-friendly advantages as well as three amazing recipes that will craft your experience with this exceptional roast! Keep reading if you'd like to learn more about this truly special brew!
Introducing White Coffee – What Is It and Where Does It Come From
Attention coffee aficionados, have you had the pleasure of encountering the intriguing realm of white coffee? This novel and distinctive coffee variation has been steadily gaining traction in recent times, although it remains relatively unfamiliar to many. So, what precisely characterizes white coffee? Unlike its conventionally roasted counterpart, which develops into a deep, dark hue, it is nurtured through a process of under-roasting, resulting in a delicate beige or even a faintly yellow appearance.
Yet, the true allure lies in its unique flavor profile – a symphony of nutty notes and delightful sweetness that harmonize exquisitely, all while carrying far less of the pronounced bitterness found in darker roasts. The origins can be traced back to Yemen, where it has retained its status as a beloved beverage. However, its allure has transcended borders and journeyed to various corners of the globe.
Guide to White Coffee
How Many Kinds of White Coffee Are There?
White coffee appeals to individuals seeking a gentler and less intense coffee encounter. Surprisingly, it comes in diverse variations, each boasting unique flavor characteristics and preparation techniques. Depending on the type, it can feature Arabica or Robusta beans, influencing the flavor's potency.
Some iterations also infuse delightful hazelnut or vanilla notes for an elevated taste experience. With this wide array of options, aficionados of white coffee grounds can undoubtedly pinpoint a variety that aligns perfectly with their taste preferences.
What's the Difference Between Regular and White Coffee?
Coffee enthusiasts are well aware of the myriad ways to indulge in their beloved brew. One recurring query is the distinction between regular and white coffee. In contrast to conventional black coffee, brewed from water and coffee beans, white coffee follows a distinct process: beans are roasted at lower temperatures for shorter durations.
This distinctive method yields a bean with a lighter hue, boasting a milder flavor profile, reduced acidity, and a heftier caffeine punch compared to its traditional counterpart. The appeal lies in its diminished bitterness for some, while others savor its unique nutty undertones. The ultimate decision between regular and white hinges upon individual palate preferences.
Does White Coffee Have More Caffeine Than Regular Coffee?
For aficionados of coffee, the caffeine content in their morning brew holds significant importance. With the rising trend of white coffee, there's a growing curiosity about its caffeine potency compared to its darker roasted counterpart. White coffee is crafted from coffee beans roasted at lower temperatures for shorter durations, resulting in a paler hue and milder flavor profile.
While some argue that it delivers more caffeine due to its bolder taste, the reality is that it contains an equivalent caffeine amount as regular coffee. Thus, whether your preference leans towards the classic darker roast or the trendy white roast, you can be confident that you'll receive an equivalent energizing kick in either case.
What Does White Coffee Taste Like?
White coffee stands as a rare and distinctive variant of the usual roasted coffee drink we encounter, celebrated for its unique flavor profile. Crafted from lightly roasted regular coffee beans, it delivers a taste that distinguishes it from its darker-roasted coffee counterparts. Displaying a pale, almost ethereal yellow hue, it embodies a gentler and less acidic demeanor, often accompanied by hints of nutty flavor.
Its flavor notably departs from the bitterness commonly found in dark roast coffee, instead carrying a delightful grain-like essence attributed to its brief roasting process. The experience can be characterized as subtly intricate, appealing particularly to those in search of a ground coffee encounter that diverges from the customary deep and robust notes linked with conventional roasting techniques.
What Are Its Benefits?
Unveiling a hidden treasure within the realm of coffee lovers, white coffee stands as a lesser-known delight. Its light roasting bestows upon it a distinct and captivating taste and aroma. Amidst the shadows of its darker roasted counterparts, it boasts remarkable advantages:
Elevated Caffeine Kick: With a higher caffeine content, it provides a swift and invigorating energy surge, catering to those seeking a quick pick-me-up.
Gentler on the Stomach: Thanks to its reduced acidity, white coffee becomes a favorable choice for individuals with sensitive stomachs, ensuring a smoother coffee experience.
Exquisite Flavor Palette: Its unparalleled flavor profile beckons the adventurous palate, offering a captivating departure from the conventional, making it a must-try for enthusiasts craving a novel coffee encounter.
How to Make White Coffee
4 Tips for Brewing
Brewing white coffee requires a nuanced approach to highlight its unique characteristics. Here are four essential tips to master the art of preparing this distinct beverage:
Choose Fresh and Quality Beans: Begin with high-quality, freshly roasted beans. Their inherent flavors shine through when they're at their freshest. Seek out reputable roasters who specialize in white coffee for the best results in light roasts.
Adjust Grind Size: Opt for a coarser grind than what you might use for traditional coffee. A coarser grind preserves the delicate flavors and prevents over-extraction, which can lead to bitterness.
Mindful Brewing Methods: Select brewing methods that complement the delicate nature of white coffee. Pour-over and French press techniques are excellent choices. Keep water temperature slightly lower than usual (around 190°F or 88°C) to avoid scorching the beans.
Precise Brewing Time: Brewing requires shorter contact time with water due to its lighter roast. Experiment with different brewing times to find the sweet spot that extracts the desirable flavors without extracting excessive bitterness.
Remember, white coffee's charm lies in its subtlety. Approach the brewing process with patience and an open palate, and you'll uncover a delightful spectrum of flavors unique to this rare gem.
3 Recipes
Hazelnut Iced White Coffee Recipe
Here's a simple and enticing recipe: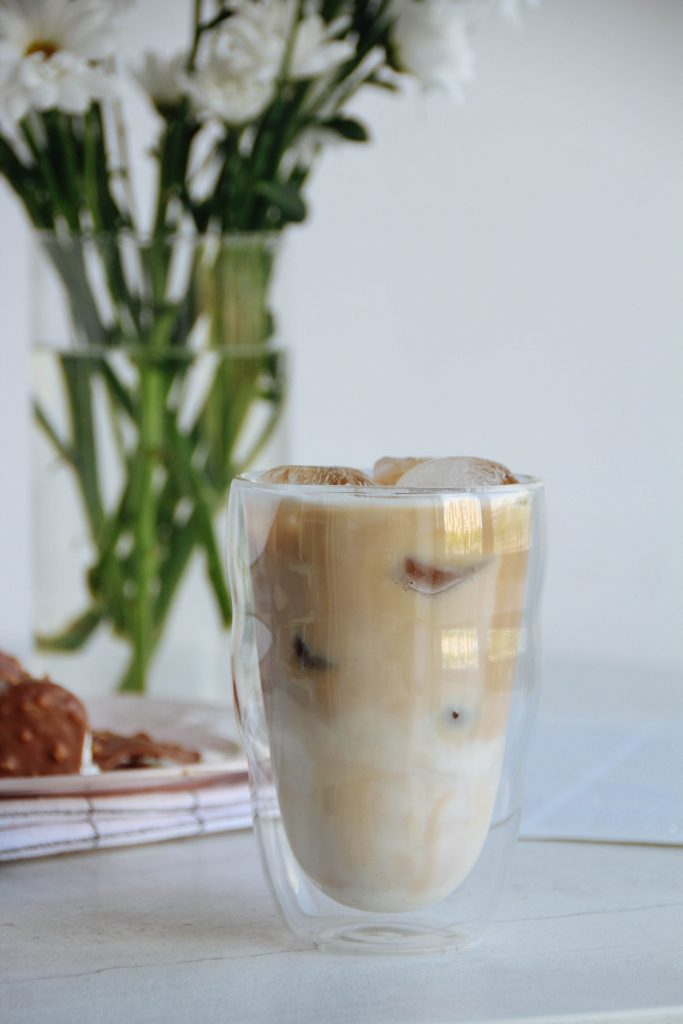 Ingredients:
1 cup of coarsely ground beans
4 cups of cold water
1/2 cup of hazelnut flavored syrup (adjust to taste)
Ice cubes
Milk or creamer (optional)
Crushed hazelnuts for garnish (optional)
Instructions:
Brewing the Coffee: Place the coarsely ground white coffee beans in a large pitcher or jar. Pour the cold water over the coffee grounds. Stir gently to ensure even saturation. Seal the container and let it steep in the refrigerator for about 12-16 hours.
Straining the Coffee: After steeping, use a fine-mesh sieve or a coffee filter to strain the coffee concentrate into another pitcher, removing the coffee grounds.
Preparing the Hazelnut Iced Coffee: Fill glasses with ice cubes for serving. Add 1/2 cup of hazelnut flavored syrup to the bottom of each glass. Adjust the amount based on your desired sweetness. Pour the strained white coffee concentrate over the syrup. Leave some space at the top for milk or creamer, if using. If desired, add a splash of milk (condensed milk or steamed milk) or creamer to taste.
Garnishing: For an extra touch of hazelnut goodness, sprinkle crushed hazelnuts on top of the iced coffee.
Enjoying the Beverage: Stir the hazelnut iced white coffee gently to combine the flavors. Sip and relish the harmonious blend of smooth white coffee and nutty hazelnut notes.
Coconut White Coffee Cappuccino Recipe
Elevate your coffee experience with the exotic twist of a Coconut White Coffee Cappuccino. This recipe combines the richness of cappuccino with the delightful essence of coconut. Here's how to craft this delectable treat: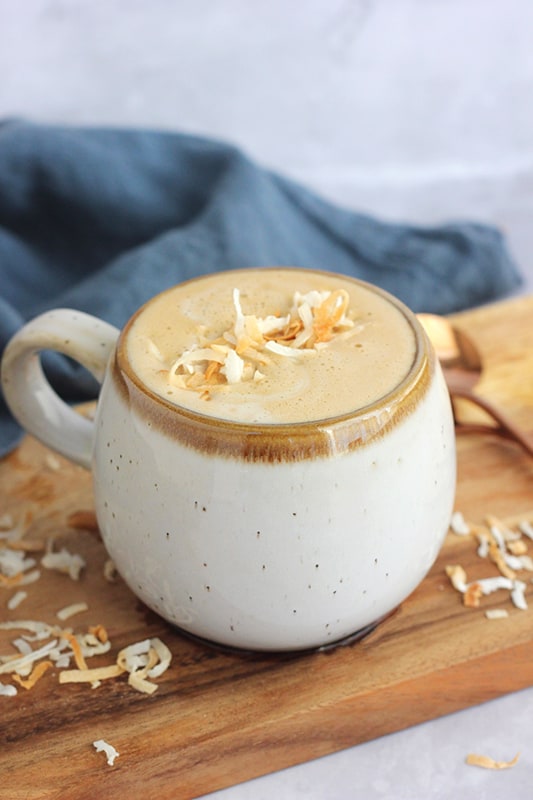 Ingredients:
1 shot of espresso (or 1/2 cup of strong brewed white coffee)
1/2 cup of coconut milk (canned, full-fat)
1 tablespoon of coconut cream
1 teaspoon of coconut sugar (adjust to taste)
Whipped cream (optional, for topping)
Shredded coconut (for garnish)
Instructions:
Preparing the Coffee: Brew a shot of espresso using your espresso machine. Alternatively, brew strong white coffee using your preferred method.
Frothing the Coconut Milk: In a small saucepan, gently heat the coconut milk over medium-low heat. Do not boil. Using a frother or whisk, froth the coconut milk until it's creamy and has a velvety texture.
Creating the Coconut Cappuccino: Pour the prepared shot of espresso into a cappuccino cup. Add the frothed coconut milk to the cup, holding back the foam with a spoon to create a layer of creamy milk.
Adding Coconut Cream and Sweetness: Gently spoon the coconut cream on top of the frothed milk layer. Stir in the coconut sugar to your desired level of sweetness.
Final Touches: If desired, top the cappuccino with a dollop of whipped cream for extra indulgence. Sprinkle a pinch of shredded coconut over the whipped cream for a tropical flair.
Savoring the Coconut White Coffee Cappuccino: Enjoy your Coconut White Coffee Cappuccino by taking slow sips, relishing the interplay of rich espresso, velvety coconut milk, and the subtle sweetness of coconut cream.
Almond Maple White Coffee Recipe
Experience the warm embrace of flavors with this Almond Maple White Coffee recipe. Combining the nuttiness of almonds and the comforting sweetness of maple, this drink is a delightful twist on a classic. Here's how to create it: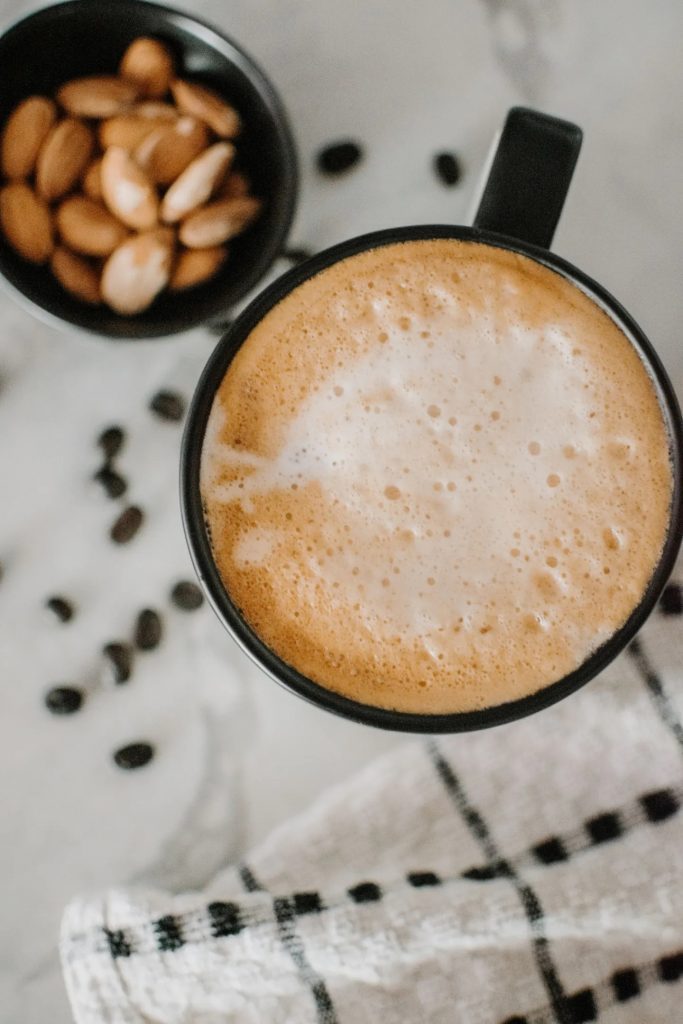 Ingredients:
1 cup of coarsely ground white coffee beans
4 cups of cold water
1/4 cup of almond syrup or 1/2 teaspoon almond extract
2-3 tablespoons of pure maple syrup (adjust to taste)
Milk or creamer of your choice (optional)
Sliced almonds (for garnish, optional)
Whipped cream (for topping, optional)
Instructions:
Brewing the Coffee: Place the coarsely ground white coffee beans in a large pitcher or jar. Pour the cold water over the coffee grounds, ensuring they're evenly saturated. Gently stir and cover the container. Let it steep in the refrigerator for about 12-16 hours.
Straining the Coffee: After steeping, strain the coffee concentrate into another pitcher using a fine-mesh sieve or coffee filter, removing the grounds.
Adding Almond and Maple Flavors: Stir in the almond syrup or almond extract into the strained coffee concentrate. Gradually add 2-3 tablespoons of pure maple syrup, adjusting to your desired level of sweetness. Stir well to combine.
Assembling the Almond Maple White Coffee: Fill glasses with ice cubes for a refreshing base. Pour the almond maple white coffee concentrate over the ice, leaving room for milk or creamer if desired.
Customizing Creaminess: If you like, add a splash of milk or creamer to enhance the creaminess and richness of the drink.
Garnishing and Topping: Optionally, top your Almond Maple White Coffee with a dollop of whipped cream. Sprinkle a few sliced almonds over the whipped cream for added texture and nutty goodness.
Enjoying the Blissful Blend: Stir your creation gently to ensure the almond and maple flavors are well distributed. Sip and savor the harmonious medley of almonds, maple, and the smoothness of white coffee.
Indulge in the Almond Maple White Coffee to experience a symphony of tastes that evoke comfort and warmth. This delightful beverage brings together the essence of almonds and the sweetness of maple, creating a treat that's perfect for any time of day.
Wrapping Up!
In conclusion, white coffee presents an elegantly subtle alternative to traditional dark roasts, offering a unique flavor palette, manageable acidity, and an invigorating caffeine kick. Its distinct brewing process brings out a fresh, nutty richness that is a welcome divergence from the usual coffee experience. After understanding the benefits, tasting notes, and brewing tips, why not explore the delightful world of white coffee through our delicious recipes?
If you've enjoyed this exploration into the world of white coffee, we invite you to delve deeper into the realm of culinary delights with our diverse array of articles and guides. Discover more about the enriching world of food and drink on the Orderific blogs – there's a culinary adventure waiting for you at every click.
FAQs
Q. What is White Coffee?
Ans. White coffee is a variant of coffee made from lightly roasted beans, characterized by its pale color and distinct, less acidic flavor profile.
Q. How does White Coffee differ from regular coffee?
Ans. White coffee differs from regular coffee in its roasting process, taste, and caffeine content; it's lightly roasted (resulting in a pale hue), has a gentler, nuttier flavor, and contains more caffeine due to the lighter roast.
Q. Does White Coffee contain milk or dairy?
Ans. White coffee itself does not contain milk or dairy; however, based on preference, it can be prepared with milk, creamers, or dairy alternatives.
Q. Is White Coffee less caffeinated than regular coffee?
Ans. Contrary to common belief, white coffee is more caffeinated than regular coffee due to the shortened roasting process, which preserves more caffeine.
Q. Can I prepare White Coffee using a regular coffee maker or espresso machine?
Ans. Yes, you can prepare it using a regular coffee maker or espresso machine, although grind size, water temperature, and brewing time may require adjustments to optimize flavor extraction.