White Coffee, a popular brew, is a unique twist on your traditional cup of joe. It's not your usual cup of java, it's a creamy, smooth, and irresistibly delightful variant that will leave you craving for more. Originating from Malaysia, the term "white coffee" refers to the color of the coffee bean before roasting, leading to a distinct taste unlike any other.
The process of making white coffee is what truly sets it apart. The beans are lightly roasted with margarine, and then ground into a fine powder. The result? A cup of coffee that's lighter in color, and a richness that's smoother and creamier. It's not just a simple brew, it's an experience — a luxurious indulgence that brings savor and comfort in every sip.
What is White Coffee?
It is not just another type of coffee, it's a unique drink with its distinct qualities. Unlike traditional dark-roasted coffee beans, the beans are only lightly roasted until they reach a light brown color. This results in a milder flavor profile and a lighter color of the brewed beverage.
But what sets white coffee apart is its creamy texture and smoothness. The use of margarine during the roasting process gives it a velvety mouthfeel, making it an enticing and indulgent experience for your taste buds.
Where does White Coffee Come From?
It has its origins in Malaysia, specifically in the city of Ipoh. It is said to have been created by a local coffee roaster who wanted to experiment with roasting methods and discovered this unique way of preparing coffee beans.
The popularity of white coffee spread throughout Malaysia and eventually made its way to other parts of the world. Today, it can be found in many coffee shops and cafés, bringing a touch of Malaysian culture to coffee lovers everywhere.
How is White Coffee Made?
As mentioned earlier, it is made with a unique roasting process. The beans are roasted at lower temperatures for a longer period, resulting in a lighter color and milder taste. After roasting, the beans are ground into a fine powder and mixed with margarine before being brewed.
Some purists believe that adding milk or sugar to white coffee takes away from its unique taste. However, others enjoy it with a splash of milk or a sprinkle of sugar to enhance the creaminess and sweetness of the brew.
What does White Coffee Taste Like?
It offers a unique taste experience that's quite different from regular black coffee. It is characterized by its light, nutty flavor that is less acidic and bitter than its dark-roasted counterpart. With hints of caramel and a subtle sweetness, white coffee delivers a smooth, clean finish that is more refreshing, making it ideal for those who prefer a less intense coffee flavor.
The creaminess of white coffee, achieved through the addition of milk, further adds to its rich taste profile. The milk not only enhances the coffee's body and texture but also complements its inherent nutty flavor. The result is a harmonious blend of sweetness and creaminess that intrigues the palate and leaves you with a satisfying aftertaste.
What is the Process for Making?
To make your cup of white coffee, you will need a few key ingredients: white coffee beans, margarine, water, and optionally some milk or sugar.
Start by grinding the lightly roasted beans into a fine powder.
In a pot, heat some water until it reaches a near-boiling temperature.
Add 2 tablespoons of the white coffee powder to a cup and pour in about 1/4 cup of hot water.
Stir well until all the powder is dissolved.
In a separate small pot, melt 1 tablespoon of margarine over medium heat.
Slowly pour the melted margarine into the coffee mixture while stirring continuously.
Optional: add milk or sugar according to your preference.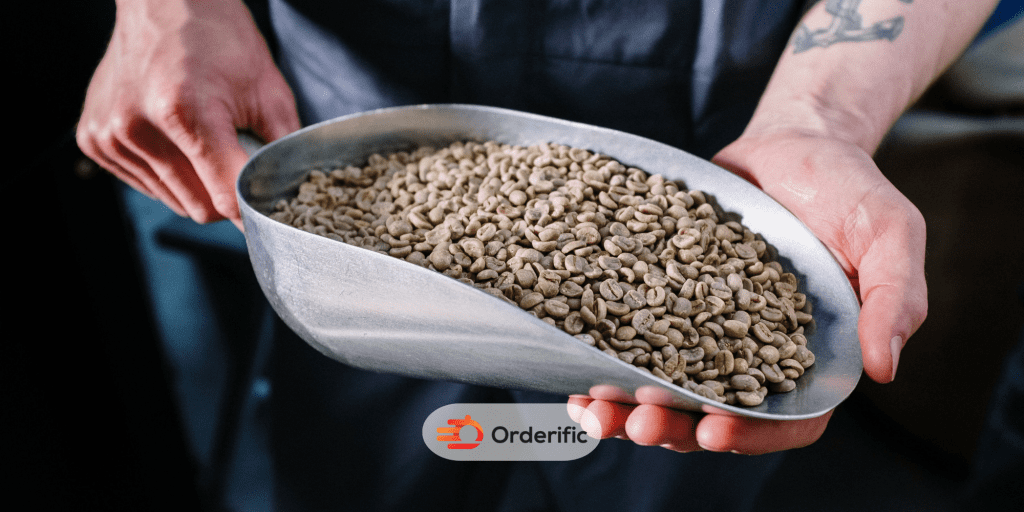 Roasting Process of White Coffee
The secret behind it's unique taste lies in its roasting process. The beans are lightly roasted at lower temperatures compared to traditional coffee beans, which undergo a dark roasting process.
This low-temperature roasting method preserves the natural oils and flavor compounds in the beans, resulting in a milder and smoother brew. Additionally, adding margarine to the beans during the roasting process gives white coffee its creamy texture and distinct flavor.
Level of Caffeine
White coffee's unique roasting process results in a surprising twist when it comes to its caffeine content. Despite its milder taste and lighter color, it contains a higher level of caffeine compared to regular black coffee. This is because the coffee beans are roasted for a shorter period at lower temperatures, leaving more of the caffeine intact.
However, it's worth noting that the caffeine content can vary based on the brewing method and the amount of coffee used. Generally, a cup of white coffee can contain up to 50% more caffeine than a regular cup of black coffee. So, while you're indulging in the creamy, luscious flavors of white coffee, you're also getting a robust jolt of energy, making it a perfect pick-me-up at any time of the day.
White Coffee Around the World
It may have originated in Malaysia, but its unique taste and creamy texture have gained popularity worldwide. It can now be found in many countries, with variations depending on local preferences and customs.
For example, in Singapore, a popular variation of it is "iced white coffee," where the brewed coffee is poured over ice cubes before being topped with condensed milk for an even creamier and sweeter taste. In the Philippines, "white coffee" refers to a mix of roasted coffee beans and corn, resulting in a milder and slightly sweet brew.
Winding Up
It is not just a drink, it's an experience. Whether you're a coffee lover or looking to try something new, this unique brew will surely delight your taste buds. With its creamy texture, nutty flavor, and distinct roasting process, white coffee offers a one-of-a-kind taste experience that's truly unforgettable.
So why not indulge in the rich flavors of white coffee? Go ahead and treat yourself to a cup. Your taste buds will thank you. And who knows, it may just become your new favorite brew. Enjoy the perfect cup today! Happy Brewing!
Click here for more flavorful and informative advice with Orderific. To start experiencing the great benefits Orderific can bring to your business, click here now. Try Orderific!
FAQs
What exactly is It?
White coffee refers to a unique type of coffee that is lightly roasted and has a creamier texture compared to regular black coffee.
Does white coffee have protein?
Yes, white coffee does contain a small amount of protein from the coffee beans and any added milk.
What is the caffeine content of white coffee?
The caffeine content in it can vary but generally, it contains up to 50% more caffeine than regular black coffee due to its unique roasting process.
Where can I try?
You can find in many coffee shops and cafés around the world. You can also make it at home with a few simple ingredients.
Why is white coffee popular?
It's unique flavor profile and creamy texture make it a popular choice among coffee lovers. Its origins in Malaysia and its popularity around the world also add to its intrigue and appeal.