Are you looking for an exciting way to shake up your social life and make your next gathering with friends something special? Look no further, because it's time to pull out the bottle of wine! Wine has long been a favorite beverage among many around the globe, whether enjoyed on its own or paired with tasty recipes.
Luckily, plenty of activities centered around everyone's favorite fermented grape juice go beyond typical dinner conversations or nights at the bar. Here is some insight into how to have some delicious fun while enjoying wine with good company.
Wine As A Generational Drink
For generations, wine has held a prominent place in our social and cultural fabric. However, its purpose has evolved beyond mere sipping.
Wine holds a multitude of roles: a versatile ingredient for culinary creations, a delightful addition to a girls' night in, and a gateway to explore diverse cultures. For those with a passion for cooking, wine can enhance the flavors and intricacies of both savory and sweet dishes.
For the ones seeking a more social gathering, consider hosting a wine tasting party or participating in a painting and wine class. And for those with a curious and adventurous spirit, delving into diverse wine regions and varietals presents an opportunity to immerse oneself in various cultures' rich history and traditions.
So raise a glass and cheers to the many activities and experiences that wine can bring.
3 Fun Activities That Include Wine
Wine invariably takes center stage for connoisseurs who savor life's exquisite pleasures. Yet, why limit oneself to solitary sips when one can seamlessly integrate this nectar of indulgence into an enjoyable pursuit? Here are 3 fun activities that you can do with your friends or family while enjoying some wine –
1. Host a Paint 'n Sip at your Home or Local Art Studio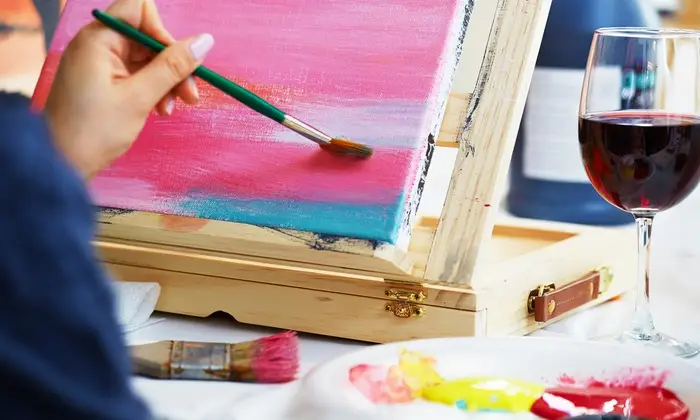 Unleash your inner artist and indulge in a glass of wine with a paint 'n sip party.
Whether you opt for hosting it at your own home or a nearby art studio, this activity offers an ideal opportunity to delve into your creative side. The laid-back ambiance and expert guidance will assist you in crafting a masterpiece that fills you with pride.
Indulge in the exquisite taste of your preferred wine, while relishing the delightful company of friends. Together, embark on a journey of self-expression as you breathe life into your visions on the canvas. This enchanting experience might ignite a newfound passion or even pave the way for a promising career in the captivating world of art.
Get hold of a paintbrush and a glass, and let the festivities commence!
2. Head to a Winery for a Tour and Tasting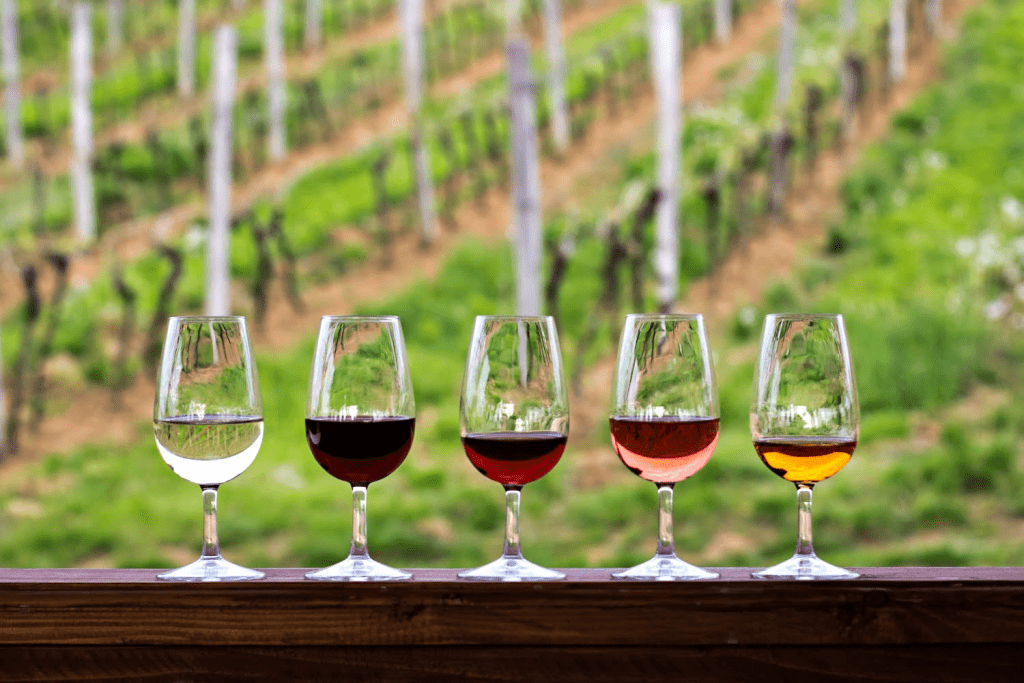 Embarking on a journey of discovering new wines holds immense excitement for enthusiasts.
Indulging in a winery tour and tasting presents a delightful opportunity to expand your palate and experience varietals you may not have savored before. From the sweet Muscat to the bold Syrah, there are so many flavors and aromas to discover.
Furthermore, embarking on a winery tour offers an opportunity to delve into each bottle's rich history and intricate winemaking process, transforming it into more than a mere wine tasting but a captivating cultural experience.
Why not gather a group of friends or even arrange a romantic outing and venture to a nearby winery for a delightful day of exploring new wines?
3. Host a Backyard Picnic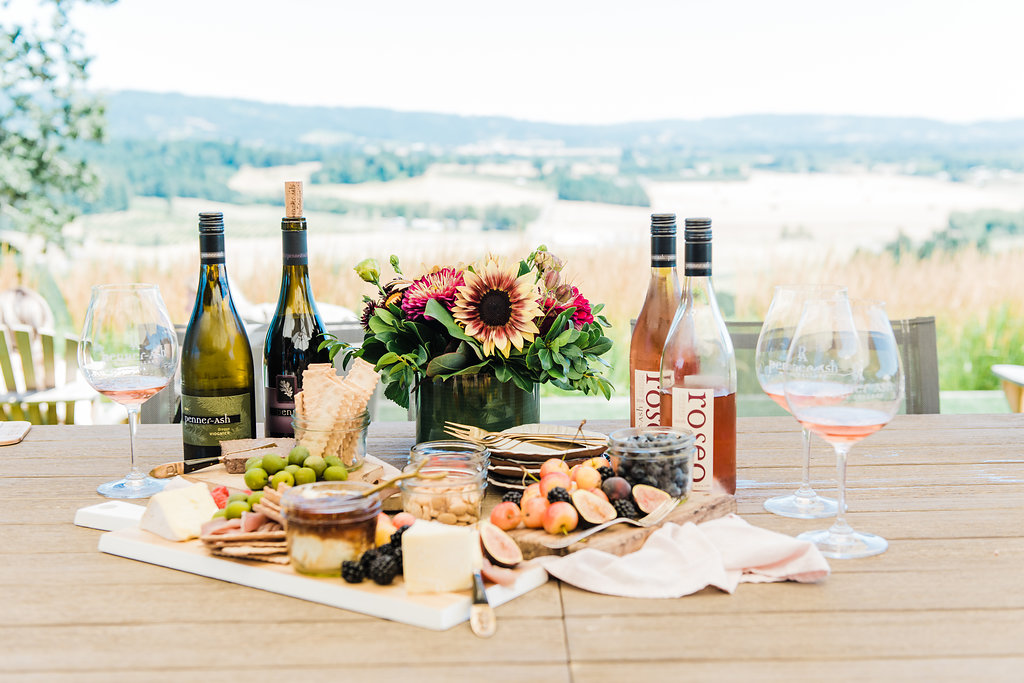 There is a certain enchantment in savoring a delightful meal under the sun's warm embrace, surrounded by dear friends and cherished family. And what could be more perfect than orchestrating a delightful backyard picnic to indulge in this joyous experience?
The thought of fresh blanket, good company, sandwiches, and a glass of fine wine sounds like a perfect day in the making. Whip up some delicious sandwiches to your preference, grab a couple of bottles of chilled wine, and lay out your picnic blanket to create the perfect ambiance.
You can even spice things up by bringing outdoor games or playing music to set the mood.
Conclusion
What a fun way to explore the world of wine! Who knew that mixing together activities with friends and family along with a fine wine could be such an enjoyable experience? From creating your own art piece while sipping vino to taking a tour at your local winery, you can indulge in amazing activities and experiment with drinks you have never tasted.
No matter what your preference is, there is likely an activity available for you and your buddies. So why wait? Enjoy exploring the world of wines while incorporating creative ideas into your next party or event.
And suppose you're still looking for more boozy inspiration. Why not check Orderific's array of blogs where we discuss everything from seasonal favorites to special occasions and even pairing with foods!
FAQs
Q. What are the main types of wine and what differentiates them in terms of taste and production methods?
Ans. The main types of wine are red, white, rosé, and sparkling. They differ in taste due to grape varieties and production methods, like fermentation with or without skin contact.
Q. Can you provide insights into the wine-making process, from grape harvesting to fermentation and aging? 
Ans. Wine-making involves grape harvesting, crushing, fermentation (yeast converting sugars to alcohol), and aging in barrels or bottles.
Q. Are there specific regions or countries known for producing exceptional wines, and what are some notable varieties from those regions?
Ans. Regions like France, Italy, Spain, and the USA are known for exceptional wines. Notable varieties include Bordeaux from France, Barolo from Italy, Rioja from Spain, and Cabernet Sauvignon from the USA.
Q. Can you recommend tips for pairing wines with different types of foods to enhance the dining experience? 
Ans. Pair lighter wines like white or rosé with fish and chicken, and match full-bodied wines like reds with red meat or rich dishes. Experiment to find complementary flavors with delicious wine.