Step into a French restaurant, and you'll find more than an exquisite menu. What's in a name, you ask? In the vibrant world of French cuisine, quite a lot. The restaurant's name often reveals a glimpse into its culinary soul. Each word, from 'Bistro' to 'Café,' carries a rich history and an alluring promise of the gastronomic journey that awaits you. It's a subtle yet significant part of the dining experience, steeped in culture and tradition. We've curated a list of common words found in French restaurant names. Prepare yourself for an informative and delightful exploration of the meaning behind these names. Together, let's uncover the hidden stories they whisper to those who know how to listen.
The Role of Language in French Restaurant Names
In French restaurant names, language is more than just a means of identification. It's a medley of cultural nuances, a stirring symphony of history and tradition. Each name carries an essence, a story waiting to be savored.
Take, for instance, the word 'Bistro'. Rooted in Parisian culture, it whispers of a cozy setting where food and camaraderie intertwine. Or, consider 'Brasserie'. Its origins lie in the love for hearty meals and frothy beers, an homage to the breweries of yore.
Venture into an 'Auberge,' and you step into a warm, welcoming inn that promises a gastronomic journey, all while staying true to regional flavors. Cross the threshold of a 'Café,' and you're greeted by the comforting aroma of strong coffee and freshly baked pastries.
In a 'Pâtisserie,' the sweet scent of sugar, butter, and flour meld together, crafting a fragrant invitation. The word 'Crêperie' lures you with the promise of thin pancakes adorned with myriad fillings.
In the context of French restaurant names, language is a veritable feast, a banquet of words that entice and engage. It's an integral part of the dining experience, a dash of allure in the recipe for a memorable meal. Thus, each visit to a French restaurant becomes more than a simple food venture—it evolves into a linguistic and culinary adventure, a celebration of French culture and cuisine.
Common Words in French Restaurant Names and Their Meanings
Some words play a recurring melody in the symphony of French restaurant names. These names are not just labels; they paint a picture, set the stage, and welcome the guests to a unique dining narrative. To fully savor the experience, let's delve into the meaning behind some of these familiar words:
Bistro: This term brings to mind a small, intimate setting, often with an eclectic menu. It's where Parisians go for a relaxed meal, a place where camaraderie and good food are in harmony.
Brasserie: Originating from the word 'brewery,' a brasserie is traditionally a large restaurant that serves simple, hearty meals. You'll also find a wide selection of beers here, paying homage to its origins.
Auberge: Translated as 'inn,' an auberge often serves regional cuisine. The name suggests a warm, inviting place where the focus is on traditional, home-cooked meals.
Café: Here, the aroma of strong coffee and fresh pastries greets you. A café, as the name suggests, is a casual eatery, perfect for a quick breakfast or a leisurely afternoon.
Pâtisserie: The air in a pâtisserie is heavy with the scent of sugar, butter, and flour. It's a pastry shop where the display of beautifully crafted sweets is a feast for the eyes.
Crêperie: As the name suggests, a crêperie specializes in crêpes, those thin pancakes that can be filled with anything from cheese and ham to chocolate and fruit.
Each word in a French restaurant name is a promise, a hint of the experience that awaits. These are not just names; they are stories, chapters in the great book of French culinary tradition. They form the backdrop to memorable meals, adding depth to the flavors savored and the moments shared.
The Art of Naming a French Restaurant
The art of naming a French restaurant is akin to creating a culinary masterpiece. It begins, naturally, with a dash of inspiration. A word that resonates with the essence of the cuisine and the ambiance you aim to create. Transitioning from idea to identity, this word becomes the cornerstone, the defining note in the symphony of flavors your restaurant promises.
Next comes the delicate process of refinement. As a chef selects the finest ingredients, you must choose authentic and evocative words. These words are then artfully combined, like a dish's flavors, to create an inviting and unique name. The result? It is an enticing prelude to the dining experience that awaits within.
In essence, naming a French restaurant is an exercise in storytelling. The name should whisk your guests away on a gastronomic journey before they've even perused the menu. It's an invitation to savor not just the food but the story, culture, and tradition it embodies. Ultimately, it's the first step in turning meals into memories, making the art of naming a French restaurant a crucial ingredient in the recipe for culinary success.
The Influence of Culture on French Restaurant Names
Culture wields a sizeable influence on French restaurant names, infusing each with a unique, savory essence. Picture yourself strolling down a Parisian street, peering at gilded nameplates. Suddenly, you're not just reading a name but experiencing a story. The word 'Boulangerie' dancing on a signboard evokes the image of a rustic bakery tucked in a quaint alley. It's a sensory journey where you can almost taste the buttery croissants and smell the freshly baked baguettes.
A name like 'Chocolaterie' promises a sweet indulgence, transporting you to a world where cocoa reigns supreme. This isn't simply a name; it's a veritable hymn to the art of chocolate making, a nod to the country's age-old love affair with this divine treat. You can almost hear the rustle of delicate wrappers and feel the velvety softness of artisanal chocolates in your hand.
Similarly, 'Charcuterie' refers to a time-honored tradition of preparing and selling cured meats, a testament to France's culinary heritage. Each syllable of the name resonates with the sizzling sounds of sausages and hams the inviting whiff of smoked delicacies. These words, intricately woven into the fabric of French culture, lend a vivid, textural depth to the dining experience, engaging your taste buds and your imagination.
French restaurant names are microcosms of French culture, each a distinct echo of tradition and taste. So, remember to savor the name the next time you spot a French restaurant. After all, it's the appetizer to your culinary adventure.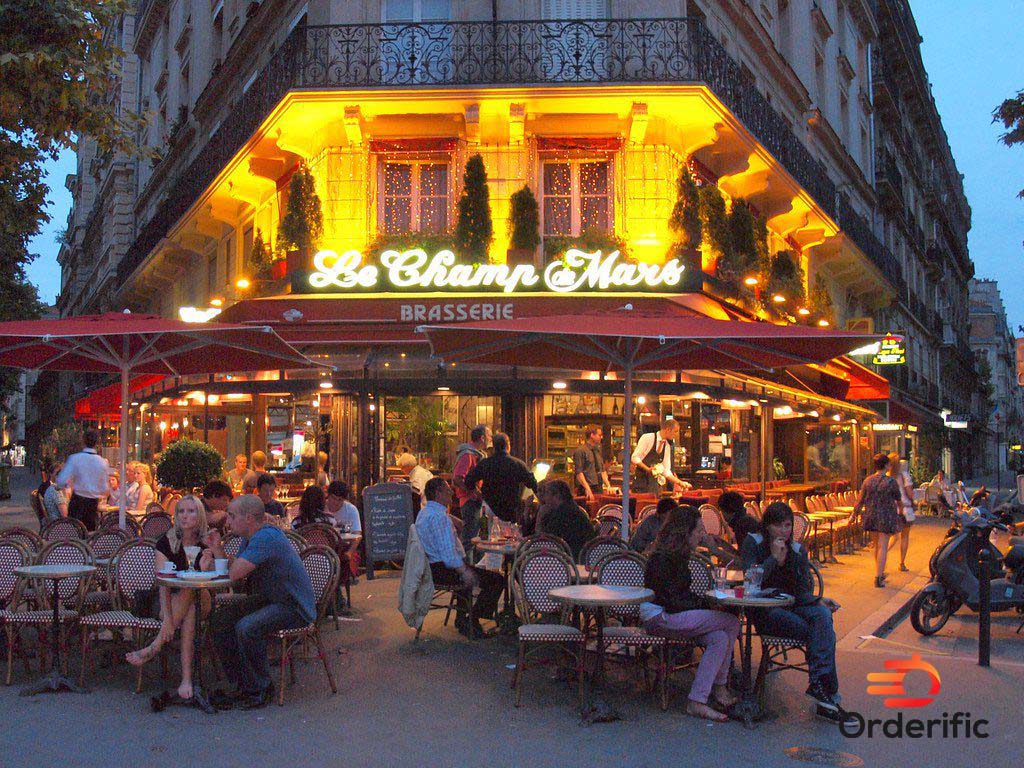 The Importance of French Restaurant Names in Branding
In the bustling realm of culinary establishments, a French restaurant's name is not merely an identifier but an integral aspect of its branding. It is an enticing prologue to the sensory journey unfolding within its walls. Nestled in each name is a narrative, a tantalizing teaser of the experience that awaits. It sparks curiosity, engages the senses, and creates a lasting first impression.
Branding Through Storytelling: A French restaurant name tells a story. 'Boulangerie' evokes the aroma of fresh bread, and 'Charcuterie' hints at the savory delight of cured meats. These narratives foster a sense of anticipation, tempting patrons while simultaneously crafting brand identity.
Symbolic Representation: Each word in a French restaurant name serves as a symbol. It extends an invitation to indulge in specific culinary delights. Whether it's the heavenly pastries of a 'Pâtisserie' or the hearty cuisine of a 'Brasserie', the name reflects the essence of the establishment, subtly strengthening the brand's appeal.
Creating a Unique Experience: Using French words distinguishes a restaurant from its competitors. It promises an authentic French experience, making the restaurant memorable and enhancing its brand image.
Engaging the Senses: A French restaurant name engages the senses even before one steps through the door. The mere mention of 'Café' stirs the aroma of coffee, and 'Crêperie' teases the taste buds with the promise of delicate pancakes. This sensory engagement creates a deeper connection with the brand.
Cultural Connection: By incorporating elements of French culture, these names forge a bond with patrons who appreciate its rich culinary tradition. This cultural connection elevates the dining experience, enhancing the restaurant's brand reputation.
In essence, the name of a French restaurant is a key ingredient in its branding recipe. It sets the stage for a delightful gastronomic journey, making the restaurant a place to dine and a destination to savor. It's the appetizer to a culinary adventure, the first taste of what's to come.
Winding Up
As we conclude our exploration into the "Meaning Behind Words in French Restaurant Names," we hope you've savored the rich tapestry of culture and tradition woven into each word. From the cozy intimacy of a 'Bistro' to the sweet indulgence of a 'Pâtisserie,' each French restaurant name offers a tantalizing taste of the exquisite experience that awaits. These aren't merely names; they're stories, tantalizing tidbits of France's culinary heritage served as an appetizer to your sensory journey. Enhancing this experience is Orderific, committed to simplifying operational tasks for restaurant owners while amplifying the dining experience for customers. Immerse yourself further in these culinary narratives by scheduling a FREE DEMO with Orderific today—an adventure in gastronomy awaits!
FAQs
What are some common words found in French restaurant names?
Common words include Bistro, Brasserie, Auberge, Café, Pâtisserie, and Crêperie, each with unique culinary significance.
What do these words mean in the context of a French restaurant?
These words define the type of food, ambiance, and experience one can anticipate at the respective French eating establishment.
How do French restaurant names contribute to the overall dining experience?
French restaurant names provide a cultural narrative, enticingly previewing the ambiance, cuisine, and experience they promise guests.
What cultural influences are reflected in French restaurant names?
French restaurant names reflect France's rich culinary traditions, regional cuisines, and the country's love for food and dining.
How do French restaurant names contribute to a restaurant's branding?
French restaurant names help shape brand identity, evoke sensory experiences, and establish a connection with France's rich culinary culture.