Introduction
In today's digital age, the hospitality industry is leveraging technology to reimagine the guest experience and set new standards for customer satisfaction. Among the innovative technologies being harnessed, Augmented Reality (AR) stands out. By offering a unique blend of the real and the virtual, AR has the potential to revolutionize the hospitality sector. This immersive technology enables guests to take virtual tours of hotel rooms before booking, improving their decision-making process. AR applications also allow potential guests to visualize their stay and experience amenities and services in a way they could only dream of previously. With the ability to enhance customer experience through AR experiences, the hotel industry is poised for a transformation. As we see more AR technology being incorporated into the hospitality business, it's clear that the future of guest experience is here.
Brief About Hospitality Industry
The hospitality industry, a dynamic and multifaceted sector, encompasses various businesses such as hotels, restaurants, and travel services. At its core, it is about creating memorable guest experiences, often achieved through high-quality service and personal touches. In recent years, the industry has been characterized by rapid technological advancements, with a strong emphasis on personalization and convenience. As the industry evolves, businesses continually seek ways to improve customer satisfaction and engagement. Among the technological innovations transforming the sector, Augmented Reality (AR) is emerging as a game-changer. This technology superimposes virtual elements onto the real world, creating immersive experiences that can dramatically enhance how guests perceive and interact with their surroundings. By seamlessly integrating digital information with the physical environment, AR offers a novel paradigm for guest experience in the hospitality industry.
What Is Augmented Reality?
Augmented Reality (AR) is an immersive technology that overlays digital information onto the physical world. It bridges the gap between reality and the virtual sphere, enhancing customer experience in the hospitality industry. This reality-altering technology is deployed via AR applications, allowing guests to enjoy an immersive experience. For instance, potential guests can take a virtual tour of a hotel room before making a booking decision.
In the hospitality sector, AR is a game-changer, revolutionizing the way businesses interact with customers. The hotel industry, in particular, is leveraging AR technology to boost customer satisfaction. For instance, Holiday Inn offers guests an AR experience beyond typical hotel amenities, creating a more engaging stay. Such initiatives highlight how augmented reality technology is enhancing the guest experience in the hospitality business.
Moreover, AR is becoming a crucial tool for digital marketing in the hospitality industry. By integrating AR apps with social media, businesses can offer virtual experiences to their customers regardless of location. A user, for instance, can use an AR app on their smartphone or VR headset to immerse themselves in a mixed or extended reality experience, providing a taste of what's to come during their stay. This not only piques the guests' interest but also improves their overall experience. As such, augmented reality is poised to redefine the hospitality industry, from boosting guest experiences to revolutionizing marketing strategies.
Augmented Reality And Hospitality Industry
The incorporation of Augmented Reality (AR) in the hospitality industry is enhancing the guest experience in unprecedented ways. By leveraging this immersive technology, establishments are providing virtual tours of hotel rooms to potential guests, elevating the decision-making process. With the use of AR apps, guests can visualize their stay, experiencing the reality of their hotel room before setting foot in it.
AR is also transforming digital marketing strategies in the hospitality industry. When integrated with social media platforms, AR allows businesses to offer virtual experiences to customers across the globe. Imagine touring your hotel room or dining in a virtual restaurant from the comfort of your home, using an AR app or VR headset. This brings a mixed or extended reality experience to customers before their actual stay, enhancing their anticipation and overall experience.
Hotels are employing AR to interact with guests. For example, Holiday Inn uses AR to enhance its guests' stay beyond typical amenities, creating a more engaging experience. This revolutionizes guest experience and sets a new standard in the hospitality business.
Uses Of AR In Hospitality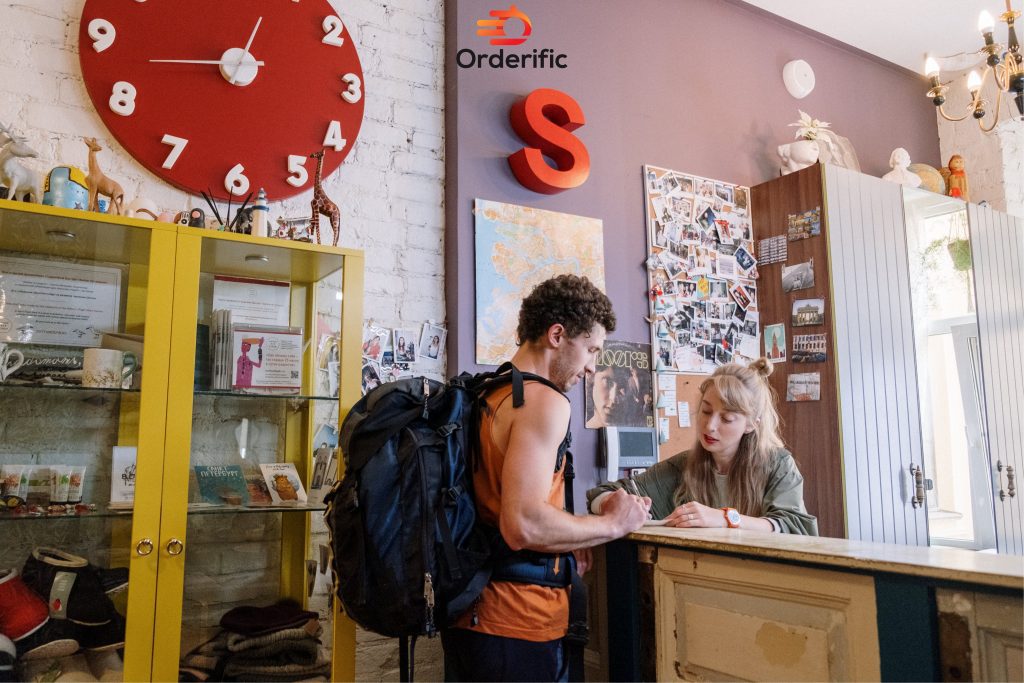 1. Interactive Hotel Rooms
Augmented reality (AR) is gradually reshaping guest experiences in hotel rooms, making them more interactive and engaging. With AR, guests can manipulate their surroundings, customizing their rooms to their liking. For instance, they can change the artwork on the walls, adjust lighting, or even project tranquil, natural sceneries on their windows for relaxation. Some hotels are implementing AR mirrors in their bathrooms, allowing guests to virtually try on outfits or apply makeup. AR is also being used to provide guests with touch-screen access to hotel services, right from their room. This can range from ordering room service and making reservations at the hotel's restaurant to scheduling spa appointments. These interactive AR features not only offer convenience but also allow guests to tailor their stay according to their preferences, significantly enhancing their overall experience.
2. Map Features
Taking navigation to the next level, augmented reality (AR) is redefining map features in the hospitality industry. AR-enabled maps allow guests to navigate complex hotel layouts or expansive resort properties with ease. By simply pointing their smartphones, guests can receive real-time directions superimposed on their live view, making it nearly impossible to get lost. Similarly, AR is enhancing city maps for travelers, overlaying historical data, restaurant reviews, or guided tours on the physical world, thereby enriching the exploration experience. For instance, tourists can hold up their AR-enabled devices to a monument and immediately receive historical facts, hours of operation, and even, see reviews from other travelers. With AR enhancing map features, navigating unfamiliar locations is becoming both simpler and more engaging, ultimately boosting the guest experience.
3. Gamification
Gamification, powered by augmented reality (AR), is taking the hospitality industry by storm. Hotels and restaurants are leveraging this technology to create engaging, interactive experiences for guests. AR games can transform mundane aspects of a stay into unique, memorable experiences. For instance, hotels can offer AR scavenger hunts where guests explore the property to find virtual treasures, enhancing their interaction with the hotel's facilities, and discovering amenities they might otherwise overlook. Likewise, restaurants can incorporate AR to gamify waiting times, offering digital menus and interactive food presentations that engage patrons as they wait for their meals. This innovative application of AR helps in retaining customer interest, making their stay or dining experience more entertaining and enjoyable. Thus, AR is not merely a tool for enhancing guest experience but also an innovative strategy for engaging them in a fun and interactive manner.
4. Beacon Technology
Beacon Technology, bolstered by Augmented Reality (AR), is dramatically changing the hospitality industry. This technology uses Bluetooth devices, known as beacons, to send personalized notifications directly to guests' smartphones based on their location. Hotels and restaurants can use this to deliver tailored recommendations, such as nearby attractions or dining specials, enhancing guest experiences with personalized touchpoints. AR takes this a step further by overlaying digital images and information into the user's real-world environment. For example, guests can point their AR-enabled device at a restaurant to see a virtual display of the menu or exclusive deals, giving them a visually immersive experience. Moreover, it can streamline the check-in process, with guests receiving digital room keys and directions to their rooms on their devices.
5. Guest Recognition
Augmented Reality (AR) is taking guest recognition to new heights in the hospitality industry. This technology allows businesses to recognize and greet guests personally, adding a significant touch of personalization to their service. By pairing AR with face recognition software, hotel staff can greet guests by name upon arrival, making them feel valued and recognized. The technology can also provide staff with important information about the guest's preferences, such as their favorite drink or preferred room temperature. This not only improves the level of service but also contributes to a more personalized, delightful experience for guests. Thus, AR is transforming the hospitality industry by enabling a level of guest recognition that was previously unimaginable.
6. Maintenance Information
Augmented Reality (AR) is bringing a new dimension to maintenance in the hospitality industry. By overlaying digital information onto physical equipment, AR can provide detailed, real-time maintenance information to staff. This can range from simple instructions for routine upkeep to complex troubleshooting guides for unexpected repairs. For instance, AR can display step-by-step guides for fixing a malfunctioning air conditioner directly onto the unit, reducing downtime and ensuring guest comfort. Additionally, AR can be utilized for preventative maintenance, demonstrating procedures to staff in a practical and easily understandable format. This not only improves the efficiency of maintenance operations but also ensures the upkeep of facilities, thereby enhancing the guest experience.
7. Translation Facilities
Augmented Reality (AR) is revolutionizing translation facilities in the hospitality industry, breaking down language barriers for a more seamless guest experience. Through AR-enabled apps, guests can translate foreign languages, both spoken and written, in real-time. By simply pointing their AR-enabled device at a foreign language sign, menu, or document, guests can see an instant translation overlaid onto their live view. This application of AR is particularly beneficial in hotels or restaurants within multinational destinations, where customers may be from diverse linguistic backgrounds. Moreover, AR translations extend beyond written text to include spoken language. Some AR applications can translate live conversations, instantly displaying translated subtitles during a conversation with a foreign language speaker. This functionality can significantly enhance communication between staff and guests, improving service delivery and ultimately boosting guest satisfaction.
Conclusion
In conclusion, the integration of Augmented Reality (AR) in the hospitality industry is revolutionizing how businesses interact with guests, offering an immersive, personalized, and engaging experience that is transforming the sector. By leveraging AR, hospitality businesses can enhance guest experiences, offering interactive hotel rooms, AR-enabled maps, gamified experiences, beacon technology, personalized guest recognition, real-time maintenance information, and real-time translation facilities. It's clear, that AR is not just enhancing the guest experience but also redefining it by setting new standards in the hospitality industry. As AR technology continues to evolve, the possibilities for its application in the hospitality industry are endless, promising a future where every guest interaction is personalized, engaging, and truly memorable.
If you're interested in seeing how AR can transform your hospitality business, why not see it in action? Schedule a demo with Orderific today and discover the potential of Augmented Reality for your establishment.
FAQs
What is augmented reality (AR) in the context of hospitality?
Augmented Reality (AR) in hospitality refers to the use of technology to overlay digital information onto real-world environments, enhancing experiences with personalized features.
How is AR being used to enhance guest experiences in hotels and restaurants?
AR is used in hotels and restaurants to offer interactive experiences, provide real-time navigation, gamify experiences, deliver personalized services, and facilitate real-time translation.
Are there specific AR applications designed for the hospitality industry?
Yes, there are numerous AR applications specifically designed to enhance guest experiences in the hospitality industry.
What benefits does AR bring to hotel and restaurant operations?
AR provides benefits such as improved guest experience, enhanced operational efficiency, and personalized services.
Is AR accessible to both large hotel chains and smaller hospitality businesses?
Yes, AR technology is accessible and beneficial to both large hotel chains and small hospitality businesses.