Introduction
Welcome to our exploration of are crocs slip resistant, a popular choice in footwear renowned for its comfort. One common query we encounter is, "Are Crocs slip-resistant?" This question is especially vital for those who routinely tread on slippery surfaces where non-slip shoes become necessary. The unique Crocs Lock tread enhances the slip resistance of these shoes, making them a reliable choice. But what about the Classic Crocs or the Crocs Bistro Pro? How do they fare in terms of slip resistance? And what role does the Croslite material play in defining the resistance characteristics of Crocs? Let's dive deep into the world of Crocs footwear and unlock the truth about their slip-resistant qualities.
Understanding Slip Resistance
Importance Of Slip-Resistant Footwear
Slip-resistant footwear is pivotal in ensuring personal safety, especially for those who often encounter slippery surfaces. Understanding the slip resistance of famous footwear like Crocs is of paramount importance. While the unique Crocs Lock tread is a known feature enhancing slip-resistance, the performance of models like Classic Crocs and Crocs Bistro Pro remains to be explored. The Croslite material, a proprietary component of Crocs, also draws interest in its contribution to the shoe's resistance qualities. This article explores these aspects, providing a comprehensive view of Crocs' slip-resistant features.
Industry Standards For Slip Resistance
Industry standards determine slip resistance in footwear. These standards are set by regulatory bodies and organizations to ensure safety and prevent accidents. The footwear must undergo various tests to measure its coefficient of friction (CoF) on wet and dry surfaces. The higher the CoF, the more slip-resistant the shoe is considered. Some regulatory bodies that enforce these standards include ASTM International, ISO, and CE marking in European countries. These organizations have clearly defined test methods and specified minimum CoF values that a shoe must meet to be classified as slip-resistant.
Precautions For Slippery Floors
Taking precautions on slippery floors is a crucial component of personal safety. Wearing appropriate footwear, such as shoes with high slip resistance, can significantly reduce the risk of accidents. It's important to consider your shoe's material, tread design, and overall quality. For example, Crocs, known for their comfort, employ features like the Crocs Lock tread and Croslite material to enhance slip resistance, particularly in models like the Classic Crocs and the Crocs Bistro Pro. However, always remember, even the best footwear can't replace careful, mindful walking on tricky surfaces.
Features Of Slip-Resistant Crocs
Crocs Slip-Resistant Styles
Crocs offer a variety of slip-resistant styles, each designed with safety in mind. For instance, the Crocs Bistro and Crocs On-The-Clock Work Slip-On both feature the Crocs Lock tread, which enhances slip resistance. The Crocs Specialist II Clog, another slip-resistant style, offers added safety with an enhanced arch and footbed for comfort. These models, combined with Crocs' proprietary Croslite material, provide a comfortable, durable, and slip-resistant shoe option for anyone navigating slippery environments. Just remember, while they significantly minimize slipping risks, cautious walking on challenging surfaces remains paramount for safety.
Crocs Sole Design
The design of the Crocs sole significantly contributes to their slip-resistant feature. The Crocs Lock tread, a unique pattern on the soles, enhances grip and prevents slippage on various surfaces. Additionally, the use of Croslite material in the construction of the shoes not only provides comfort but also aids in slip-resistance, adding to the safety of the footwear. It is essential to remember that while Crocs offer great slip resistance, nothing replaces careful walking and safety practices on slippery surfaces.
Croslite Material
The Croslite material is proprietary to Crocs and is a major factor in the slip-resistance feature of their footwear. This lightweight, durable foam resin provides excellent cushioning and comfort, making the shoes ideal for prolonged use. Importantly, Croslite also contributes to the shoes' grip, enhancing their resistance on slippery surfaces. Despite these safety features, users must continue to exercise caution while walking on potentially risky surfaces.
Popular Slip-Resistant Crocs Models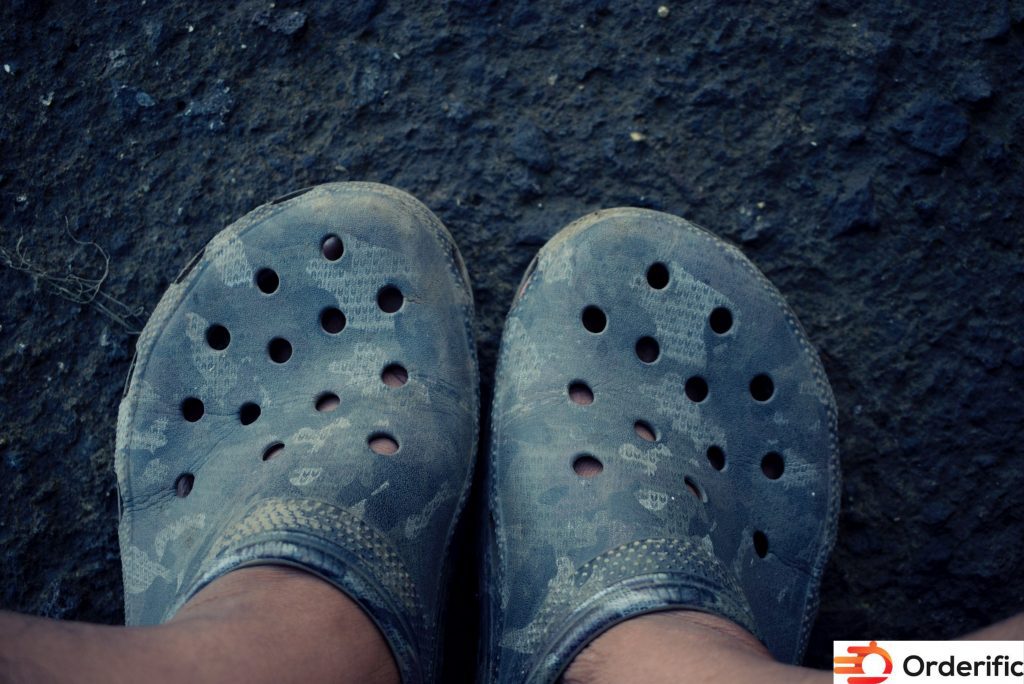 Crocs Bistro
The Crocs Bistro is a popular model known for its high slip resistance, making it a favorite among professionals who spend long hours on slippery surfaces. This model, featuring the Crocs Lock tread and Croslite material, ensures both safety and comfort for its users.
Crocs Bistro Pro
The Crocs Bistro Pro is another standout model lauded for its superior slip resistance. Designed with the Crocs Lock tread and crafted from the proprietary Croslite material, this shoe promises both the comfort and safety required for navigating slick surfaces.
Crocs On-The-Clock
The Crocs On-The-Clock model is highly sought-after for its non-slip features. Equipped with the Crocs Lock tread and composed of the Croslite material, these shoes offer the essential safety and comfort needed for hours of wear on potentially slippery surfaces.
Crocs Neria Pro
The Crocs Neria Pro, renowned for its slip-resistant features, stands as an excellent option for professionals working in potentially slick environments. Its unique Crocs Lock tread and robust Croslite material construction ensure user safety without compromising on comfort.
Other Models And Comparisons
While numerous models of Crocs exhibit slip-resistance, it's crucial to note the varying degrees across different styles. Each model, from the Bistro to the Neria Pro, utilizes the Crocs Lock tread and Croslite material uniquely, thereby providing distinct levels of safety and comfort. Careful comparison and personal needs should guide your selection of the most suitable slip-resistant Crocs.
Comfort And Fit
Roomy And Relaxed Fit Options
Crocs offers roomy and relaxed fit options, ensuring comfort for diverse foot shapes and sizes. These foot-friendly designs, combined with the Croslite material and non-slip features, make Crocs a popular choice across varied professions and lifestyles.
Thickness And Cushioning
Crocs are renowned for their thickness and cushioning, which add to their overall comfort. The Croslite material's inherent cushioning quality affords a plush feel, enhancing user comfort during prolonged wear, while the thickness of the soles aids in slip resistance, offering added safety.
Interchangeable Accessories
Crocs also offer a range of interchangeable accessories, allowing users to customize their footwear. These include charms, straps, and liners, which can enhance both the comfort and the aesthetic appeal of the shoes, without compromising on their slip-resistant features.
Use Cases For Slip-Resistant Crocs
Work Environments
Slip-resistant Crocs are ideal for work environments, particularly for professions that require long hours on potentially slippery surfaces, such as healthcare, hospitality, and food services. The combination of the Crocs Lock tread for enhanced grip, the proprietary Croslite material for comfort, and the shoe's overall design make them a reliable choice for safety footwear. Always remember that while Crocs substantially reduce the risk of slipping, careful and mindful walking remains crucial for personal safety.
Casual Wear And Fashion
Slip-resistant Crocs aren't just for work; they also make a smart choice for casual wear. With their unique blend of comfort, style, and safety, they are perfect for daily chores, shopping trips, or casual strolls in the park. The Crocs Lock tread and Croslite material ensure you can walk with confidence, without compromising on style or comfort.
Dealing With Ice And Snow
In icy and snowy conditions, slip-resistant Crocs can provide an added layer of safety. The unique Crocs Lock tread and Croslite material work together to enhance grip on slippery surfaces. However, for optimal safety, cautious, mindful walking is advised in such challenging conditions.
Utilizing In Showers
In the context of showers, slip-resistant Crocs can serve as a beneficial safety feature. The shoe's unique Crocs Lock tread and Croslite material boost grip on wet surfaces, reducing the risk of slipping in bathrooms. Regardless, one should always exercise caution when moving on wet surfaces.
Conclusion
In conclusion, Crocs offer an impressive blend of comfort and slip resistance, making them a versatile choice for various environments. Whether you're looking for reliable footwear for work or leisure, the unique design and Croslite material of Crocs provide superior traction and durability. The brand's commitment to safety is clearly reflected in its slip-resistant styles such as the Crocs Bistro, Crocs Bistro Pro, Crocs On-The-Clock, and Crocs Neria Pro, among others. Not only do these models meet industry standards for slip resistance, but they also offer the distinctive comfort and style synonymous with Crocs. As icing on the cake, the customizable accessories add a dash of personalization to your footwear.
Ready to experience the slip-resistant goodness of Crocs? It's time to take the next step. At Orderific, we're committed to helping you make informed footwear decisions. Book a demo with us today to explore your options and find the perfect pair of Crocs that offer safety, comfort, and style in equal measure. Step into the world of Crocs and experience the difference today!
FAQs
Are all Crocs shoes slip-resistant?
No, not all Crocs styles are slip-resistant, but specific models are designed with enhanced slip resistance.
What makes Crocs slip-resistant?
The Crocs Lock tread and Croslite material contribute to their slip resistance.
Are Crocs suitable for workplace environments?
Yes, certain Crocs models are suitable for many workplace environments.
How can I identify slip-resistant Crocs?
Look for the Crocs Lock symbol on the shoe details.
Can I rely solely on Crocs for slip resistance?
No, it's recommended to also follow general safety precautions on slippery surfaces.