Introduction
Hotel software selection guide for a hotel can be a daunting task, given the vast array of options available. Whether you're managing a boutique hotel, a sprawling resort, or a busy city center property, robust hotel management software can make all the difference. It can streamline operations, from booking to housekeeping, enhance guest experiences, boost revenue management, and provide comprehensive support for your hotel staff. This guide aims to assist hoteliers in making an informed decision about the software they choose, emphasizing the significance of features like an efficient booking engine, seamless online booking, and reliable customer support. We'll delve into the specifics of different types of hotel software, from property management systems to channel managers, illuminating how each can cater to the distinct needs of various hotel types. So, let's embark on this journey to elevate your hotel operation to the next level.
What Is A Hotel PMS And Its Types?
A Hotel Property Management System (PMS) is an indispensable software that acts as the central nervous system of a hotel's operations. It efficiently handles many tasks, such as seamlessly organizing room bookings, efficiently managing housekeeping duties, and effortlessly coordinating guest requests. By streamlining and automating these operational intricacies, a PMS empowers hotel staff to dedicate their time and energy towards creating unforgettable guest experiences and exceeding expectations. With its comprehensive suite of features and user-friendly interface, a PMS becomes an invaluable tool that enhances operational efficiency and elevates the overall performance of a hotel.
Choosing The Right PMS For Your Hotel
There are various types of Property Management Systems (PMS) available designed to cater to the specific requirements of different hotel types. For small boutique hotels, a straightforward PMS with crucial features like a user-friendly booking engine and essential customer support can streamline operations. However, larger resorts with a higher volume of guests and more complex processes may benefit from a more comprehensive PMS solution. This advanced PMS can include robust features such as revenue management tools to optimize pricing strategies, channel management capabilities to distribute inventory across multiple online platforms effectively, and an elaborate customer support system to ensure exceptional guest satisfaction. By leveraging the proper PMS, hotels of all sizes can enhance their operational efficiency, maximize revenue, and deliver outstanding guest experiences.
Understanding Your Hotel's Unique Needs
When it comes to choosing a Property Management System (PMS) for your hotel, it's crucial to carefully evaluate and consider the unique needs and requirements of your establishment. By doing so, you can ensure that the selected software not only enhances operational efficiency and maximizes revenue, but also elevates the guest experience to unprecedented heights.
A comprehensive PMS should offer a wide range of features and functionalities tailored to the specific demands of your hotel. From seamless reservation management and efficient check-in/check-out processes to automated billing and integrated reporting, the correct PMS can streamline operations, saving time and resources while enhancing overall productivity.
User-Friendly
Moreover, a robust PMS should provide a user-friendly interface that facilitates ease of use for both staff and guests. With intuitive navigation and clear visibility of information, hotel staff can efficiently manage bookings, room assignments, and guest preferences, ensuring a smooth and personalized experience for every visitor.
In addition to operational efficiency, a well-chosen PMS should also focus on revenue optimization. By leveraging advanced revenue management tools, the software can help you optimize room rates, implement dynamic pricing strategies, and identify upselling opportunities to maximize your hotel's revenue potential.
Goal Of PMS
However, at the heart of it all, the ultimate goal of a PMS is to elevate the guest experience. From pre-arrival to post-departure, the software should enable seamless communication and personalized services. This can include automated guest communication, mobile check-in options, tailored room preferences, and efficient guest request management. By enhancing the guest experience, your hotel can build loyalty, attract repeat visitors, and ultimately drive positive reviews and referrals.
In conclusion, choosing the right PMS is a critical decision for any hotel. By carefully considering your hotel's unique needs and focusing on operational efficiency, revenue optimization, and guest experience, you can select a PMS that will propel your hotel to new heights of success and guest satisfaction.
Exploring The Benefits Of A Hotel PMS
Operational Efficiency: A hotel PMS streamlines day-to-day operations, automating tasks such as reservation management, check-in/check-out, and housekeeping. By eliminating manual processes, staff can save time and focus on providing personalized services.
Enhanced Guest Experience: With a PMS in place, hotel staff can effortlessly manage guest preferences, ensuring a personalized stay. From room allocation based on guest preferences to tracking special requests, a PMS enables hotels to deliver exceptional guest experiences.
Revenue Maximization: A comprehensive PMS offers revenue management features, allowing hotels to optimize pricing strategies, manage room inventory effectively, and increase overall revenue. By analyzing data and market trends, hotels can make informed decisions to maximize profitability.
Seamless Online Bookings: In today's digital age, online bookings play a crucial role in a hotel's success. A PMS with integrated online booking capabilities simplifies the reservation process, making it convenient for guests to book directly through the hotel's website or other online platforms.
Streamlined Housekeeping: Managing housekeeping tasks efficiently is vital for maintaining cleanliness and guest satisfaction. A PMS automates housekeeping duties, ensuring smooth coordination between the front desk and housekeeping staff, optimizing task assignments, and tracking room status in real time.
Integration with Third-Party Systems: Many hotels rely on various third-party systems for operations such as channel management, payment gateways, and guest feedback. A robust PMS seamlessly integrates with these systems, providing a centralized platform for efficient management.
Reporting and Analytics: A PMS generates comprehensive reports and analytics, providing valuable insights into hotel performance. By analyzing occupancy rates, guest feedback, and revenue data, hotels can identify areas for improvement and make data-driven decisions.
Choosing The Right PMS For Your Hotel
When selecting a PMS for your hotel, consider the following factors:
Hotel Size and Type: To effectively identify the features and functionalities required in a Property Management System (PMS), it is crucial to thoroughly determine the scale and nature of your hotel operations. By carefully assessing the size, scope, and specific requirements of your establishment, you can ensure that the chosen PMS aligns perfectly with your operational needs, streamlining processes and enhancing overall efficiency. Taking into account factors such as the number of rooms, types of services offered, and desired level of automation, this comprehensive evaluation will pave the way for a tailored PMS solution that optimizes your hotel's management capabilities.
Scalability: When selecting a Property Management System (PMS) for your hotel, it is crucial to ensure that the chosen system can effectively accommodate your hotel's future growth and expansion plans. This includes considering factors such as scalability, flexibility, and the ability to seamlessly integrate additional functionalities as your hotel evolves. By choosing a PMS that aligns with your long-term vision, you can set your hotel up for success even as it grows and expands in the future.
Integration Capabilities: When evaluating a PMS, it is crucial to ensure that it seamlessly integrates with existing systems, including property management systems, channel managers, and online booking engines. This integration allows for efficient and streamlined operations, enabling smooth data flow and synchronization across multiple platforms. By selecting a PMS that harmoniously works with your existing systems, you can optimize your property management processes and enhance the overall guest experience.
User-Friendliness: When selecting a PMS (Property Management System), it is crucial to choose one that is not only intuitive and easy to use, but also minimizes the training requirements for your staff. By opting for a PMS that prioritizes user-friendly features and a seamless interface, you can streamline your operations and empower your team to work efficiently. This not only saves time and resources but also ensures a smoother transition and adoption of the new system.
The Importance Of Customization
Every hotel, whether small or large, has unique requirements that should be addressed by a Property Management System (PMS). It is crucial to look for a PMS that not only meets these needs but also offers a high level of customization. A customizable PMS allows hotels to tailor features and workflows to their specific operations, ensuring a seamless and efficient management experience. By investing in a flexible PMS, hotels can optimize their operations and provide a personalized experience to their guests.
Conclusion
A Hotel Property Management System (PMS) is an indispensable tool for hotels looking to streamline operations, enhance guest experiences, and maximize revenue. By understanding your hotel's unique needs and selecting the right PMS, you can achieve operational efficiency and create unforgettable experiences for your guests. Embrace the power of a PMS and take your hotel's success to new heights.
Types Of Hotel PMS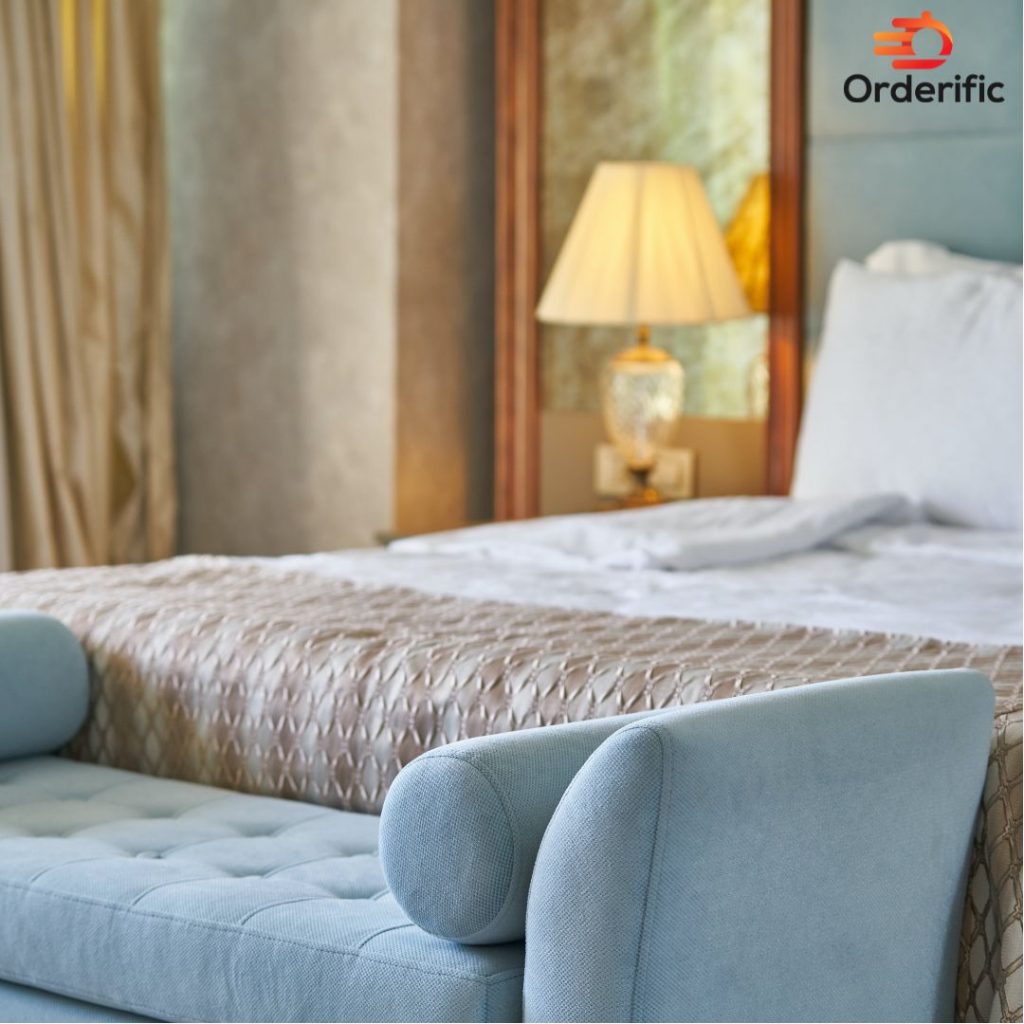 Cloud-Based PMS
Cloud-based Property Management Systems are becoming increasingly popular due to their affordable pricing and ease of use. These systems require little to no on-site hardware and data is stored securely in the cloud. Cloud-based PMSs are perfect for smaller hotels or boutique properties that need a reliable, simple-to-use system for managing bookings and providing customer support. They can be accessed from anywhere, which makes them a flexible and convenient choice.
On-Premise PMS
On-premise PMSs are installed directly onto the hotel's servers and require physical hardware. This type of PMS is often chosen by larger hotels or resorts that require a more comprehensive and customizable system. On-premise PMSs provide a robust booking engine, advanced features for online booking, and superior customer support. However, they can be more expensive and require more maintenance than cloud-based systems.
Understanding The Role Of A Hotel Booking Engine
A hotel booking engine is an application on a hotel's website that allows visitors to book rooms directly. The ideal booking engine is easy to use, mobile-friendly, and seamlessly integrates with the hotel's PMS. It should provide real-time updates on room availability and prices, support secure online payments, and deliver immediate booking confirmation.
Importance Of A User-Friendly Booking Engine
A user-friendly booking engine can significantly enhance the guest experience. It must be intuitive, quick, and accessible through various devices. A complicated or confusing booking process could deter potential guests, leading to lost revenue. Therefore, it's crucial to choose a software that offers a smooth and user-friendly booking engine.
The Necessity Of Reliable Customer Support In Hotel Software
Whether you're using a cloud-based or on-premise PMS, reliable customer support is critical. The hotel industry is a 24/7 business, and problems can arise at any time. Having access to round-the-clock support ensures any software issues are resolved quickly, minimizing disruption to your hotel operations.
Role Of Customer Support in Enhancing Guest Experience
Effective customer support can also contribute to an enhanced guest experience. Quick resolution of booking issues or other operational hiccups reflects well on your hotel and reassures guests that their satisfaction is your top priority. It's not just about choosing software with good customer support, but also about how the software enables your staff to provide excellent customer service.
How To Evaluate Your Property Requirements?
When evaluating your hotel's software requirements, it's essential to consider your property type, your operational needs, and your goals. Below are some factors that can help guide your decision-making process.
Understanding Your Property Type And Its Unique Needs
Different types of hotels have distinct operational needs, which should be reflected in the software they choose. For example, a city center hotel with a high turnover rate may prioritize a property management system with a robust booking engine to manage the high volume of online bookings. Meanwhile, a resort may value features that enhance the guest experience, like a spa management module or a restaurant reservation system.
Assessing Your Operational Needs
Think about your day-to-day operations and the pain points you encounter. Are you struggling to manage room reservations and cancellations efficiently? Do you have difficulty tracking your revenue and managing your pricing strategy? These operational challenges can guide you in selecting a system that addresses these issues effectively.
Setting Clear Goals For Your Hotel Software
What do you hope to achieve with your hotel software? Maybe you want to improve your online booking process, offer better customer support, or streamline your housekeeping operations. Setting clear goals can help you identify the software features that are most likely to help you achieve these objectives.
Evaluating Systems Based On Functionality, Usability, And Support
When choosing a hotel software, consider its functionality (does it have the necessary features?), usability (is it user-friendly?), and support (can you rely on their customer support?). A system that scores high in all three areas is likely to be a good fit for your hotel.
Considering Integration With Existing Systems
Your new hotel software should be able to integrate seamlessly with your existing systems. For instance, your PMS should integrate with your booking engine to ensure real-time room availability and pricing. This can enhance the guest booking experience and reduce overbooking issues.
Understanding The Total Cost Of Ownership
Finally, look beyond the initial cost of the software and consider the total cost of ownership. This should include any hardware expenses, ongoing maintenance costs, training expenses, and the cost of any necessary software upgrades.
By considering these factors, you can choose a hotel software that fits your property type, meets your operational needs, helps you achieve your goals, and offers value for money. Remember, the right hotel software can revolutionize your operations and elevate your guest experience to new heights. Be sure to make your decision with care and due diligence.
How To Set A Budget For Buying A Hotel PMS?
Setting a budget for buying a hotel PMS is a critical step in the software selection process. It involves understanding your hotel's financial capacity, assessing return on investment (ROI), and considering the total cost of ownership. It's not only about the initial acquisition cost, but also the ongoing costs for maintenance, support, upgrades, and training.
Determining Your Financial Capacity
The first step in setting a budget for a hotel PMS is to understand your hotel's financial capacity. This involves reviewing your hotel's finances to determine how much you can afford to invest in a new PMS without impacting your hotel's profitability. It's important to remember that while a robust hotel PMS can enhance operational efficiency and guest satisfaction, it is still an investment that needs to fit within your financial means.
Assessing Return On Investment (ROI)
Next, you need to assess the potential return on investment (ROI) of the hotel PMS. A high-quality PMS can increase revenue by streamlining booking processes, enhancing guest experiences, and providing powerful revenue management tools. Therefore, when setting your budget, consider the potential increase in revenue and cost savings that the PMS can deliver. This can help you justify a higher upfront investment if the ROI justifies it.
Understanding The Total Cost Of Ownership
Understanding the total cost of ownership is a key part of budgeting for a hotel PMS. The initial purchase price is just one component. Other costs to consider include software updates, maintenance costs, training costs, and any hardware that may be required. It's also important to factor in the potential costs of any downtime or disruption during the software implementation phase.
Considering The Cost Of Not Investing In A PMS
Finally, when setting a budget, it's crucial to consider the cost of not investing in a hotel PMS. This includes lost revenue due to inefficient booking processes, poor guest experiences, and missed opportunities for revenue management. These losses can quickly add up, making the cost of a hotel PMS a worthwhile investment.
In conclusion, setting a budget for a hotel PMS involves a careful assessment of your hotel's financial capacity, potential ROI, and the total cost of ownership. By considering all these factors, you can set a realistic budget that allows you to invest in a PMS that meets your needs while staying within your financial means. Remember, the goal is not to find the cheapest PMS, but rather the one that delivers the greatest value and the highest return on investment.
How And Where To Search For A Hotel Software?
Searching for the right hotel software may seem like a daunting task, given the plethora of options available in the market. However, by following a systematic approach and utilizing the appropriate resources, you can simplify this process and find a solution that truly meets your hotel's unique needs.
Identifying Your Search Criteria
Before you begin your search, it's crucial to identify your criteria for the perfect hotel software. As discussed in previous sections, your criteria should be based on your property type, operational needs, and the goals you hope to achieve with your new software. You should also consider the software's compatibility with your existing systems, its total cost of ownership, and the quality of customer support provided by the software vendor.
Using Online Resources
The internet is a treasure trove of information when it comes to hotel software. There are numerous online platforms that provide comprehensive reviews and comparisons of different hotel software. These platforms can give you an overview of the software's features, its pricing, its pros and cons, and even user reviews. Examples of such platforms include Capterra, Software Advice, and G2.
Participating in Trade Shows & Conferences
Hotel industry trade shows and conferences often feature exhibitions by hotel software vendors. These events provide an excellent opportunity to see the software in action, interact directly with the vendors, and get answers to any questions you might have. Moreover, you can also get valuable insights from fellow hoteliers who might have used the software you're considering.
Leveraging Industry Associations & Networks
Industry associations and networks can also be valuable resources in your search for the perfect hotel software. These associations often have partnerships with software vendors and can provide recommendations based on your specific needs. Moreover, your fellow members can share their experiences and provide useful tips to guide your software selection process.
Engaging a Consultant
If you're still finding it challenging to navigate the software selection process, you might consider engaging a consultant. A consultant can provide expert guidance based on your hotel's unique needs and the latest trends in the hotel technology market. However, this would be an additional cost to factor into your budget.
Requesting a Demo or Trial
Once you've narrowed down your options, request a demo or trial of the software. This will give you a hands-on experience of the software's functionality and usability. It will also give you an opportunity to assess the quality of the vendor's customer support.
Validating Vendor Reputation
Finally, validate the reputation of the software vendor. Check their track record in the industry, the size and diversity of their customer base, and their financial stability. You can also ask for customer references to get a first-hand account of the vendor's service quality.
By following these steps and leveraging these resources, you can conduct an effective search for your hotel software. Remember, the goal is not just to find software, but to find the right software that can truly elevate your hotel operations and guest experiences.
Which Features Should I Consider In A Hotel Software?
In the quest for the ideal hotel software, certain critical features come into focus. These features form the backbone of an efficient system that can streamline operations, enhance guest experiences, and drive revenue growth. While the importance of each feature may vary depending on your hotel type and specific operational needs, the following elements are generally considered key aspects of a robust hotel software.
Booking Engine
A robust and seamless booking engine forms the cornerstone of any hotel software. It enables guests to make bookings directly from your hotel's website, reducing reliance on OTAs and their associated commission costs. The booking engine should be user-friendly, offering guests an intuitive and smooth booking experience. It should also be responsive and mobile-friendly, considering the increasing prevalence of mobile bookings in today's digital era.
Front Desk Management
The ability to manage the front desk operations effectively is a fundamental feature of hotel software. The system should offer an easy-to-use interface that allows you to check in and check-out guests, manage room assignments, handle billing, and deal with other front desk tasks efficiently. It should also provide real-time room status updates, enabling your front desk staff to always stay on top of room availability.
Housekeeping Management
An efficient housekeeping module can significantly enhance the operational efficiency of your hotel. It should allow you to track the status of each room in terms of cleanliness and maintenance. The system should also enable you to allocate tasks to your housekeeping staff and monitor their progress in real time. This ensures that your rooms are always ready for the next guest, enhancing guest satisfaction and reducing waiting times at check-in.
Channel Management
In today's multi-channel world, effective channel management is essential for maximizing your hotel's online visibility and revenue. Your hotel software should be able to manage all your OTA channels, GDS systems, and direct booking channels from a single interface. It should also automatically update room availability and rates across all channels in real time, reducing the risk of overbookings and rate discrepancies.
Revenue Management
Your hotel software should provide powerful revenue management tools that can help you maximize your revenue per available room (RevPAR). This includes dynamic pricing capabilities, comprehensive revenue analytics, and competitor rate monitoring. The system should also integrate seamlessly with your PMS and booking engine, providing real-time revenue data and enabling you to adjust your pricing strategy instantaneously.
Customer Relationship Management (CRM)
A CRM module can help you enhance guest experiences and foster guest loyalty. It should allow you to track guest preferences, stay history, and interaction history. This enables you to personalize your guest interactions and offer tailored promotions or services, enhancing guest satisfaction and increasing repeat bookings.
Reporting & Analytics
Your hotel software should provide comprehensive reporting and analytics capabilities. It should offer a range of customizable reports on various aspects of your operations, including occupancy rates, ADR, RevPAR, guest demographics, and booking source analysis. The system should also provide visual dashboards for easy data interpretation and decision-making.
Integration Capabilities
Finally, your hotel software should be able to integrate seamlessly with your existing systems, such as POS systems, payment gateways, accounting software, and more. This ensures a smooth flow of data between your different systems, reducing manual data entry and the risk of errors.
In conclusion, while the exact features you require may depend on your specific hotel type and operational needs, these are the key features that generally form the backbone of robust hotel software. By choosing a system that offers these features, you can streamline your operations, enhance guest experiences, and drive revenue growth for your hotel.
Conclusion
In conclusion, the Hotel software selection guide is a multifaceted one, encompassing an understanding of financial capacity, potential ROI, total cost of ownership, and the repercussions of not investing in a PMS. It's a journey of leveraging online resources, participating in industry events, soliciting professional advice, and confirming vendor reputability. Ultimately, it's about identifying a comprehensive system with a robust booking engine, efficient front desk, and housekeeping management, effective channel and revenue management, a personalized CRM, and powerful reporting and analytics capabilities. The right software will not only streamline your operations and enhance guest satisfaction but also drive significant revenue growth. Now that you're equipped with this knowledge, the next step is to see it in action. We welcome you to schedule a demo with Orderific, where you can explore firsthand how our software can be your perfect fit.
FAQs
What Software do hotels use?
Hotels typically use Property Management Systems (PMS), Customer Relationship Management (CRM) software, and Channel Management software.
How do I choose the right PMS for my hotel?
Choosing the right PMS involves assessing your hotel's needs, budget, and desired features, and then comparing various software options.
Which software is used in Marriott Hotel?
Marriott Hotels uses a proprietary software called MARSHA.
What type of software is best suitable for my hospitality industry?
The best software for your hospitality business will depend on your specific needs, size, and operational requirements.