Introduction
Understanding inventory management, stock control, perishables in supermarkets, particularly that of perishable goods, is a critical aspect of running a successful business. It's a careful balancing act between maintaining optimal inventory levels to meet customer demand and minimizing waste from spoilage. Modern inventory management systems, often leveraging inventory tracking software, make this task more manageable by accurately forecasting demand, controlling stock levels, and tracking the shelf life of perishable stock. Perishable inventory management, in particular, requires a keen focus on inventory turnover and control to reduce food waste and ensure food safety. Effective inventory management not only cuts waste but also enhances customer satisfaction by consistently meeting customer demand for fresh food items. Get ready to explore the intricacies of managing perishable inventory in a supermarket.
Importance Of Effective Inventory Management For Such Products
Maximizing Product Quality
Maintaining the highest possible product quality is paramount in perishable inventory management. Fresh produce, dairy, meat, and bakery items have a limited shelf-life and require meticulous handling to preserve their freshness and quality. An effective inventory management system ensures that these products are stocked and sold within an appropriate timeframe to promise customers the freshest items. Efficient inventory tracking and forecasting tools can predict optimal restocking periods, reducing the risk of overstocking perishable items that may spoil before being sold. This not only prevents a loss in inventory due to spoilage but also upholds the supermarket's reputation for delivering high-quality, fresh products. Ultimately, maximizing product quality through efficient inventory management plays a significant role in boosting customer satisfaction and loyalty.
Minimizing Waste
Minimizing waste is a central tenet of perishable inventory management. When perishable goods spoil before they are sold, it results in monetary loss and increased environmental impact. With effective inventory management, supermarkets can reduce these instances of waste. This is achieved through accurate demand forecasting and inventory tracking, which help ensure that the right amount of stock is ordered at the right time. Monitoring expiry dates and employing a First-In-First-Out (FIFO) system also reduces waste. FIFO ensures that the oldest stock is sold first, reducing the likelihood of items reaching their expiration date before being sold. By minimizing waste, supermarkets can save costs, reduce their environmental footprint, and create a more efficient business operation.
Meeting Customer Demand
Meeting customer demand is a goal shared by every supermarket. In perishable inventory management, this means ensuring that popular items are always available, fresh, and in optimal condition. An effective inventory management system provides insights into sales trends and customer buying behavior, allowing supermarkets to order the right amount of stock to meet customer expectations. Inventory tracking tools offer real-time updates on stock levels, preventing shortages or overstocks and facilitating immediate reordering when necessary. By prioritizing customer demand, supermarkets can enhance customer satisfaction, build a loyal customer base, and boost overall sales. In essence, efficient inventory management is a strategic tool for supermarkets seeking to satisfy and surpass customer expectations continually.
Maintaining Regulatory Compliance
Compliance with health and safety regulations is another crucial aspect of perishable inventory management. In many jurisdictions, supermarkets must adhere to strict guidelines for storing, displaying, and selling perishable goods to ensure food safety. Modern inventory tracking systems can assist supermarkets in maintaining this compliance by tracking the temperature of cold storage areas, monitoring expiry dates, and providing alerts when products are close to expiration. By ensuring these controls are in place, supermarkets not only avoid penalties and potential shutdowns but also safeguard the health of their customers. In the long run, regulatory compliance builds trust, reinforces a supermarket's reputation, and enhances customer loyalty, all contributing to a successful business.
Improving Supply Chain Efficiency
Efficient supply chain management is integral to effective perishable inventory management. It ensures seamless coordination among suppliers, warehouses, and retail outlets, thereby ensuring the timely stocking of perishable goods. With an efficient supply chain, supermarkets can maintain an uninterrupted flow of fresh items from the farm to the store shelves while reducing the risk of spoilage during transit or storage. Inventory management systems play a vital role in this process by providing accurate and real-time tracking of goods, enabling supermarkets to monitor and manage their inventory across multiple locations. They also facilitate data-driven decision-making, helping to streamline ordering processes, optimize delivery schedules, and reduce operational costs. In essence, improving supply chain efficiency through effective inventory management contributes to increased profitability, reduced waste, and enhanced customer satisfaction.
Setting Appropriate Inventory Levels
Analyze Historical Sales Data
Analyzing historical sales data is a crucial step in setting appropriate inventory levels for perishable goods in supermarkets. This involves examining past sales records to determine patterns and trends, such as which items sell fastest, which times of the year see higher sales, and what customer preferences might influence these trends. This data can then be used to inform future inventory decisions, helping to ensure that the right amount of stock is ordered at the right time. For instance, if a particular type of fruit sells more during the summer, supermarkets can adjust their inventory levels to meet this increased demand and reduce potential waste from overstocking. Utilizing modern inventory management systems, this process can be automated, providing real-time analysis and insights that can significantly enhance inventory accuracy and efficiency. Therefore, analyzing historical sales data is a fundamental component of effective perishable inventory management.
Consider Lead Times
Considering lead times is a vital factor when setting appropriate inventory levels for perishable goods in supermarkets. Lead time is the duration between placing an order with a supplier and the delivery of the goods. This time period can significantly affect the freshness and quality of perishable items, especially those with shorter shelf lives. Understanding and accurately predicting lead times can help supermarkets to schedule orders effectively, ensuring that products arrive just in time to replenish stock levels without causing excess. This helps to maintain the freshness and quality of products, while minimizing waste due to spoilage or overstocking. Advanced inventory management systems can assist in tracking and predicting lead times, allowing for more reliable and efficient ordering processes. Therefore, considering lead times is crucial in the process of setting appropriate inventory levels, contributing to both customer satisfaction and profitability.
Consider Expiration Dates
Taking into account expiration dates is another critical factor in setting appropriate inventory levels for perishable goods in supermarkets. Perishable items have a specified shelf life, and exceeding this results in spoilage and subsequent waste, impacting both monetary and environmental factors. To control this, supermarkets must factor in the expiration dates when stocking and replenishing their inventory. This is facilitated by using a First-In-First-Out (FIFO) approach, ensuring that the oldest items are sold first and none exceed their expiry date while still on the shelf. Further, modern inventory management systems can provide alerts when products near their expiration, enabling supermarkets to take necessary action, such as price reductions to encourage quick sale. Thus, effectively considering expiration dates in inventory management contributes to minimizing waste, maximizing sales, and maintaining customer satisfaction with high-quality, fresh products.
Utilize Safety Stock
Utilizing safety stock is a strategic measure employed in perishable inventory management to safeguard against unpredictable fluctuations in demand or supply delays. It serves as an extra buffer of inventory kept on hand to prevent stockouts and ensure continuous availability of products. Determining the appropriate level of safety stock involves assessing factors like lead times, demand variability, and the shelf life of the goods. It's a careful balance to maintain – too much safety stock could lead to increased spoilage and waste, while too little could result in lost sales and dissatisfied customers.
Advanced inventory management systems can aid in optimizing safety stock levels, using historical data and predictive analytics to align safety stock with demand patterns, reducing the risk of overstocking and understocking. In essence, the strategic use of safety stock is a key component of effective perishable inventory management, helping supermarkets maintain customer satisfaction, minimize waste, and enhance operational efficiency.
Continuously Monitor Inventory Levels
Continuously monitoring inventory levels is a vital practice in perishable inventory management. Regular inventory checks allow supermarkets to assess whether their current stock levels align with demand, and promptly address any discrepancies. This proactive approach aids in preventing overstocking, which can lead to wastage due to spoilage, and understocking, which can result in lost sales opportunities and customer dissatisfaction. Inventory management systems serve as invaluable tools in this process, providing real-time updates on stock levels and facilitating timely and accurate decisions about reordering. These systems can also alert supermarkets to any anomalies, such as sudden spikes or drops in sales, enabling them to respond quickly. By continuously monitoring inventory levels, supermarkets can ensure the freshness and availability of their perishable goods, decrease waste, and satisfy their customers' expectations.
Using First-In, First-Out (FIFO) Inventory System
The First-In, First-Out (FIFO) inventory system is a popular method used in perishable inventory management, and for good reason. This approach ensures that the oldest items, or those that have been in the inventory the longest, are sold first. By doing so, it significantly reduces the risk of spoiling goods and consequently, minimizes waste. It is a straightforward, yet efficient system that is not only beneficial for maintaining product quality, but also for financial reporting purposes, as the costs of goods sold (COGS) reflect their actual cost at the time of purchase.
Implementing The FIFO System
Implementing the FIFO system may seem simple in theory, but in practice, it requires meticulous organization and attention to detail. Each new delivery of perishable items must be carefully arranged so that older stock is at the front and new stock at the back. This ensures that customers instinctively reach for the oldest items first. Consistent compliance from all staff members is vital in this regard. In certain cases, supermarkets may use inventory management software that supports FIFO methodology, automatically updating inventory levels and aiding in stock rotation.
FIFO And Demand Forecasting
The FIFO system becomes even more powerful when combined with accurate demand forecasting. By predicting which items will sell quickly, supermarkets can effectively manage their perishable inventory, ordering the right amount of stock at the right time. This approach not only minimizes spoilage but also prevents stockouts, thereby ensuring customer satisfaction. Effective demand forecasting requires a good understanding of historical sales data, seasonal trends, and current market conditions. Here, again, advanced inventory management software can be of immense help, using artificial intelligence and machine learning algorithms to analyze sales patterns and forecast future demand accurately.
FIFO And Regulatory Compliance
Compliance with health and safety regulations is a key concern for supermarkets. This is where the FIFO system demonstrates another advantage. By ensuring the oldest stock is sold first, supermarkets can prove to regulatory bodies that they are taking necessary steps to maintain the freshness and safety of their perishable goods. In the event of a safety inspection or audit, supermarkets can use their FIFO system as evidence of their commitment to food safety and quality. This not only helps avoid penalties and potential shutdowns but also builds trust with customers.
Challenges In Implementing FIFO
Despite its numerous benefits, the FIFO system is not without challenges. For instance, during periods of rapid price inflation, the FIFO method can lead to an understatement of the COGS and an overstatement of inventory value on a supermarket's financial statements. This could negatively affect a supermarket's profitability metrics and tax liabilities. Another challenge is ensuring consistent application of the system by all staff members. This requires continuous training and monitoring, which can be time-consuming and costly. However, with the right resources and commitment, these challenges can be effectively managed, making FIFO an invaluable tool in perishable inventory management.
Through the effective application of the FIFO inventory system, supermarkets can efficiently manage their perishable goods, enhancing product quality, reducing waste, improving regulatory compliance, and ultimately increasing customer satisfaction and profitability. The system, while not without its challenges, remains a cornerstone of effective inventory management in the retail industry.
Monitoring Expiration Dates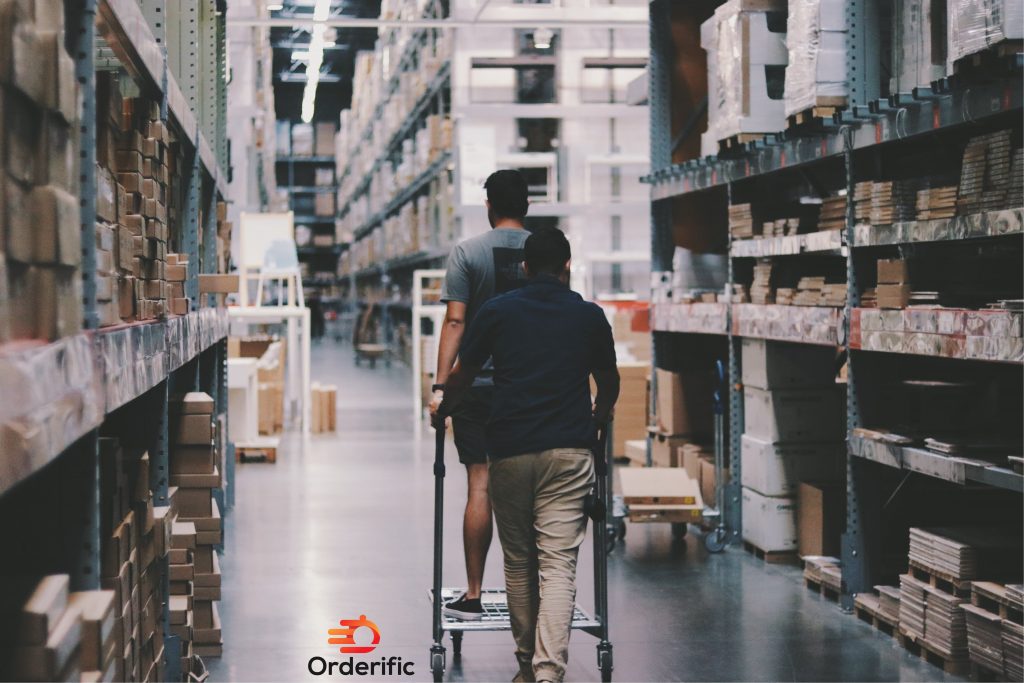 Expiration dates serve as a critical guide in effective perishable inventory management, particularly in supermarkets. They indicate the latest date by which the food product can be consumed while still maintaining its optimal quality. Beyond this date, the product may lose its freshness, compromise its taste, or even pose health risks if consumed. Maintaining a diligent eye on these dates is crucial in the retail industry, primarily when dealing with perishable goods.
Implications Of Ignoring Expiration Dates
Ignoring the expiration dates of products can have severe consequences. Firstly, if expired goods are left on the shelves, there's a risk a customer may inadvertently buy them. This can damage the reputation of the supermarket and, in more serious cases, can result in legal action due to health and safety violations. Secondly, expired items that go unsold represent a financial loss for the supermarket. These items require disposal, which adds to waste management costs and negatively impacts the supermarket's profitability.
Inventory Management Systems And Expiration Dates
Modern inventory management systems can be a valuable tool in monitoring expiration dates. These systems can track the shelf life of each product, alerting staff when a product is nearing its expiration date. This allows supermarkets to implement strategies such as discounting items close to their expiration date to encourage quick sale and prevent waste. Furthermore, being able to track expiration dates accurately enables more effective stock rotation based on the FIFO system, ensuring that the oldest stock gets sold first.
Staff Training And Expiration Dates
A critical aspect of managing expiration dates effectively is ensuring that all staff members understand the importance of these dates and are diligent in their monitoring. This includes training employees in identifying and interpreting different types of date markings, such as "sell by," "use by," and "best before" dates. Staff should also be trained on the appropriate steps to take when they encounter a product nearing or past its expiration date.
Regulatory Compliance And Expiration Dates
Expiration dates also have significant implications for regulatory compliance. Health and safety regulations often require supermarkets to remove expired products from their shelves promptly. Failure to comply can result in penalties, including fines and potential business closure. By effectively monitoring expiration dates and promptly removing expired stock, supermarkets can demonstrate their commitment to regulatory compliance and food safety.
Customer Satisfaction And Expiration Dates
Customers trust supermarkets to provide them with high-quality, fresh products. Finding an expired product on the shelf can significantly damage this trust and customer satisfaction. On the other hand, effective monitoring and management of expiration dates can enhance customer satisfaction. By ensuring that only fresh products are available for purchase, supermarkets can meet customer expectations and foster customer loyalty.
Expiration Dates And Waste Minimization
Effective management of expiration dates can contribute significantly to waste minimization. By ensuring that products are sold before their expiration date, supermarkets can reduce the amount of food waste they generate. This not only saves costs associated with waste disposal but also contributes to environmental sustainability.
In conclusion, expiration dates play a crucial role in effective inventory management in supermarkets. By diligently monitoring these dates and taking appropriate action when necessary, supermarkets can enhance customer satisfaction, comply with regulations, reduce waste, and improve profitability.
Implementing A Robust Quality Control System
A robust quality control system is instrumental in perishable inventory management. It serves as a proactive approach to ensure that all goods within a supermarket meet predetermined quality standards. Quality control involves several activities, including quality inspection, quality assurance, and quality improvement. This process covers all aspects from sourcing, receiving, storing, and eventually selling the goods. Through meticulous quality control measures, supermarkets can ensure that all products available for customers are fresh, safe, and of the highest standard.
The Role Of Quality Control In Customer Satisfaction
Quality control significantly influences customer satisfaction. Consumers often associate the quality of goods with the brand image of a supermarket. Therefore, consistent delivery of high-quality goods can enhance a supermarket's reputation and attract more customers. Conversely, offering substandard products can tarnish the brand image and can lead to loss of existing customers. Furthermore, quality control ensures the safety of the goods, ensuring that consumers are not exposed to health risks.
Quality Control And Regulatory Compliance
Quality control also plays a crucial role in regulatory compliance. Regulations set by health and food safety authorities often stipulate specific quality standards that supermarkets need to adhere to. Effective quality control systems allow supermarkets to consistently meet these regulatory requirements, thereby avoiding penalties, including fines and potential closure. The ability to demonstrate compliance with health and safety regulations also fosters trust among customers.
Quality Control Measures In Supermarkets
Quality control in supermarkets typically involves several measures. Inspecting goods upon arrival, for instance, allows supermarkets to verify the quality and condition of the goods. Any items that do not meet the required quality standards can be returned to the supplier, thus avoiding potential losses.
Temperature Control
Temperature control is another essential aspect of quality control, particularly for perishable goods. Supermarkets need to ensure that perishable goods are stored at appropriate temperatures to maintain their freshness. Inventory management systems can assist in this process by monitoring the temperature of cold storage areas and alerting staff when the temperature deviates from the optimal range.
Stock Rotation
Stock rotation is also a fundamental part of quality control. By implementing systems such as the First-In, First-Out (FIFO) method, supermarkets can ensure that the oldest stock gets sold first, reducing the risk of spoilage.
Staff Training
Staff training is equally essential in quality control. Supermarket employees should be trained to handle goods correctly, understand the importance of expiration dates, and maintain cleanliness in the storage and display areas. They should also be trained to recognize signs of spoilage or contamination.
Quality Control Systems And Perishable Inventory Management Software
Modern inventory management software can significantly enhance the effectiveness of quality control systems. These applications can track the quality of goods throughout the supply chain, detect deviations from quality standards, and generate alerts when necessary. By providing real-time information about the quality of goods, these systems enable supermarkets to respond promptly to quality issues, preventing the sale of substandard goods, and enhancing customer satisfaction.
The Impact Of Quality Control On Profitability
By preventing the sale of spoiled or substandard goods, quality control can contribute to a supermarket's profitability. It reduces losses associated with returns or disposal of poor-quality goods. Furthermore, by enhancing customer satisfaction and loyalty, quality control can indirectly contribute to increased sales and profits.
In conclusion, a robust quality control system is an essential component of effective perishable inventory management. It not only ensures regulatory compliance and customer satisfaction but also contributes to profitability. Supermarkets should therefore invest in effective quality control measures, including staff training, temperature control, stock rotation, and modern inventory management software.
Using Data Analytics To Forecast Demand
Forecasting demand is a critical aspect of inventory management in the supermarket sector, especially concerning perishable goods. Demand forecasting involves predicting the quantity of a product that customers will purchase during a specific period. Accurate demand forecasting allows supermarkets to manage their inventory effectively, ensuring they have the right amount of products at the right time. This means meeting customer needs without overstocking, which can lead to waste, particularly with perishable goods.
The Importance Of Demand Forecasting
Effective demand forecasting can provide numerous benefits for supermarkets. Firstly, it can significantly reduce wastage by ensuring that supermarkets do not overstock perishable goods that will spoil before they can be sold. Secondly, it can enhance customer satisfaction by preventing stock-outs. When customers find that a supermarket consistently has the products they need, it builds trust and loyalty, increasing repeat business.
Methods Of Demand Forecasting
There are several methods supermarkets can use to forecast demand. One of the most common is historical sales data analysis. This method involves looking at past sales trends to predict future demand. Another method is market research, where supermarkets gather data about consumer behavior and preferences. This can involve surveys, customer feedback, and studying market trends.
Role Of Data Analytics In Demand Forecasting
Data analytics plays a vital role in demand forecasting. With advancements in technology, supermarkets today have access to vast amounts of data, including sales data, customer behavior data, and market trends. Data analytics tools can analyze these vast datasets to uncover patterns and trends that can inform demand forecasting.
Implementing Data Analytics For Demand Forecasting
Implementing data analytics for demand forecasting involves several steps. Firstly, supermarkets need to have systems in place for collecting and storing data. This could include point-of-sale (POS) systems for collecting sales data and customer relationship management (CRM) systems for gathering customer behavior data.
Using Predictive Analytics For Demand Forecasting
Predictive analytics, a subset of data analytics, can be particularly useful for demand forecasting. Predictive analytics tools use machine learning algorithms to analyze historical data and predict future outcomes. Supermarkets can use these tools to forecast demand with a high degree of accuracy, enabling them to optimize their inventory levels.
Challenges In Implementing Data Analytics For Demand Forecasting
Despite its potential benefits, implementing data analytics for demand forecasting can present several challenges. These include data privacy concerns, the need for technical expertise, and the cost of implementing advanced analytics tools. However, with careful planning and execution, these challenges can be managed, and supermarkets can reap the benefits of data-driven demand forecasting.
The Future Of Demand Forecasting In Supermarkets
With the continuous advancements in data analytics technology, the future of demand forecasting in supermarkets looks promising. The growing availability of real-time data and the development of advanced analytics tools, such as artificial intelligence (AI) and machine learning, are set to enhance the accuracy of demand forecasting further. This, in turn, will enable supermarkets to manage their perishable inventory more effectively, reducing waste and improving customer satisfaction.
In conclusion, data analytics plays a crucial role in demand forecasting in supermarkets. By leveraging data analytics, supermarkets can optimize their inventory levels, reduce waste, enhance customer satisfaction, and ultimately improve their bottom line.
Working Closely With Suppliers
Developing and maintaining strong relationships with suppliers is a critical aspect of inventory management in supermarkets. These relationships are crucial for ensuring a steady supply of high-quality goods, enabling supermarkets to meet customer demand and maintain a competitive edge. Suppliers are not just entities that provide products to supermarkets; they are strategic partners who can contribute to the supermarket's success.
Suppliers influence several aspects of supermarket operations, including product availability, pricing, and quality. A good supplier relationship can ensure that supermarkets have access to high-quality products at competitive prices. Moreover, suppliers can offer valuable insights into market trends and new products, helping supermarkets stay ahead of the competition.
Building Supplier Relationships
Supermarkets can build strong supplier relationships by following several key principles. Firstly, communication is crucial. Regular, open communication can foster mutual understanding and trust, enabling both parties to work together effectively. This can involve discussing sales forecasts, sharing feedback, and addressing any issues promptly and honestly.
Secondly, supermarkets should strive for win-win relationships. This means seeking arrangements that benefit both parties, rather than trying to gain at the supplier's expense. Supermarkets can demonstrate their commitment to win-win relationships by honoring their commitments, paying suppliers on time, and treating suppliers with respect.
Thirdly, supermarkets should involve suppliers in their planning processes. This can include sharing sales forecasts and inventory plans, seeking the supplier's input on new product launches, and discussing promotional plans. By involving suppliers in planning, supermarkets can align their strategies with their suppliers, enhancing efficiency and effectiveness.
Maintaining Supplier Relationships
Maintaining supplier relationships requires ongoing effort. Supermarkets should regularly review their supplier relationships to ensure they continue to meet their needs. This can involve evaluating the supplier's performance in terms of product quality, delivery reliability, and responsiveness to issues.
Supermarkets should also seek to deepen their relationships with key suppliers. This can involve working closely with suppliers on new product development, joint marketing initiatives, and process improvement efforts. By working closely with suppliers, supermarkets can leverage their expertise and resources, enhancing their competitive advantage.
Finally, supermarkets should handle issues and conflicts with suppliers promptly and professionally. This includes addressing any performance issues, resolving disputes, and negotiating changes to the relationship. By addressing issues head-on, supermarkets can prevent minor problems from escalating into major conflicts, preserving the relationship's integrity.
The Role Of Technology In Supplier Relationships
Technology can play a vital role in managing supplier relationships. Modern supply chain management systems can facilitate communication, enhance transparency, and streamline processes. For instance, supermarkets can share sales forecasts and inventory data with suppliers via electronic data interchange (EDI), enabling suppliers to plan their production more efficiently.
Inventory management systems can also automate the reordering process, ensuring supermarkets always have the right amount of stock. By integrating these systems with their suppliers' systems, supermarkets can streamline the ordering process, reduce errors, and improve efficiency.
Moreover, supermarkets can use data analytics to monitor their suppliers' performance, enabling them to address any issues promptly. By leveraging technology, supermarkets can enhance their supplier relationships, improving their inventory management and overall business performance.
Conclusion
In conclusion, supplier relationships are a crucial aspect of supermarket inventory management. By building strong, collaborative relationships with suppliers, supermarkets can ensure a steady supply of high-quality goods, meet customer demand, and maintain a competitive edge. Furthermore, leveraging technology can enhance supplier relationships, improving communication, transparency, and efficiency. Therefore, supermarkets should invest significant effort in developing and maintaining strong supplier relationships, treating suppliers as strategic partners rather than merely product providers.
Using Appropriate Storage And Transportation Methods
Understanding Storage And Transportation In Supermarkets
Appropriate storage and transportation methods form the backbone of perishable inventory management in supermarkets. They play an integral role in safeguarding the quality of goods, ensuring safety compliance, and meeting customer demand for fresh and high-quality products.
The Crucial Role Of Storage In Inventory Management
Proper storage in supermarkets begins with understanding the distinct needs of various products. For instance, dairy products require refrigeration, fruits and vegetables need adequate ventilation, and certain items like bananas and tomatoes emit gases that can speed up the ripening process of other produce when stored together. Therefore, understanding and implementing the specific storage requirements for different categories of products is crucial in maintaining their freshness, quality, and shelf life.
Effective storage also involves an efficient layout of goods. The 'First In, First Out' (FIFO) method, where the oldest inventory items are sold first, is a common practice in supermarkets. This method helps manage the perishability of goods, decreases the possibility of spoilage, and reduces waste, contributing to profitability.
Significance Of Transportation In Inventory Management
The transportation of perishable goods is equally important as storage. It involves moving inventory from suppliers to the supermarket premises. The handling, loading, unloading, and transit times can significantly affect the quality and safety of perishable products.
Refrigerated transportation, or 'cold chain logistics', is often used to transport perishable items such as dairy products, meat, and frozen goods. This method ensures that products are kept at consistent and safe temperatures, thereby maintaining their quality and freshness from the point of collection to the supermarket shelves.
Implementing Effective Storage And Transportation Practices
Implementing effective storage and transportation practices involves meticulous planning, coordination, and the use of advanced technology. Real-time tracking systems can monitor the location and temperature of goods during transit, providing valuable data for inventory management.
Similarly, inventory management software can assist with effective storage practices, alerting staff when products need to be restocked or when items are nearing their expiration dates. This real-time information helps supermarkets to avoid overstocking, reduce waste, and maintain optimal inventory levels.
Challenges And Solutions In Storage And Transportation
Maintaining the quality of perishable goods through storage and transportation can be challenging due to factors such as fluctuating temperatures, delays, and poor handling. However, these challenges can be mitigated with the use of technology, regular staff training, and effective communication between supermarkets and suppliers.
In conclusion, appropriate storage and transportation methods are crucial components of effective perishable inventory management in supermarkets. By investing in the right practices and technologies, supermarkets can ensure the quality and safety of their goods, enhance customer satisfaction, and improve their bottom line.
Conclusion
In conclusion, Inventory management, stock control, perishables in supermarkets, especially for perishable goods, is a complex but essential process. It involves accurate demand forecasting using predictive analytics, establishing and nurturing strong supplier relationships, and implementing efficient storage and transportation methods. Data analytics and technology play significant roles in each of these facets, enhancing efficiency, reducing waste, and ultimately driving profitability. Despite the challenges, the benefits are tangible, leading to improved customer satisfaction and a competitive edge in the market.
If you're looking to improve your supermarket's perishable inventory management and would like to explore how technology can assist, we encourage you to reach out to us. At Orderific, we specialize in providing innovative solutions tailored to your unique needs. Take the first step towards a more efficient and profitable future by scheduling a demo with us today. We look forward to hearing from you and helping you optimize your inventory management processes.
FAQs
How does a supermarket control its inventory?
Supermarkets control inventory through demand forecasting, supplier relationships, and efficient storage and transportation practices, aided by advanced technology and data analytics.
What is an inventory system?
An inventory system is a method used to track goods and materials, manage orders, and control stock levels.
In the context of inventory management, what is safety stock?
Safety stock is a buffer of inventory held to guard against possible shortages caused by unpredictable variations in supply and demand.
What are the disadvantages of inventory management?
Inventory management can be costly, time-consuming and can lead to storage issues if not handled efficiently.